At a Glance
Take notes during a Live Conversation session to capture key moments as they happen. Notes sync to the video timeline and can be edited during and after the session.
Live Conversation is available on the following subscriptions:
Click on the following header titles to skip to that section of the article:
Using the UserTesting Platform's NoteTaking tool
You may have your own system or methods for taking notes during a Live Conversation. As demonstrated in our "Live Conversation: How to Join" article, moderators and colleagues can also access the UserTesting Platform's NoteTaking feature to take down real-time observations of a Live Conversation session. 
Here's a brief demo of the feature in action:
Note: This feature is compatible with Chrome and Edge browsers.
The notes entered into this tool can not be seen by the contributors, and you can not give the contributors control of the tool remotely. A reminder that to access the note taking feature, you and any colleagues need to click the Join with note taking button. (Colleagues will see this button in the invitation to the session.)
After your session, save time reviewing the video by skipping directly to your timestamped notes to rewatch insights you flagged as important.
Tips for taking notes during a Live Conversation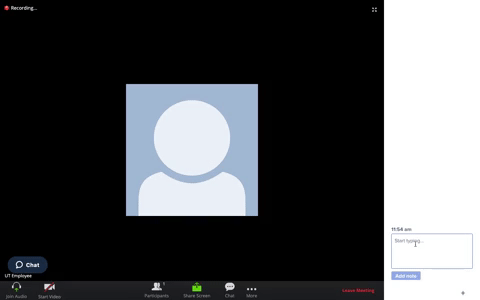 Here are some things you can do before, during, and after your Live Conversation. Understand that these tips are applicable whether you and the colleagues you invite use the UserTesting note-taking tool or choose to log observations in a different way (e.g., some of our Professional Services researchers use an Excel spreadsheet with predetermined tags and questions that guide the note taking process.)
Before launching your Live Conversation
Preparation is key, so come up with a game plan. Doing so can help ensure that note-taking activities are as productive as possible. Here are some tips:
Determine which issues you want to focus on.
Assign roles to observers

. Having a colleague take notes allows the moderator to attend the interview and interact more freely with the contributors.

Use tags to identify notetakers and categorize topics. Decide on a few key tags (e.g., #jane or #confused) in your note-taking guide before your Live Conversation. Tags make notes and clips easy to find when reviewing a Live Conversation session.
To learn more, see our article "Recommended Tags for Organizing Notes and Clips" article.
Prepare your colleagues:

Let them know some dos and don'ts before they observe the test. Consider making a note-taking guide available that they can follow as you moderate. 
Remind colleagues that they…
Need to click the

Join with Note taking

button (found in their invitation) if they want to use the real-time NoteTaking feature. They must also be logged into their UserTesting account.

Should not enter notes into the Chat function as these notes will be visible to the contributor. (This can happen if a colleague inadvertently clicks the Join button

and not the

Join with note taking

button, and they then mistake the standard Chat tool for the NoteTaking feature.

Should mute their audio during the session. 

You want to eliminate the sound of typing or any other note-taking-related noises that might distract the contributor.
During the session
Use shorthand notes to bookmark moments.

Unless a person is assigned specifically to take notes, keep your notes short—a single word or phrase is often sufficient for post-session recall—so as to keep pace with the conversation. 

Add more tags

as you complete the session (if you feel additional tags would be helpful in post-test analysis).

Observe verbal and nonverbal cues. Much of what people "say" is nonverbal, and taking notes lets you pinpoint contributor reactions on the video timeline.
When reviewing videos
Add and edit notes:

After the session, you can create new notes and clips, as well as edit your notes from the session—adjusting the time code, adding more tags, and marking notes you deem important with a star.

Search by tags:

Tags make it easy to find related clips and combine them to create a highlight reel. You can also do a CTRL+F function and search the transcript for keywords that you think will point to useful insights. You can also use the CTRL+F to locate the start of a question in case you hadn't done so during the session. To learn more, see our "

Effectively Using Notes and Clips

" article.

Share notes across the organization: Note-taking helps you make your case when creating highlight reels, producing Excel reports, and publishing videos. You can share the notes you apply to individual clips, from the video player (selecting Share from the drop-down menu to the right of the player.)

Learn More
Need more information? Read these related articles.
Want to learn more about this topic? Check out our University courses.
Please provide any feedback you have on this article. Your feedback will be used to improve the article and should take no more than 5 minutes to complete. Article evaluations will remain completely confidential unless you request a follow-up.