At a Glance
Live Conversation empowers you to get human insights by scheduling and launching a live interview with individuals from the UserTesting Contributor Network or your own contributors. The UserTesting Platform handles scheduling and reminders. Join at the session's scheduled time on Zoom and run the interview.
Live Conversation is available on the following subscriptions:
Click on the following header titles to skip to that section of the article:
What is Live Conversation?
Live Conversation interviews are a two-way video conference across all platforms, including mobile. With Live Conversation, you and the contributor can talk, see each other, and share screens.
The contributor can do anything they'd do in a video conference, such as answering questions, using a prototype or website, or reacting to content displayed on their computer. Live Conversation supports iOS and Android devices, allowing you to test various mobile assets—prototypes, applications, and websites—and perform tests at home, in-store, or on the go.
You can run Live Conversation tests with your target audience from either the UserTesting Contributor Network, Custom Network, or Invite Network. Live Conversation sessions use Zoom conferencing, so your contributors must join a Zoom meeting on their computer or mobile device. The conversation is recorded, and the video is automatically sent to your UserTesting Dashboard, where you can make and share clips just like any other user test.
When should I use Live Conversation?
Human Insights: Reach a wider audience, including those with hard-to-find demographics, by recruiting your own customers and employees.
Discovery interviews: Talk with customers to better understand their behaviors and pain points. Discovery interviews are a great way to generate ideas for potential solutions.
Concept tests: Get feedback on ideas—concepts, sketches, and so on—early in the development process.
Prototype tests: A Live Conversation is ideal when prototypes are difficult to understand or contributors need guidance. You can also probe for a deeper understanding of why contributors make decisions.
To learn more about how contributors are paid, review our "How Much Are Test Contributors Compensated?" article.
Who can create a Live Conversation? 
Live Conversation is available to customers on the Advanced and Ultimate editions of the Flex Plan and to customers on the Premium edition of the seat-based plan. 
On

seat-based accounts

, the moderator is the person who scheduled the Live Conversation and the person allowed to start the session. (Note that Collaborators cannot set up nor start Live Conversation sessions.)

On

Flex Plan accounts, anyone on the account can start the Live Conversation.

This means that Viewers can also start a Live Conversation. 

Keep in mind that Creators need to create the Live Conversation. Additionally, the person that created the test needs to join for the

hidden observer

livestream to start.
How It Works
1. Schedule your Live Conversation interview
You can schedule a Live Conversation interview right from your UserTesting Dashboard. Select Schedule a live conversation from the Create test drop-down menu. Sessions can typically be scheduled on the same day, depending on the complexity of your test.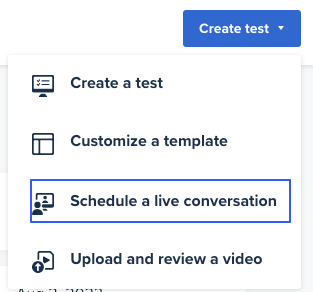 For more information on scheduling, check out our "Live Conversation: Scheduling and Calendar Integration" article.
Live Conversation Notifications
To ensure everyone is on the same page in terms of scheduling a Live Conversation, email notifications are sent out:
Creators and Moderators receive...
One confirmation email the day the Live Conversation/study is ordered.

One email once a contributor accepts an invite.
They also receive one email reminder...
The day before the interview at 1:00 am, PST

The day of the interview at 1:00 am, PST
Contributors receive one email reminder...
The day before the interview at 1:00 am, PST.

On the day of the interview at 1:00 am, PST.
Note: Only customers with designated license types that can schedule a Live Conversation test will see this option. If you don't see this option and would like to schedule a Live Conversation study, please contact your team's admin or your customer success manager (CSM).
2. Choose your audience
You can choose to recruit contributors from Invite Network or UserTesting's networks. UserTesting Network contributors who participate in Live Conversation tests receive additional compensation due to the increased complexity and time investment.
If you use Invite Network, you will...
Bypass demographic filters; they are not needed for a Live Conversation.

Customize only the description for your test (optional) and provide your availability.

Receive a link (after creating your test) to email to potential contributors. 
Once contributors sign up, UserTesting sends them an email confirming their time slot, and then sends reminders to those contributors the day before and the day of the scheduled session. Please read our article on using Invite Network with Live Conversation.
Note: Invite Network contributors must join the session through the reminder emails.
If you are using contributors from UserTesting's networks, you will...
Select demographic requirements to filter potential contributors and, if you wish, add

Screener Questions.

Define tasks and/or questions. Doing so is necessary since you'll be speaking directly with your test contributors.
3. Provide your availability
Click on the calendar to identify times you are available. Drag to identify large blocks of time, and the system will determine the 30- or 60-minute sessions that people can schedule within the larger blocks of time. 
You can also use the Advance notice feature on the calendar to prevent last-minute interviews. Note that when you launch a Live Conversation test with the Advance notice applied, you will not be able to remove the Advance notice block. To remove it, you will need to duplicate the test and relaunch it.
Note: If you are on the Advanced or Ultimate edition of the Flex plan, you can schedule Live Conversations for 30, 60, 90, or 120 minutes.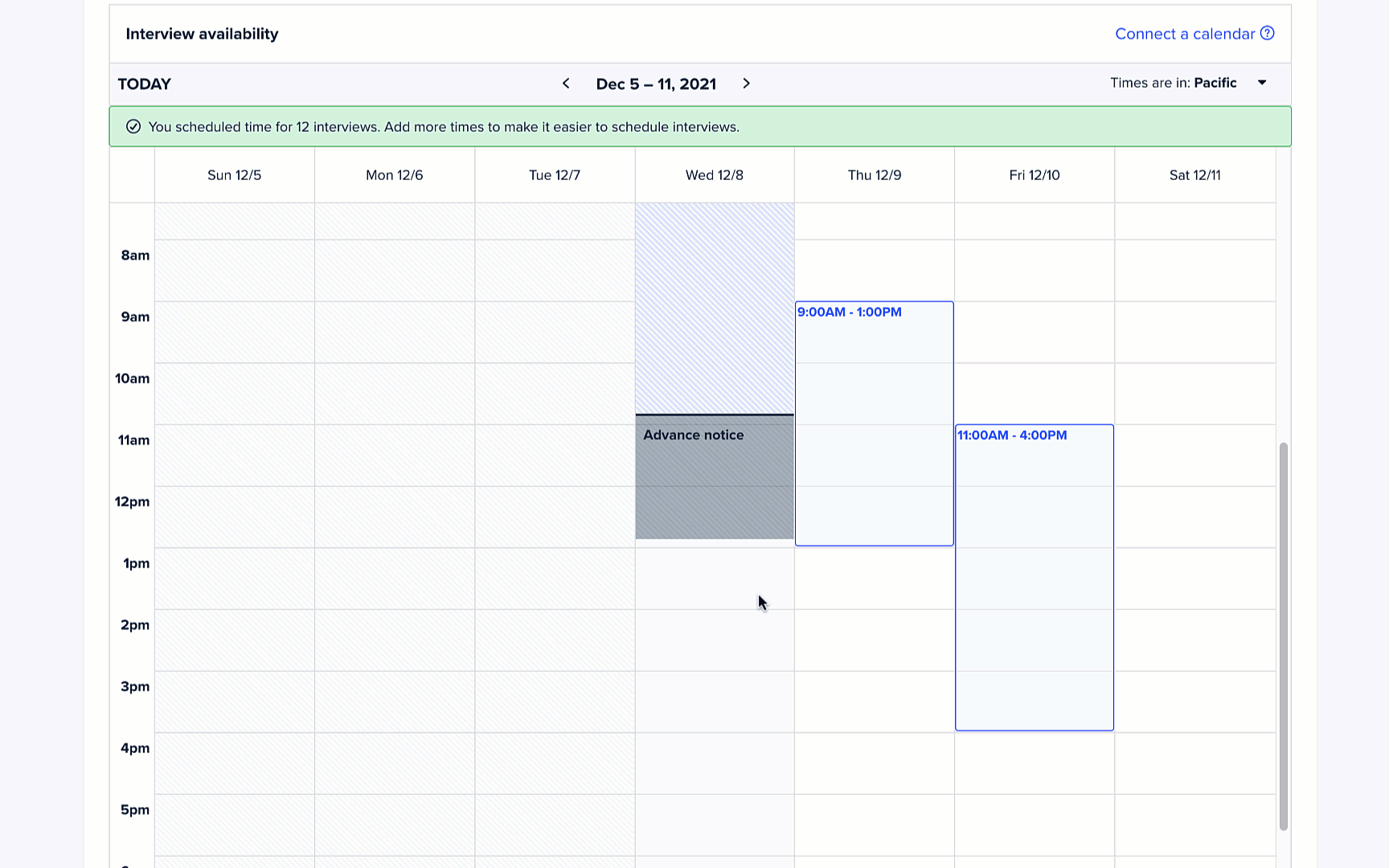 You also have the option to integrate your Outlook or Google Calendar account with UserTesting to make scheduling interviews easier. Visit our "Live Conversation: Scheduling and Calendar Integration" article to learn more about this and how to update your availability.
4. Join your Live Conversation
On the day of your Live Conversation, you'll see a button on your Dashboard that appears 15 minutes before the scheduled interview time.

Live Conversation sessions are conducted over Zoom. You can download Zoom to your desktop or use the web/browser version. If you're a moderator and are using a Chrome or Edge browser, you will have the Join or Join with note taking options. If you're a colleague, you will see only the Join option. When ready, click the button to join the Zoom session.
Note: To ensure contributors are who they say they are, ask them to describe their most recent related experience at the beginning of the test. 
Please read our article on joining your session here.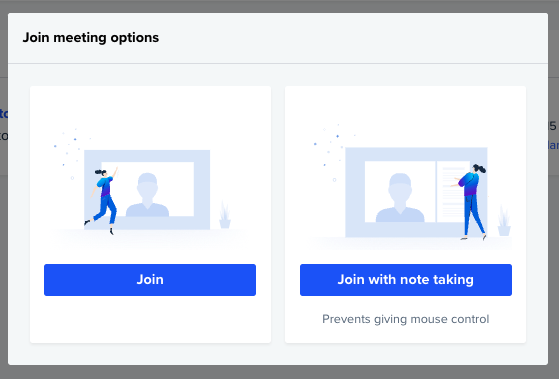 See the "Live Conversation: Zoom Basics and Troubleshooting" article for tips on resolving basic troubleshooting issues and to learn more about Zoom's hosting privileges. If you want to know more about the note taking version, please see our "Live Conversation: How to Join" article.
Hidden Observers
Hidden observers for Live Conversation is a way for others to watch a Live Conversation without joining the active interview and being seen by the contributor. This feature enables more stakeholders to hear insights directly from contributors in real time. 
To enable a Live Conversation make sure "Stream interview sessions for Hidden Observers" is selected under "Interview setup."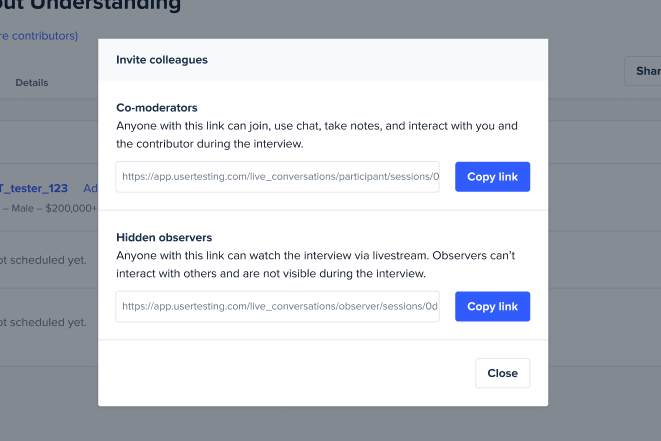 Things to Note:
Customers will not have to log in; there is a "Guest Experience" option.

Hidden Observers cannot interact or directly communicate with moderators, co-moderators, or contributors. For that kind of communication, alternative methods (e.g., Slack Channels and G-chat) are recommended.

You can have as many hidden observers join the stream as needed.

The test creator must join for hidden observers to view the session.
5. After your Live Conversation
All Live Conversation sessions will be recorded automatically and available on your Dashboard to review, make annotations, and share. Transcripts and sentiment analysis are available once the Live Conversation session is uploaded.

Contributor names may be shown during the session; however, names will not appear in the recording. Moderators can ask contributors to edit their names in the session. Clips made from the recordings—and highlight reels made from those clips—will not display contributor names.

Please contact Support to have recordings deleted.

For more information on payments, please review How Much Are Test Contributors Compensated?
Learn More
Need more information? Read these related articles
Want to learn more about this topic? Check out our University courses.
Please provide any feedback you have on this article. Your feedback will be used to improve the article and should take no more than 5 minutes to complete. Article evaluations will remain completely confidential unless you request a follow-up.