At a Glance
If you're familiar with the Transcripts feature, which automatically transcribes verbal comments from user tests alongside videos, you'll be happy to hear you can now export transcribed studies to excel, making it easy to view written transcripts of your studies in one place and easily search and locate key findings.
Exporting transcripts to Excel is available on the following subscriptions:
Key features
Exporting your Transcripts to Excel allows you to:
Quickly search for keywords across multiple test contributor transcripts

Easily copy direct quotes for reporting and presentations to stakeholders
How it works
Step 1: Export to Excel
From your dashboard, select the test that you'd like to export. You can export from three different places via your dashboard:
List view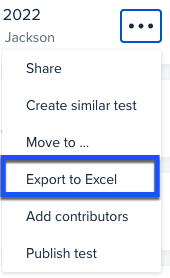 Session view
From the single test view, you can select a single contributor's response, or select all, then select Export to Excel from the Options menu.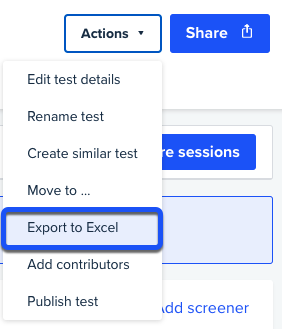 Video player
You can export to Excel right from the video player. Just select
Export to Excel
from the player controls at the bottom left corner of the player.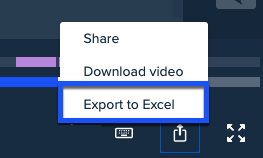 Once your export is ready you'll have the option to download the file. The file will also be emailed to you for your reference.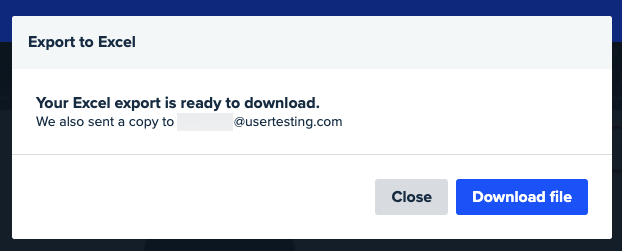 Step 2: Review your Transcripts via Excel
Your file will include details about the study you exported, including any available transcripts of the sessions.
To review your transcripts, scroll to the Study Protocol section of the document on the
Session Details
sheet, toward the bottom of the page. Each contributor's comments will be transcribed alongside the corresponding task or question.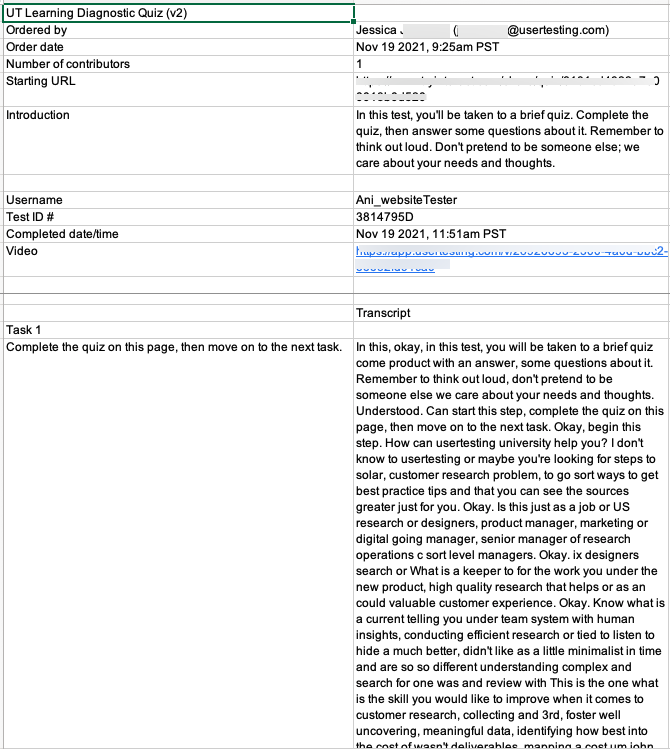 You can also find the associated transcripts for any notes or clips you've created in the Clips and Notes sheets.

From here you can read through each contributor's comments in full search for specific keywords, and copy and paste any memorable feedback to share with your team.
Let us know what you think!
We'd love to know what you think of the Export Transcripts to Excel feature, so give it try and share your feedback with Support via this form.
Learn More
Need more information? Read these related articles.
Want to learn more about this topic? Check out our University course.
Please provide any feedback you have on this article. Your feedback will be used to improve the article and should take no more than 5 minutes to complete. Article evaluations will remain completely confidential unless you request a follow-up.