At a Glance
Distribute tests to your Fuel Cycle community members seamlessly and securely from the UserTesting platform. Solicit feedback from your own customers, manage your customer panels, and conduct enhanced journey testing with the Fuel Cycle integration.
Fuel Cycle integration is available on the following subscriptions:
Template for Fuel Cycle Activity Card
How It Works
The UserTesting integration for Fuel Cycle Exchange allows you to efficiently capture rich, video-based insight from a community you trust. Create a test plan to ask any question or request people to perform tasks. Then, target your Fuel Cycle community members directly from the UserTesting Platform.
Invite community members to give feedback through a trusted brand experience—your Fuel Cycle community. Members who participate move directly from the community to the UserTesting Platform with just a click of a link. Then, they're provided step-by-step instructions to start sharing feedback. Upon completion, members seamlessly return to their Fuel Cycle community. Check out our Fuel Cycle community member guide to learn more.
UserTesting's Fuel Cycle integration simplifies tracking and rewarding of community members' activity. Test completion status is tracked in Fuel Cycle, and community members are automatically awarded points for participation.
How to Set It Up
Connect your Fuel Cycle and UserTesting accounts
1. Log in to Fuel Cycle and navigate to the FCX Marketplace via the Exchange tab.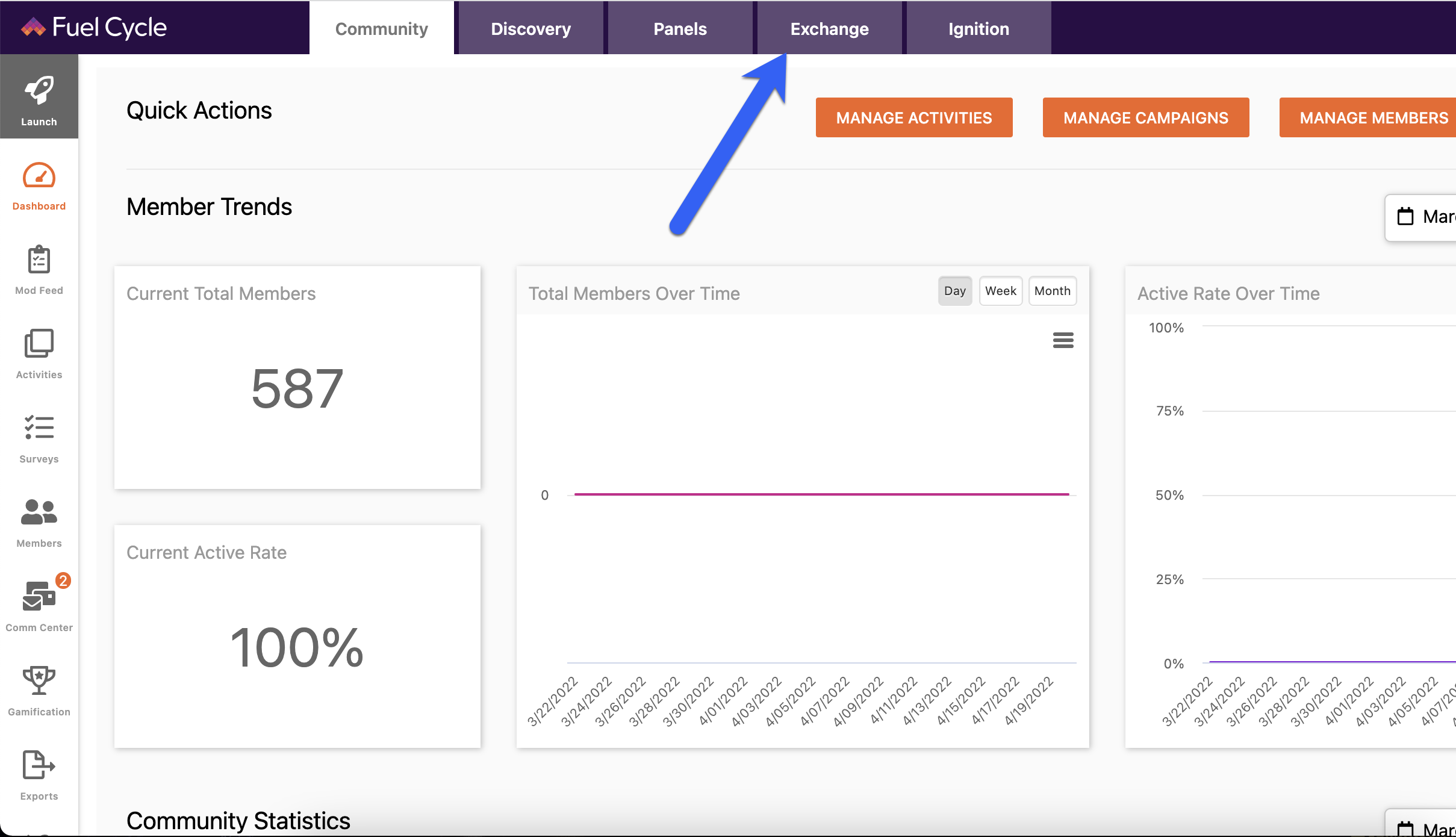 2. Within the FCX Marketplace, select UserTesting and click Request more information to request an API key and token to be used with UserTesting.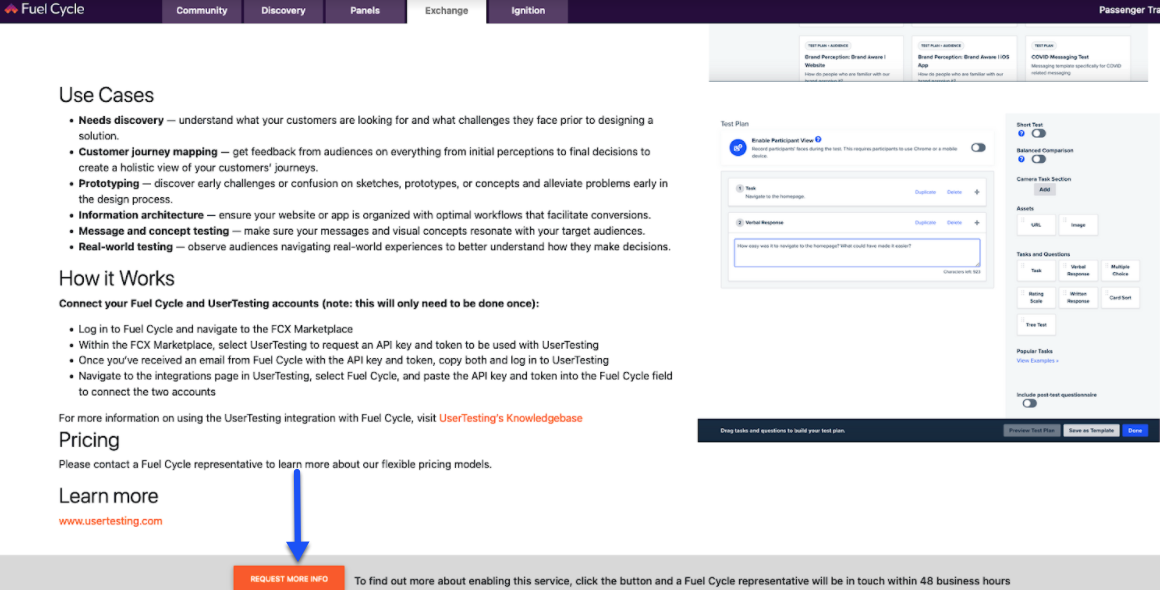 3. Once the request is made, a member of the Fuel Cycle team will email the API key and token to you within two business days.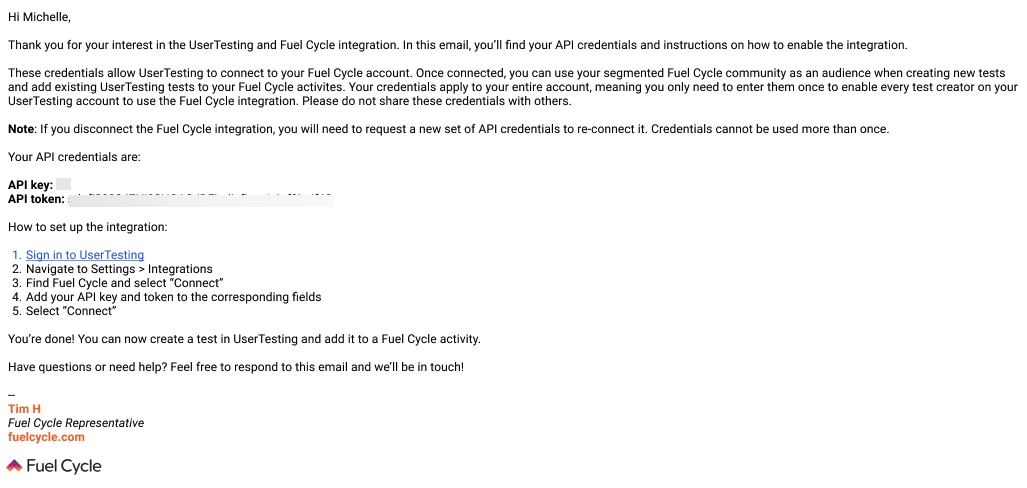 4. Copy the API key and token and login to UserTesting. Navigate to the Integrations page under your Settings. Select Connect under the Fuel Cycle integration.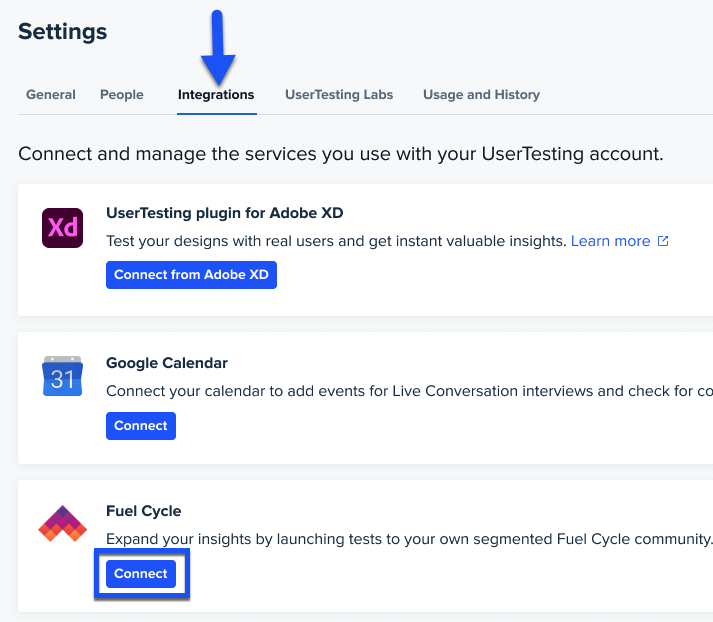 5. Paste the API key and token into the Fuel Cycle fields to connect the two accounts.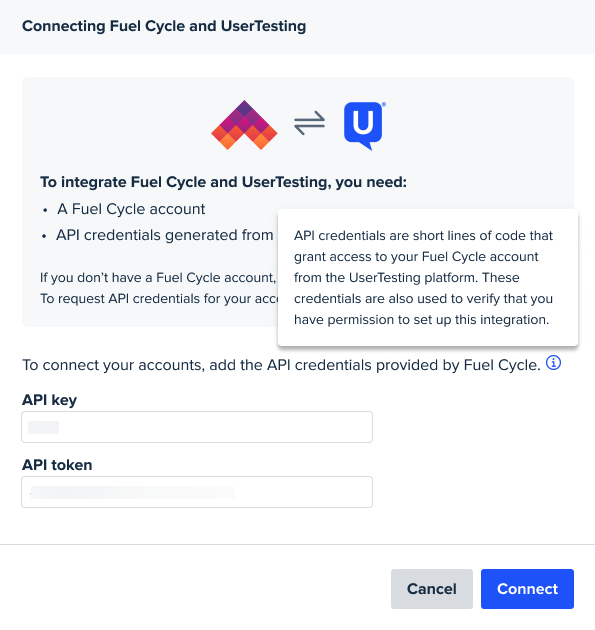 Launch the test to your Fuel Cycle community members
1. Create a new unmoderated website test.
Note: Live Conversation and mobile testing with Fuel Cycle are forthcoming.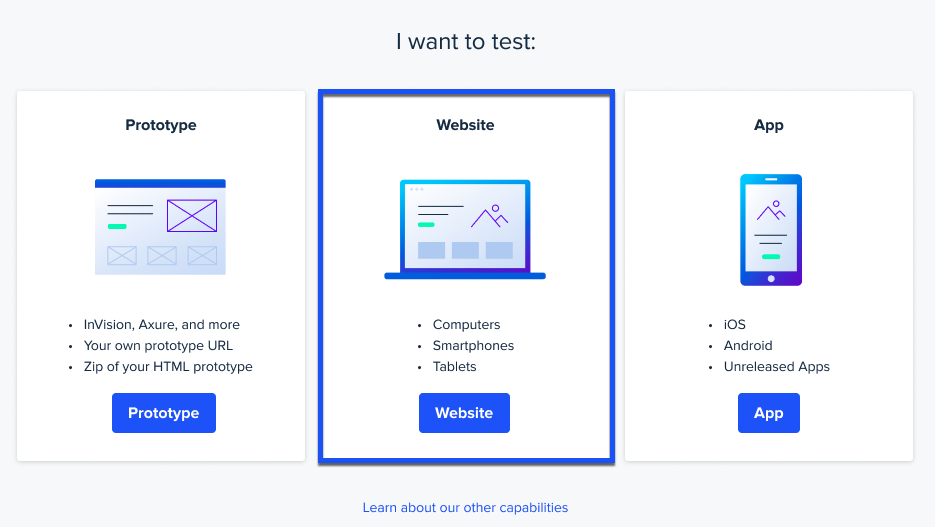 2. Next, choose Build audience for the people you want to test with.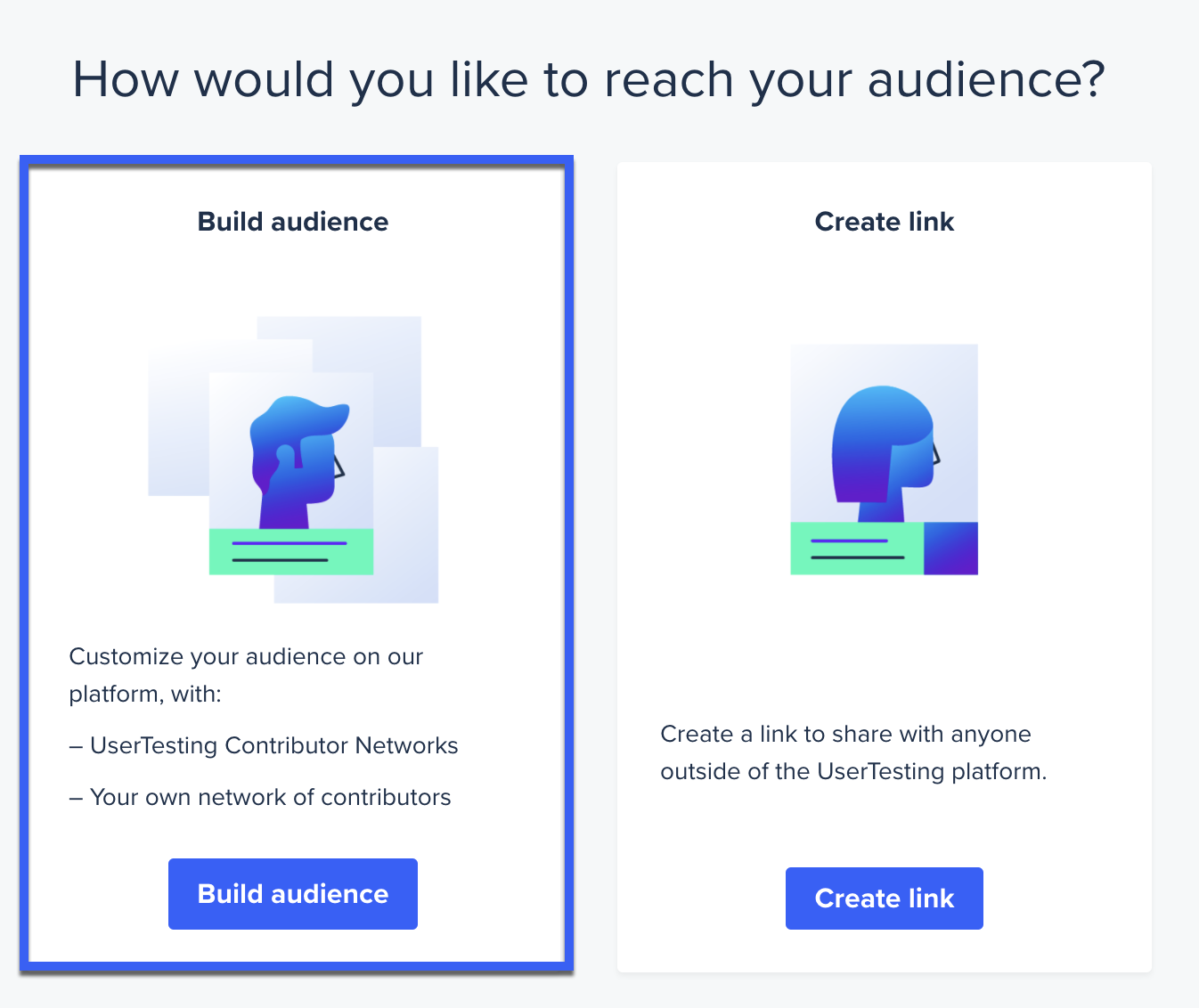 3. Give your test a name (this will help you locate your test when you navigate to Fuel Cycle in the following steps). Then click on Select audience and choose Create from scratch.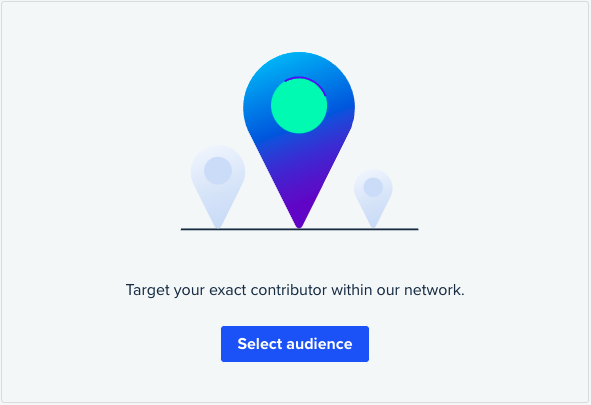 4. Select Fuel Cycle community from the Contributor network options.

5. Build your test plan and launch your test as you typically would.
Note: Short tests and Five Second Tests are not available because they are not supported in the seamless recorder yet. Camera tasks are not supported because tests with Fuel Cycle members are limited to desktops only. 
You will then be prompted to complete several steps within Fuel Cycle. You can also notify team members via Slack or email about the results to this test.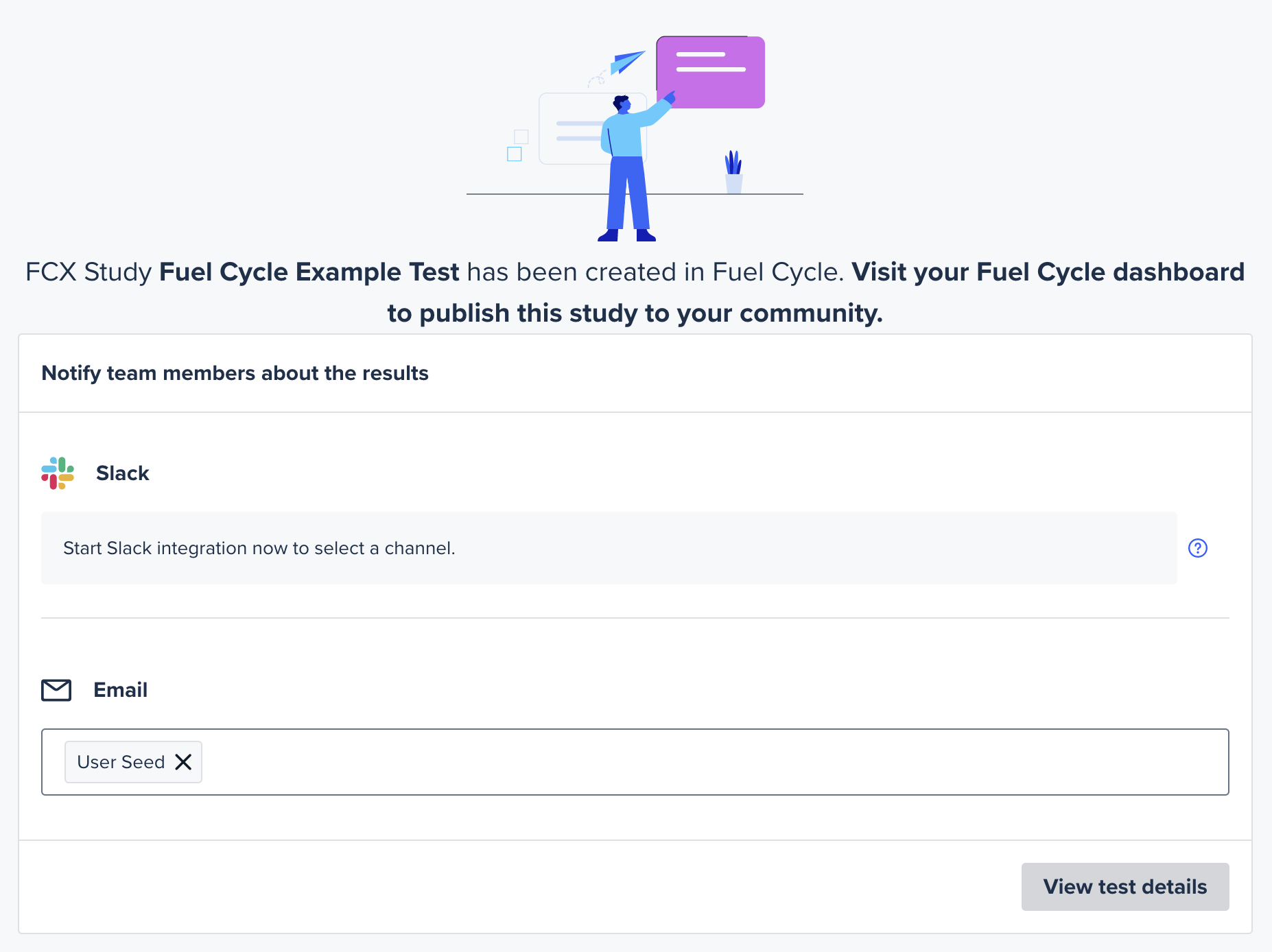 6. Navigate to your Fuel Cycle community and select Create New under the Activities tab to create an activity. If you need some inspiration for filling out your activity card, check out our best practices.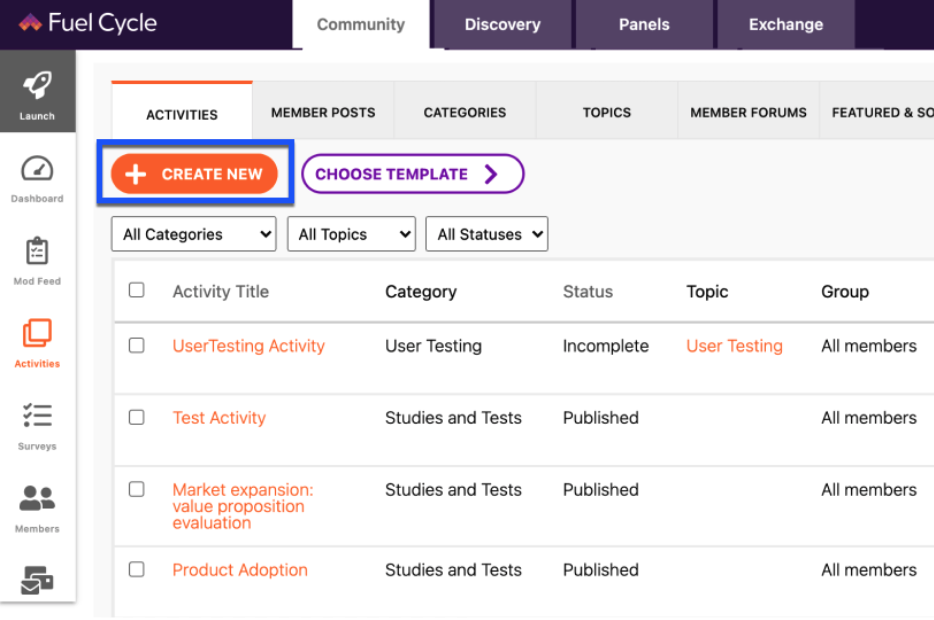 7. In the Description tab, add an FCX study block. Select the study that matches the name of your UserTesting test and publish the activity.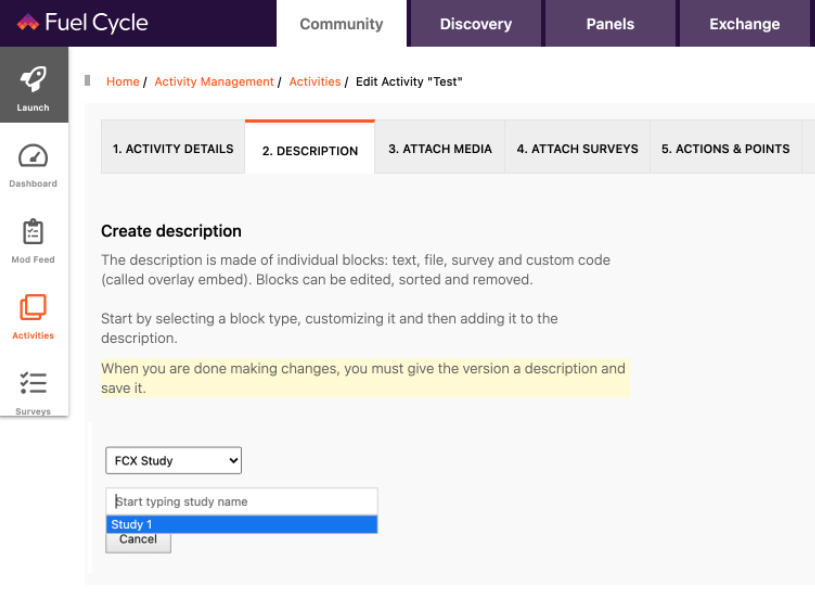 8. View the session results in the UserTesting Platform. Fuel Cycle members' usernames will be attached to each session so that you can match results to individual members.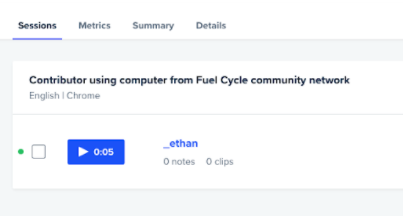 Visit the Fuel Cycle support center to learn more about Activity Creation and segmenting your audiences within Fuel Cycle.
Frequently Asked Questions
Q: What types of tests does this integration support?
This integration supports unmoderated tests conducted on desktops. Live Conversations and mobile testing are currently not supported.
Q: How can I test with more than one Fuel Cycle community?
Only one Fuel Cycle community can be connected to a UserTesting account at a time. If you have additional Fuel Cycle communities you wish to connect, you can disconnect the current community and connect a different community by adding its API key and token. Make sure you don't have any open tests launched to your original Fuel Cycle community before disconnecting it. You can manage the Fuel Cycle integration on the Integrations tab on the Settings page.
Q: Can I add more contributors after launching my test?
A: While you can add additional audiences UserTesting has recruited, you cannot add more contributors to your Fuel Cycle audience. You can, however, add contributors from Custom Network and Invite Network. If you want to test with more Fuel Cycle community members, create a similar test.
Q: What metrics are available after contributors complete my test?
A: All metrics are available except for Interactive Path Flows, intent paths, and sentiment paths.
Q: What do I do if I don't have access to Fuel Cycle? 
A: If your organization has a Fuel Cycle account, contact your administrator. If your organization does not already have a Fuel Cycle account, visit www.fuelcycle.com to request a demo or contact a sales representative.
Q: What data from Fuel Cycle is stored in UserTesting?
A: Community members' UserIDs are stored with the test sessions, so when viewing results in the UserTesting Platform, you will be able to match contributors with the sessions, if needed.
Q: Which UserTestsing subscription plans have access to the integration?
A: This integration is available on all editions of the Flex plan and the Professional and Premium edition of the seat-based plan. For customers on the Flex plan, please visit our article on the session rate card for information about calculating session rates.
Learn More
Need more information? Read these related articles.
Please provide any feedback you have on this article. Your feedback will be used to improve the article and should take no more than 5 minutes to complete. Article evaluations will remain completely confidential unless you request a follow-up.