At a Glance
UserTesting is integrated with Jira, Atlassian's issue and project-tracking software. Now your team can view UserTesting contributor clips using Jira Cloud—all without leaving Jira. 
The UserTesting Integration for Jira is available on the following subscriptions:
Click on the following header titles to skip to that section of the article:
How it works
The UserTesting Human Insights app lets you view and engage with UserTesting human insights directly in the Jira Cloud interface. Here's how it works:
Copy the share link from your UserTesting clip.

Add the share link to a Jira issue.

View and engage with the clip within Jira Cloud.

Know that the clips are synced and up to date with the latest details and edits.

Use human insights to make customer-centric decisions.
See how easy it is to add a clip: 
Get UserTesting On-Demand Human Insights
Customers using Jira Cloud can get the UserTesting On-Demand Human Insights app from the Atlassian marketplace. Setup is simple.
Select "Get it now."
Select a site to install the 

app

.
Click "Install app." 
Note: You must be an admin to install the app. If not, share the app link with someone who can install the app for you. 
For more information, see Atlassian: Managing apps.
Attaching Clips in Jira Cloud
After you get the app, use the UserTesting button on any Jira issue's menu to attach a video clip.
Click the UserTesting button to bring up the attachment field.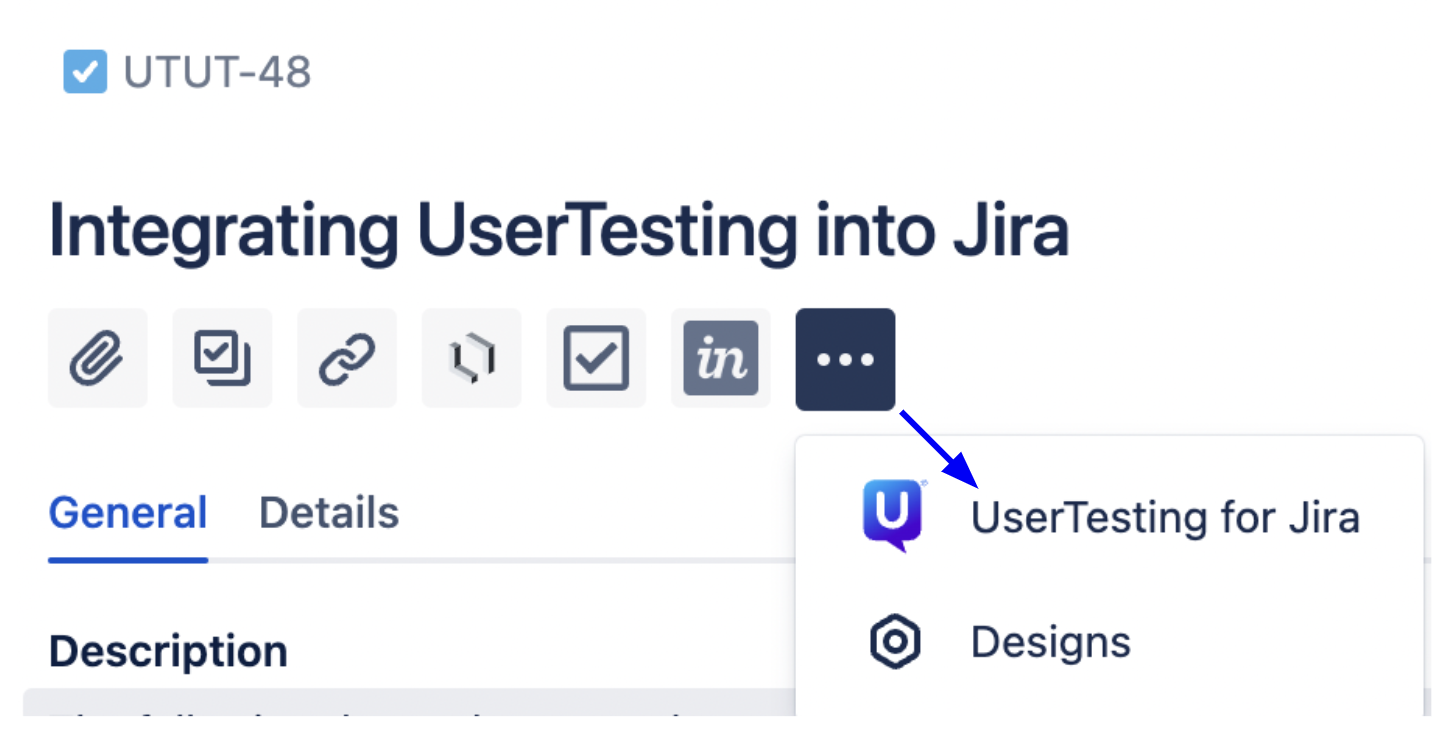 Note: If you don't see the UserTesting button in the menu bar after installing the app, you may be in classic view. The button is only visible when you have the new Jira issue view turned on. 
Review this Atlassian page for more information on how to turn on the new issue view.
Copy the link to the clip from the UserTesting site, and paste it in. 
Note: In order for the clip to be viewable within Jira, both the UserTesting account and the workspace must be set to public.
For more information about workspace settings, see our Workspaces and Video Security and Why can't I share...with non-team members? articles.
3.  Click "Attach clip."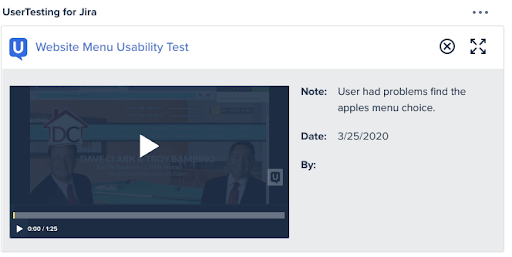 4. You can watch the video within the Jira ticket or expand it to full screen.
Using the Share button within JIra, you can get a link to share and download the clip, or to share the clip through Slack.
To attach multiple clips, simply paste in another link from UserTesting.
If anyone edits a clip in the UserTesting Platform, the update appears automatically on the Jira issue.
Learn More
Need more information? Review this related article:
Want to learn more about this topic? Check out our University courses:
Please provide any feedback you have on this article. Your feedback will be used to improve the article and should take no more than 5 minutes to complete. Article evaluations will remain completely confidential unless you request a follow-up.