At a Glance
Invite Network allows you to reach out to unique audiences you may already know that would otherwise be difficult to recruit for testing. The seamless recorder allows Invite Network contributors to click on a link and immediately start taking a test.
Invite Network is available on the following subscriptions:
Invite Network utilizes our seamless desktop recorder and enables contributors to start an unmoderated test directly from a link—making it easier to tap into insights from employees, existing customers, industry experts, and people within unique demographics. This recorder is only for desktop tests.
If you prefer to have UserTesting recruit and manage the test, you can still do so through our Professional Services group.
Note: Live Conversation sessions use Zoom, so Live Conversation Invite Network contributors will not be utilizing the seamless recorder. Instead, they will need to be able to join a Zoom meeting on their computer or mobile device.
How It Works
Contributors have the option to download a Chrome, Safari, and Firefox browser extension that collects the desktop data needed to map contributor web journeys. The contributor will see an Install extension option after they agree to take the test. (They'll pass through a screen with recording tips before getting to the page with the Install extension prompt.).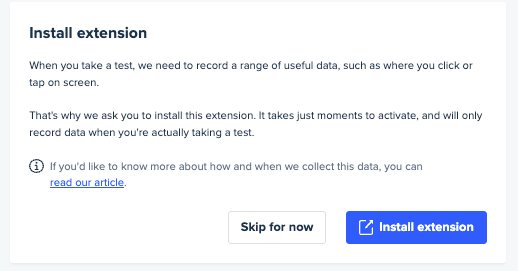 This download is optional so as to help maintain healthy completion rates of Invite Network tests; contributors will still be able to provide their perspectives without downloading the extension.
Watch the demo below to see how contributors enable permissions for the seamless recorder.
With the seamless desktop recorder, your contributors only need a test link to get started. By clicking the link, the contributor will automatically begin sharing their perspective without downloading any software or extensions. This creates a seamless experience for the contributor and gets you faster feedback.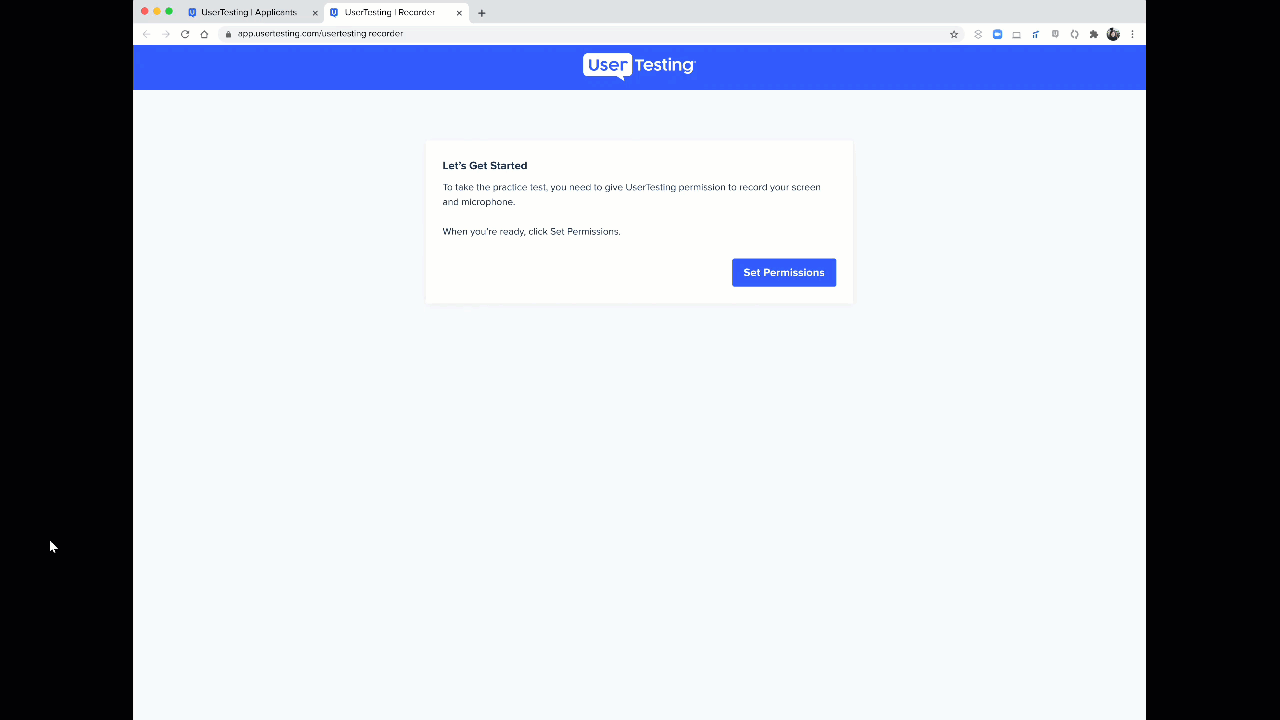 The beginning of a test from the contributor's point of view.
The recorder is only available for unmoderated tests and is compatible with the four most commonly used web browsers: Chrome, Firefox, Safari (current version only), and Microsoft Edge. For instructions on creating an Invite Network test, please visit the Invite Network Best Practices article.
Invite Network videos utilize a tab structure allowing contributors one tab for the tasks and another tab for the testing asset. Testing prompts will never block testing assets. See the GIF below to watch this tab structure in action.
Video output from an Invite Network seamless recorder
Once the test is completed, you can review Interactive Path Flows and other visualizations to see which screens contributors navigated to complete a task.
Note: The browser extension that collects Interactive Path Flow data is available for Safari, Firefox, Chrome, and Edge. The browser extension installation is optional to maintain a healthy completion rate, so not all Invite Network sessions will have this data.
Invite Network Use Cases
With our seamless recorder and Invite Network, you can:
Capture feedback from your B2B customers

: Since our recorder doesn't require a download of any external software, targeting B2B personas within corporate firewalls is possible. 

Intercept users for feedback in real time:

Create an Invite Network test to generate a test link. Add this link to any in-product messaging tools, live chat software, or anywhere you can embed a link. Contributors will only need to click on the link to start giving feedback—without ever leaving their browser.

Generate team member engagement with internal testing:

Quickly solicit employee and internal audiences' feedback. The seamless recorder makes it possible to get team member feedback regardless of internal security measures.
Learn More
Need more information? Read these related articles.
Want to learn more about this topic? Check out our University course.
Please provide any feedback you have on this article. Your feedback will be used to improve the article and should take no more than 5 minutes to complete. Article evaluations will remain completely confidential unless you request a follow-up.