At a Glance
Live Conversation allows you to schedule sessions across time zones and to connect your Outlook and Google calendars when determining interview availability.
Live Conversation is available on the following subscriptions:
Click on the following header titles to skip to that section of the article:
Live Conversation across time zones
Being able to conduct Live Conversation sessions anytime, 24 hours a day (including weekends) is especially helpful for those looking to connect with users in different time zones or if you'd like to speak to users after your normal business hours. You can even schedule and get insight from Live Conversation interviews on the same day.
Tip: Compare your target contributor time zone to yours so as to increase the chances of your session filling.
To schedule, click on the calendar to identify the times you are available. Those time slots will then be available for people (who fit your demographics and screener criteria) to schedule.
You can also click and drag on the calendar to mark off larger blocks of time as to when you are available. The system will identify the specific 30- or 60-minute time blocks that people can schedule within that larger block. See our course Managing Test Length for suggestions on how to moderate your time with Live Conversation sessions.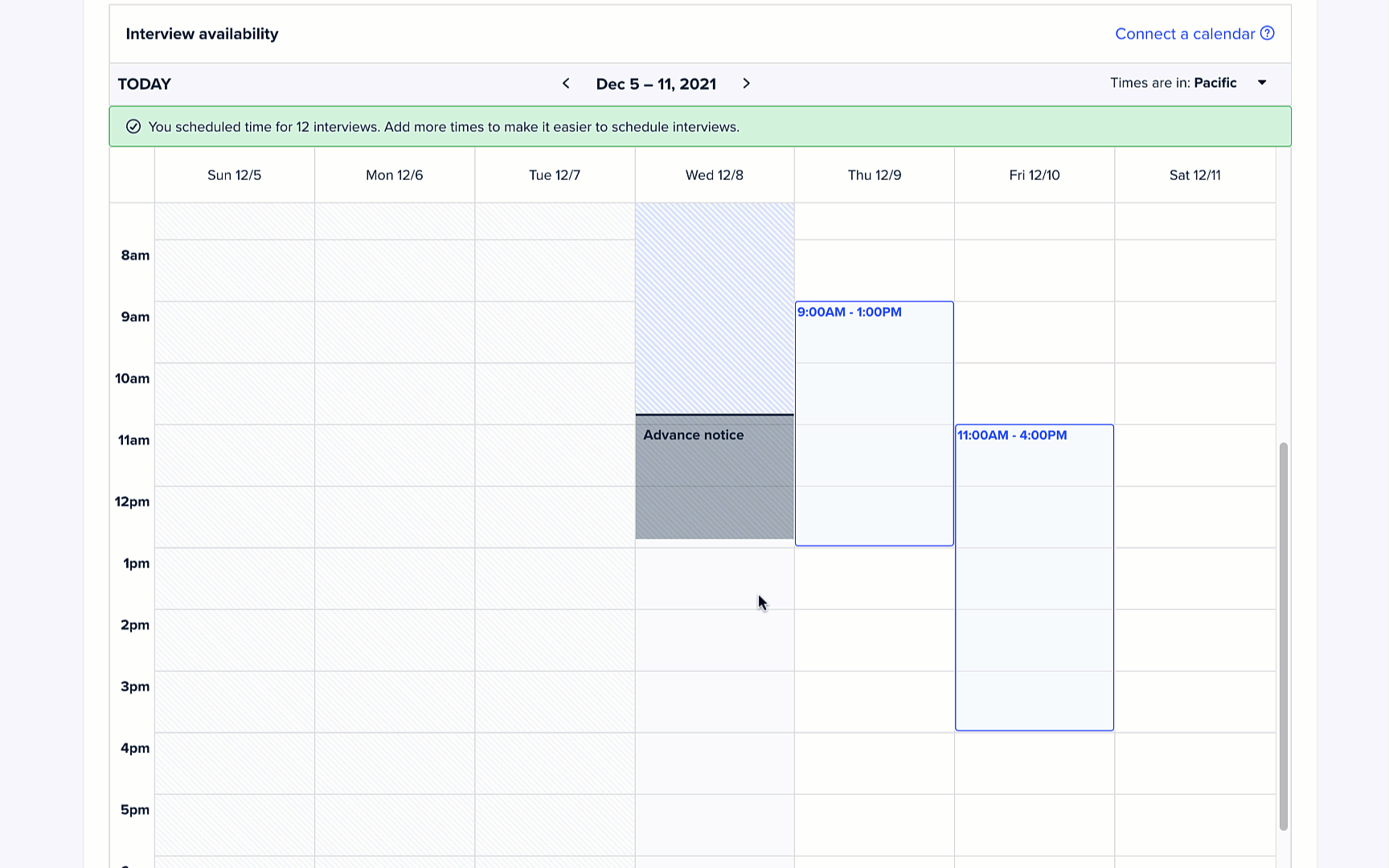 Note: If you are on the Advanced or Ultimate edition of the Flex plan, you can schedule Live Conversations at 30, 60, 90, or 120 minutes. Live Conversations are ordered in 30-minute increments, but the Session rates are based on the actual session duration. For sessions that run beyond their scheduled time, there is a five-minute grace period.
Using Advance notice
You can also use the Advance notice feature on the calendar to prevent contributors from signing up for interviews at the last minute. Choose how many hours you want to designate as Advance notice (there is no limit). Advance notice will always start at your current time, and contributors will not be able to sign up during these hours. You can also input "0" hours if you want to turn off the feature.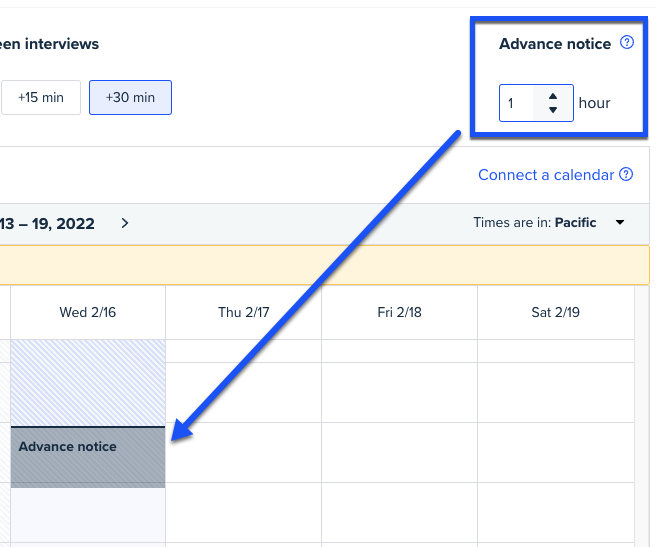 Note: When you launch a Live Conversation test with the Advance notice applied, you will not be able to remove the Advance notice block. To remove it, you will need to duplicate the test and relaunch it.
Editing your availability
You can edit your availability after you've created a Live Conversation test by selecting Update availability from the Options drop-down menu of your Live Conversation. Next, navigate to the Interview availability calendar to edit your schedule.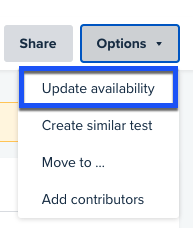 You can also delete times that you previously as available, or add more availability if sessions do not fill. UserTesting will display in your Dashboard a message letting you know that there is no longer enough availability to fill your sessions.
Scheduling with specific contributors
If you want to schedule another Live Conversation with the same contributor or conduct a follow-up interview, you can launch a new session with that same contributor. 
First, schedule a new Live Conversation. When you go to select your audience, choose Specific contributors and specify the individual you want by username. Then, note your availability and launch the test as you normally would. 

Connecting your calendar
To help plan a Live Conversation around your availability, connect your Google Calendar or Outlook Calendar. There are two ways to manage calendar integrations: 
1. Navigate to the Platform's Settings menu and select the Integrations tab. Follow the prompts to connect or disconnect your calendar: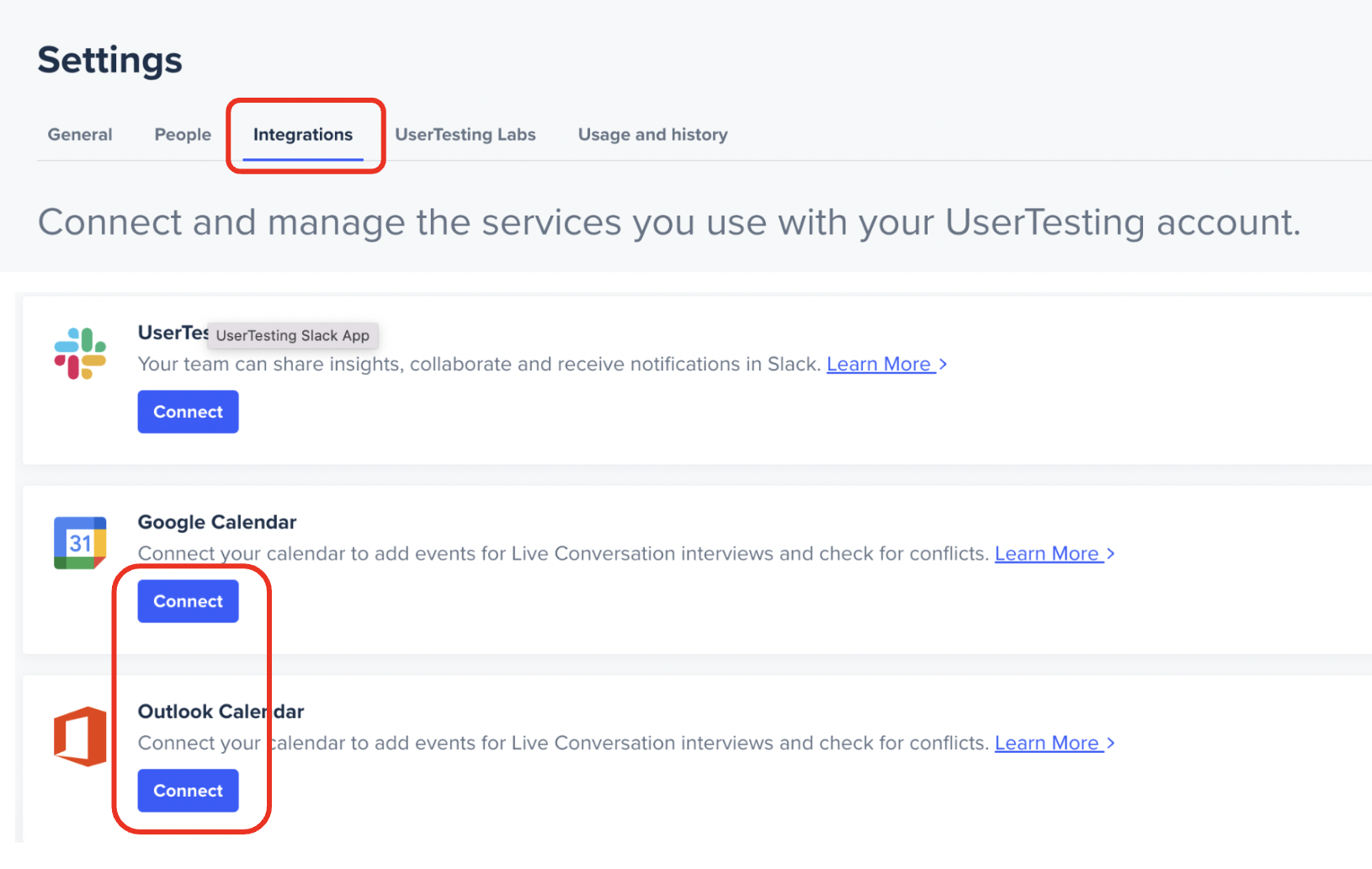 2. If you're connecting a Google Calendar, choose your account and sign in...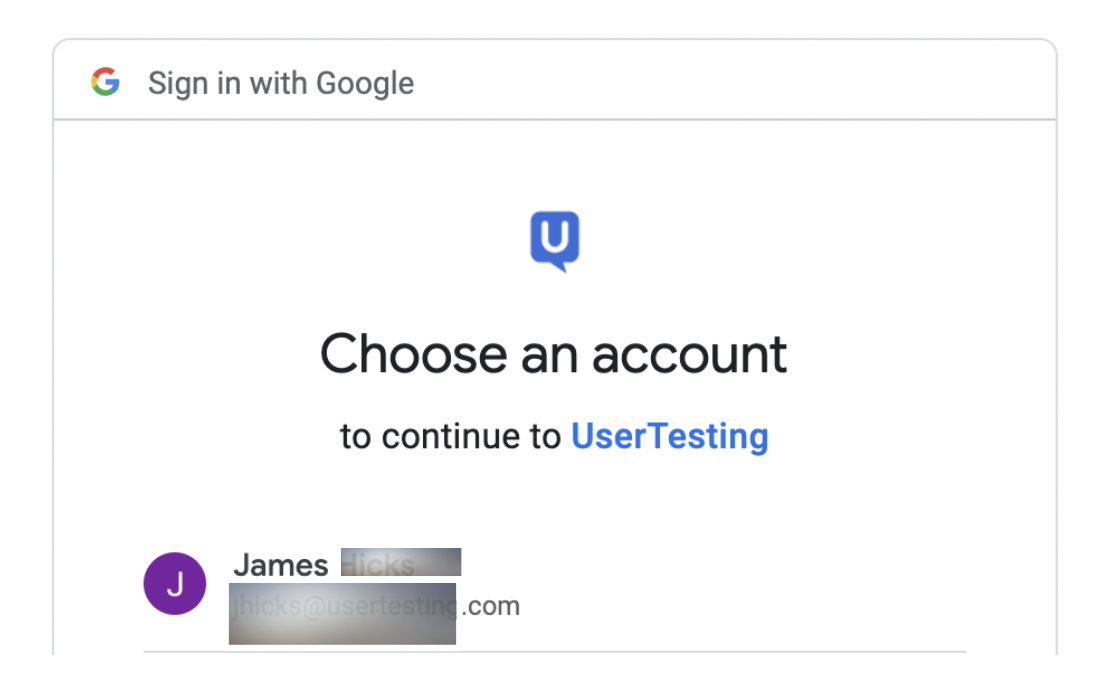 A message appears asking you to allow UserTesting to view and edit events on your calendar.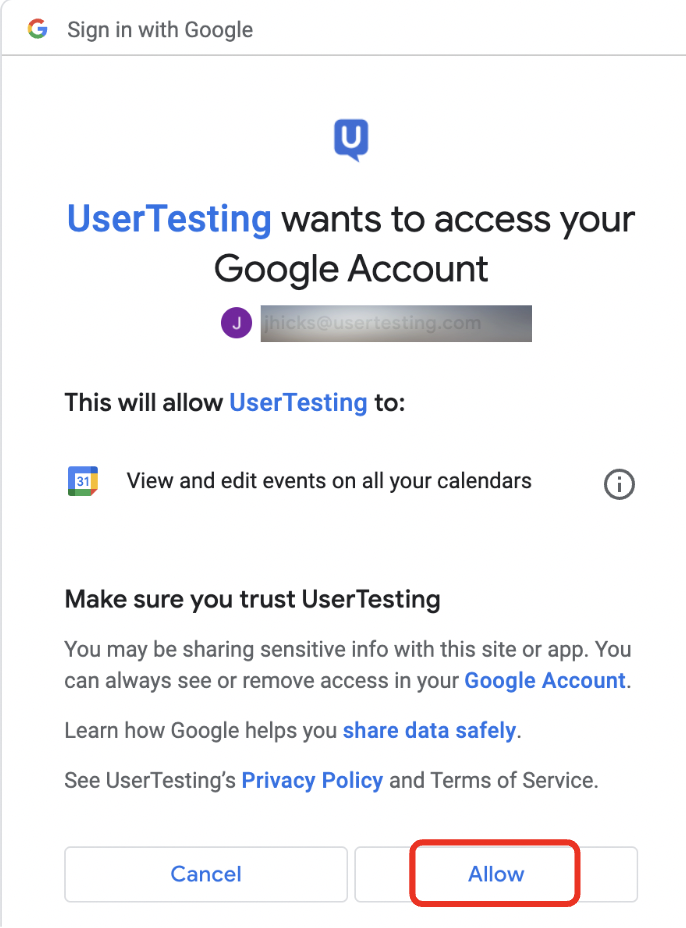 Once you've successfully connected your calendar, you'll see an acknowledgment. When providing your availability for Live Conversations, UserTesting will display available time slots based on your existing schedule.
Note: This integration will not change your Live Conversation availability based on new meetings you add to your calendar. If you add a meeting to your calendar that conflicts with a time you have provided in UserTesting for Live Conversation sessions, you may end up being double-booked at that time.
Disconnecting your calendar
If you wish to disconnect your calendar, click the return to the Integrations tab, scroll down to the Google or Outlook options and click "Disconnect" icon on the Live Conversation availability page. 
You'll be prompted to disable your calendar integration.
Learn More
Need more information? Read these related articles
Want to learn more about this topic? Check out our University courses.
Please provide any feedback you have on this article. Your feedback will be used to improve the article and should take no more than 5 minutes to complete. Article evaluations will remain completely confidential unless you request a follow-up.