At a Glance
Invite Network allows UserTesting customers to create and launch a test with anyone, anytime—on demand. The feature is entirely self-service, helping you tap into insights from employees, existing customers, industry experts, and people within unique demographics.
Invite Network is available on the following subscriptions:
Key Features
Invite Network is available to any UserTesting customer who wants to launch self-service, on-demand tests with a customized group of contributors (your existing customers, industry experts, and more) not found in the UserTesting Contributor Network.  
With Invite Network, you manage contributor recruitment, compensation, and communication. UserTesting provides:
A customizable email template to invite your contributors to take a test
The option to collect contributor emails or not for desktop tests to help improve test acceptance rates
Interactive Path Flow data (IPFs) on Invite Network tests completed on all desktop browsers
Watch the video below to see how Invite Network works for contributors. For Contributor Support, visit the Contributor Help Center.
How It Works
1. Select the Create a test option from the Create test dropdown menu.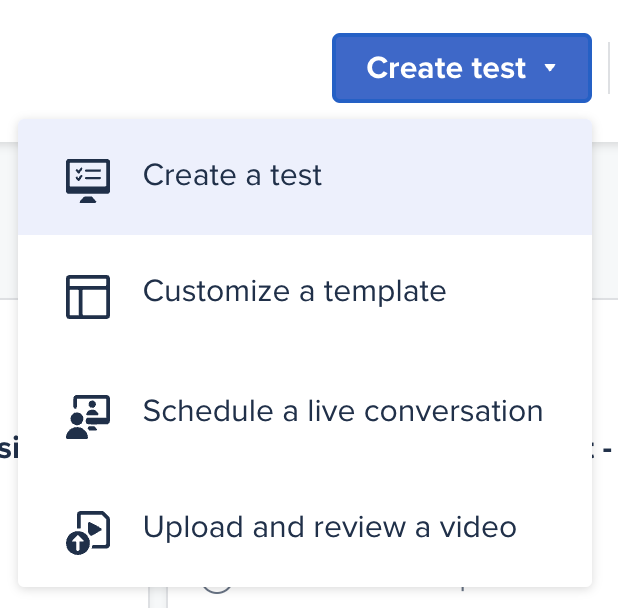 2. Choose the Create link option. This option generates a test link you can share with anyone.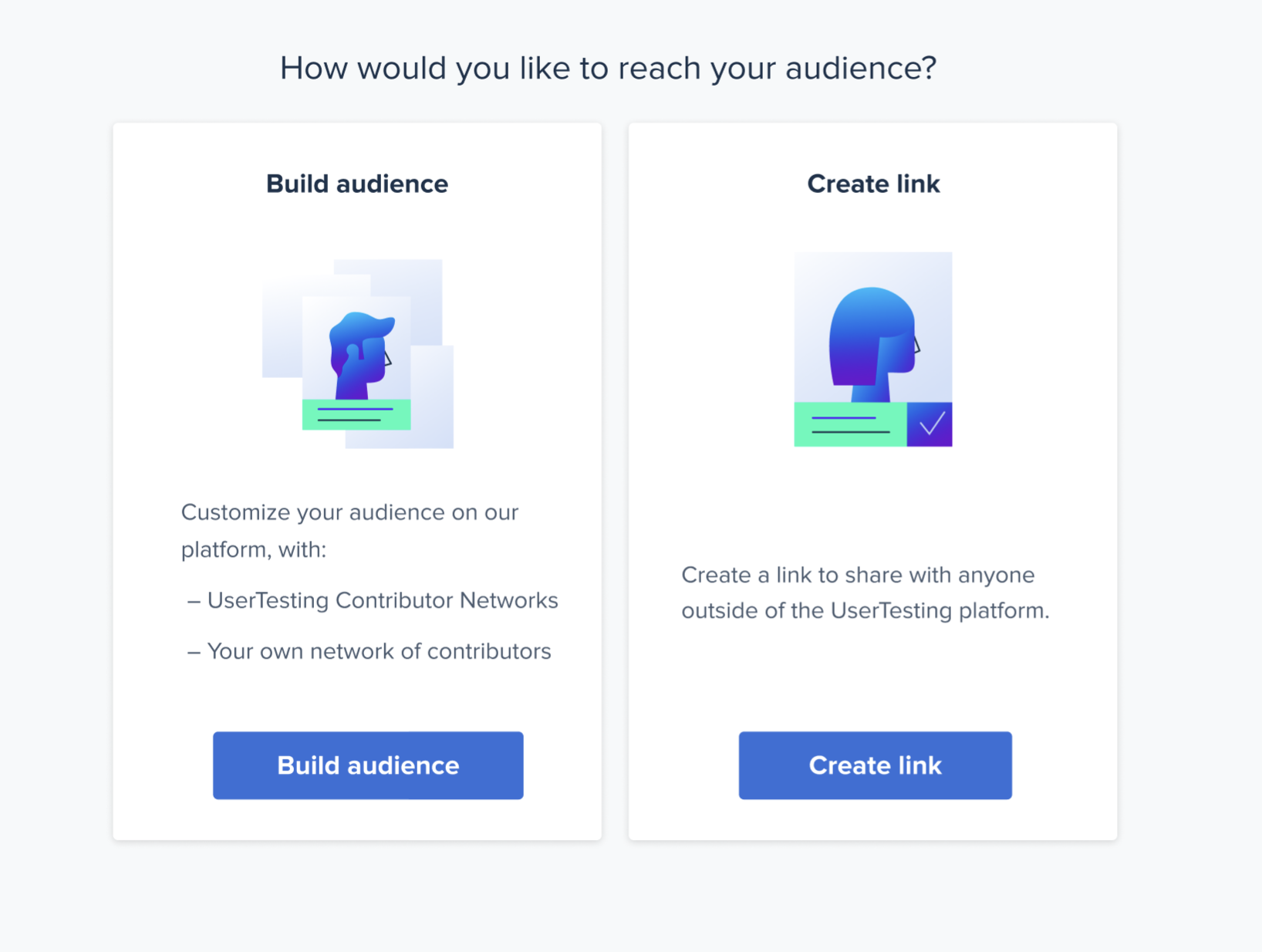 3. Fill out the Customize invite section with the preferred device contributors should use, the estimated test time, your company name, and any brand assets.
If you are running an unmoderated test that requires contributors to use their desktops, you will also have the option to ask for customer emails. Asking for emails is one way to help you identify contributors when reviewing sessions. If you choose not to collect emails, you can insert metadata into the test URL for identification purposes (shown in the next step). However you decide, choose to turn the Ask for email address toggle on or off. 
Note: Invite Network mobile tests must collect contributor emails.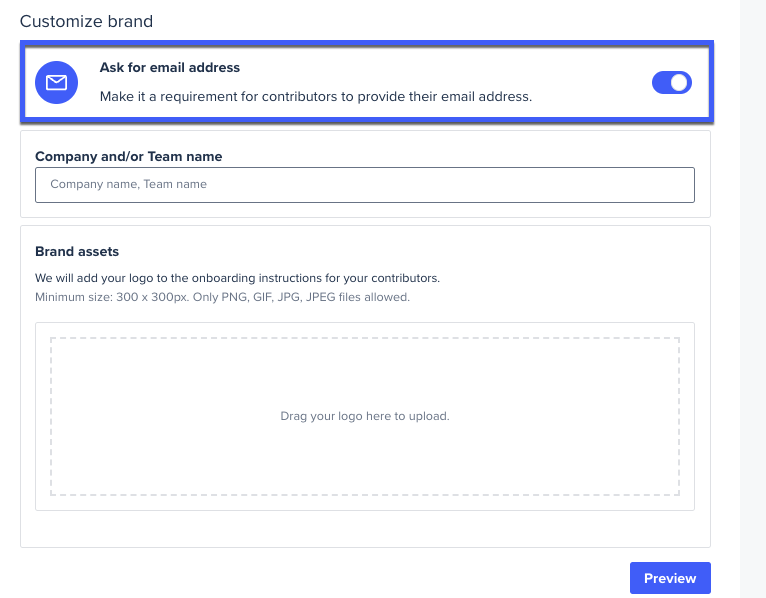 4. When you're ready to launch your test, UserTesting generates a link that you can then share directly with your contributors.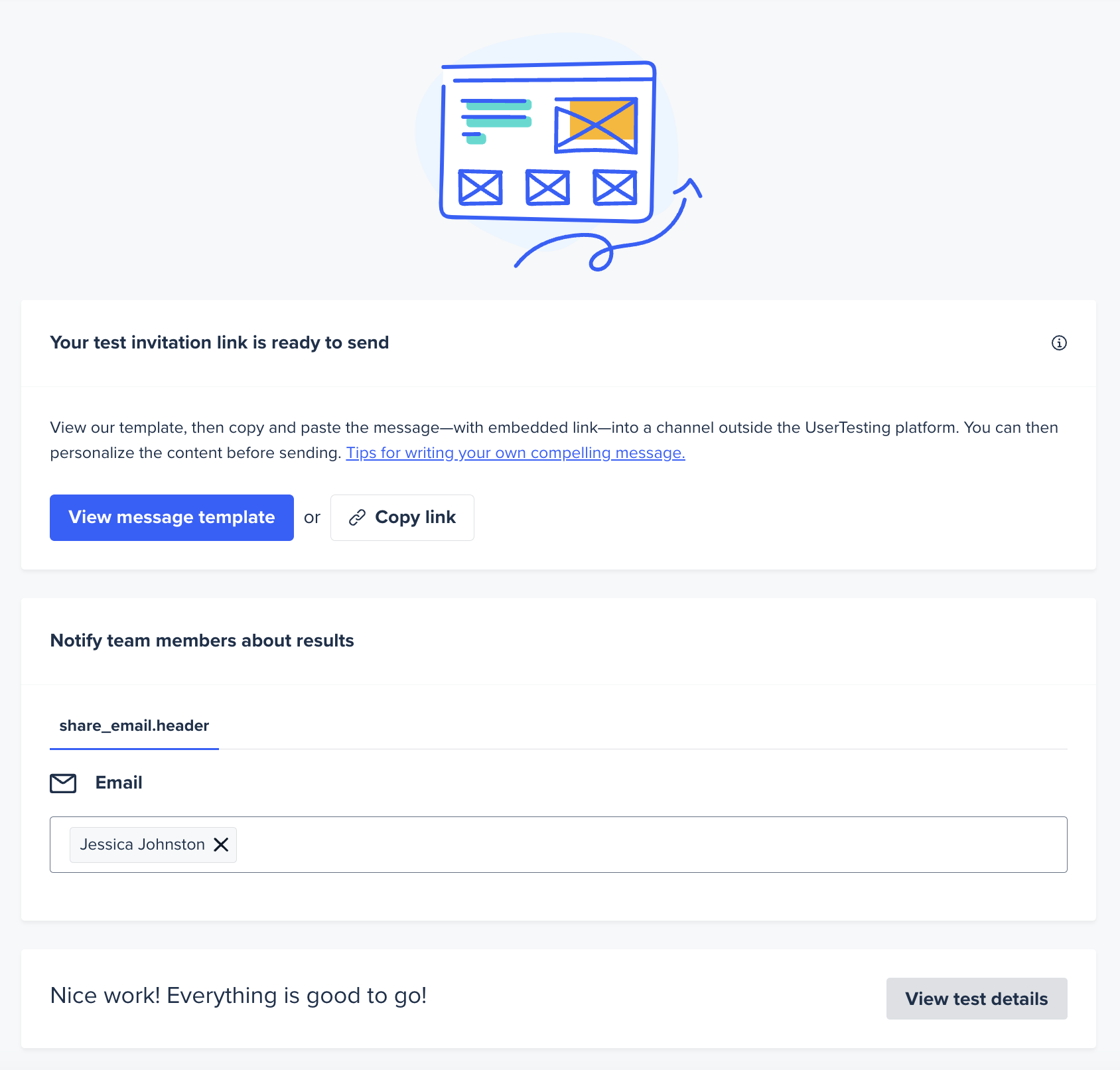 If you choose not to collect emails, you can either add a reference ID to the test URL or send the test URL as is, and the system will automatically generate a reference ID for each contributor that takes the test.
To add your own reference ID:
Copy the test link and paste it into a web document.

Add the free string ?participant_id=1 to the end of the URL.
Repeat as many times as needed with different identifiers (i.e., ?participant_id=2, ?participant_id=3, etc.). 
Note: Include an identifier greater than zero. Identifiers that begin with zero (e.g., 007) will not appear with the zeroes in the Excel Export.

For more information on capturing contributor identifiers and locating them in your results, see Where to Find Contributor Identifiers for Invite Network Tests.

Optional: You can also provide contributors with a redirect link that will return them to the page they were on before taking the test or to a new location.
Follow the same steps for adding the reference ID to the test URL.

Add &redirectURL=https://www.google.com after the reference ID string in the URL. Make sure to include https:// in the redirect.

Repeat as many times as needed for each contributor.

5. There is also an editable message template for you to share information about the test with the group of contributors you've chosen. Your message should explain what the test is for and instructions on how to conduct the test. Once you've edited the message template to your liking, you can send it through any channel you choose.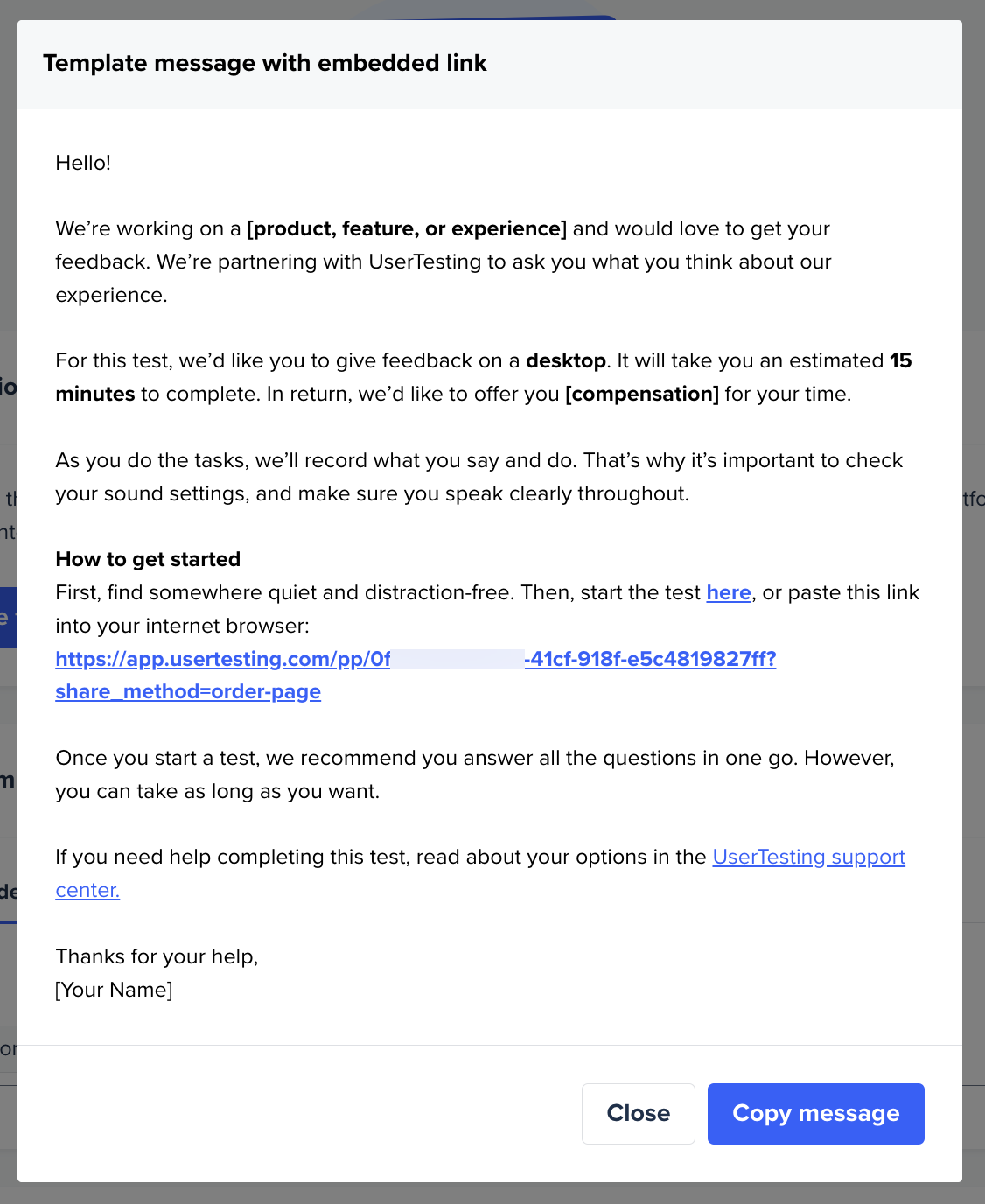 Once your contributors select the test link, they'll be guided through the test every step of the way, and soon you'll have videos from your contributors to review, as well as analytics like Interactive Path Flows.
Note: Live Conversation sessions use Zoom, so Invite Network contributors do not download the UserTesting recorder. Still, they will need to be able to join a Zoom meeting on their computer or mobile device.
Invite Network Use Cases
Invite Network empowers you to tap into audiences in previously unscalable ways due to logistical, financial, or timing considerations. Here are a few ways UserTesting customers have gotten results with Invite Network:
Hear from your power users
The power users of your brand are another source of valuable insights. Sometimes a product or feature requires experience and knowledge of the product or a subject area. And that's where Invite Network can help zero in on specific personas to discover how well your product resonates with a specific audience.
Test with demographics not on the UserTesting Contributor Network
Sometimes you need to test with individuals who meet an exclusive demographic that isn't offered on the UserTesting Contributor Network.
Invite Network allows you to reach out to unique audiences you may already know that would otherwise be difficult to recruit for testing.
While we value the UserTesting Contributor Network, our niche professional audiences—clinicians, medical educators, clinical researchers and healthcare executives–are hard to find. To add to the challenge, for many tests we prefer contributors to be subscribers to one of our products. Invite Network made it significantly faster and easier to reach our subscriber base and gather the customer insights we need to improve our websites.

-Director of Market Intelligence at global healthcare group
Generate employee engagement with internal testing
Employees can be a company's greatest ambassadors—if they're engaged and involved in improving the brand. But testing new features with an internal audience can be time-consuming and costly, making incorporating them into an agile process challenging.
Invite Network empowers you to quickly solicit feedback from internal audiences, driving more informed design decisions and increased employee engagement. The result? A better customer—and employee—experience.
Learn More
Need more information? Read these related articles.
Want to learn more about this topic? Check out our University courses.
Please provide any feedback you have on this article. Your feedback will be used to improve the article and should take no more than 5 minutes to complete. Article evaluations will remain completely confidential unless you request a follow-up.