Some teams use Notes in EnjoyHQ to write observations while interviewing users and sometimes to copy and paste content they wrote somewhere else. You can also create Note templates that can make your life easier and your research process more productive.
How to create notes
To create a note go to search and click on the cloud ☁ (upload) icon. Notes can be created in the search area or within a project - in that case, we will automatically add that note to your current project's data section.

Alternatively, you can bring the note editor from anywhere in the app by clicking on the "New note" button in the left-hand navigation menu:

What can you do with Notes?
While creating a Note, you can:
In addition to creating and editing existing notes, feedback imported from forwarded emails, uploaded documents, and imported videos can be edited in the same way. To edit a document, select the "edit" option from the "Edit & More" menu:

Supported formatting
The editor supports all the standard ways of formatting content:
bold, italic and underscore font styles

nested bullet and numbered lists

quotes (also nested)

links

rich embeds (from YouTube, public files in Google Drive, Dropbox, Slideshare and more)

in-line images - can be uploaded into the content or
You can copy and paste the content from any website or a document, and our editor will preserve as much formatting as possible.
Uploading Images
To upload images into your notes you can click the "Add Image" option in the toolbar. This will show you an uploader window where you will be able to upload your image from your computer or from a cloud provider.
Once the upload finishes, you will have your image in the note: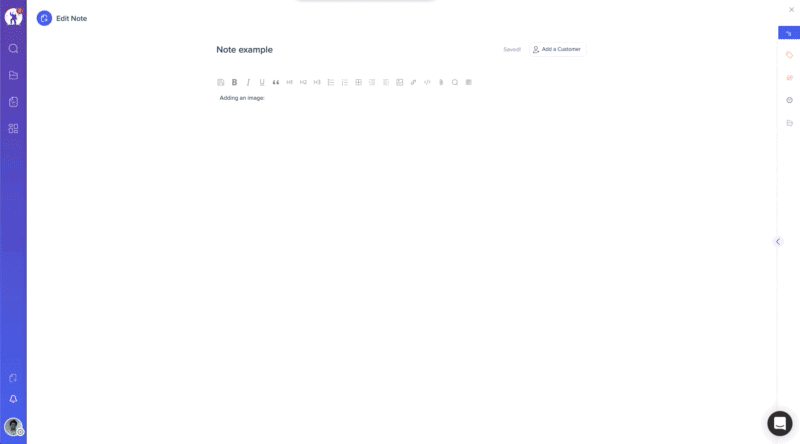 Creating note templates
You can learn more about creating/editing templates here.
Learn how companies and teams of all sizes use EnjoyHQ 👉Success Stories.
Why not book a demo with us? We would love to answer all your questions 👉 Book a demo here.
Please provide any feedback you have on this article. Your feedback will be used to improve the article and should take no more than 5 minutes to complete. Article evaluations will remain completely confidential unless you request a follow-up.