At a Glance
To drive greater business growth, you may be interested in creating digital experiences in non-English languages for either US-based or international audiences. Here are some tips for securing feedback on your non-English web and content experiences, using either the UserTesting Contributor Network or your own contributors.
Overview
The UserTesting Platform can be used to test experiences in many languages, but is optimized for testing English-, German-, and French-language tests. Nevertheless, testing in other languages is possible.
Use Filters, Other Requirements, or Screeners to Identify Contributors
Target Countries According to Your Needs
Tips for Setting Up Your Study
Use Filters, Other Requirements, or Screeners to Identify Contributors
If you are sharing your study with the UserTesting Contributor Network, you should create screener questions or indicate language requirements at the start of the study.
Use a filter to indicate which language your contributors should speak during the test. This is applicable to tests written in English (default), Spanish, French, or German. Only contributors who have indicated they speak this language will receive an invitation to take this test. If you'd like contributors to read the test in one language but speak in a different language, please add it as an Other requirement. Keep in mind that if fluency level is important, that should be added as a screener - the language filter does not account for different fluency levels. 
Include language requirements in Other requirements.

Keep in mind that some of our contributors speak multiple languages and may have their browser or device settings in English. If you want them to change their language settings to German, add instructions telling them to do so in the

Other requirements

section under

Filters

.

Use screeners to locate specific language speakers.

To identify non-English language speakers within the UserTesting Contributor Network, create appropriate screener questions.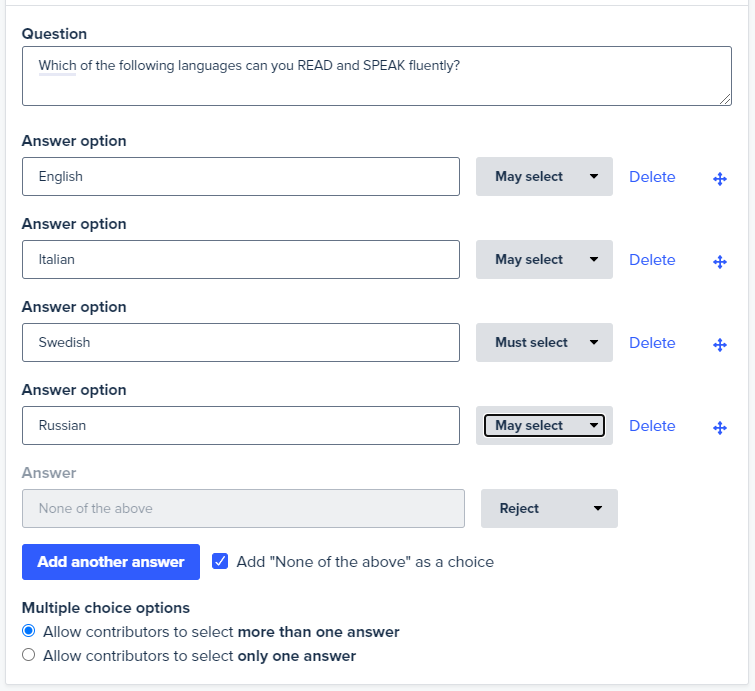 Target Countries According to Your Needs
You should select the Countries test filter according to what you seek to accomplish. If your plan allows, you also have access to the Additional Country Filters.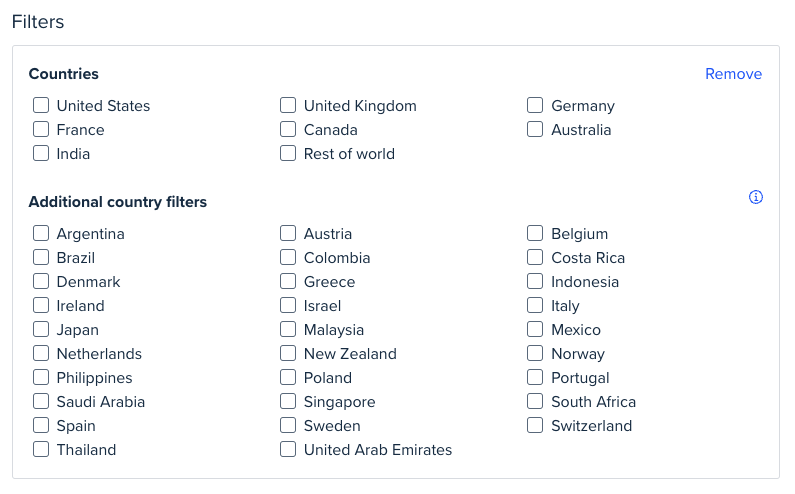 If your focus is getting fast feedback on a non-English experience, you should consider targeting a larger geographical area, or keeping your study geography-agnostic (by keeping the default "Any"). That way, any speaker of your target language, wherever they are located, will be able to participate in your test.

If you specifically want feedback from non-English speakers residing in a particular country or countries, select accordingly. You may choose to target specific countries for several reasons, including getting feedback from a native language speaker or understanding geographic-based nuances in how content and experiences are perceived. 
Tips for Setting Up Your Study 
As you set up your unmoderated study, these are the places where you will want to think through the language experience related to your goals and the resources on your team. 
The web/content experience itself.

If you want to display content in a non-English language (such as a webpage, video, or prototype) to secure feedback on that experience, ensure that the contributor can see the non-English content. Double-check that your content's language setting or IP address doesn't block them. 

The written tasks and questions.

Be sure to write your tasks and questions in the same language you want your contributor to speak. The tasks and questions will be displayed exactly as you write them; they will not be translated or localized when shown to contributors. Currently, the Platform does not support tasks in languages written right to left, such as Arabic or Hebrew.

The contributors' responses.

Select the language you want contributors to answer in by using the

Language requirement

filter. If you'd like them to read the test in one language but speak a different language, you can specify this in the

Other requirements

filter.
If you are looking to conduct a live interview with non-English speaking contributors (using Live Conversation), most of the above rules apply. You can still target countries and write screener questions in the language of your choosing to pinpoint the specific audiences and personas you are seeking. You will conduct the live interview in the language of your choosing, and you can instruct the contributor to respond in whichever language most benefits your needs.
Because Live Conversation relies on Zoom, transcripts from Live Conversation sessions are only in English. Currently, Zoom supports audio transcription in English only. You may hold Live Conversations in non-English languages, but the transcripts will only return in English.
Contributor Experience
UserTesting Contributor Network and Custom Network
Contributors will experience the UserTesting contributor dashboard either in English, French, or German, according to their web browser settings. For instance, if their web browser language is set to German, they will experience the Platform in German. If their web browser is set to English or any other language, then they will experience the Platform in English.
The buttons and messages in UserTesting recorders are available in more languages. If the contributor's device setting is one of the languages below, the text in the recorder will translate into the following languages:
Brazilian Portuguese

Chinese (simplified)

English

French

German

Japanese

Spanish
Otherwise, the default is English. This is for most unmoderated tests except for iOS devices using contributors from Custom Network or the UserTesting Contributor Network.
Invite Network
The Invite Network test landing page, instructions, and recorders (i.e., buttons etc.), are available in the following languages. The contributor's device settings will need to match one of the languages listed below:

Brazilian Portuguese

Chinese (simplified)

English

French

German

Japanese

Spanish
Otherwise, the default is English.
How do I change my language settings or advise contributors to change their settings? 
Perform these steps, or share them with your contributors.
For Chrome browsers, there are two ways to change your settings:
Locale switching plugin
Add the

Locale Switcher

extension from the Chrome store.

Click on the Extensions puzzle icon next to the URL bar.

Open the locale extension and select the desired language

from the dropdown menu.
Changing the language via your browser settings
Go to your Chrome browser settings menu.

Search for

Languages

.
Click Language > Add Language.
If the browser language settings are not set to a non-English language the default language for the test will be English. This also includes tests on mobile devices.
There are also tech assistance options you can provide to Invite Network contributors. Direct your contributors to contact Support via this form. In the form, provide the following information:
Language spoken by the contributor

Study name/number

Workspace name where the study is located (only include if you, the customer, submit the form)

The contributor's email address

An explanation of the issue providing as much information as possible

Screenshots of the issue or error messaging the user received (if available)
Learn More
Need more information? Read these related articles.
Want to learn more about this topic? Check out our University course.
Please provide any feedback you have on this article. Your feedback will be used to improve the article and should take no more than 5 minutes to complete. Article evaluations will remain completely confidential unless you request a follow-up.