At a Glance
The joining of UserTesting, UserZoom, and EnjoyHQ allows customers with subscriptions to these platforms to seamlessly toggle between their account dashboards.
Overview
We're bringing UserZoom and EnjoyHQ together under the UserTesting company name as a powerful end-to-end solution that will drive more value and outcomes for your teams. Read more about this news here.
Access UserTesting, UserZoom, and EnjoyHQ platforms with one integrated login experience. After authenticating your sessions, you can move between platforms directly within the user interface. 
This integrated login experience is available for customers' subscriptions to multiple products, including UserTesting, UserZoom, and/or EnjoyHQ. Once authenticated within each platform, you can use the same browser tab to navigate to desired platforms and web pages without re-authenticating. 
How to Log In
A separate authentication is required when first logging into each platform. You can log in using the email and password combination you selected for each platform, which may include one email and multiple password combinations.
Accessing the app launcher from UserTesting
Select your initials on the UserTesting dashboard to open the app launcher.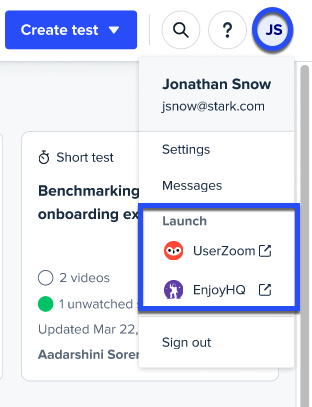 Accessing the app launcher from UserZoom
Select the Launch button on the UserZoom dashboard to select other platforms.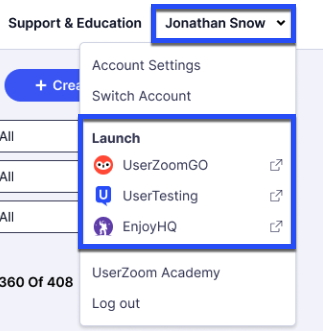 Accessing the app launcher from EnjoyHQ
Select the app launcher on the EnjoyHQ dashboard.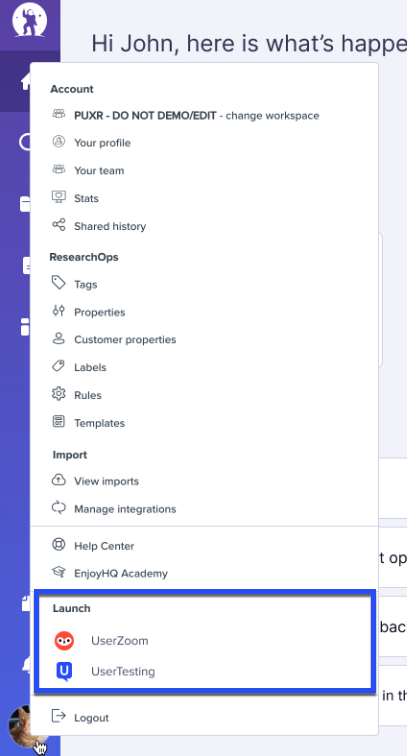 Please provide any feedback you have on this article. Your feedback will be used to improve the article and should take no more than 5 minutes to complete. Article evaluations will remain completely confidential unless you request a follow-up.