Here you will learn how to connect Slack to EnjoyHQ so that you can add customer feedback from any Slack channel to your EnjoyHQ account.
First, connect your EnjoyHQ account with Slack. You will find it in your account settings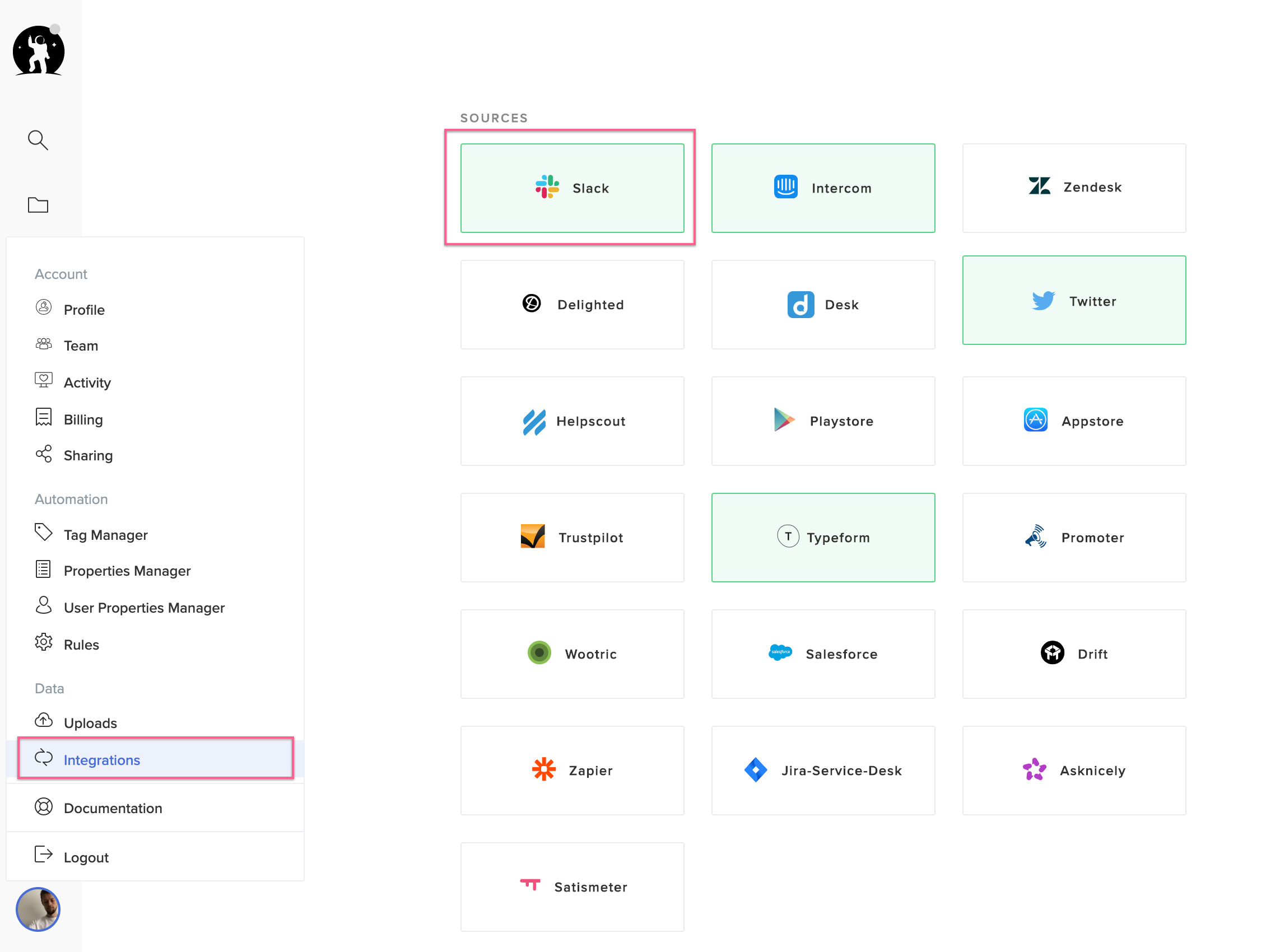 After succesful authorization you'll be presented with the Slack integration configuration screen: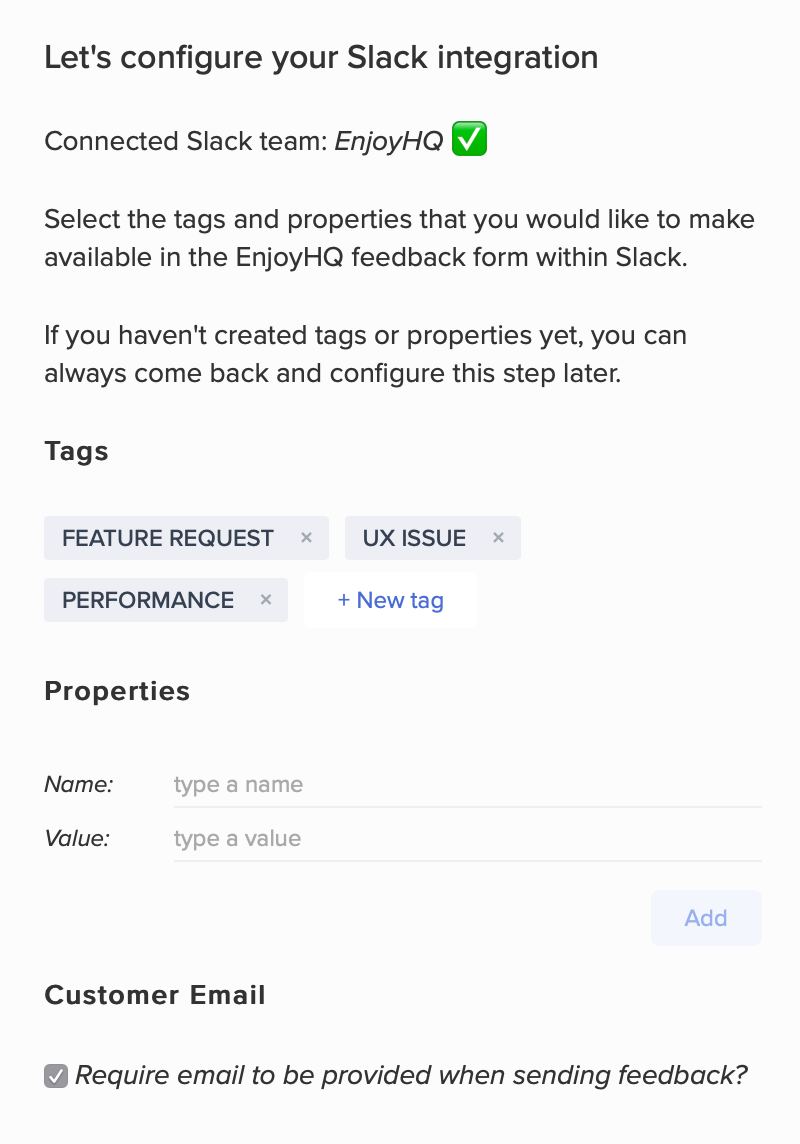 Here you can configure what options will be shown when sharing feedback from Slack to EnjoyHQ.
Configuration options
Tags
You can select up to 100 tags which you want to show in the submission dialog (see below). Only 2 tags can be submitted with the feedback.
Properties
You can select up to 100 properties which will be available in the submission dialog. The property names and values cannot be longer than 20 characters and just like tags - only two properties can be sent with the submitted feedback.
Email address
You can make the customer email address mandatory, or optional.
Sharing from Slack to EnjoyHQ
Once you connect and configure the Slack integration you can share individual messages from any channel at any time. Click the "more actions" button and pick "Send to EnjoyHQ" action: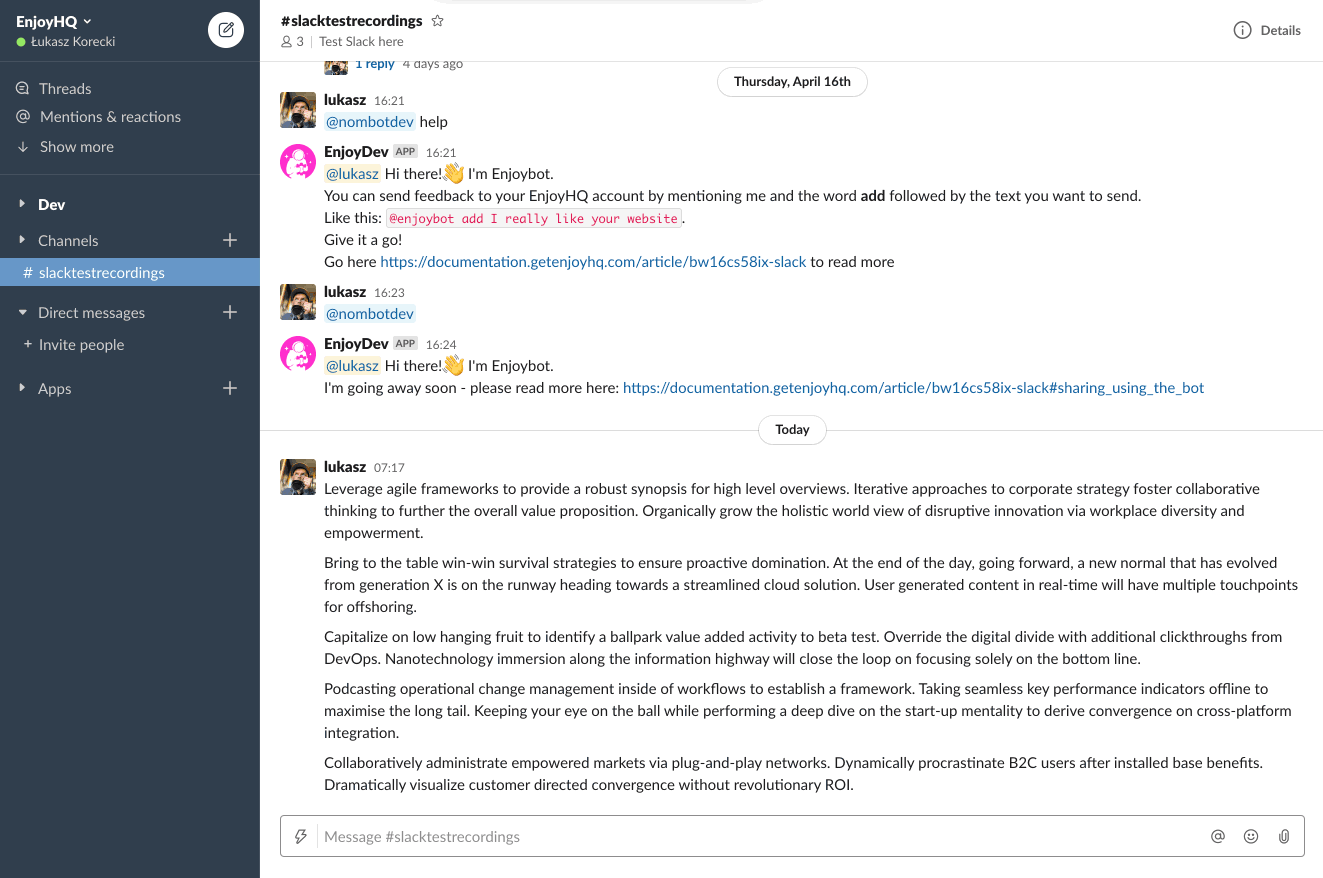 If you cannot see the action, you can search for
EnjoyHQ
in the "More message actions..." options
You'll be presented with a dialog confirming your submission. Here you can add the feedback title, provide customer's email address and optionally classify the feedback with tags and properties. You can also edit the content before submitting: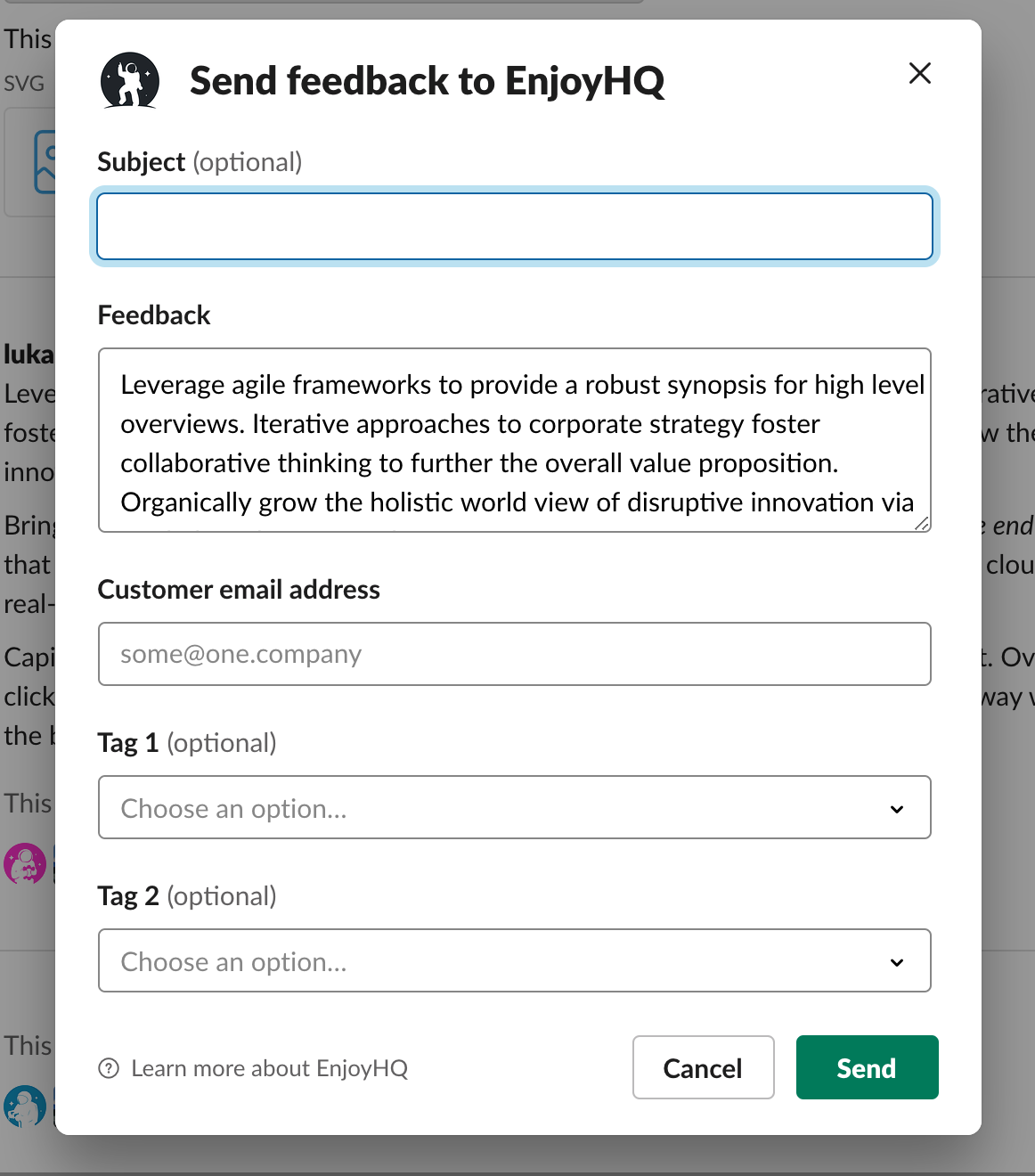 When the feedback is received you will get a private message with the link to the feedback document in EnjoyHQ:

The new document can be seen in your account after a short amount of time during which we process the forwarded message.
Ingested message will be fully editable in EnjoyHQ, although the changes won't be synchronized back to Slack. Additionally, you can forward messages with images or attached files: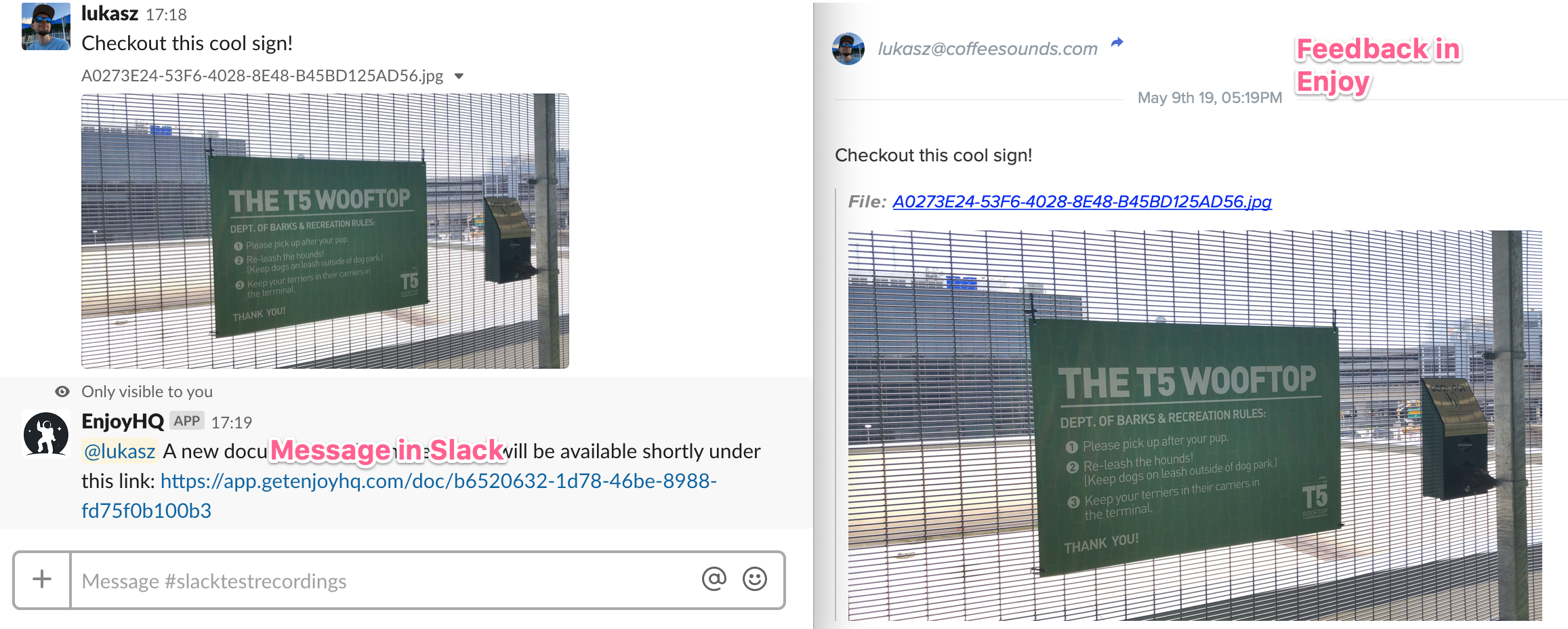 Our integration will interpret most of Slack's formatting options and information attached to a message, for example website descriptions, attachments sent by other Slack integrations.
Sharing from EnjoyHQ to Slack
Once the Slack integration is connected, anytime you see this option in EnjoyHQ: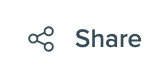 you can use the sharing function to quickly send a link to a given item to Slack: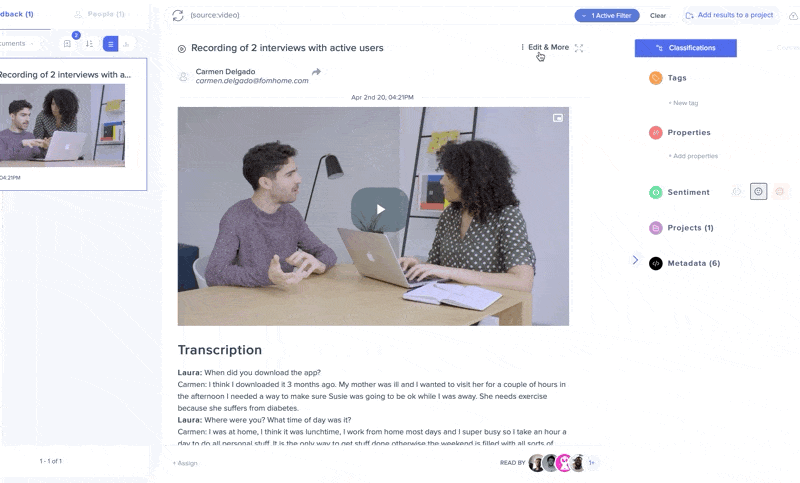 and the document will be shared to the selected channel:

Anybody can visit the following link, and if they're not an EnjoyHQ team member - request access to view it.
FAQ
If I'm forwarding a piece of feedback which reports a recurring issue - should I add it to a previously shared feedback or create a new one?
We usually advise  feedback separately from if it  different customers. It has certain advantages:
you'll be able to count how many times issue or a request has come up in the past by checking the number of documents
if you have segmentation data in your account, you'll be able to break down individual requests by user properties
Having all feedback in one conversation definitely works, but because you can link it only to one customer it and can be tagged only once (unless you highlight it and tag highlights individually) the search and reporting won't be accurate.
Can I share links to private channels or direct messages?
That's not supported at the moment: sharing to private channels would reveal the list of all existing private channels in your Slack account to any EnjoyHQ team member. Most of the time that's not desirable.
Given potential sizes of Slack teams, we also do not support sharing links to users directly - it's usually faster to just copy the link and send it directly to a given user.
Please provide any feedback you have on this article. Your feedback will be used to improve the article and should take no more than 5 minutes to complete. Article evaluations will remain completely confidential unless you request a follow-up.