Learn about Non-Disclosure Agreements (NDA) and Legal Consent.
✅ Plan Availability: All Plans
👥 User roles: Owner, Admins, and Researchers
For more information, see our article on how to find your plan and user role.
On this page:
---
About the Non-Disclosure Agreement (NDA) and Legal Consent
Non-Disclosure Agreements (NDA) and Legal Consent are common practices for any form of User Experience research, Moderated or Unmoderated studies, UserZoom sourced participants. or participants that you source on your own.
Non-Disclosure Agreement (NDA)
The intent of an 

NDA

 is to preserve the confidentiality of concepts, prototypes, and other information presented in remote UX research studies.

They ensure study participants do not disclose any concepts, prototypes, or other confidential information they are exposed to in a study.
Legal Consent
The intent of a 

Legal Consent

 is to comply with data privacy standards, such as GDPR and CCPA, by ensuring that informed consent to participate is collected from research subjects.

It ensures that the study participant knowingly agrees to have data collected from them as part of a UX study. This can include:

Answers to questions

Screen, voice, and camera recordings

The Legal Consent Request feature is available in all accounts.

As long as

the Request Legal Consent option

 

is enabled for a study

, the page appears in the Study Builder and is shown to all participants (as well as testers) after the Welcome Page). 

The Legal Consent Request page is shown regardless of whether participants access the study through

an

 

IntelliZoom segment or a Recruit your own users segment

. 

Only after clicking the

Agree & Continue

 button are participants able to proceed to the study. 

A

record of this is kept in UserZoom attached to the unique ID of the participant.

Default NDA & Legal Consent
The default version of the Legal Consent Request page in all studies includes:
A message informing participants about data collection during the study.
A consent request with a checkbox.

The UserZoom Terms of Use and Privacy Policy linked at the bottom of the page c

ontaining:

A confidentiality clause (NDA)
A statement explaining that data is being collected for UX research
Customize the default NDA & Legal Consent
In case the default Legal Consent Request page does not cover your needs, there are three ways you can update it to meet your needs:
Option 1: Modify the default text of the Legal Consent Request page
When you do, make sure

 notifications required by GDPR or CCPA are not removed. 

Additional language regarding NDAs can also be added.

The advantage of this option is that leveraging the native UserZoom functionality, a record is made of the time and date each user clicked on Agree & Continue.

Should the text on the Legal Consent Request page be edited, it is possible to retrieve a copy of the text displayed to a specific participant when they took the study.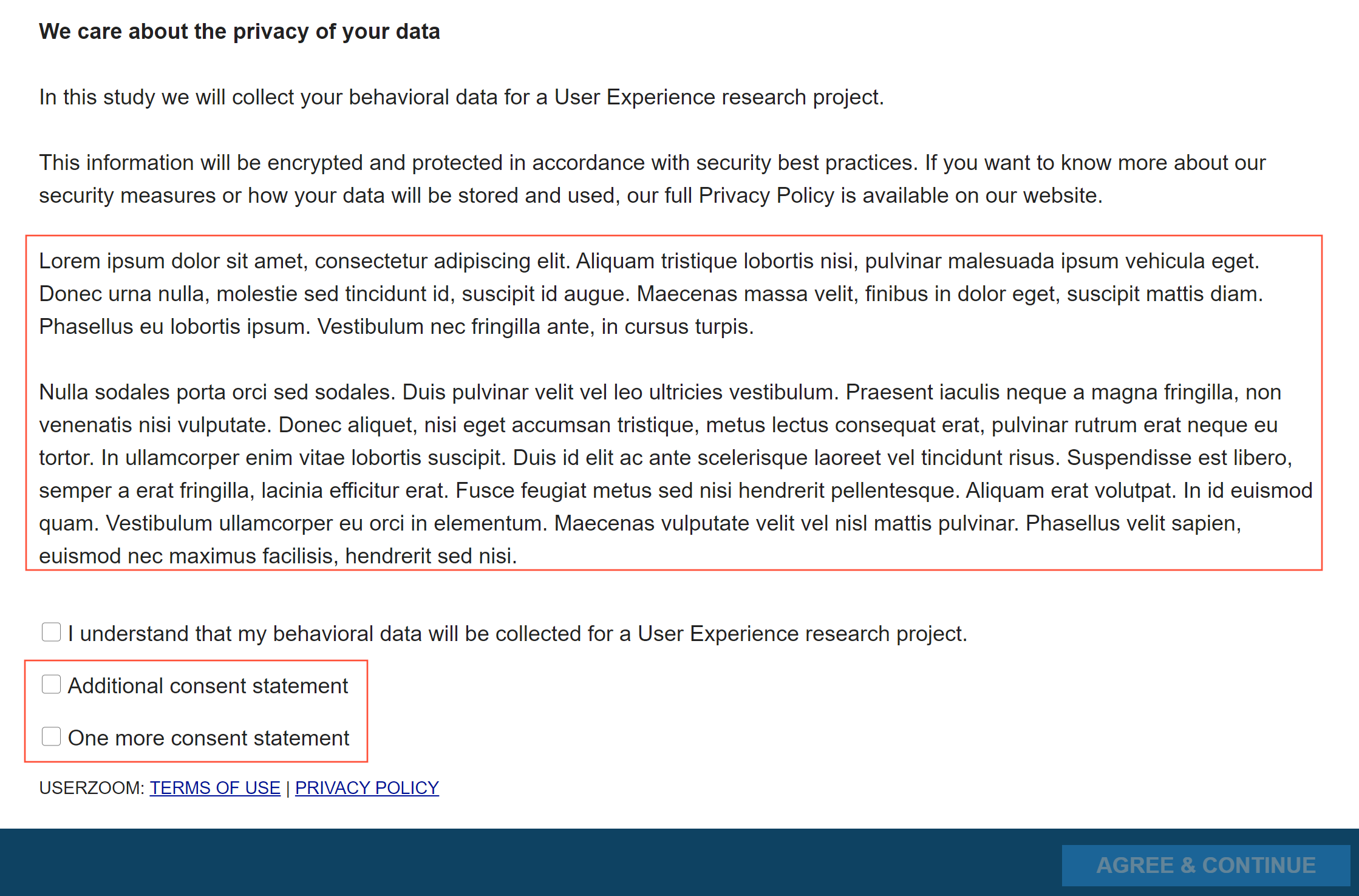 Option 2: Add the legal text as a question
You can add your NDA or Legal Consent as a question within the UserZoom study.

The text can be added within a 

Choice - One Answer question

 with two options:

"I agree to these terms and wish to proceed"
"I do not agree to these terms"

Set the "I do not agree" option to screen participants out.

Be aware that long blocks of legal text can be off-putting to respondents and may decrease participation.

Option 3: Add a hyperlink to your NDA or Legal Consent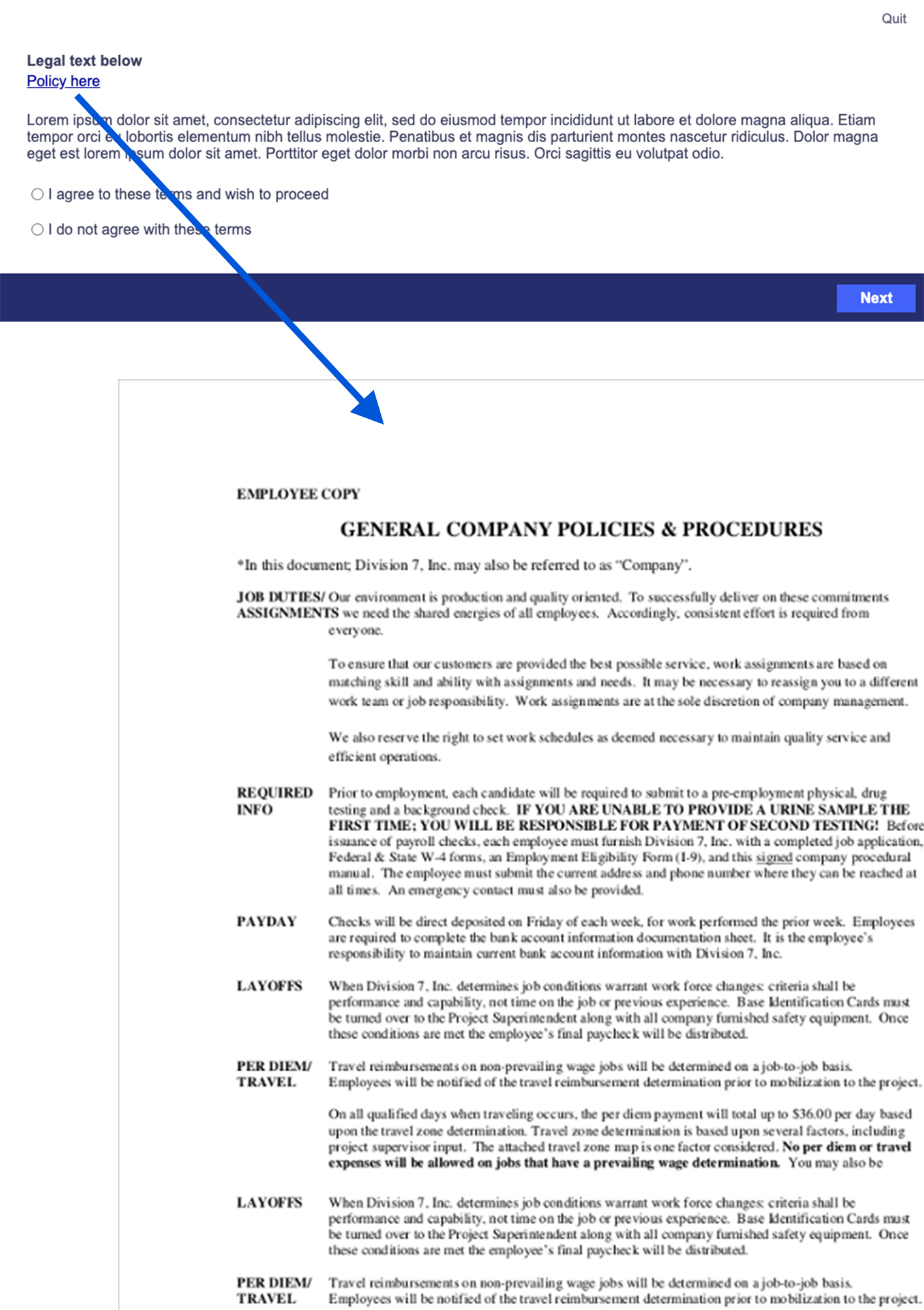 Special Consideration for Moderated studies
The options described above can also be used in Moderated studies.

As an additional step, the moderator can start the recording by saying something like this:
"[Name of participant] we are recording this session for a User Experience Research study, do I have your consent to proceed?"

NDA and Legal Consent when recruiting with IntelliZoom
When they register, UserZoom panelists agree to our Terms & Conditions which include:

Confidentiality clause (NDA)
Acknowledgment that data will be collected as part of UX research studies (Consent)

For participants sourced by IntelliZoom:

All UserZoom partner panels have substantively similar agreements in place with their panelists.
All partner panels have a signed MNDA with UserZoom on file.
Please provide any feedback you have on this article. Your feedback will be used to improve the article and should take no more than 5 minutes to complete. Article evaluations will remain completely confidential unless you request a follow-up.