At a Glance
The Test website usability Quick Answer option allows you to test your website's landing pages and navigational elements.
Quick Answer: Test Website Usability is available on the following subscriptions:
Click on the following header titles to skip to that section of the article:
Quick Answers allow you to collect recorded video feedback of customers or prospects as they complete tasks and answer questions. The tasks and questions are written for you by UserTesting and designed to answer the most common marketing challenges. You can read more about Quick Answers in Quick Answers: Overview.
Test website usability is one of the Quick Answer templates available on the Platform; for some users, this template is named Understand behavior on websites. With Test website usability, you can discover whether people can easily complete a task on a website and understand the behavior behind your metrics and analytics. 
When to use the Test website usability template
The focus of the Test website usability Quick Answer test is on how easily customers can complete a task. This Quick Answer is an ideal option in the "Iterate" phase of the design development life cycle, allowing you to...
Test landing pages to make sure they resonate with customers who then understand where to navigate to next.

Test navigational elements to confirm that customers are able to find the information they're looking for.

Observe how easily people complete a specific task on a website. Doing so helps you understand what drives the contributor behavior reflected in your data and analytics.

Spot opportunities within your purchase funnel to improve conversion rates.

Test competitor websites with the aim of improving your own site.
Note that the test doesn't have to be on your website. You can use it to test a competitor's product or any publicly accessible website.
How to set up the Test website usability template
Quick Answer inputs
Click the Create test drop-down menu and select Customize a template.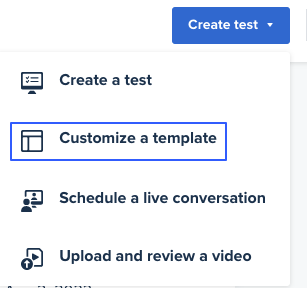 From the Template Gallery, click the Quick Answers filter.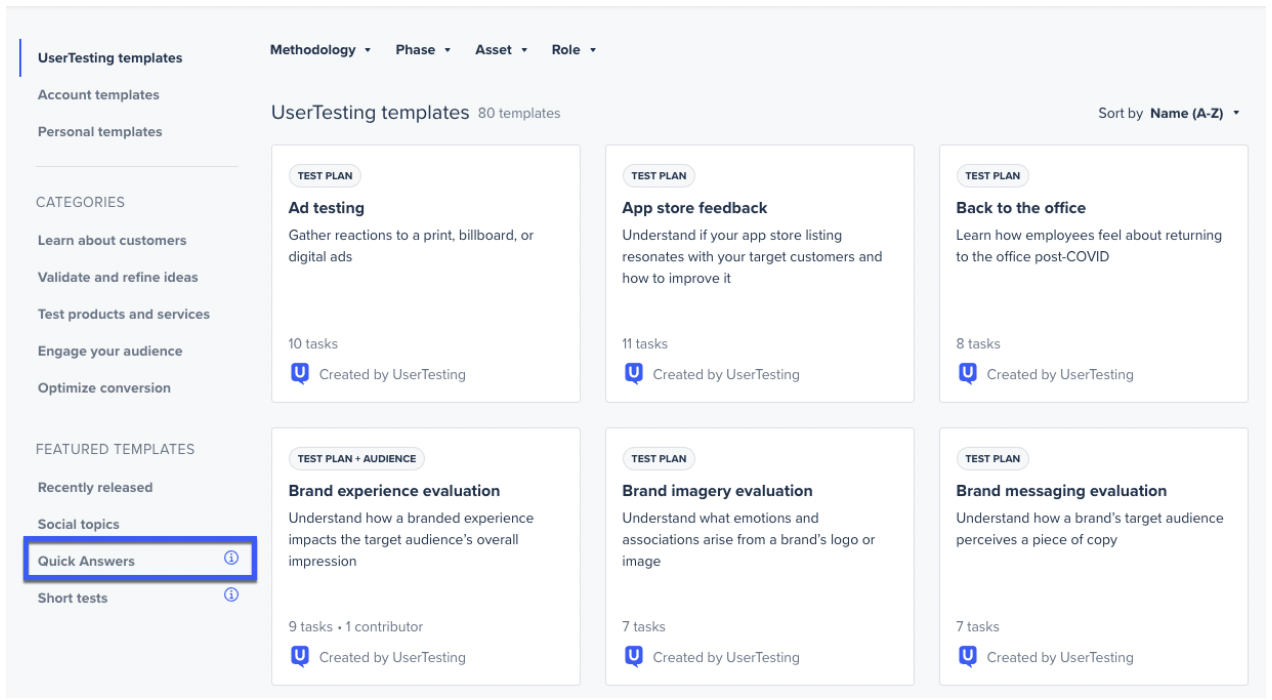 Then, find and click the Test website usability template tile. Doing so opens the template to reveal a predefined test plan, with the tasks already loaded for you.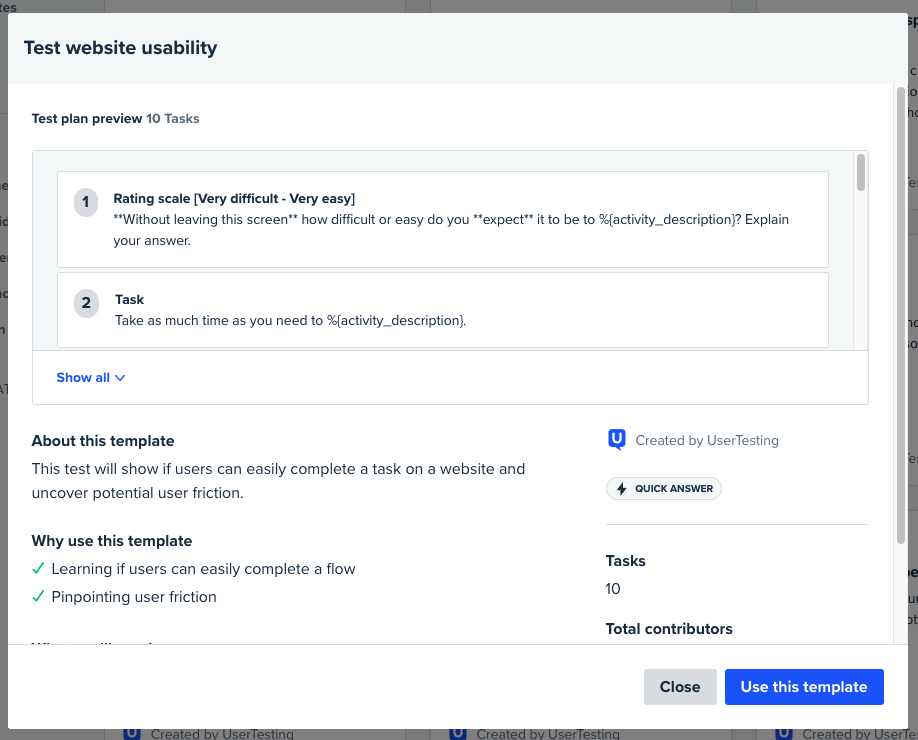 Provide a link to the website with the activity you want contributors to try.
You don't have to start at the homepage. For example, if you want to test a store locator, contributors could begin at the store-location page.
Next, describe the activity you want contributors to do. Start your description with a verb, but don't include exact steps, such as "Click on this button. Then this link. Then go…."

The description is added to an already-written sentence, so it's a best practice to use a lowercase letter for the first word and not end with a period or other punctuation. Quick Answers converts your description into the test questions, so the wording you enter is what people will see.

Some examples include:
"find a pair of shoes you would be interested in purchasing and add it to your cart"

"demonstrate how you would schedule an appointment with a banker at your local branch"

"s

ign up for the newsletter"

"f

ind out when to report for jury duty"

"change your profile picture"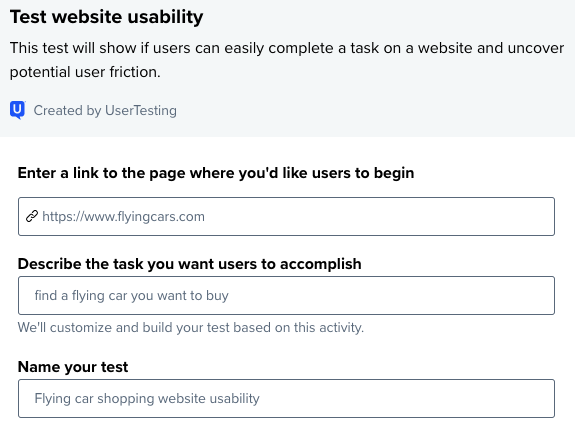 Then name your test so that it's easy to recognize from among other tests on your Dashboard. Product Insight displays your entire account's tests on the Dashboard, making it easy to share them with others.
At this point, you'll need to determine who should take your test. You can recruit contributors from the UserTesting Contributor Network, or you can use your own contributors through the Invite Network feature.
Launching a test
To see a list of all the questions the test asks contributors, click the 10 Tasks link (1). To see what your test looks like to contributors, click Preview Test (2).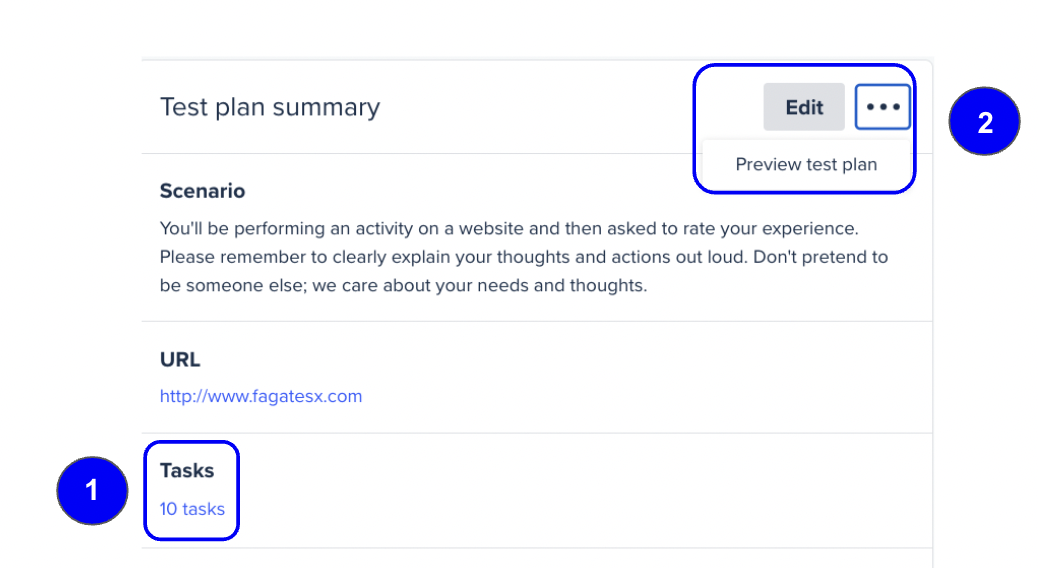 A "Preview test plan" window pops up, allowing you to look over the test on desktop. When you finish previewing, click Close.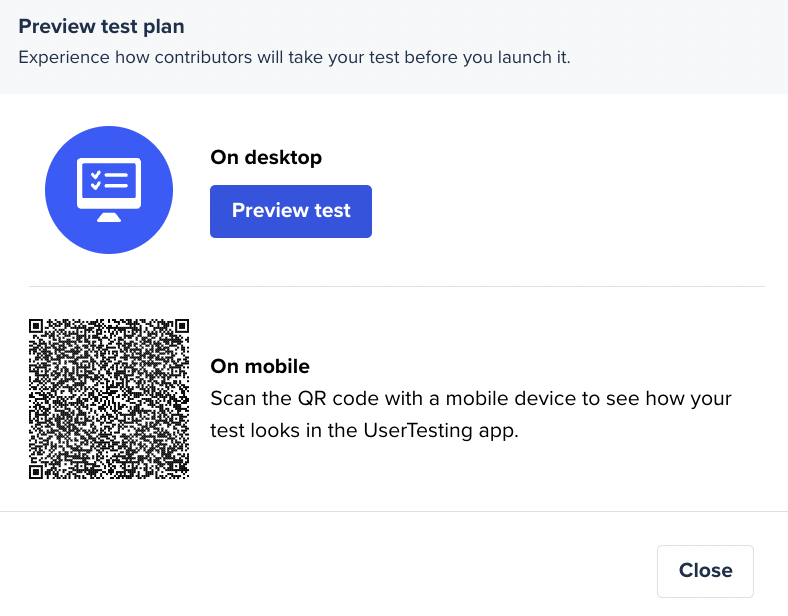 Reviewing the results 
As contributors finish, the software uploads the recorded video to our system. It notifies you by email that the videos are ready to watch. (To configure notifications, see our "Email notification preferences" article.) 
For each test, the Dashboard displays the test name, who created it, when it was last updated, and how many contributors have taken the test.

After the contributors have finished, a Result summary appears below the test title.

From here, you can share the results, create a similar test, or move the test to a different location. From the Dashboard, click on a test title to be taken to the Results tab.
Results Tab
After running the Test Website Usability Quick Answer test, click the Results tab to see the open-ended qualitative feedback in which contributors describe their experiences of completing a particular task or activity from your test.
The Results tab is a great place to start for Quick Answers. It summarizes key findings:
Do contributors like doing the activity?

Did anything in the activity frustrate them?
Videos of the feedback are displayed as Key Takeaways under the Results tab. 

To read more about the Results tab, check out our "Results from Quick Answer Tests" article.
Learn More
Need more information? Read these related articles:
Want to learn more about this topic? Check out our University course:
Please provide any feedback you have on this article. Your feedback will be used to improve the article and should take no more than 5 minutes to complete. Article evaluations will remain completely confidential unless you request a follow-up.