At a Glance
Quick Answers allow Product Managers, Marketers, or anyone who needs customer insights to get fast feedback. Quick Answers include recorded video feedback of customers or prospects as they complete tasks and answer questions. The tasks and questions are written for you, and designed to provide feedback on the most common product and marketing challenges.
Quick Answers are available on the following subscriptions:
Click on the following header titles to skip to that section of the article:
Quick Answers Overview
Quick Answers are helpful for:
Getting customer feedback on things such as marketing campaigns, creatives, images, and messaging.

Getting customer feedback on product decisions without slowing development.

Building deeper empathy with customers.
Run a Quick Answer test by first clicking the Create test button, then select Customize a template.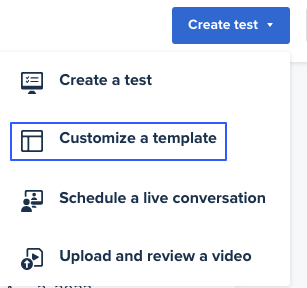 Next, select the Quick Answers tab under Featured Templates.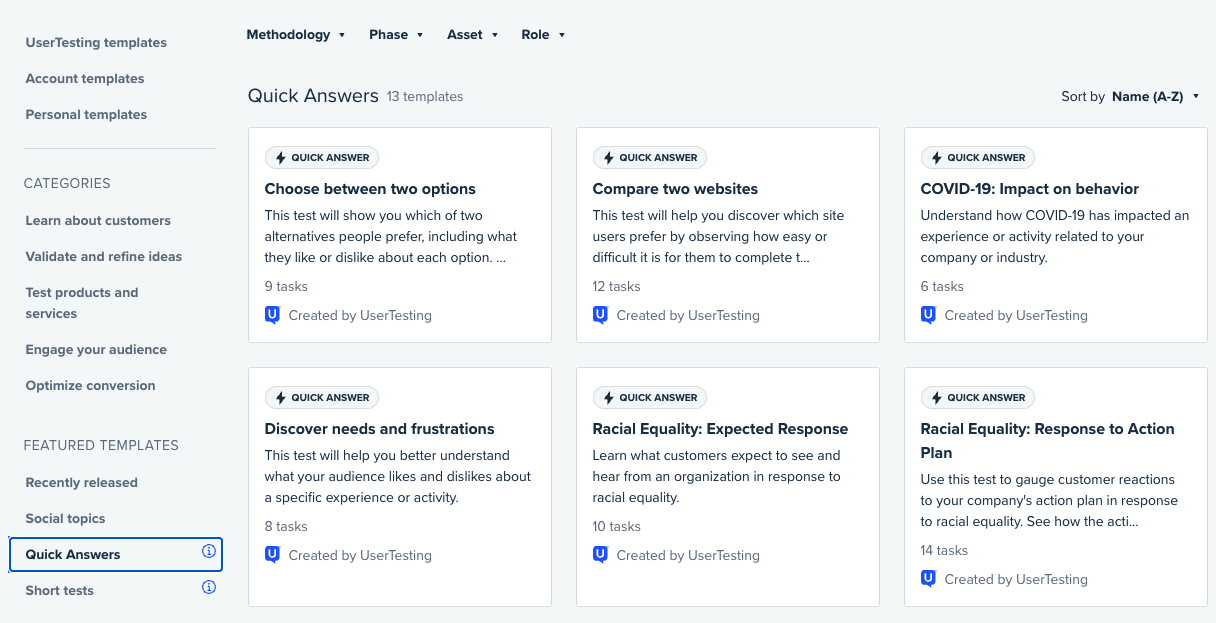 With Quick Answers, you can upload images and messaging, or describe a task or activity on which you want feedback, and the Quick Answers template does the rest. Tests are automatically set up to get the answers to your questions—saving you time, and ensuring the questions you ask are sound and without bias.
Depending on your subscription, you may not have access to all of the Quick Answers shown above. Learn more details about the output from Quick Answers tests.

Note: You will NOT be able to edit a Quick Answers test provided by UserTesting. However, depending on your account and/or status within that account, you can create your own Quick Answer.
Below is more information about the Quick Answers tests that UserTesting provides:

Discover Needs and Frustrations
Understand what your audience likes and dislikes about a specific experience or activity.
See Quick Answer: Discover needs and frustrations


Test Messaging
Determine if people understand your messaging and if it resonates with them.
See Quick Answer: Test Messaging


Test Creatives
Determine how well and why your creatives resonate with people.
See Quick Answer: Test Creatives


Validate an Idea
This test will help you get people's reactions to an idea and understand if they find it valuable.
See Quick Answer: Validate an idea


Validate a Prototype
This test will help you understand how people react to a prototype or wireframe.
See Quick Answer: Validate a prototype


Choose Between Two Options
This test will show you which of two alternatives people prefer, including what they like or dislike about each option.
See Quick Answer: Choose between two options


Compare Two Websites
This test will help you discover which site users prefer by observing how easy or difficult it is for them to complete the same task on two different websites.
See Quick Answer: Compare two websites


Websites: Behavior and Usability
This test will help you gain insights into your customers' experience on a website. You can even test a competitor's website to find opportunities for a competitive advantage.
See Quick Answer: Test website usability


Mobile Testing: Behavior and Usability
This test helps understand the experience your customers have using your app today.
See Quick Answer: Test Mobile App Usability
Learn More
Need more information? Read these related articles.
Want to learn more about this topic? Check out our University courses.
Please provide any feedback you have on this article. Your feedback will be used to improve the article and should take no more than 5 minutes to complete. Article evaluations will remain completely confidential unless you request a follow-up.