At a Glance
Instant Insight is a Platform feature that displays the key findings in the Metrics tab's Interactive Path Flow (IPF) visualization by automatically bringing test-based patterns, trends, and anomalies to the surface. 
Instant Insight is available on the following subscriptions:
Sharing Instant Insight findings
How It Works
1. To ensure instant insight information is displayed on the Metrics tab, set up task-based questions for a web-based experience (e.g., desktop web, mobile web, and web-based prototypes) when building a test.

2. After a test is completed, go to the Metrics tab to find the Interactive Path Flow (IPF) visualization of that test. The UserTesting Platform synthesizes patterns of intent, sentiment, and behavior, summarizing the findings in cards located above the IPF. (Scroll to the right to view more cards, if there are any.)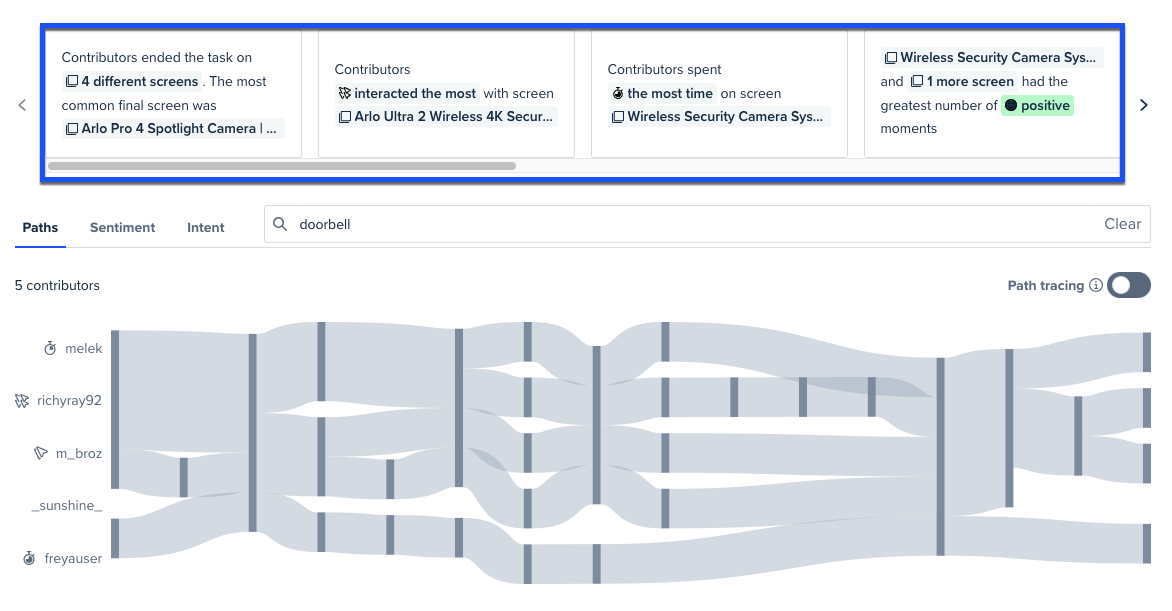 3. The insights are prioritized—listed first in the scrollable carousel of Insights cards—by the "strength" of the findings (i.e., how many contributors did or didn't take a certain action or exhibit a certain sentiment).

4. Clicking on each Instant Insight card highlights the corresponding paths in the IPF, allowing you to quickly find and explore specific paths related to the insights that interest you.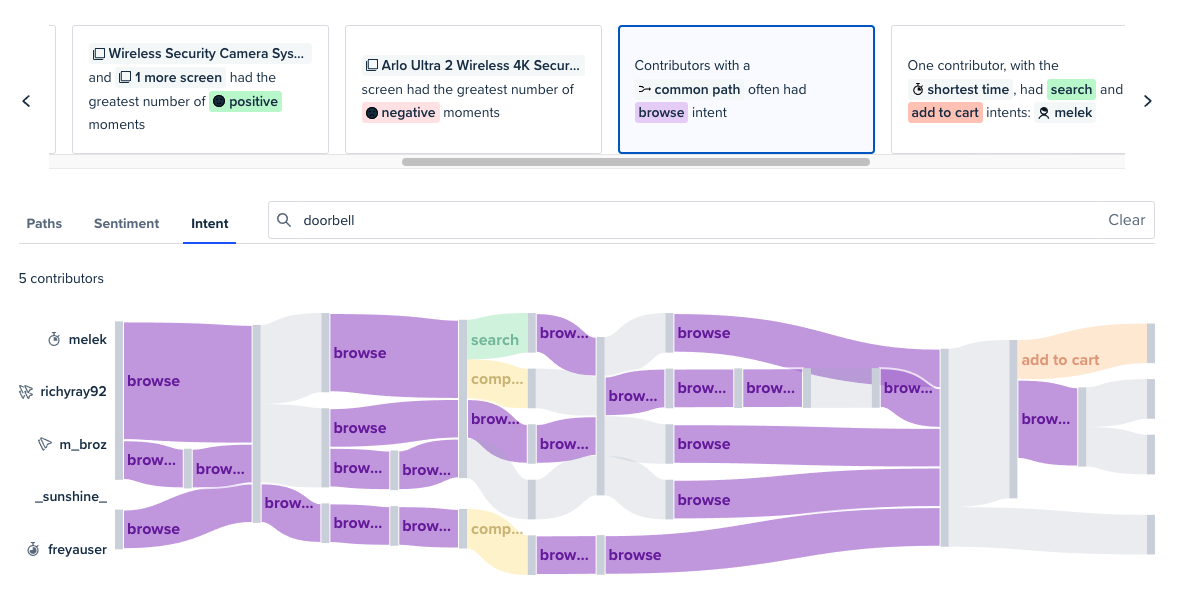 5. Customize your instant insights by adding your own terminology to the labels of the intent path, which can help you more easily analyze specific behaviors. You can edit these labels so that their wording aligns with the terminology your organization uses.
Click on the path-flow intent you want to update or change, then select Edit label in the click map that appears below the intent. Change the label, then click Update. The new label appears in the instant insight card.

Test-level Instant Insight
You can also use the Instant Insight feature to gain feedback from tasks—Multiple Choice, Rating Scale, and Verbal Questions, and others—you built into your test plan (which is done on the UserTesting Platform's Build Test Plan page).
Click on a card to view the task results that correspond with that instant insight.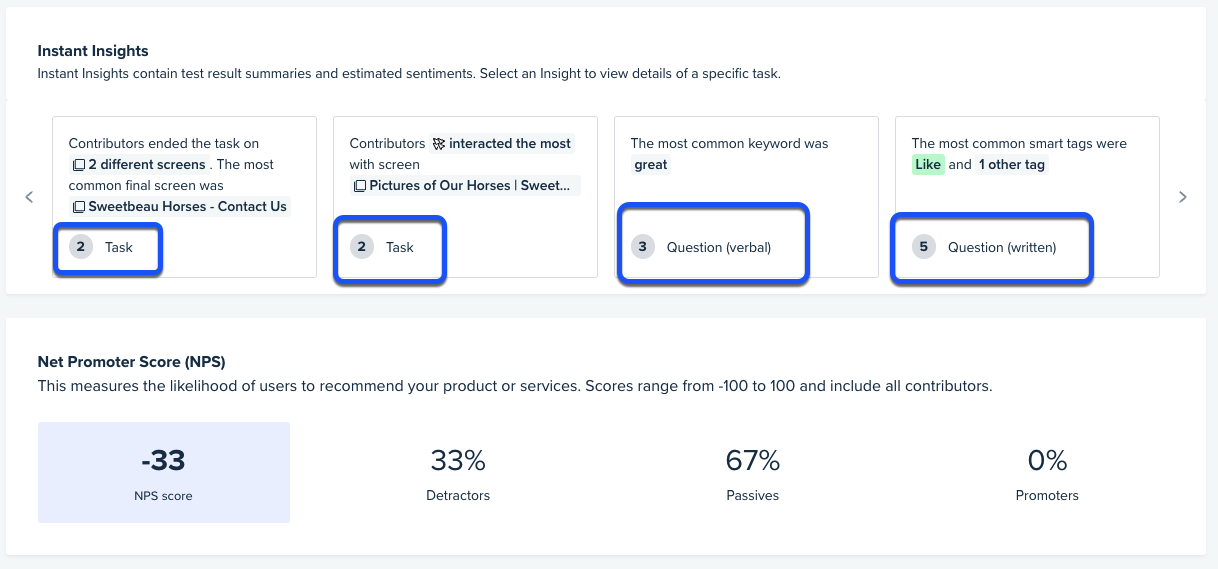 The Instant Insight feature helps you...
Identify trends and patterns across multiple tasks and sessions 

Present key takeaways and the "why" behind trends 

Save time by sparing you from having to review all the session recordings

 
6. To share instant insights, copy and paste them into any report you are sharing with your team.
Note: Instant insight is not included in the Export to Excel feature.
When to use Instant Insight
Use Instant Insight as a starting point for efficient analysis and as a guide to digging into IPF data.

Marking success screens in the path flows will update the Instant Insight cards to feature discoveries about those success screens. Doing so can help you better identify behaviors that are predictors of success.
Customizing intent labels will also be reflected within Instant Insight, highlighting additional trends and patterns, and making it easier to collaborate with other stakeholders.

Leverage Instant Insight to quickly decipher the results of tests comparing insights from multiple task-type questions within one study.

Share instant insights with colleagues and stakeholders as preliminary findings and as points of interest to drive product development or UX discussions.
Sharing instant insights
There are a few ways you can share instant insights with others.
Select Share from your test Results page to generate a test link to share with anyone on your account, or email the test to logged-in team members directly from the UserTesting Platform. Read more about how to share test results.
Note: This method will share the entire test, not just instant insights.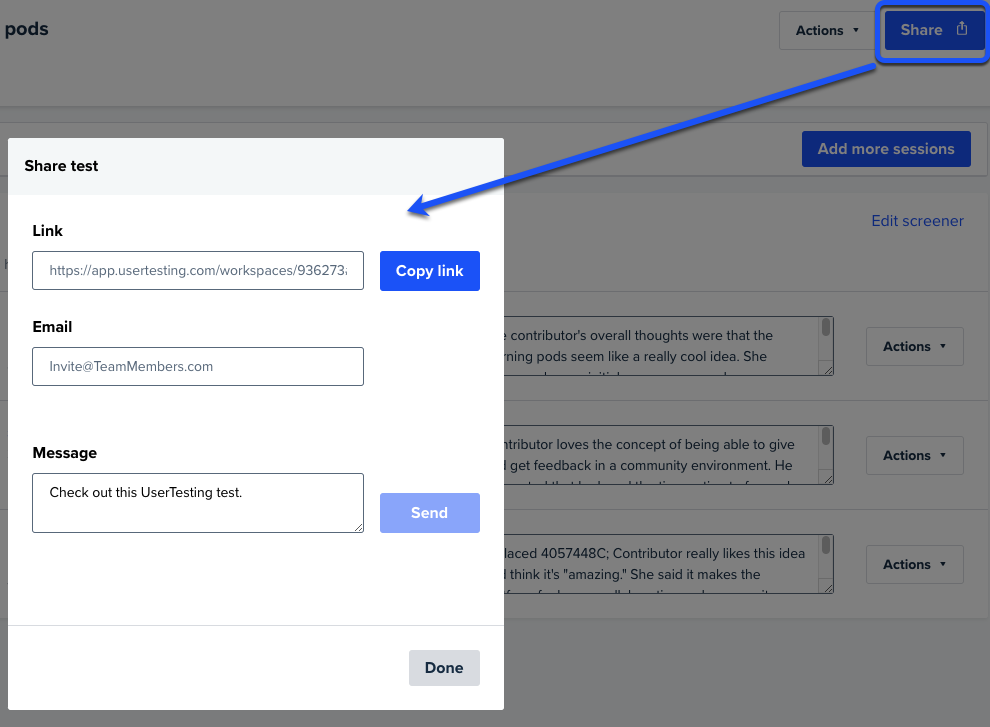 You can also copy the content from the Instant Insight cards and paste it into a text document. Another option is to take a screenshot of the Instant Insight visualization and share it with your team as an image file.
Learn More
Need more information? Read these related articles.
Want to learn more about this topic? Check out our University courses.
Please provide any feedback you have on this article. Your feedback will be used to improve the article and should take no more than 5 minutes to complete. Article evaluations will remain completely confidential unless you request a follow-up.