At a Glance
Build-Your-Own test invitations are custom invitations for Custom Network that let you choose between inviting your contributors to take a test using the default UserTesting email or a new email written by you.
Custom Network is available on the following subscriptions:
How It Works
1. When you create a new test, click Select audience. From the audience page, choose Custom Network under Contributor network options. Then, choose which network you want to use from the Select Network dropdown.

2. Under the demographic filters, choose either the default email invitation or the Build-Your-Own test invitation.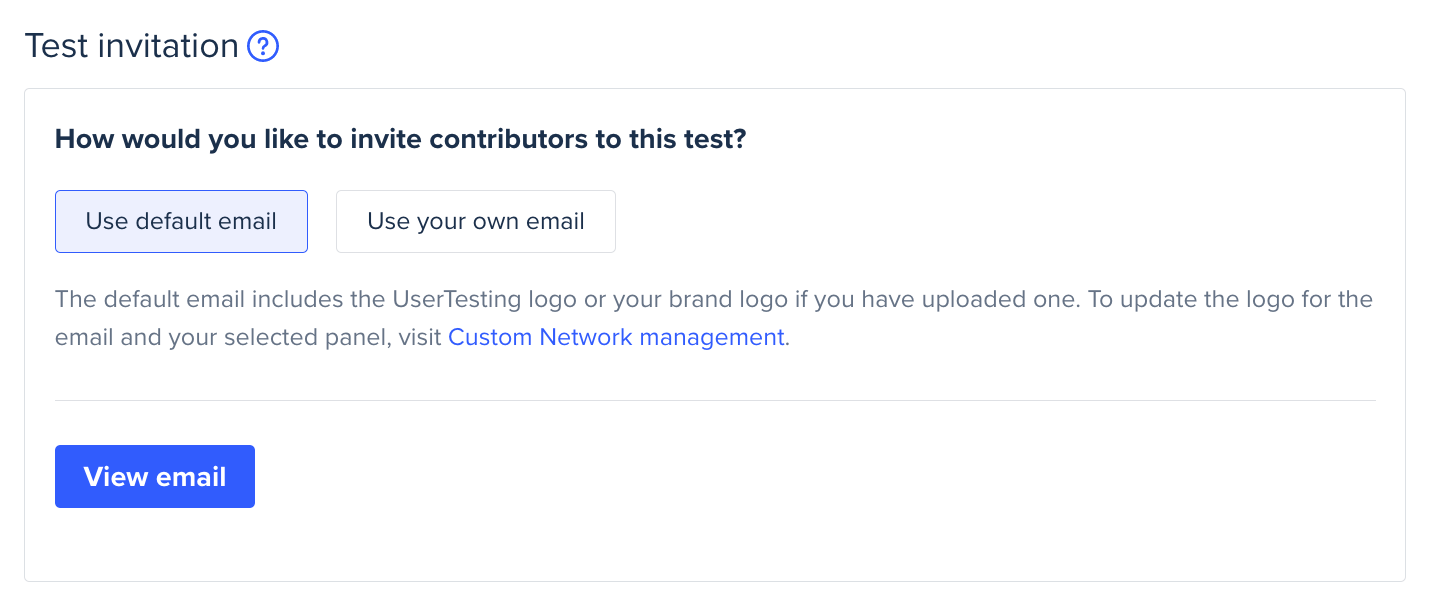 Note: Both the default email and the Build-Your-Own test invitations use the logo you uploaded when you created your Custom Network. To update your logo for the email and your selected network, click on Custom network management in the Test invitation section.
3. If you select Use your own email, add your own text for the following email fields:
Subject line

Body

Email button text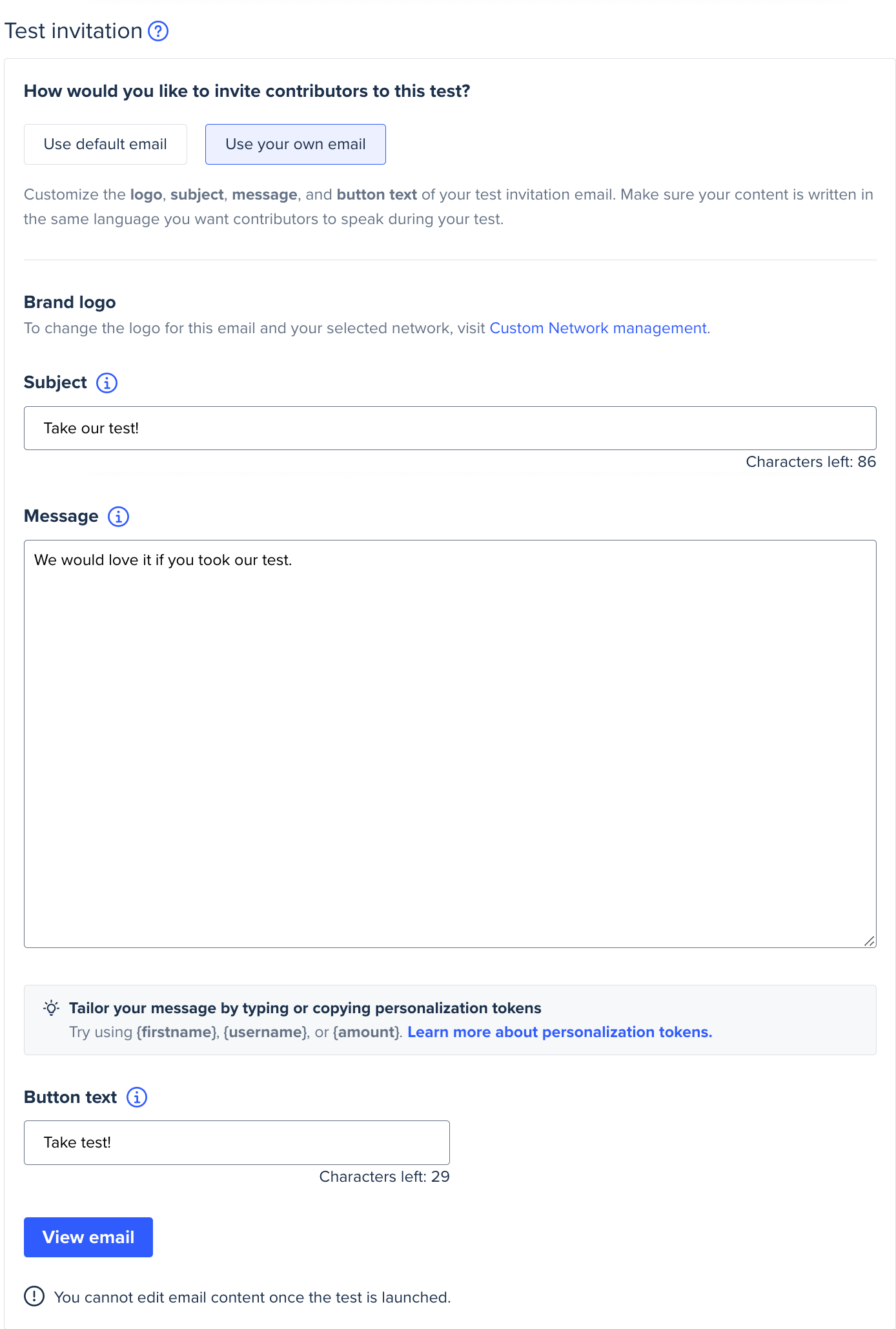 Customers will see this as:
[Company Name] Powered by UserTesting <support@usertesting.com>
As you're customizing your invitation, make sure to:
Remind contributors whether the test requires them to use a PC, Mac, or mobile device.

Write the email in the same language that your tests will be written in.

Check if you mention payment for a paid Custom network; contributors who opted out of receiving payment will see payment details in the invitation if you include them.
For more email best practices, visit our article on writing an engaging invitation email.
Launching Your Email Invitation
Before launching your test, preview your email by clicking on View email.

You'll be able to view the email as your contributors will see it on both desktop and mobile.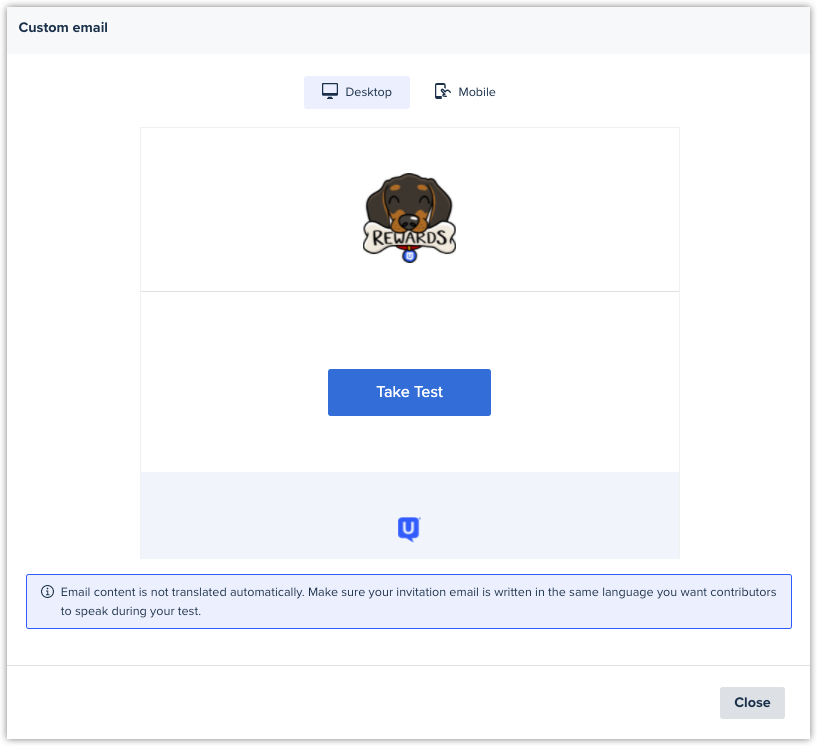 The email invitations are distributed to your Custom network in batches. For example, if you are looking for 5 contributors to complete your test, UserTesting will send out 5 emails every hour to contributors who match your audience criteria. This process will continue until the test sessions are completed or the list of contributors who match your criteria has been exhausted.
Once you have launched your test, you cannot edit the custom invitation. Double-check the content of the email before you launch. Try to avoid including any specific references to time or date unless you're certain that you will send the invitation on time.
Learn More
Need more information? Read these related articles.
Want to learn more about this topic? Check out our University courses.
Please provide any feedback you have on this article. Your feedback will be used to improve the article and should take no more than 5 minutes to complete. Article evaluations will remain completely confidential unless you request a follow-up.