At a Glance
Intent path is an interactive visualization that groups specific customer behaviors, based on that individual's intent. It is overlaid on the Interactive Path Flow (IPF) and evaluates the web elements users engage with using UserTesting's proprietary machine-learning models.
Intent path is available on the following subscriptions:
Key Features
Intent path identifies over 100 common intents and behaviors, such as content consumption, navigation, authentication, and cart management. Users can also assign custom intents to customize the visualization as necessary.

Use the intent path feature to dig deeper into the customer journey to better understand their decisions.
Select the Intent

tab on any task-based question to view the top behaviors. Observe a single individual and draw insights about their behaviors as they progress through a web experience, including web-based prototypes, mobile apps, and webpages.

Intent path, as well as sentiment path

, are available on Ultimate and Premium subscriptions.
Intent Path: How It Works
Find the intent path feature when you navigate to the Metrics tab of a test that displays a task-based question where an Interactive Path Flow has been generated. Selecting the Intent tab shows an overlay on the Interactive Path Flow, grouping and summarizing the behavior of each individual who took the test.
The color-coded overlays represent one of over 100 behaviors based on what individuals clicked on or engaged with to move to a new screen. Here are some of the intent categories captured:
| | | | |
| --- | --- | --- | --- |
| Consumption | Placing order | Navigation | Collaboration |
| Comparison | Authentication | Connection | Attach |
| Help & settings | Create & modify | Finish & save | Organization |
1. Hovering over a particular (color-coded) intent on the Interactive Path Flow reveals a thumbnail of that particular screen and the number of individuals who interacted with that screen. There is also an opportunity while hovering to edit the label if the detected intent is incorrect or needs to be refined.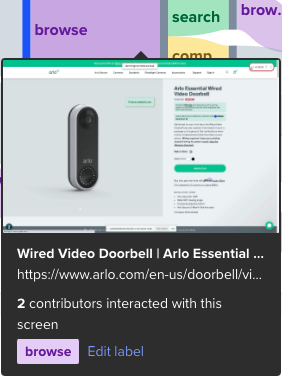 2. Clicking on that same intent will bring up the click map for that screen below the Interactive Path Flow diagram, allowing you to watch the clip for particular individuals completing the task.

3. Manually edit the intent labels if you want to align with how your organization prefers to share terminology, or if you want to more easily analyze specific behaviors. Click on the intent you want to edit from the path flow, then select Edit intent in the click map that appears below. Add the label you want, then click Update. You can choose to update just the individual label that was clicked on or all labels with the same description.
We encourage you to provide feedback on the original label anytime you create a custom label as it allows us to improve our intent algorithm.

4. Clicking on an individual's username on the intent path will highlight all of the screens that person went through, including tags for each of the recognized behaviors. Dive into video segments of the entire task where the individual clicked or engaged with the screen.
5. If you are on the Advanced or Ultimate subscription plan, you can filter for intents across all paths using the path filter search bar above the Interactive Path Flow visualization.

Query for specific intents for a quick glance at how many contributors and at which screen steps they completed that action.
To get the most out of the intent path, keep these things in mind:
Create clear objectives for individuals when writing your tasks (for example, "Find sunglasses that cost less than 20 Euros"). Random exploration of a web experience will not yield as useful an Interactive Path Flow diagram.

Include multiple steps in your tasks that touch on common behaviors in the customer journey in order to analyze all of the actions individuals took side by side on the Interactive Path Flow. For example:
1. Register for an account.
2. Log in to your account.
3. Browse for [specific item].
4. Add item to the cart.
5. Go to the checkout. 
Intent path can also be very helpful for competitive analysis when trying to understand how users complete similar tasks on competing websites.

Testing prototypes works well as long as you're using a web-based prototyping solution with unique URLs for each experience.

Consider your sample size and what you want to learn. Having more unique paths can reinforce the patterns you are seeing or provide more behaviors to analyze. 
Sharing Insights
There are a couple of ways in which you can share insights from the intent path.
Select Share from the results page of your test to generate a test link to share with anyone (if available on your account), or email the test to logged-in team members directly from the UserTesting Platform. Read more about how to share test results.
Note: This method will share the entire test, not just the intent path.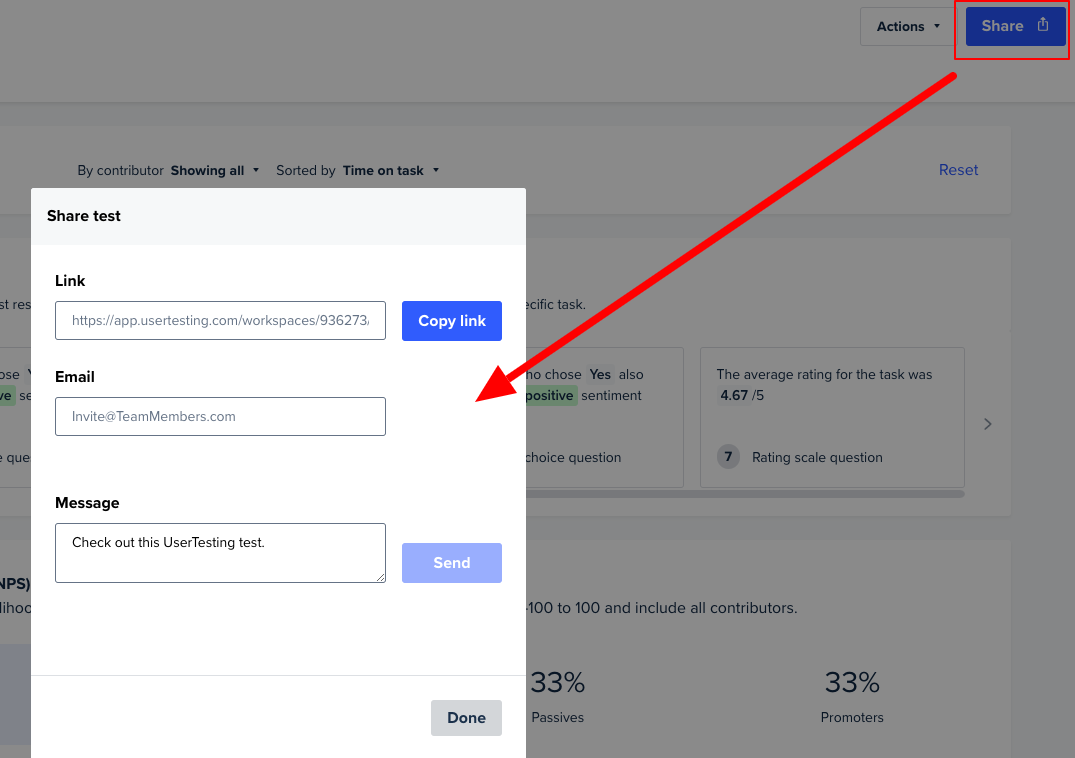 Another option is to take a screenshot of the intent path visualization and share it with your team as an image file.
Learn More
Need more information? Read these related articles.
Want to learn more about this topic? Check out our University courses.
Please provide any feedback you have on this article. Your feedback will be used to improve the article and should take no more than 5 minutes to complete. Article evaluations will remain completely confidential unless you request a follow-up.