At a Glance
Sentiment analysis, using UserTesting's proprietary machine learning models, automatically surfaces moments of negative and positive sentiment when you are reviewing a completed session in the UserTesting video player.
Sentiment analysis is available on the following subscriptions:
Click on the following header titles to skip to that section of the article:
How it works
Along the bottom of the video player, you'll see Machine Learning-generated indications displaying red and green, which represent parts of the recording with moments of negative and positive sentiment respectively. 
Hover above a colored band to see the phrases associated with the sentiment corresponding to the band. Click the indicator to go to that exact moment in the video associated with the highlighted phrase.
You can also give feedback on whether that phrase matched the assigned sentiment to help us continue to improve the accuracy of sentiment analysis.

Sentiment analysis in Transcripts 
You can also scan and locate key moments within the Transcripts. When you notice feedback that is important or truly insightful, you can create a clip. If you want to preserve the sentiment associated with that piece of feedback, use "sentiment tagging" to select the appropriate icon (whether negative or positive).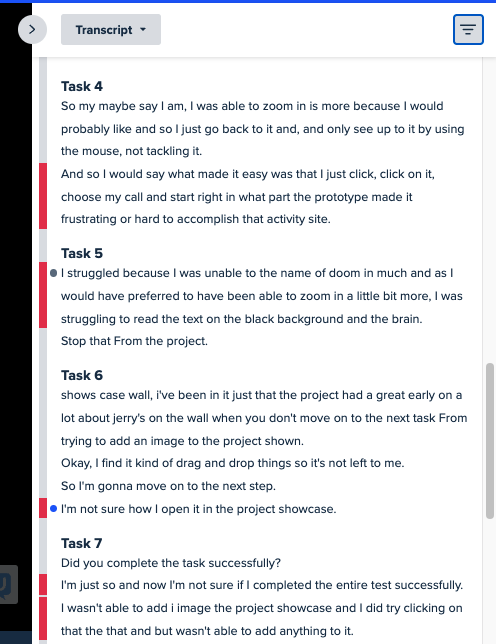 Friction detection
Friction detection, a machine learning-generated indicator, offers insight into where contributors had difficulty interacting with websites or prototypes during tests. Use friction detection to quickly identify where you may want to make changes to improve your user experience.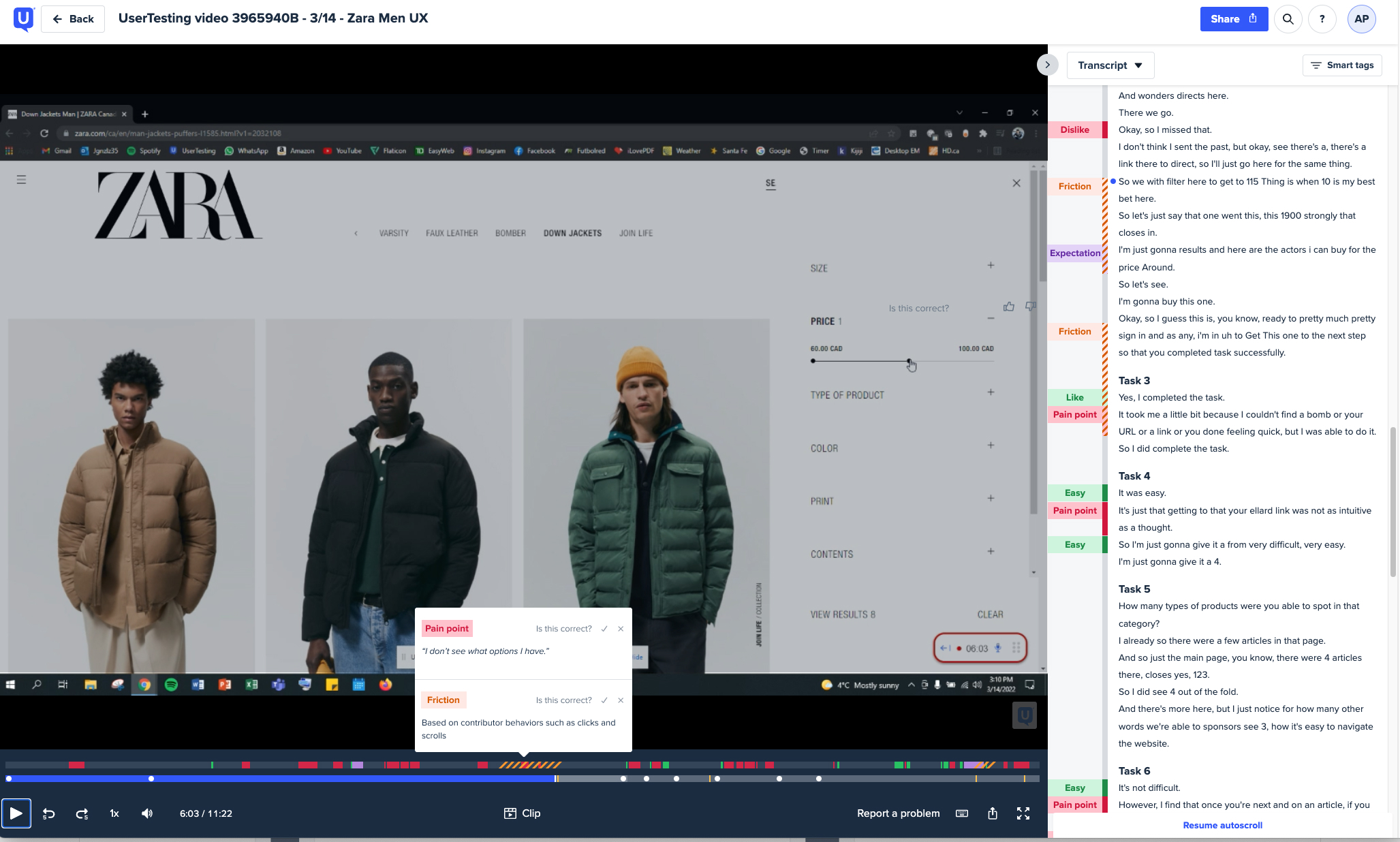 In this transcript sample, notice the tag "Friction" that pinpoints the exact moment the contributor struggled with a particular task. Having this behavioral information helps you learn more about a customer's needs.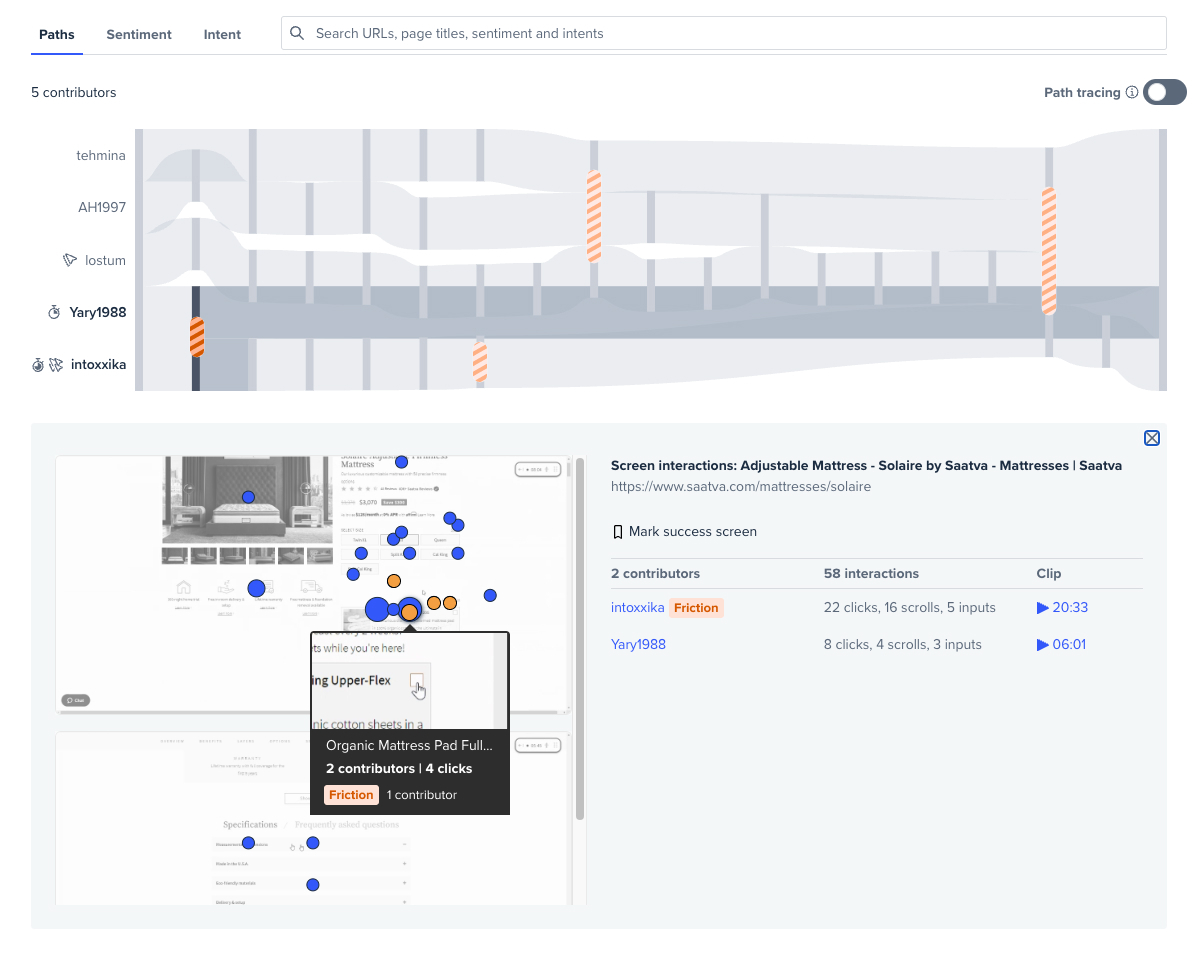 While tags/insights tasks rely on what customers say, friction detection relies more on what they do. For example, clicking multiple times and a lot of scrolling.

*Please note: Friction detection is available on the Ultimate edition of the Flex plan and the Premium edition of the Seat-Based plan.
Turn off/on Sentiment Analysis
To turn on/off sentiment analysis as needed, click on the drawer menu and select or deselect the checkbox settings.

Smart tags and tags for written tasks
If your plan allows, you can use smart tags, which capture a total of 10 smart tags in the feedback. Green identifies "positive," red indicates "negative," and, for some plans, purple signifies "neutral." You can also use smart tags to analyze written responses on the Platform's Metrics tab. 
Learn More
Need more information? Read these related articles.
Want to learn more about this topic? Check out our University courses.
Please provide any feedback you have on this article. Your feedback will be used to improve the article and should take no more than 5 minutes to complete. Article evaluations will remain completely confidential unless you request a follow-up.