At a Glance
This article explains the Don't pay contributors Custom Network feature in the UserTesting Platform and offers some insight into when you might want that feature enabled. The article also contains a breakdown of the amounts UserTesting compensates Custom Network contributors.
Custom Network is available on the following subscriptions:
What UserTesting compensates Custom Network contributors
UserTesting pays your Custom Network contributors the following amounts for contributing to your tests:
$4 USD for a standard 5–7 minute short test

$10 USD for a standard 15–20 minute test

$30 USD for a 30-minute Live Conversation test

$60 USD for a 60-minute Live Conversation test

$90 USD for a 90-minute Live Conversation test

$120 USD for a 120-minute Live Conversation test
When Should I Enable Don't pay contributors?
When first creating a Custom Network, you can choose whether to enable or disable contributor payments. You cannot edit this option once the network has been created without removing all of the contributors from the network. 
When testing with your Custom Network, there may be some cases where contributors will not be compensated. These include:
Testing with your employees
Testing with an organization that cannot accept payments (e.g., charities and nonprofits)
Offering alternative compensation such as vouchers
How the Feature Works 
Unlike the UserTesting Contributor Network where all contributors are automatically paid by UserTesting after completing tests, this feature allows you to decide whether your Custom Network is compensated.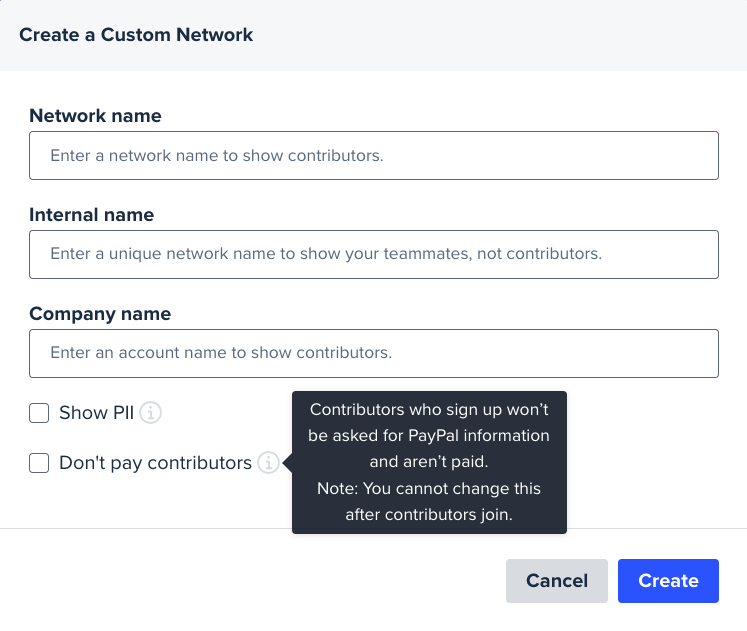 When setting up your network, be sure to decide on how you are going to compensate the network and either select or deselect this checkbox. UserTesting compensates contributors via PayPal.
Note: You can turn off payments and choose not to collect PII. If, in that case, you also want to compensate contributors via your own method, you may want to ask contributors at the end of the test to share their email.
Learn More
Need more information? Read these related articles.
Want to learn more about this topic? Check out our University courses.
Please provide any feedback you have on this article. Your feedback will be used to improve the article and should take no more than 5 minutes to complete. Article evaluations will remain completely confidential unless you request a follow-up.