At a Glance
Test with Invite Network and quickly and efficiently convert the test to the general UserTesting Contributor Network. The steps below illustrate how to duplicate tests for both audiences to avoid redundancy.
Invite Network is available on the following subscriptions:
There may be certain scenarios where you wish to test with both your own customers (
Invite Network
) and the general UserTesting Contributor Network. You will need to launch two separate tests to accomplish this, but you can quickly convert the test to streamline the test creation process. Here's how: 
Step 1. First, create the new copy of the test you'd like to duplicate by going to your dashboard and selecting Create similar test from the Options menu (three dots) next to the test plan.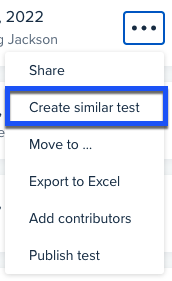 Next, select Drafts from the navigation panel.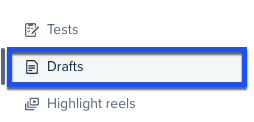 Find your draft and click on the Options menu. A dropdown menu will appear. Scroll down to select, Change to UserTesting Contributor Network or Change to Invite Network, depending on which type of test you launched first. Once you've converted the draft, you can make any additional edits as needed and launch the test.


Note:
You can change a draft from Usertesting Contributor Network to Invite Network for unmoderated tests. However, you won't be able to make this change for a Live Conversation draft.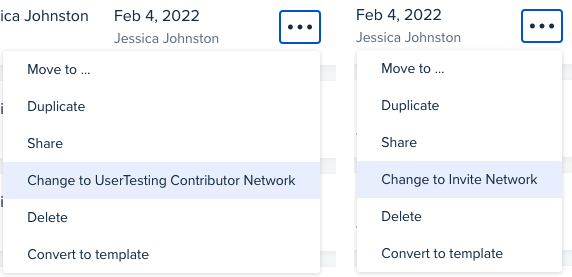 Please note, access to Invite Network requires a Flex subscription plan or a Professional or Premium subscription on the seat-based plan. 
Learn More
Need more information? Read these related articles.
Please provide any feedback you have on this article. Your feedback will be used to improve the article and should take no more than 5 minutes to complete. Article evaluations will remain completely confidential unless you request a follow-up.