At a Glance
This article explains how to view the order report for tests launched on your seat-based plan.
The Order History feature is available with the following subscriptions:
For guidance on planning tests and managing usage on the seat-based plan, read our Guidance for Admins on the Seat-Based Plan article. Refer to this article about usage reporting for the seat-based plan. To read about reporting for the Flex plan (i.e., for accounts that use Session Units), go to our Usage and History Dashboard article.
Step 1. Log in to your Dashboard.

Step 2. Select the drop-down next to your login name (top-right corner) and select Settings.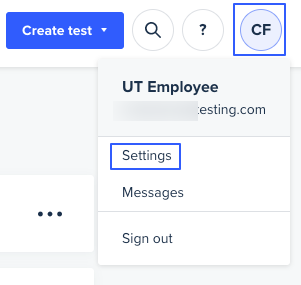 Step 3. Select the Usage and history tab.


Step 4. View the full report




Scroll down and select View Full Report in the Order history section. Doing so displays your full order history.



Step 5: Email the full report

If you'd like a copy of all your previously ordered studies in CSV format, select Email full report from the Order history page and you'll receive an email with a link for a downloadable CSV file that includes the basic details of each invoice.



Learn More
Need more information? Read these related articles:
Please provide any feedback you have on this article. Your feedback will be used to improve the article and should take no more than 5 minutes to complete. Article evaluations will remain completely confidential unless you request a follow-up.