At a Glance
With unlimited workspaces enabled, you can effectively organize and control access to your templates and tests across projects and teams. Unlimited workspaces also give you access to open, private, and hidden workspaces.
Unlimited workspaces are available on the following subscriptions:
Click on the following header titles to skip to that section of the article:
Key Features
Workspaces enable you to:
Improve the organization of your templates, tests, and, team members

Assign and maintain privacy for projects or teams

Assign permission capabilities at a per-workspace level
We recommend you use a single workspace per team, and use folders for your projects.
Terminology
Workspace Creator: The team member who originally created a workspace. If you are on the Advanced, Ultimate, or Premium subscription, new workspaces can be created by either the UserTesting Admin or any team member who has an Unlimited license (seat-based plan). Admins also have the ability to generate multiple workspaces in a single instance. By default, Workspace Creators are granted the highest workspace-level permission available to them, based on their license type.
Workspace Owner: A team member assigned to a specific workspace who has permission to add and remove other members in that workspace and also assign permission levels in that workspace.  
General Workspace: The default workspace when no additional workspaces have been created. All team members will be automatically added to this workspace. Tests ordered prior to new workspaces being created will live here.
Open Workspace: Designated by the Workspace Creator or Workspace owner, an Open Workspace is accessible and available to join by any team member on the account. Team members who join will be automatically granted the permission level of "Collaboration Only."
Private Workspace: Designated by the Workspace Creator or Workspace Owner, a Private Workspace indicates that team members must be invited to join the workspace. Once formed, tests, clips, and highlight reels are only available to view by team members who are a part of that Private Workspace.
Hidden Workspace: Designated by the Workspace Creator or Workspace Owner, a Hidden Workspace indicates that team members on the account (except for Admins) cannot see the workspace unless they have been invited to join it. Once formed, tests, clips, and highlight reels are only available to view by team members who are a part of that Hidden Workspace.
Collaboration Only: A workspace-level permission. Team members with this permission can view and analyze videos. They cannot create drafts or launch tests in the workspace, even if they have an Unlimited (seat-based plan) or a Creator (Flex plan) license at the account level. 
All Permissions: A workspace-level permission. Team members with this permission can edit and launch tests, in addition to viewing and analyzing videos. If a team member is a Collaborator (seat-based plan) or a Viewer (Flex plan) on the account, they cannot create or launch any tests, regardless of the permission level they have in the workspace.
Viewing Tests, Drafts, and Highlight Reels in a Workspace Page
Access the tests, drafts, and highlight reels in a selected workspace, all in one place. The Workspace page displays a card-like view of tests, drafts, and highlight reels from a selected workspace, displaying the most recent engagement. 
In the navigation menu, click Workspaces to see active tests and insights in a given workspace.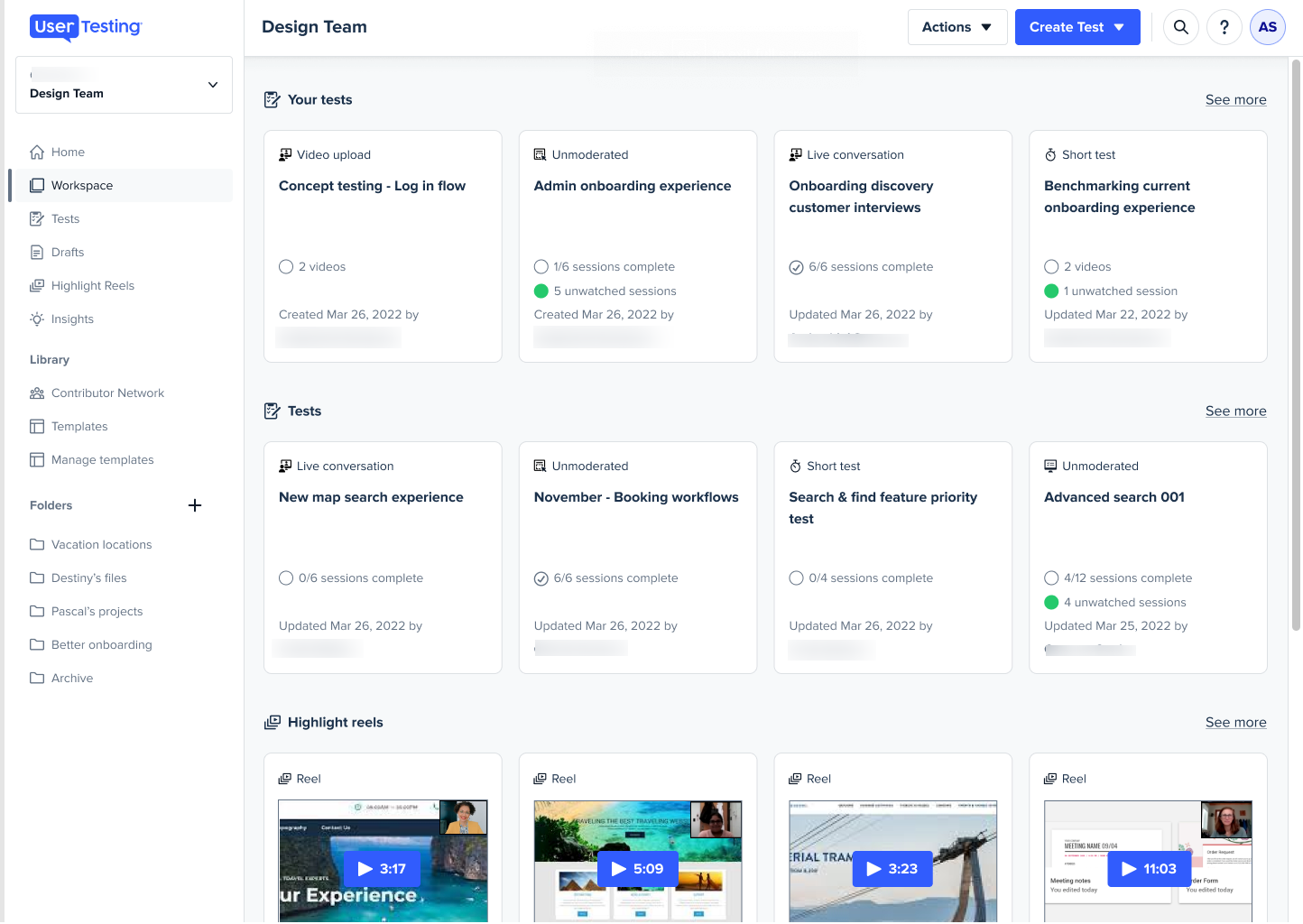 View a different workspace by selecting the workspace and account switcher in the navigation menu and choosing the workspace you wish to view.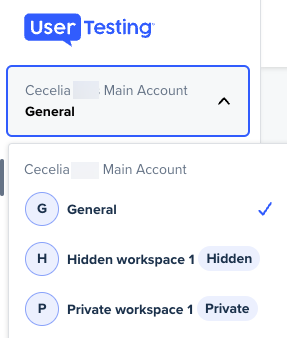 Creating a Workspace
Plans with unlimited workspaces enabled (Advanced, Ultimate and Premium license users on the seat-based plan) allow UserTesting Admins to create new workspaces and set different privacy controls by workspace. Select the workspace and account switcher in the navigation panel and choose Create workspace.

A dialog box will appear where you name your workspace and make it open, private, or hidden.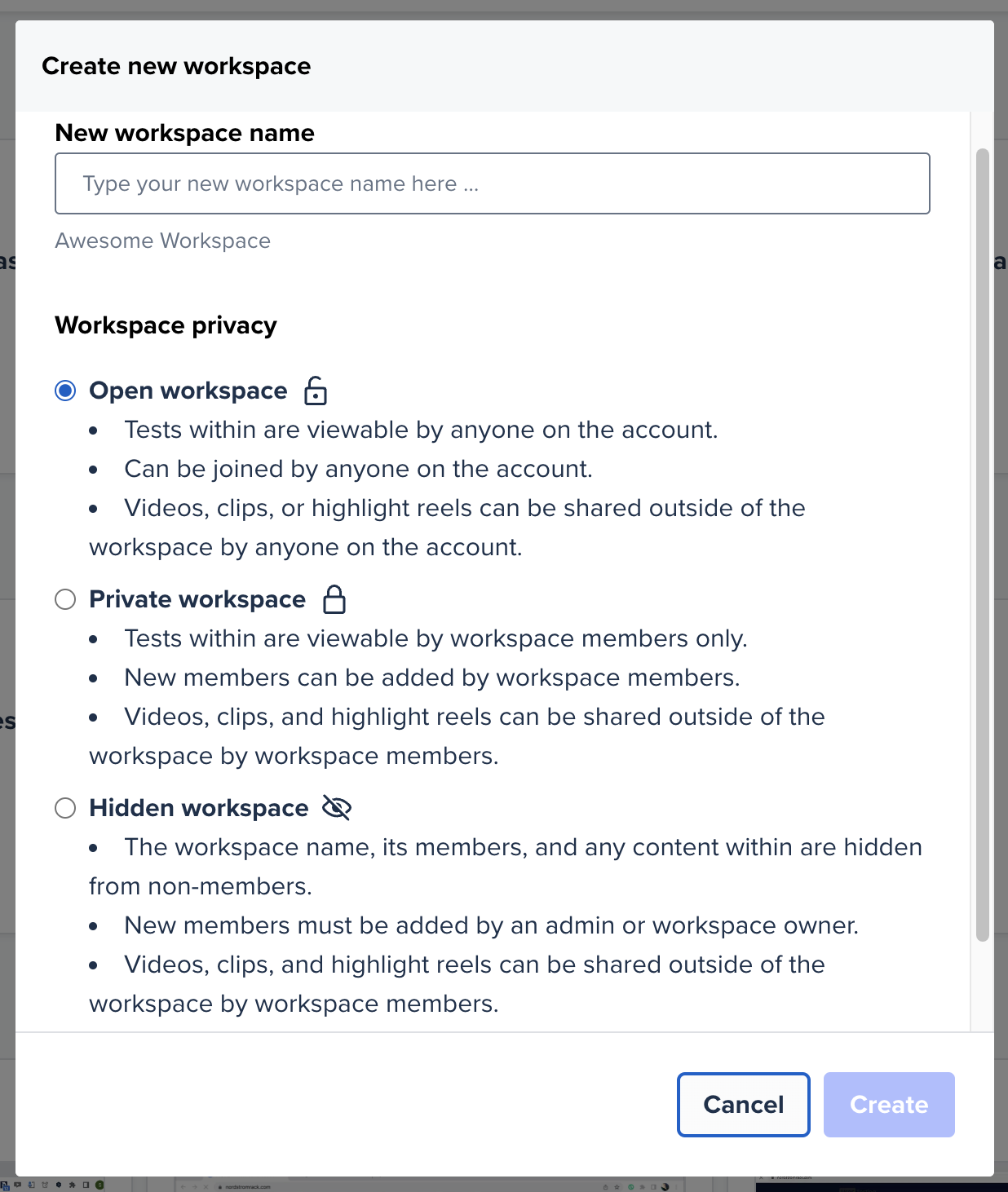 For more information on how to control who sees your workspace content, review our "Workspaces and Video Security" article.
Inviting Team Members to Workspaces
UserTesting Admins or Workspace Owners invite team members to workspaces. First, find the workspace to which you want to invite new team members by going to your workspace and account switcher and selecting Manage workspaces.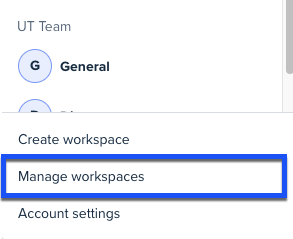 You'll be taken to the Manage workspaces page, which lists all the workspaces under this account.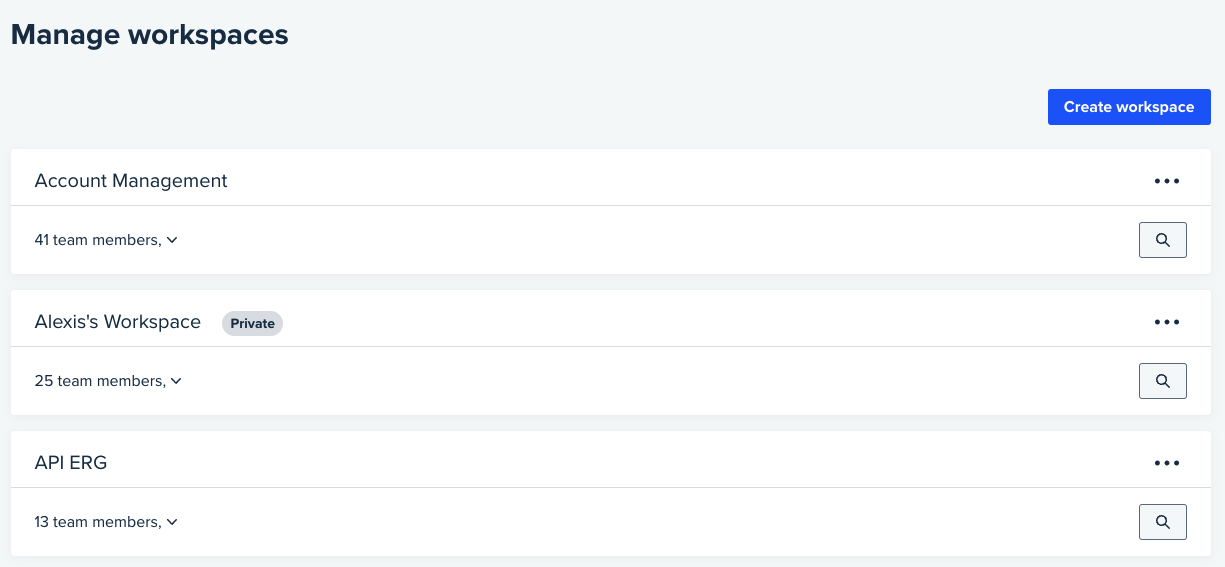 For the workspace you (as the Admin or Workspace Owner) wish to update, click the ellipsis (three dots) to the right. Select Add team members from the drop-down.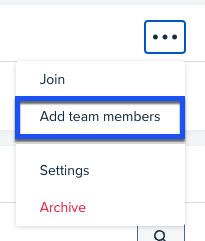 Type in the email address of the team member you wish to add to the workspace. Clicking Add Member automatically sends the member an invitation to join.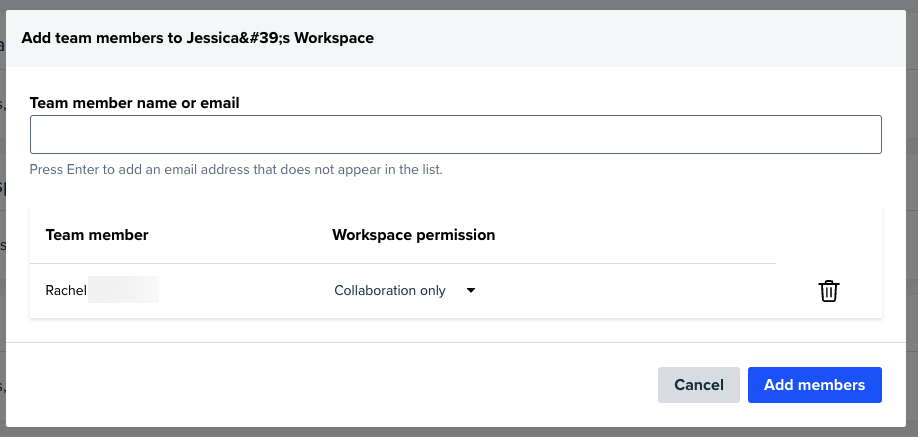 How to Assign Workspace Permissions
All new members are by default assigned "Collaboration only" status. This status limits the member's capabilities so that they are not allowed to create, review, or launch tests in this workspace. The account admin or workspace owner can set permissions for that new member (or change the permissions of existing members).
To set or change workspace permissions, go to the Manage workspaces page, and click the drop-down next to the text indicating the number of members. You'll see the names of all the members belonging to the workspace.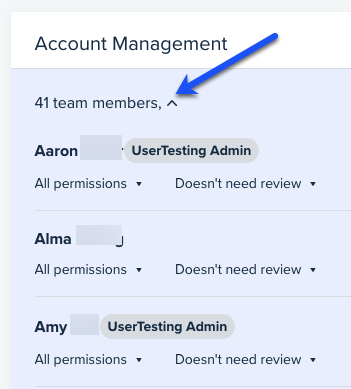 Clicking the drop-down beneath a member's name and selecting the All permissions option will allow that member to create, review, and launch tests.

Note: For the All permissions option to be available at the workspace level, the user must have account-level permissions to create tests. To check what permissions level the user has, go to Settings and, from the People tab, review the account permissions for the member (account admins can change these permissions).
Keep in mind: New tests and highlight reels are automatically assigned to the current workspace.
When inviting a new team member on the seat-based plan, you have the option to specify which workspace they first see upon signing in. Team members will always be invited to the General workspace so as to ensure that they have a space to work from in the event that the other workspaces that they're members of are archived or deleted.
If you have a Premium or Ultimate subscription, you can save audiences, test plans, and screener question templates to specific workspaces. View our "Template Access Control" article for more information.
Managing Session Units for Workspaces
If you're an admin and your account is on the Flex plan, you have the ability to limit the number of Session Units (SUs) a workspace can use as a way of managing how your team consumes SUs across your account. To learn more, read our "Managing Your Subscription on the Flex Plan" article.
Learn More
Need more information? Read these related articles.
Want to learn more about this topic? Check out our University courses.
Please provide any feedback you have on this article. Your feedback will be used to improve the article and should take no more than 5 minutes to complete. Article evaluations will remain completely confidential unless you request a follow-up.