EnjoyHQ users (or, as we call them: team members) can be assigned three permission levels or roles. You can change them by going to your team settings page and selecting an appropriate role in the user list: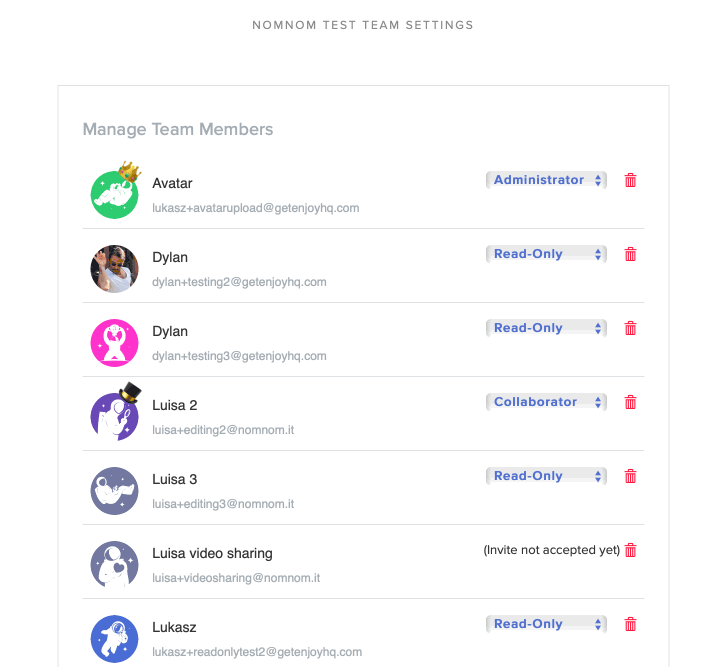 Roles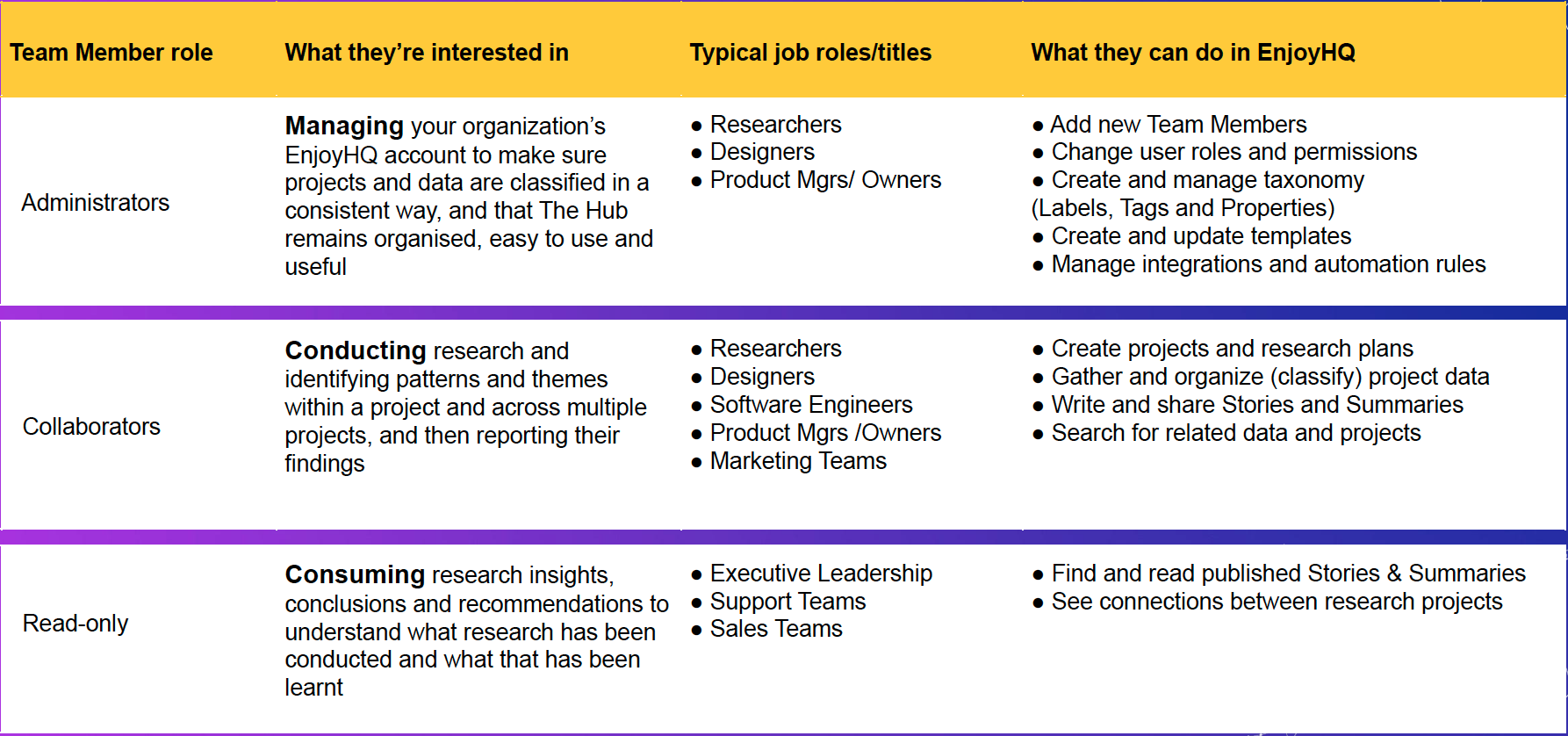 Administrators
Can manage any aspect of the account, invite other users and change their permissions. Administrators can also create and manage rules as wells as manage tags and properties. Admins have access to the Integrations section of EnjoyHQ and can configure and edit the workspace's integrations.
Collaborators
Collaborators can manage projects, search through feedback and connect integrations. They cannot create or manage: rules, templates, Integrations or create new tags and properties.
Additionally, collaborators cannot manage other users (invite, change roles etc).
Read-Only
By default, these users can only view stories, and project reports. They can also see individual dashboards, documents, and highlights shared with them by collaborators and administrators.
Additionally, read-only users can comment on Stories and view Story connections.
Read-Only role is the default permission level when inviting new users or when a new user signs-in via Google Single Sign-on.
Here is the list of what is read-only users can see/do:
view the project list and individual project's reports
view only published stories

archived stories can be viewed if the read-only user is mentioned in a Story comment

if

 

request & approval is enabled:

see a list of documents, highlights, and dashboards shared with given user

if request & approval is

 

disabled:

see a list of all shared items (projects, stories, documents, highlights, and dashboards)

they

 

cannot access:

the search area
access and manage rules, integrations, billing, and users
use any of the tag and properties managers
Here's a quick screencast showing in detail what read-only users can see and access
Subscription plan allowances
Only Administrators and Collaborators count towards your subscription's user allowance. For example, if your account is charged for six users, it means you can assign administrator or collaborator roles to up to five users in your account. You can still add an unlimited number of read-only users.
Learn how companies and teams of all sizes use EnjoyHQ 👉Success Stories
Please provide any feedback you have on this article. Your feedback will be used to improve the article and should take no more than 5 minutes to complete. Article evaluations will remain completely confidential unless you request a follow-up.