At a Glance
UserTesting's integrated tree testing tool allows you to configure tree tests and review results right in the UserTesting Platform.
Integrated tree testing is available on the following subscriptions:
On this page:
About Integrated Tree Testing
Tree tests are a way to test how easily customers find content in a website or application based on how the information is categorized and labeled in navigation menus.
UserTesting's integrated tree testing capability streamlines the experience of creating tree tests and viewing results in the UserTesting Platform. It also improves the experience of completing tree test tasks for contributors, leading to higher-quality output.
We recommend most users start with the Tree Testing template available in the Template Gallery. To learn more about tree testing—why it's useful and when you should do it—read our "What is tree testing?" article. For information about the external ia.usertesting tree testing tool, read the article "Tree Testing with UserTesting."
Note: Integrated tree testing is only available for desktop tests that use the seamless recorder.
Setting Up a Tree Test in the UserTesting Platform
Create a new unmoderated test in UserTesting.
One of the tasks you will be able to add to your test is a tree test task. To start your test, select Create test

 > 

Create a test.

Next, choose

Website.


Build out your test plan, adding a tree test at the appropriate point in your test.


You may want to ask some background questions before having contributors tackle a tree test. For example, you may want contributors to rate their familiarity with the tree test's topic. 

Do not include too many tasks before the tree test because (1) you don't want to inadvertently bias the contributor's thinking before they take the test, and (2) you want to give the contributor ample time to complete the tasks.

Note: Tree test tasks can't be used inside a Balanced Comparison group.

When you're ready to add your tree test, select the Tree test tile from the Tasks and questions section to add to your test plan.


Create your tree in a spreadsheet with separate columns for each level.
We recommend building your tree test in a spreadsheet first. Download an example spreadsheet if you need help.


Copy and paste the tree in the space provided.

There is no limit to the number of nodes you can add to a tree.

Make edits to the tree test in your spreadsheet.
If you need to edit or make changes to the tree, select Delete tree. Then, make the edits or changes in your spreadsheet and paste the new tree in your test plan.

Add tasks to your tree test.

Begin adding tasks for contributors to complete in your tree test. For example: "Where would you find cellphones and accessories?"

Add additional tasks as needed. Note that tasks will be shown in the order they were created.
Contributor Experience
When contributors encounter the tree test, they will find a task that explains what they will be doing.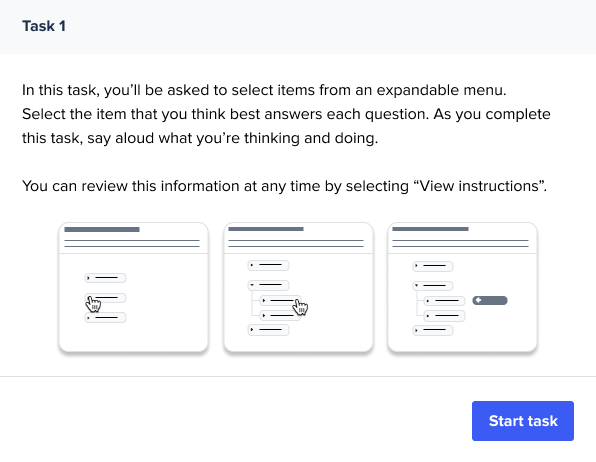 For each question, contributors search the tree you built and choose their answer in the dropdown menu for each label.

When contributors complete the tree test, they will be prompted to proceed to the next task.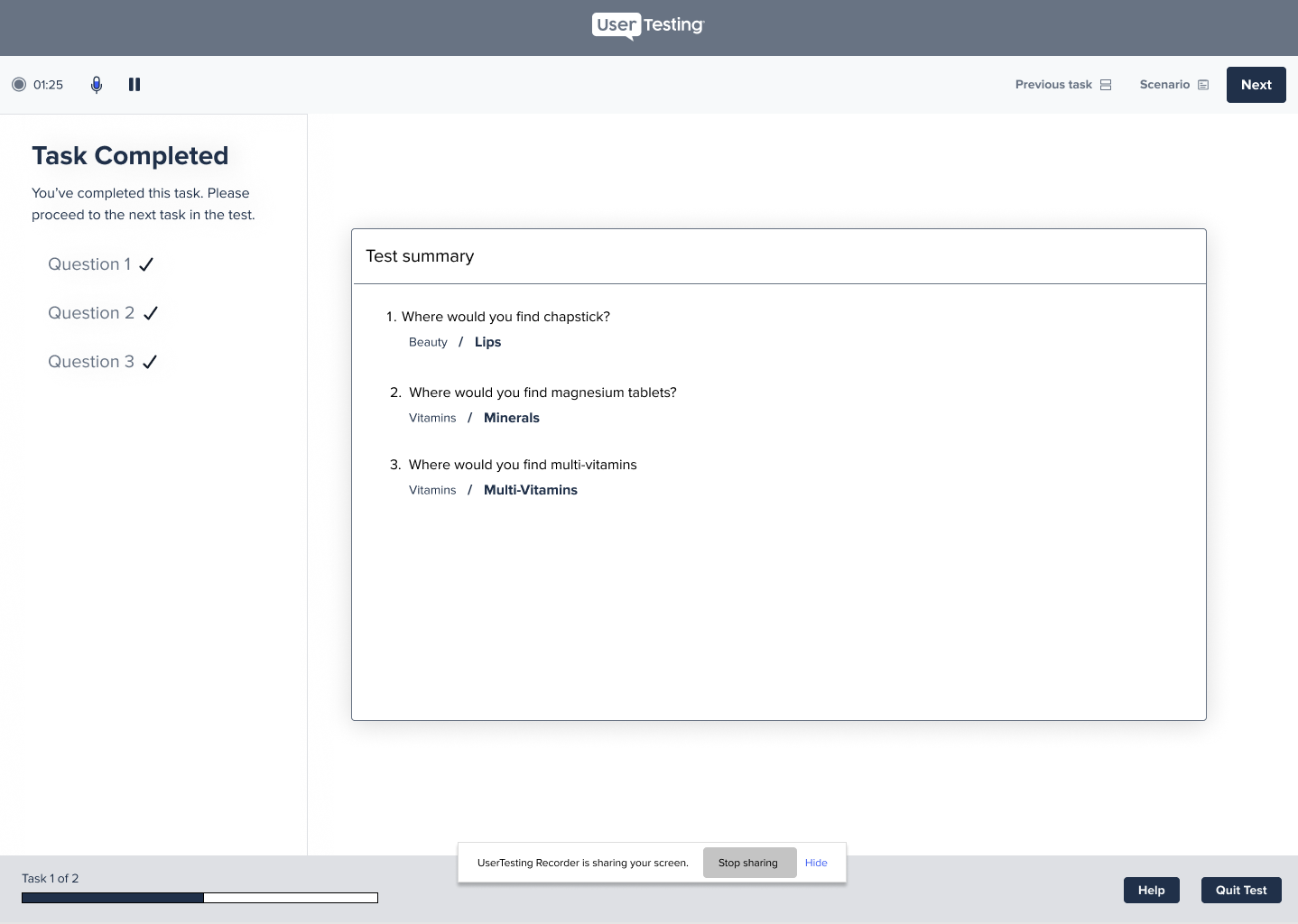 Results of Your Tree Test
Once the contributors have completed your test, the results will be visible on the Platform. Navigate to the Metrics tab for quick insights and then watch videos of contributors completing the tree test on the Sessions tab.
The results will display the overall success and failure of each task on the Metrics tab. You can also filter by a contributor to determine which session to further examine.
Go to the Sessions tab to watch contributors take the tree test. Click Play on any contributor video response to enter the video player. This enables you to watch a single contributor as they answer each task, paired with sentiment.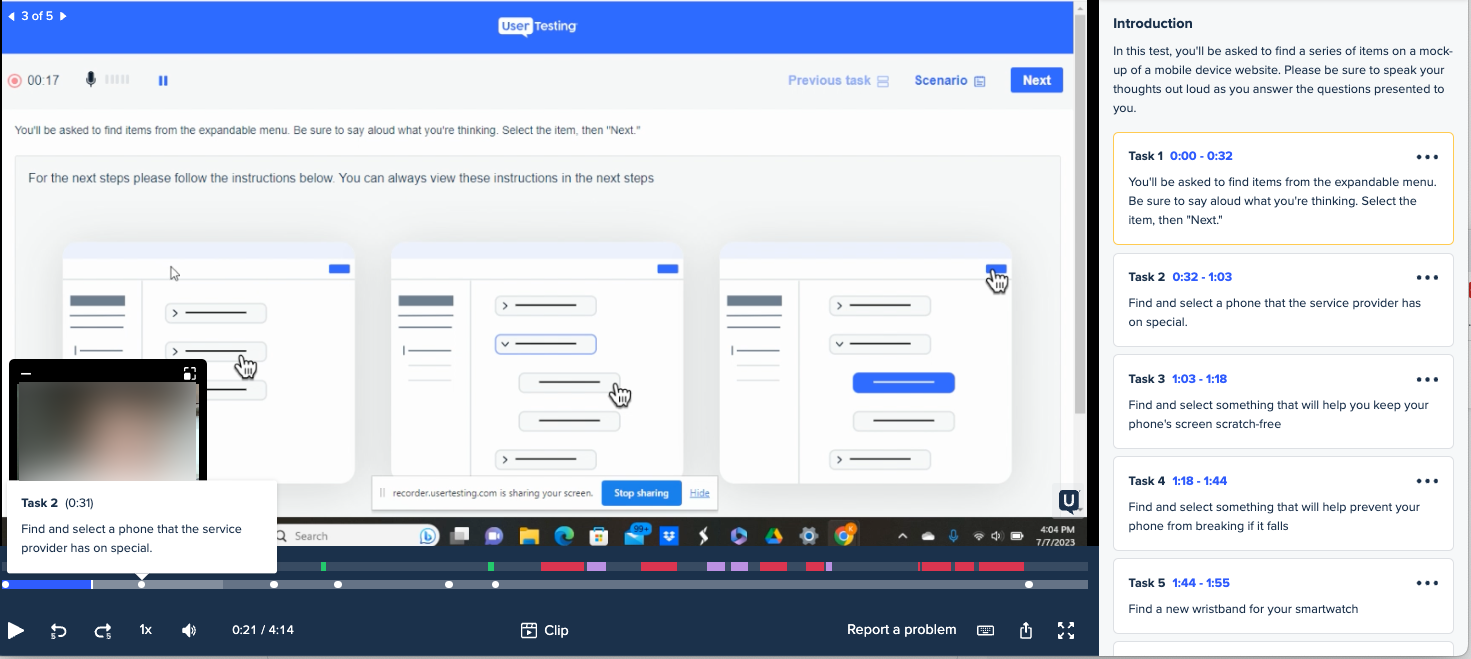 View contributors' responses sequentially and make video clips by selecting Tasks from the video player dropdown.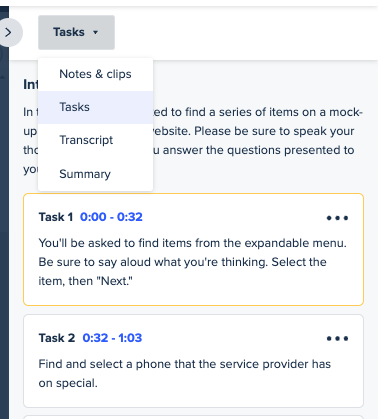 Once there, click the ellipses ("...") next to a task, then Watch playlist to see contributors' responses in sequence.
Learn More
Need more information? Read these related articles.
Want to learn more about this topic? Check out our University courses.
Please provide any feedback you have on this article. Your feedback will be used to improve the article and should take no more than 5 minutes to complete. Article evaluations will remain completely confidential unless you request a follow-up.