At a Glance
Unmoderated tests should take about 15–25 minutes to complete. Depending on your subscription plan, you can run unmoderated tests of 30–40 minutes by allowing contributors to opt in with a screener question.
What is a longer test?
To avoid contributor fatigue, a standard unmoderated test should take a user about 15-25 minutes to complete. Because our contributors are everyday users, some may need more time to complete these same tasks.

The best way to determine the length of your test is to use the "Preview test plan" feature. Put yourself in the contributor's position while you read and try to complete the tasks and questions. This will help you get a rough time estimate.

We also suggest ordering a pilot test for one user to gauge the length of your study.
Note: We will not pay a bonus if it takes most contributors (more than 50%) under 25 minutes to complete the test.
Ordering longer tests
With an annual subscription plan, you have the option to run tests of 30–40 minutes.

To request a longer test, we ask that you use the following steps. This process will help notify contributors so that they are prepared to spend more time on your test. It will also help notify the Support Team so that they can provide bonus payments to your contributors.
Step 1: Create a test as you normally would and include a screener question notifying the contributor of compensation should they complete the test. Note the request here in the screenshot, in the Question field within the Screeners section: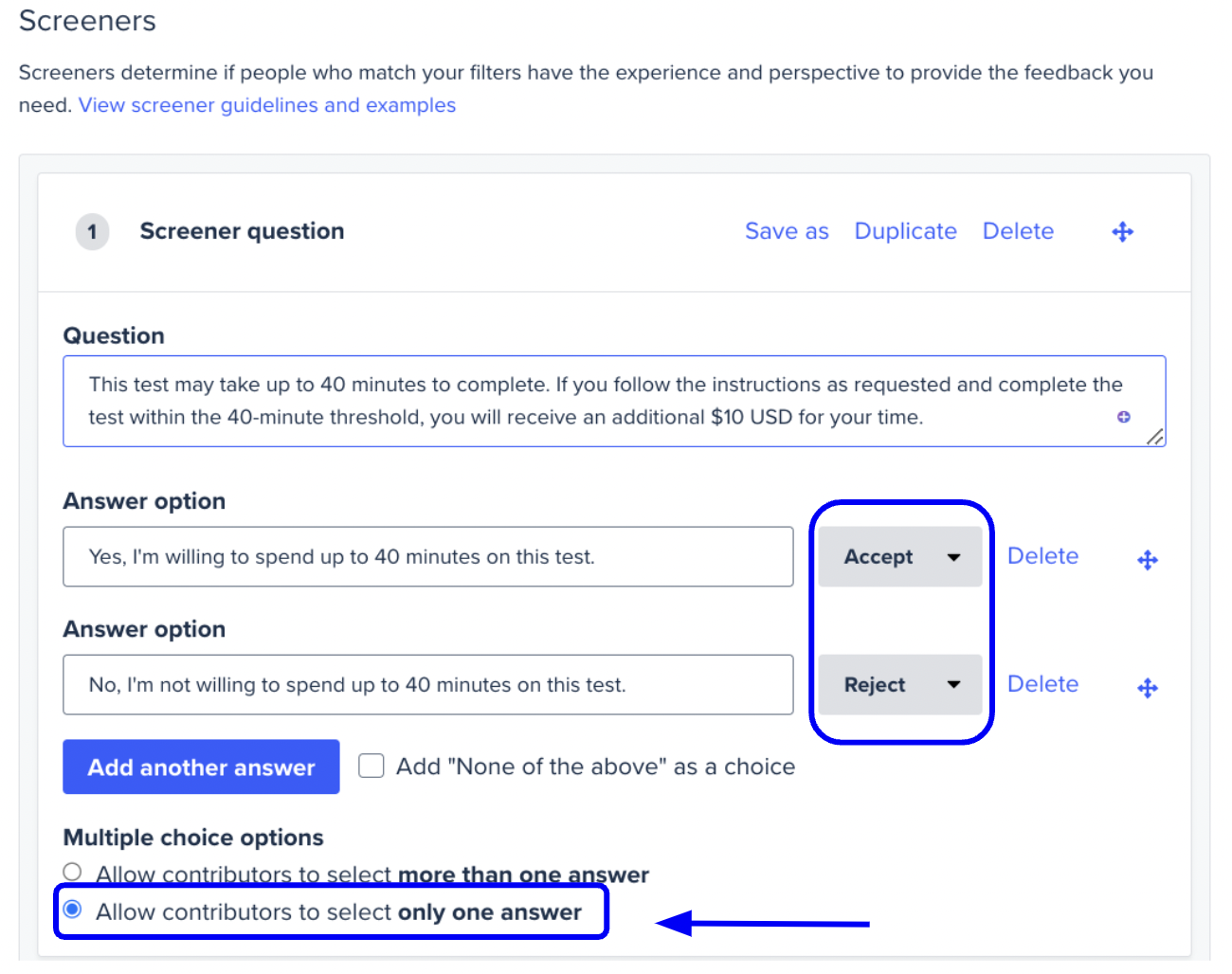 Step 2: Once you've reviewed the videos and are satisfied with the results, please email a list of the test session ID numbers via this Support form. For example:
Subject line: "Pay Bonus to Contributors for Longer Tests"
Email body: "Session #: 2388291A through F, 2

388293A"
TIP: We do not recommend running tests that take longer than 40 minutes. Tests longer than this risk wearing down the contributor, making them less inclined and able to produce high-quality feedback. If you'd like to order tests longer than 40 minutes, please contact your Customer Success Team to discuss moderated testing options.
Learn More
Need more information? Read these related articles.
Want to learn more about this topic? Check out our University courses.
Please provide any feedback you have on this article. Your feedback will be used to improve the article and should take no more than 5 minutes to complete. Article evaluations will remain completely confidential unless you request a follow-up.