At a Glance
This article explains how to use UserTesting's card sorting tool. To learn about card sorting, including why it's useful and when you should do it, read the Knowledgebase article "What Is Card Sorting?"
Card sorting is available on the following subscriptions:
Why Run a Card Sort with UserTesting?
How to Set Up a Card Sort in the UserTesting Platform
Why Run a Card Sort with UserTesting?  
Running your card sort via UserTesting can deliver both qualitative and quantitative insights.
The card sort results will help you understand how people think your content should be grouped. You can use the card sort results to quickly spot popular groupings and categories and use this information to build a better website.

The recordings of the contributor sessions will give you behavioral insights from watching and listening to contributors complete the card sort and answers to questions such as "Did people find any task particularly confusing?" and "Why did people group the cards one way and not another?"

You can use card sorting in both unmoderated and moderated tests. Add a card sort as you build your unmoderated test plan, or share it as an Invite Network test link with a contributor during a moderated Live Conversation.

Card sorting is included with our Ultimate Edition subscriptions. For customers on our Advanced, Pro, Premium Editions, card sorting can be added for an additional cost. Please get in touch with your account team for more information.
Note: Card sorting is available for mobile. For more information, review the article Mobile card sorting.
How to Set Up a Card Sort in the UserTesting Platform
1. Create a new unmoderated test.
To start your test, select Create test, then Create a test.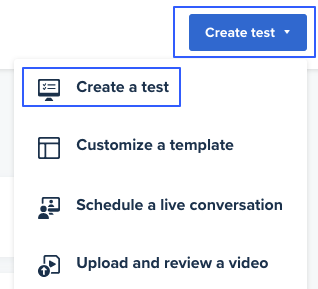 Next, click Website for what you are testing.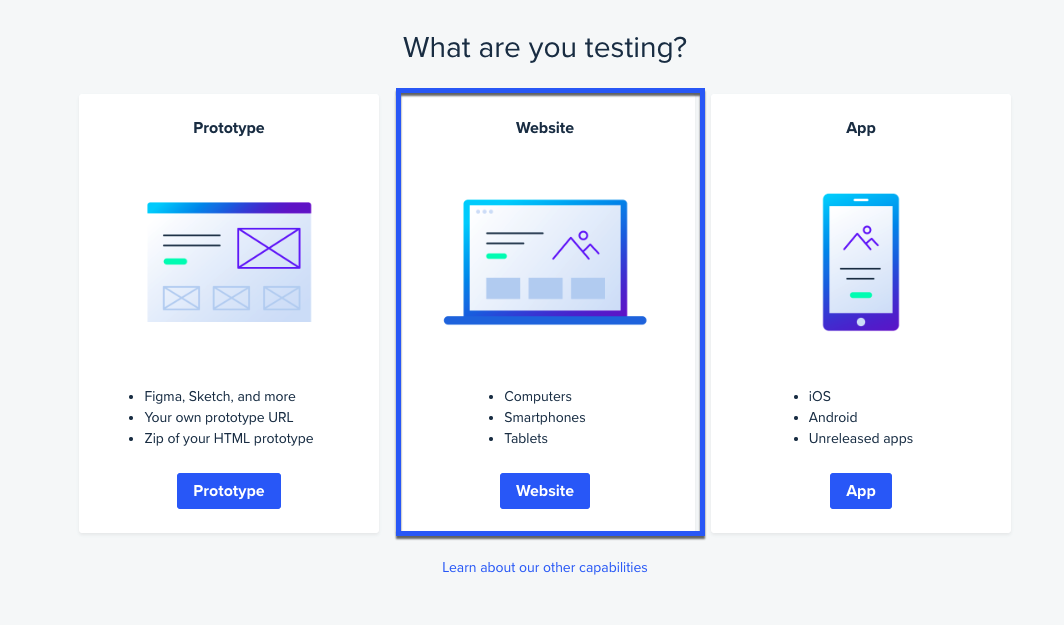 You'll have two options to reach your audience: Build audience (recruiting contributors from the UserTesting Contributor Network and creating your own network) and Create link (generate a link to share with anyone outside the UserTesting Platform).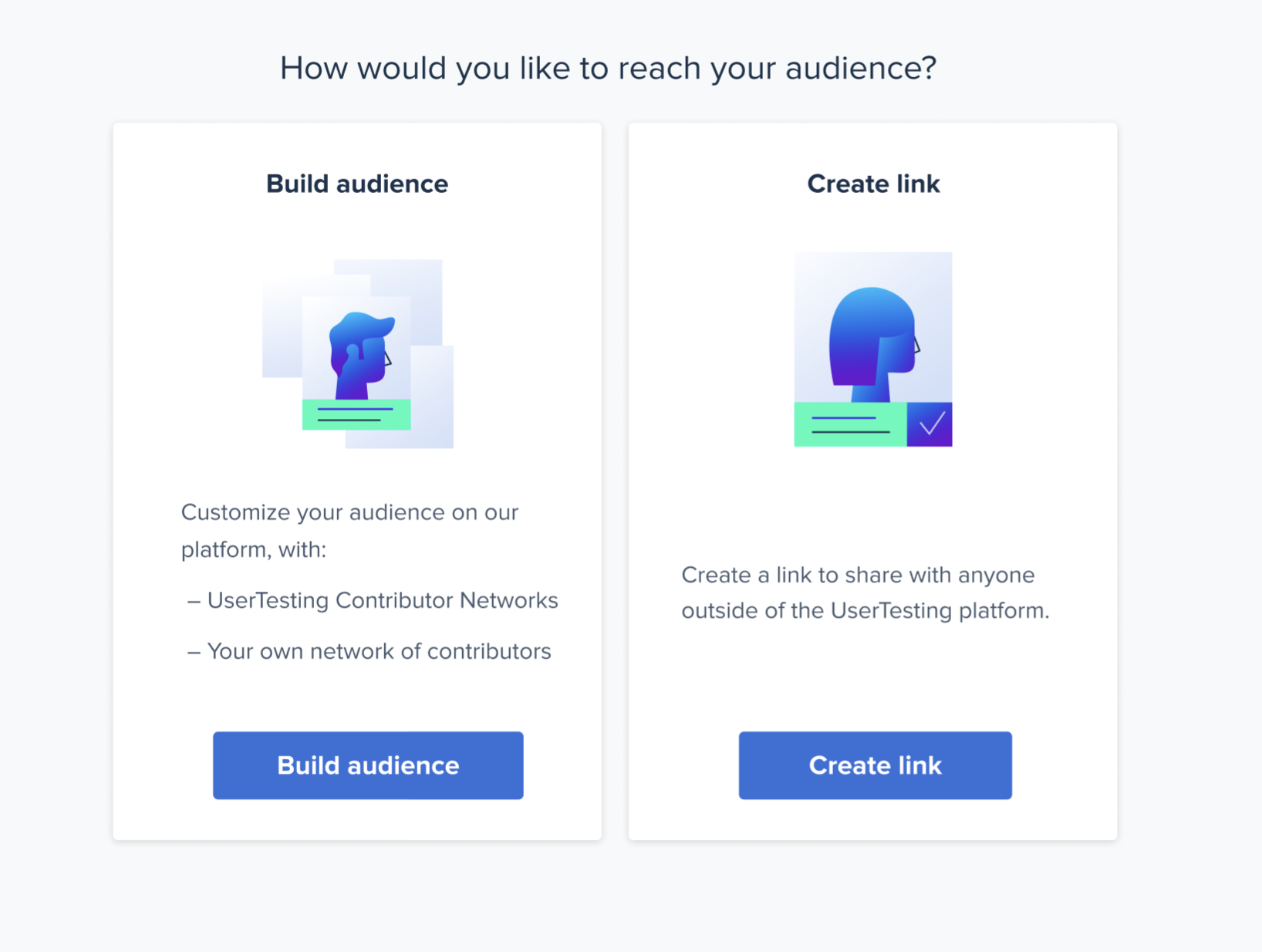 2. Select your sample size and target audience in UserTesting.
When running a card sort, it's best to opt for a larger sample size than for a standard test looking for qualitative feedback. This is because you want to derive meaning from the number of contributors who group content in a particular way.
We recommend distributing the test to 30 contributors to have some statistical confidence in your data (see MeasuringU's website for resources about statistics and User Experience). Additionally, you'll get value from watching the videos of a handful of those contributors.
If your account limits you to 15 contributors per test, launch one test with 15 contributors, then create a copy of that unmoderated test and launch to 15 more contributors. Alternatively, you can keep all the results in one test by inviting 30 of your own Invite Network contributors to take the test.
Remember: It's always best practice to pilot the study to a couple of contributors first to validate that you've set up the test correctly.
For more information about finding your ideal contributors, see our other Knowledgebase articles about targeting your audience.
3. Choose a starting URL and provide some context.
In the Starting Instructions section of UserTesting, choose a URL to send contributors to. Use A blank page option if you don't have any specific site you want your contributors to start on. 
Provide some context in the Scenario field, such as:
"Please note: One of the activities in this test will be conducting a card sort. This activity helps companies determine how they should structure and organize items."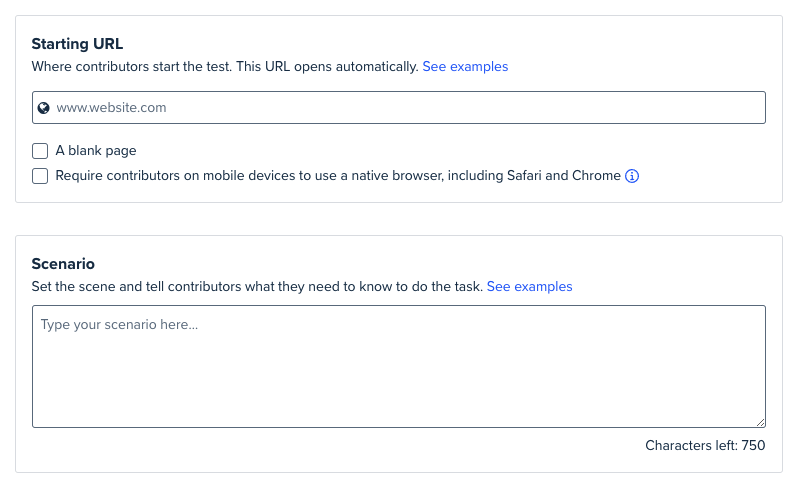 4. Build out your test plan, adding a card sort at the appropriate point in the test flow.
You may want to ask some background questions before the card sort. For example, you may want contributors to rate their familiarity with the topic that the card sort is focused on.
Do not include too many tasks before the card sort because (1) you don't want to inadvertently bias the contributor's thinking before they take the card sort, and (2) you want to give the contributor ample time to complete the card sorting task.
Note: Card sort tasks can't be used inside a Balanced Comparison group.
5. Set up the card sort activity.
Select Card sort under the Tasks and questions section of the test plan. 
You then have three different types of card sorts to choose from: Closed, open, and hybrid.
Note: Card sort tasks currently only work with the seamless recorder, which does not support Interactive Path Flows or enhanced metrics at this time.
You may also select the Classic card sort option. This will take you to UserTesting's card sorting app (ia.usertesting.com) where you will create your card sort activity and then share a link to the card sort in your test plan. This option allows you to upload images to your card sort, a feature that is not yet available with the standard Card sort task.
Closed Card Sort
The closed card sort has contributors sort cards into categories you give them.
Add the items you want contributors to sort under the Cards column. Press Enter on your keyboard to make a new card. Or you can copy and paste a list. In the Categories column, add the categories you want contributors to sort cards into. You can also select to randomize the card and category order for each contributor.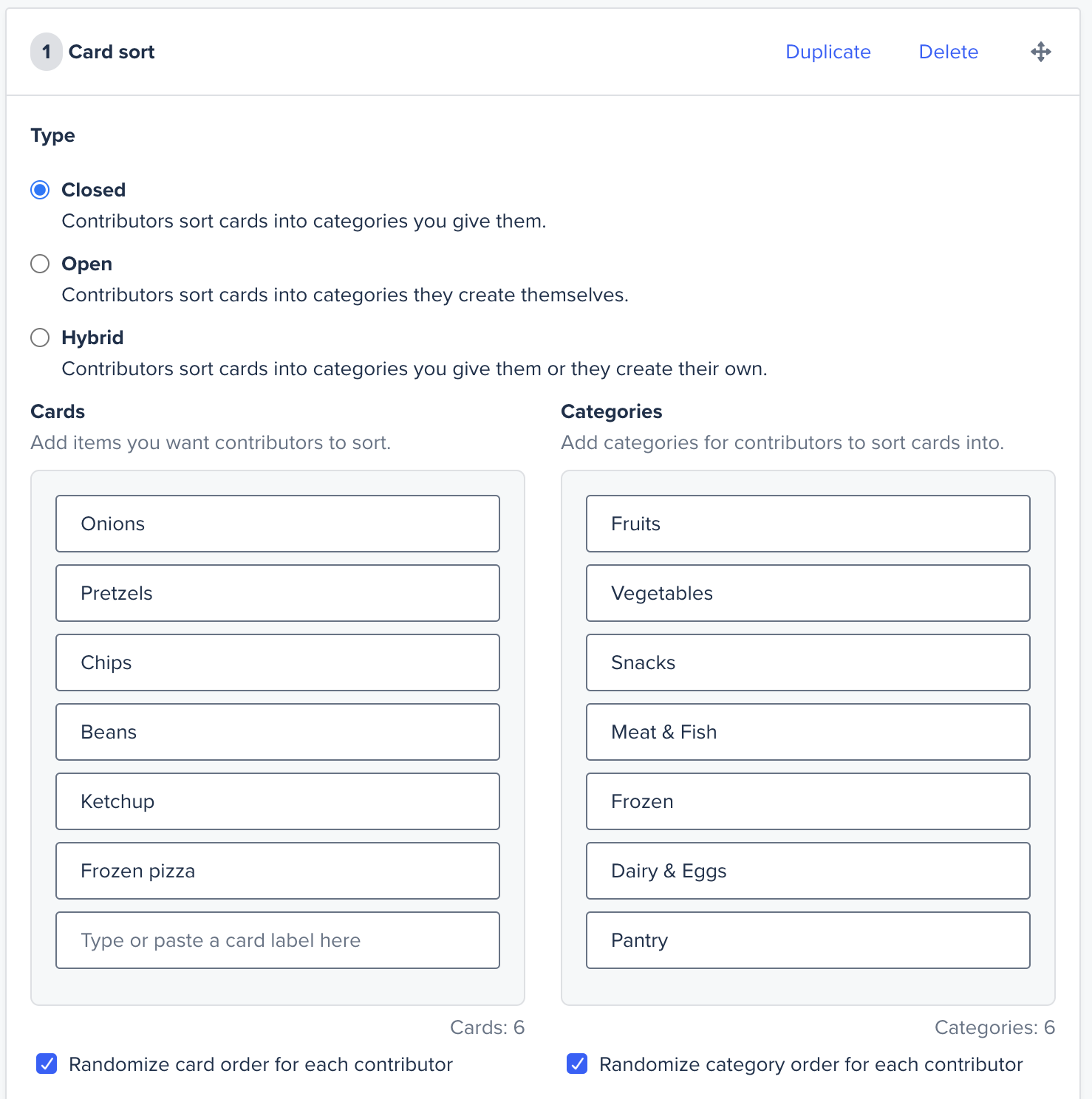 You can also edit the instruction text for the card sort.

Once you're finished with your test plan, launch your test.
Open Card Sort
The open card sort has contributors sort cards into categories they create themselves. 
Add the cards that you want contributors to sort in the fields provided.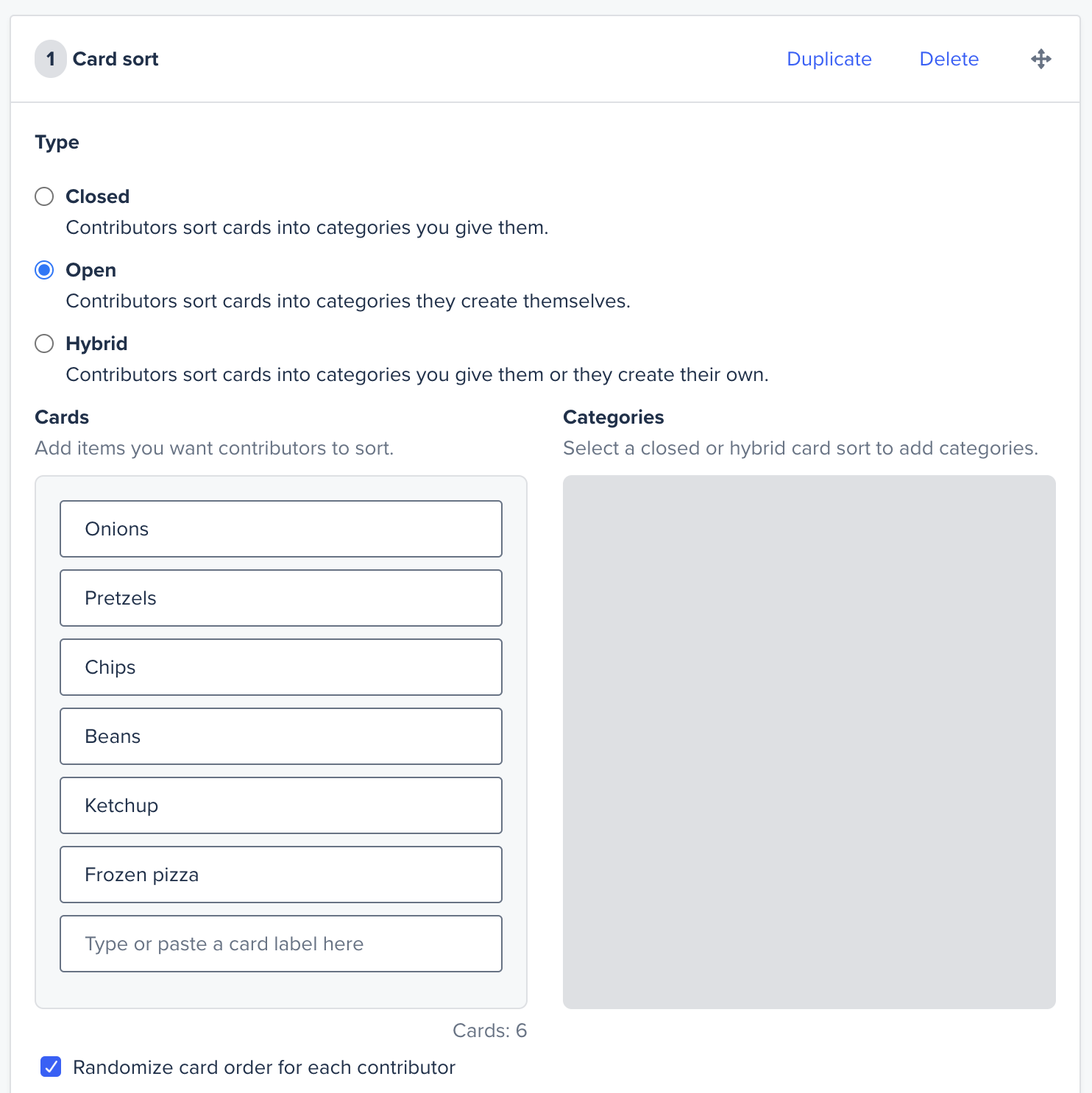 Hybrid Card Sort
The hybrid card sort has contributors sort cards into categories you give them or they create their own. 
Add cards you want contributors to sort, then add any categories you want the cards sorted into. Contributors will also have the option to create their own categories.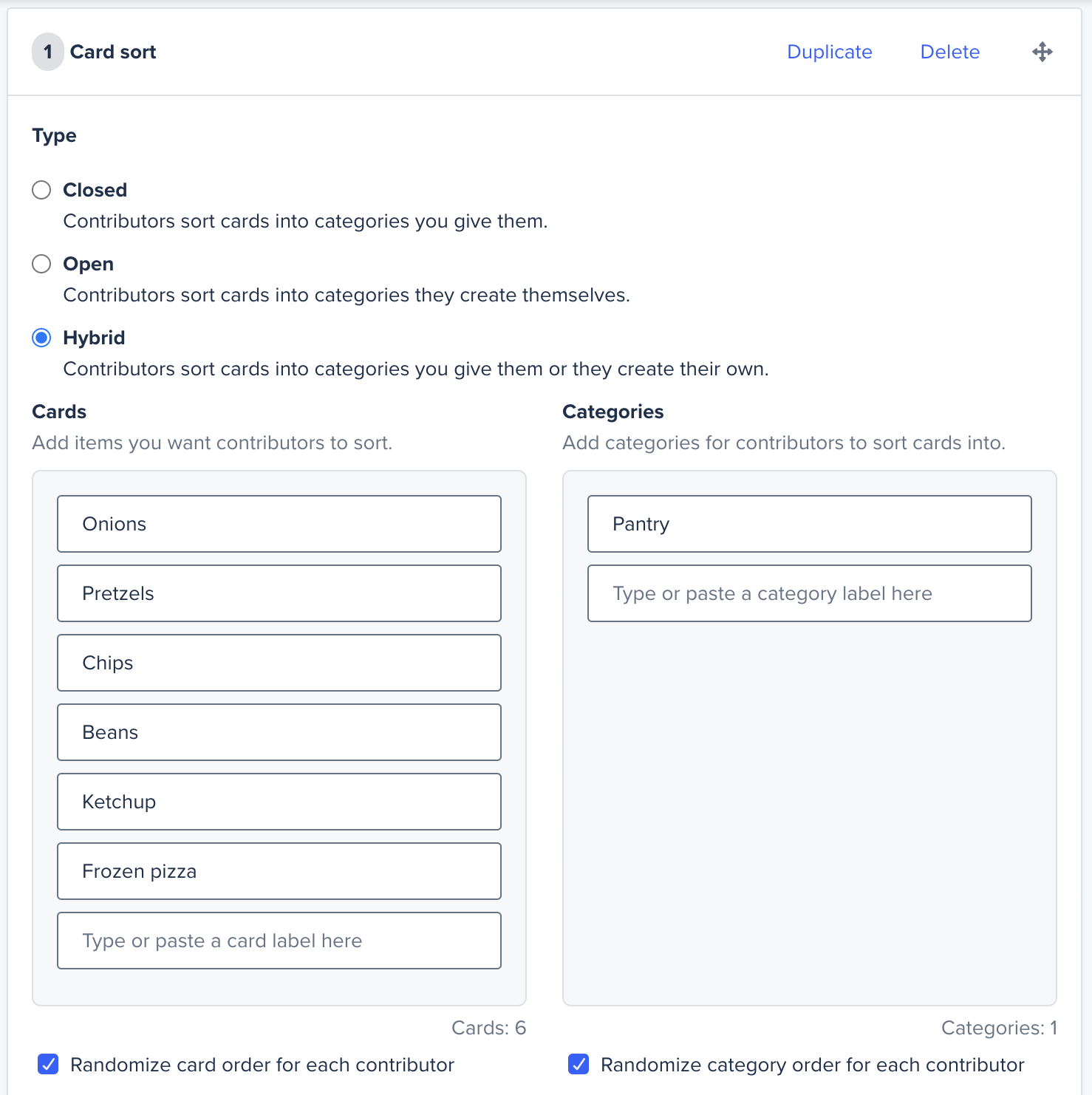 Classic Card Sort
You may want to use the classic card sort, which has you create your card sort using our external card sorting app. Use the classic card sort when you want to add images to the activity or export results to Excel. You can create a closed, open, and hybrid card sort with the classic card sort option.
To set up your open or hybrid card sort, click and drag the Classic card sort task into your Test Plan.
In the card sort task, follow the link to the card sorting app: https://ia.usertesting.com/.  This will open in a new browser tab.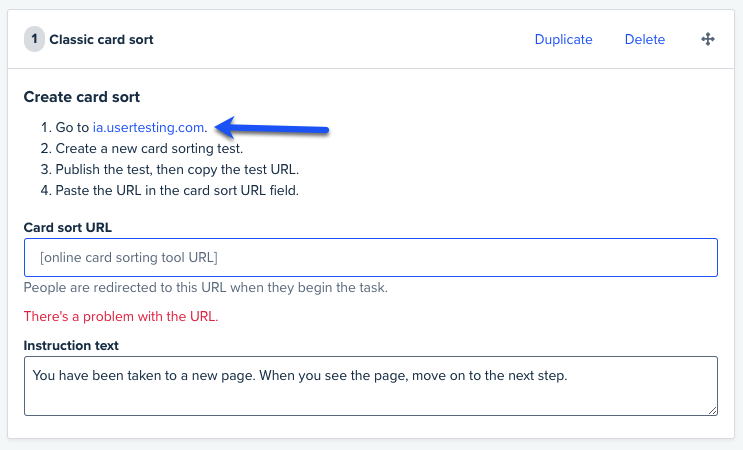 Create a new card sort. You will select either an open, closed, or hybrid option, depending on what you want to find out. 
Note: Creators can access, edit, and view results for their tests. They cannot view or access tests launched by others on the account.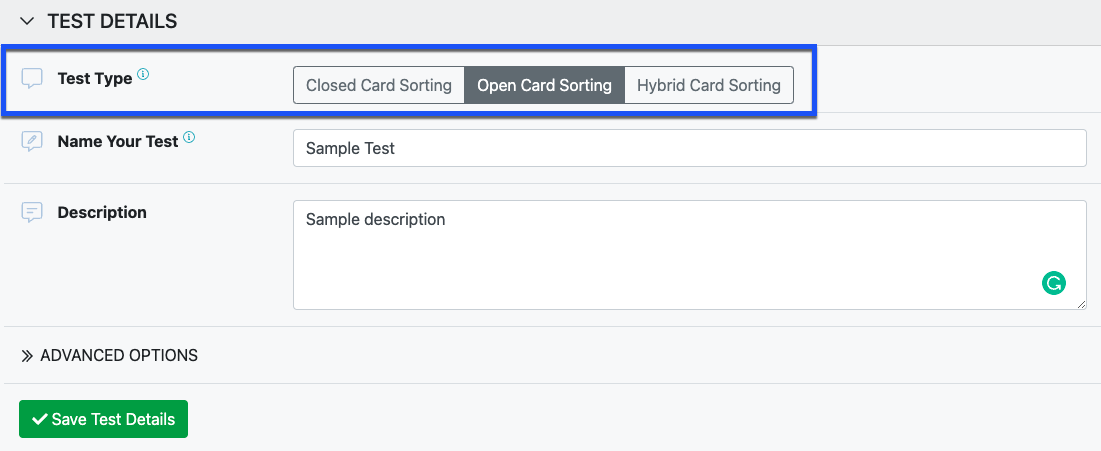 For open and hybrid tests only, there exists a setting in Advanced Options that allows contributors to name groups after sorting their cards. Contributors will see at the end of an open or hybrid test a message ("Please give a name to each of the groups you have created to complete the task.") reminding them not to leave the test before adding names to the groups.

Create cards that represent the information you want feedback on, such as content topics, page names, or category names on your website.
Label each card you want contributors to sort. You will need at least two cards added to enable publishing, and you can have as many cards as you need. To add more cards, click Add Card.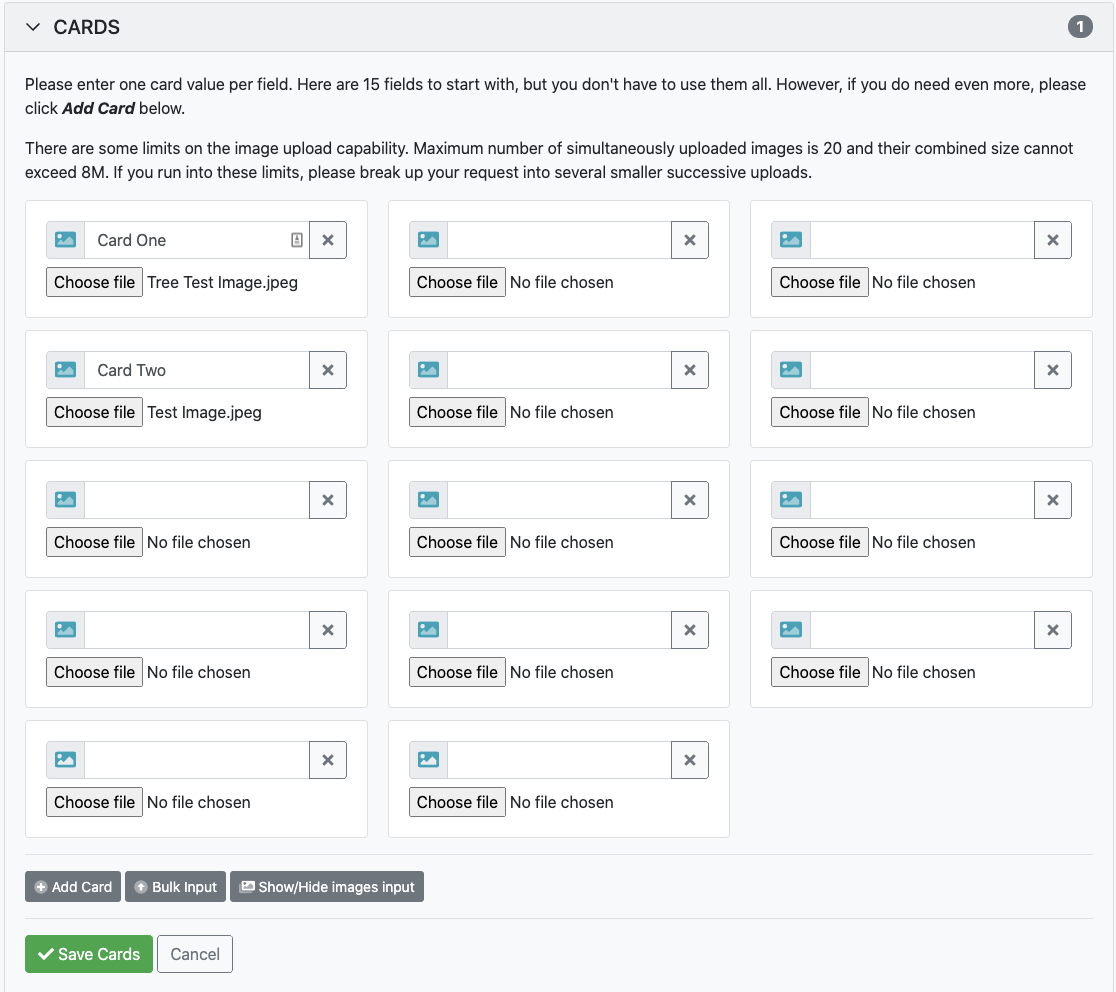 You also have the option to add images to your cards. To add images, click Show/Hide Images input. The maximum number of images you can upload at one time is 20 images, 8MB total. If your image file size exceeds these limits, upload images in several smaller groups. Images must also be <2MB in size and be .jpg, .gif, or .png files. For image cards, you must label each image. Click Save Cards to upload.

Note: Your card sort activity can be a mix of images and no images.
Once you have uploaded your card sort images, you can preview the image by hovering over the image thumbnail on the card.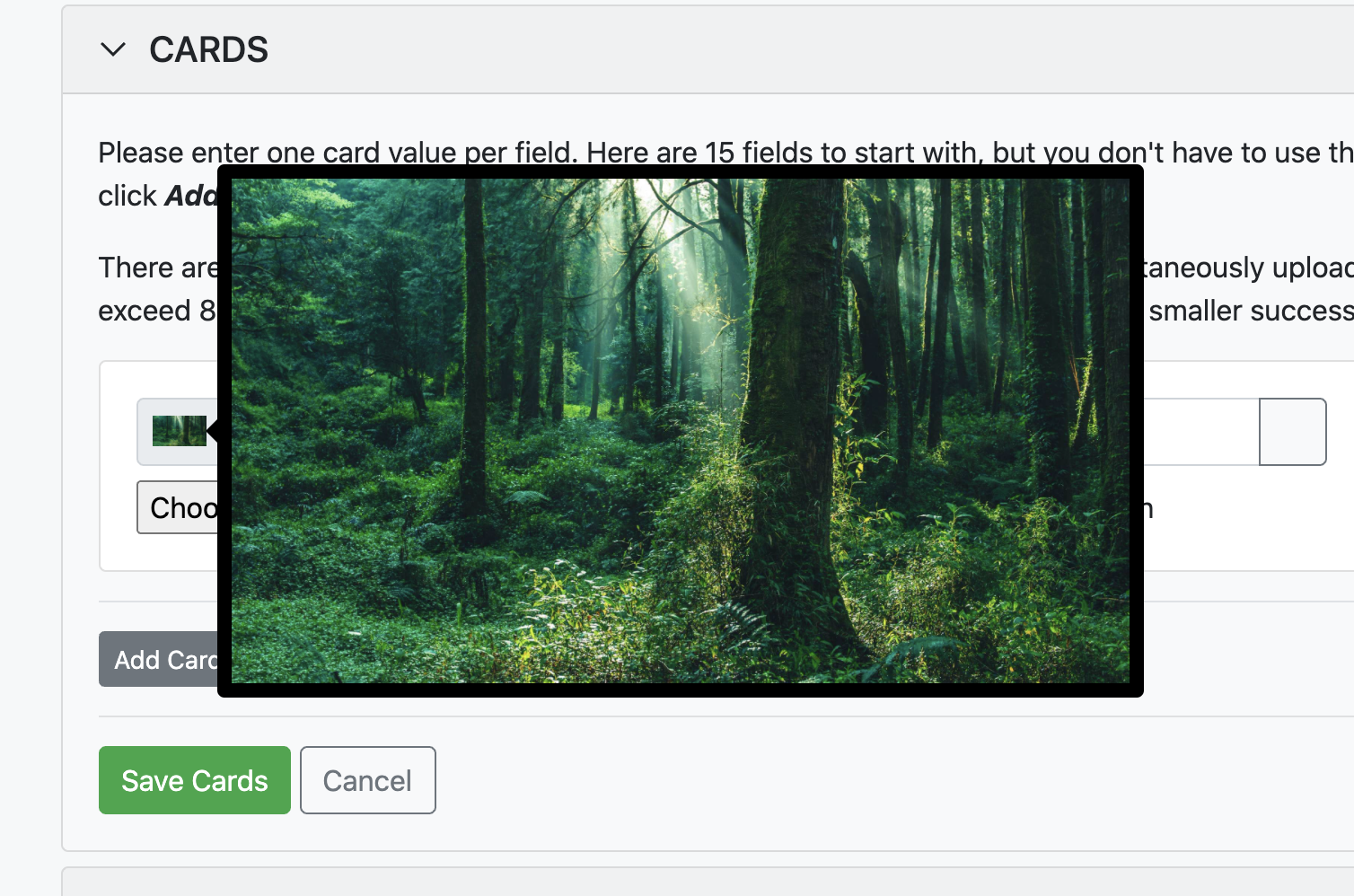 You will also add the category labels if you are running a closed card sort or hybrid card sort.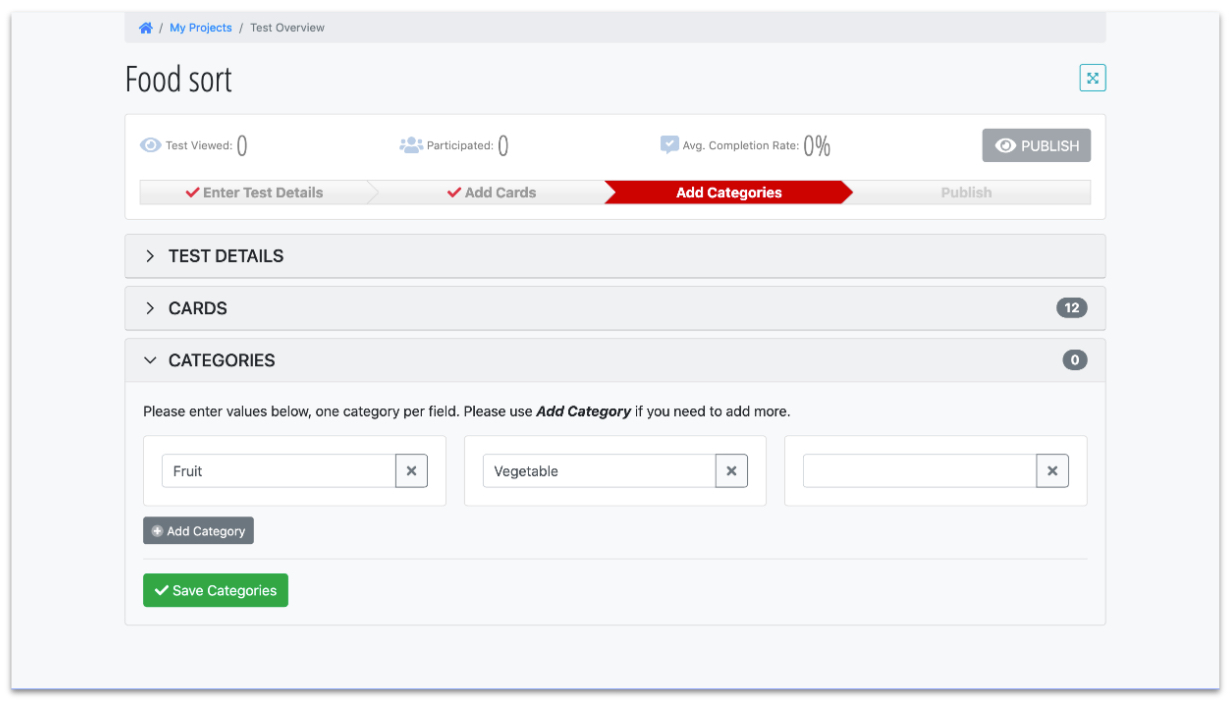 Click Publish to publish your card sort activity. 
Note: Admins can publish and unpublish tests created by others, just as the creator can. However, admins cannot edit tests created by others. Once a test is deployed, admins can also view and share results as necessary.
Copy the link to your card sort activity. 

Paste the link into the Card Sort Task. The link can also be shared with a contributor during a moderated Live Conversation.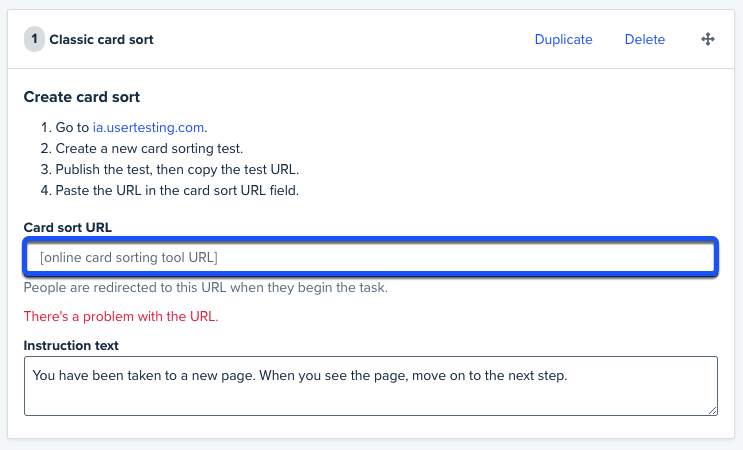 Note: All contributors upon completing the card sort test—whether that be a closed, open, or hybrid card sort—will see a "Move on to the next step" message, which is intended to make it super clear to the contributors that just the IA test is complete and not the UT test.
6. Include follow-up questions to get additional insight from users.
Finally, add tasks for any follow-up questions you want to ask to evaluate the contributor's experience as they completed the card sort activity.
You might ask people:
How easy or difficult did you find this card sort?

Which cards, if any, were the most difficult to sort? Why do you think that is?

Which cards, if any, were difficult to understand?

[For open card sorts only] What groups, if any, were difficult to name? What groups, if any, were easy to name?

In general, what are your thoughts on the groupings (and labels, if applicable) that you created?
To learn how to analyze your test results, see our other article here.
Learn More
Need more information? Read these related articles.
Want to learn more about this topic? Check out our University course.
Please provide any feedback you have on this article. Your feedback will be used to improve the article and should take no more than 5 minutes to complete. Article evaluations will remain completely confidential unless you request a follow-up.