At a Glance
When collecting feedback, you may find that you need to add more contributors to a test. This article explains your options for adding those contributors.

The need to add more contributors occurs most commonly when you pilot your test to one contributor, make updates (if required), and then launch the test to the remaining contributors. However, you may also discover that even after a few contributors have completed your test, you want some additional insights. 

To add more contributors to your test, click the Add more sessions link: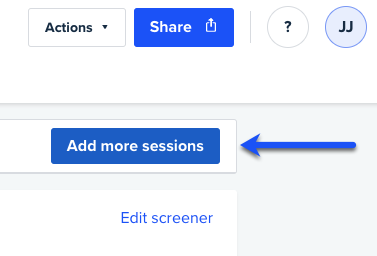 You can also select from the test Actions dropdown: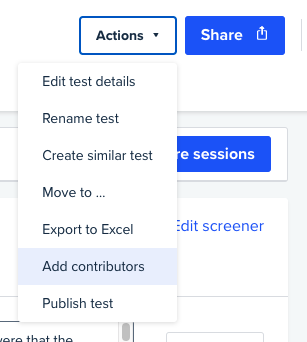 In the dialogue, you can then add more contributors to any audience that you included in your test or specify individual contributors by their usernames: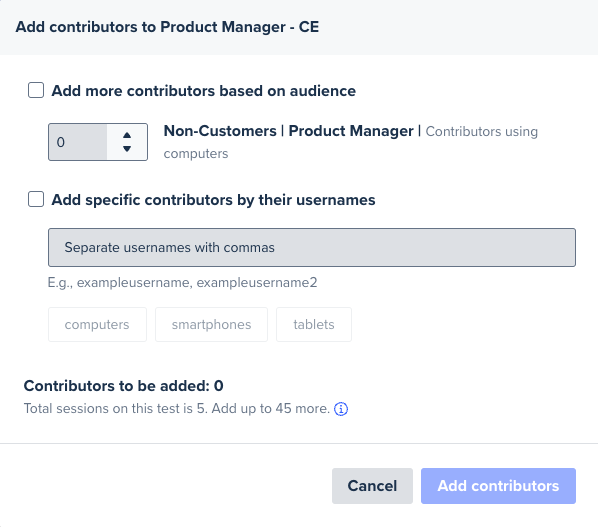 Note: You will not be able to add a new audience of contributors once the test is launched. For example, if you ran a test with five contributors on desktops, you cannot add five contributors on mobile devices after the test is launched. You would have needed to start the test with one audience of contributors on their desktops and a second audience on their mobile devices. 
When piloting a test, include one contributor from each audience you plan to include in the full test.

If you do find that you need a new audience, create a similar test.
Learn More
Need more information? Read these related articles.
Want to learn more about this topic? Check out our University courses.
Please provide any feedback you have on this article. Your feedback will be used to improve the article and should take no more than 5 minutes to complete. Article evaluations will remain completely confidential unless you request a follow-up.