Screensharing on iOS is just a couple of taps away from moderated or unmoderated studies!
For participants who may be unfamiliar, here is what is shown on-screen:
After screen-sharing is prompted, the participant's phone will show this:

Ensure that Validately is seen and selected, then tap 'Start Broadcast' and they will see               a "3, 2, 1..." countdown

Next, the participant should tap anywhere in the white open space (outside the 'start broadcast' instruction box) to start screen sharing.  This is one more privacy step in place from Apple, to ensure that the user has one last chance to opt out of screen sharing if they choose to:
But what if Validately is not there or screen-sharing simply will not start?
It's possible that the Camera Roll will show in the menu instead. This is because the last screen recording that iOS did was saved to the Camera Roll (you may have used screen capture to save a video of how to update your settings to send to a friend, etc). If that is the case or the screen-sharing option will just not start, you'll need to first force-quit your open apps, then attempt to screen share to Validately once again.
How do you force quit apps?
You'll need to access the App Switcher. If you are on iPhone 8 or earlier, you'll double-tap your home button. If you are on iPhone X or later, you'll swipe up from the bottom of the screen and pause.
Once you're in the app switcher, swipe sideways until you find the target app, then swipe up on its app card to force-close it.
Repeat for any other app you wish to close.
Then you can return to the home screen again to start the test from the session link again.
Seeing this error message? Loading System Recorder Failed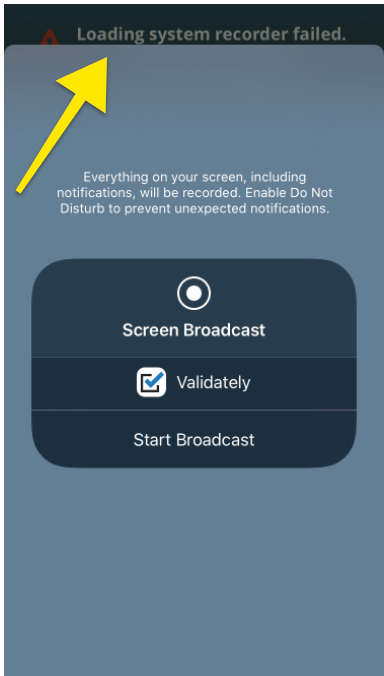 This is related to a setting on your iPhone. To adjust, you'll need to go here: Settings > Screen Time > Content & Privacy Restrictions > Content Restrictions > Screen Recording > Allow
Please provide any feedback you have on this article. Your feedback will be used to improve the article and should take no more than 5 minutes to complete. Article evaluations will remain completely confidential unless you request a follow-up.