At a Glance
This article provides tips on collecting feedback from your customers based on how they are adapting their behaviors to the COVID-19 pandemic and how they perceive messaging and communication from your organization.
Quick Answer: COVID-19 Impact on Behavior is available on the following subscriptions:
Click on the following header titles to skip to that section of the article:
Quick Answers provide video feedback of customers answering questions written for you by UserTesting. They are all designed to answer common marketing challenges. You can read more about Quick Answers in Quick Answers: Overview.
COVID-19: Impact on behavior is designed to give you insights into how your target audience is reacting to the COVID-19 crisis and how their behaviors have changed as a result of the pandemic. 
When to Use COVID-19: Impact on behavior
Use COVID-19: Impact on behavior to get fast feedback on how customer behavior and expectations are changing.
How is my target audience reacting to the COVID-19 crisis?

What behaviors related to my company or industry have changed based on the crisis?

What expectations do people have of my company/industry during this situation?
How to Set Up COVID-19: Impact on behavior
1. Quick Answer Inputs
Click the Create test dropdown menu and select Customize a template.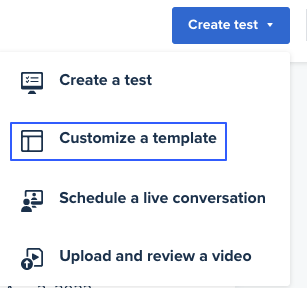 From the Template gallery, select the Quick Answers filter.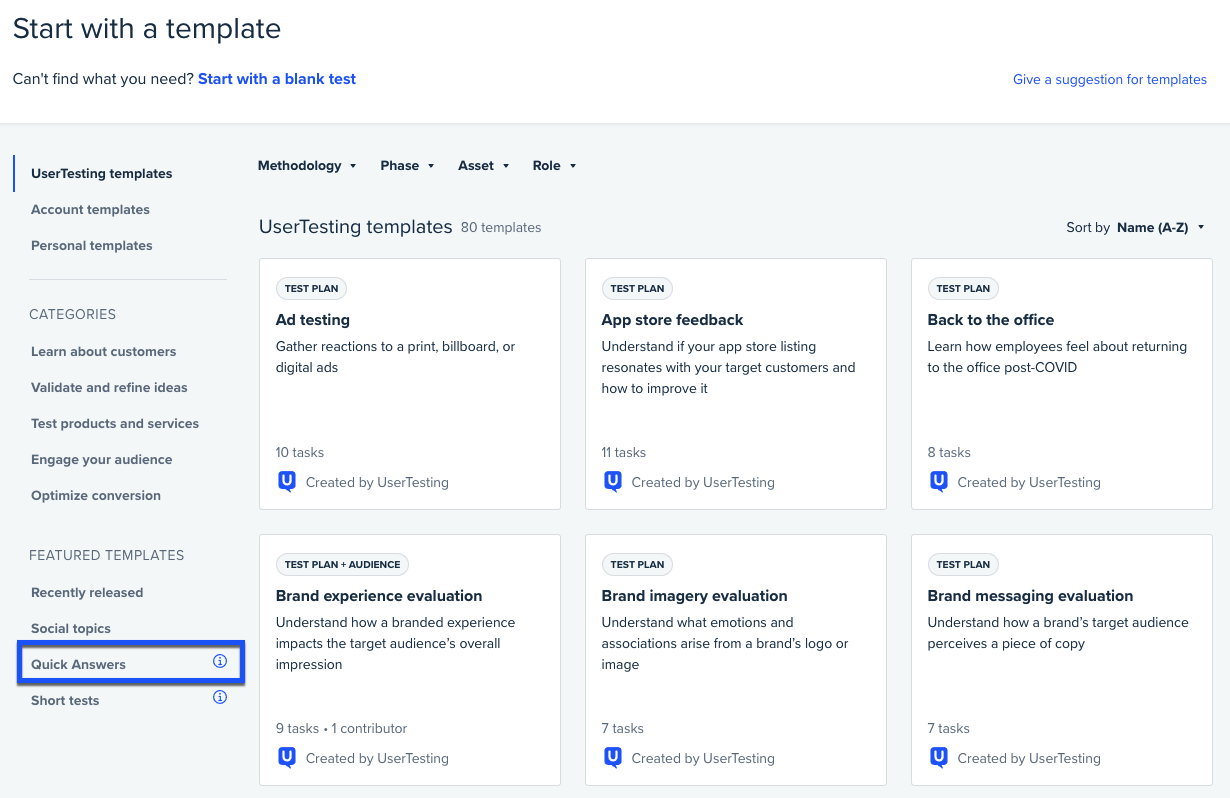 Then, find and click COVID-19: Impact on behavior.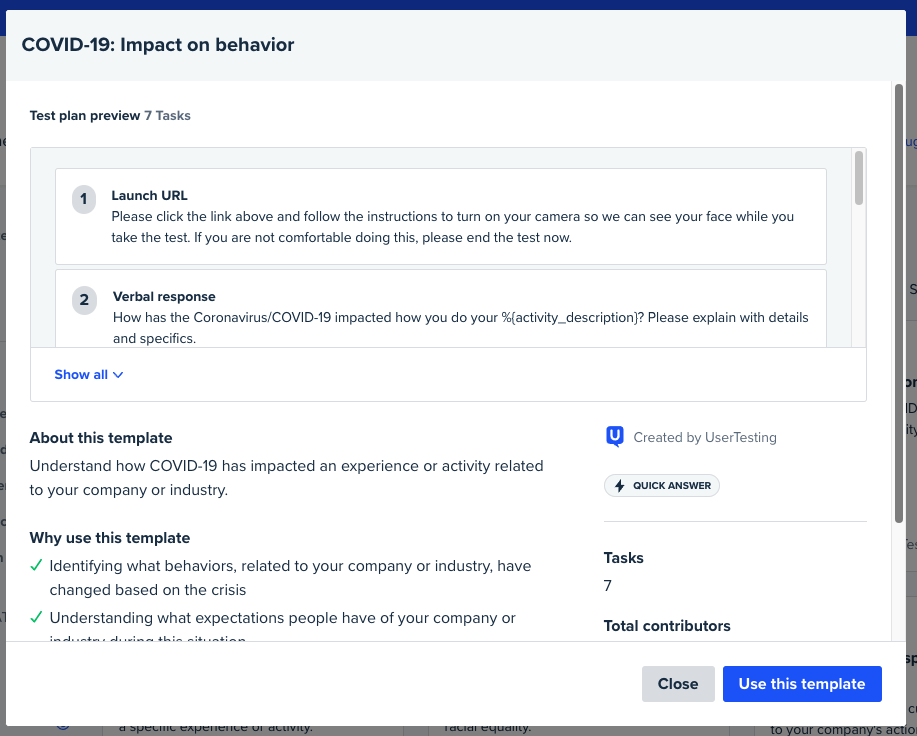 2. Give a short description of the experience or activity you want contributors to discuss.

Important: You must start the short description with a verb ending in -ing. The description is added to a pre-written sentence, so it's a good practice to use a lowercase letter for the first word and not end with a period or other punctuation. Quick Answers converts your description into the test questions, so the wording you enter is what contributors see.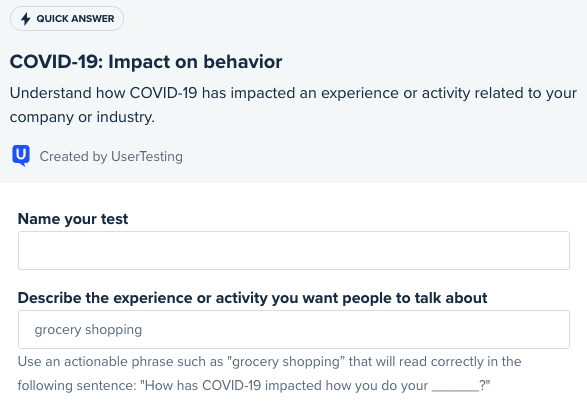 Then name your test, so it's easy to recognize from other tests on your dashboard. 
At this point, you'll need to determine who should take your test.
Contributors from the UserTesting Contributor Network

Using Invite Network 
Launching a Test

To see a list of all the questions the test asks contributors, click the link under Tasks. To see what your test looks like to contributors, click the Options Menu (three dots) to the right of the Test Plan Summary, then click Preview Test. When you finish the preview, click the Close button. 
To add or remove contributors, click

Contributors

.

If you need to edit the URL or you entered text that included a typo, go to the Options Menu to the right of the Test Plan Summary and click Edit. When you are done editing the test, click Save and Go to Order Page.
Click Launch Test to send the test to your contributors.
What We Ask Contributors
After you click Launch Test, we send the test to contributors who match your chosen demographics. These contributors then answer any screener questions you added to qualify to take the test.

If you'd like to see what answering screener questions looks like from the contributors' view, watch this video.

Once they qualify, we ask contributors to record themselves while describing the experience you specified. For COVID-19: Impact on behavior, we ask that contributors turn on their webcam to show their faces. Then we ask them a series of questions about the experience or activity you provided. We use the exact phrase you provide in the first step in the questions below. This is why it's important to use a verb ending in "-ing."
Here's what we ask contributors based on the questions you answered when you created the test:
Launch URL: [link] 

Please click the link above and follow the instructions to turn on your camera so we can see your face while you take the test. If you are not comfortable doing this, please end the test now.
How has the Coronavirus/COVID-19 impacted how you do your grocery shopping? Please explain with details and specifics. [Verbal response]
How has the Coronavirus/COVID-19 impacted how you do your grocery shopping? [5-point Rating scale: Not impacted to Impacted]
What is the *biggest* impact, if any, that Coronavirus/COVID-19 has had on how you do your grocery shopping? [Verbal response]
Please summarize what you just talked about in 1-2 sentences. [Written response]
What is one piece of advice you would like to give to companies that support grocery shopping? [Verbal response]
Please summarize what you just talked about in 1-2 sentences. [Written response]
As contributors finish, the software uploads the recorded video to our system. It notifies you by email that the videos are ready to watch (to configure notifications, see "Email notification preferences"). 
Reviewing the Results
For each test, the Dashboard displays the type of test, the test name, the day you created it, and how many contributors have and have not taken the test.
After all the contributors finish, a Result summary appears below the test title.


From here, you can share the results, create a similar test, or move the test to a different location. From the Dashboard, click on a test title to be taken to the Results page.
The Results Tab
After running this Quick Answer test, the Results tab shows contributors providing open-ended qualitative feedback describing their most recent experience on a particular task or activity you ask them to complete. 
The Results tab is a great place to start for Quick Answers. It summarizes the findings from the test: Do more contributors find the activity likable? Did the contributors express any frustrations? Videos of your contributors' open-ended feedback will display as Key Takeaways under the Results tab. 

To read more about the Results tab, check out our Results from Quick Answer Tests article.
Learn More
Need more information? Read these articles:
Want to learn more about this topic? Check out our University course:
Please provide any feedback you have on this article. Your feedback will be used to improve the article and should take no more than 5 minutes to complete. Article evaluations will remain completely confidential unless you request a follow-up.