At a Glance
You either have received—or will soon receive—a URL inviting you to participate in a test for a company interested in getting your feedback. This feedback helps companies better understand what people are looking for and what they are experiencing on a website, app, or other digital product. This insight, in turn, helps the company continue to provide the best products, services, and experiences to customers like you.
What to know before you begin...
You'll be provided with a URL to start your test. We recommend using the

latest version of Chrome

, however, Firefox, Edge, and Safari (current version only) will also work. We don't support Internet Explorer. 

An internal mic or headset with a mic must be plugged into your computer before you begin to record your audio.

Please temporarily disable or exit any apps that can interfere with the recording process or the upload, including ad blockers, firewalls, and anti-virus software. 

To keep things simple, we recommend exiting any background apps and having just one browser window open. 

If you're using a Mac, please make sure your browser isn't in full-screen mode. 

To protect your privacy, please hide or remove any personal information or anything on your screen that you don't want to be recorded.

If you're using a non-Chrome browser, you must use Windows 7, 8, or 10, or Mac OS X 10.7 or higher.

Since we'll need to upload your recording, please make sure you're connected to strong internet, preferably a wired connection or good Wi-Fi. Other computer system requirements (for both Windows and a Mac):

Memory: At least 1 GB of total RAM and 600MB of available RAM
Upload speed: At least 3.0 MBPS
Free disk space:

At least 7 GB

Screen resolution: 1920x1080 (1080p) maximum and aspect ratio of 16:9

Make sure you have enough time to complete your test uninterrupted and that you're in a quiet place.
How It Works: Step by Step
Step 1: Start the test
Depending on the test, you may or may not be asked to enter your email. Please note that this test only uses your email for identification purposes. It will not be used for promotional reasons or added to a marketing database. This is used to associate you with the test.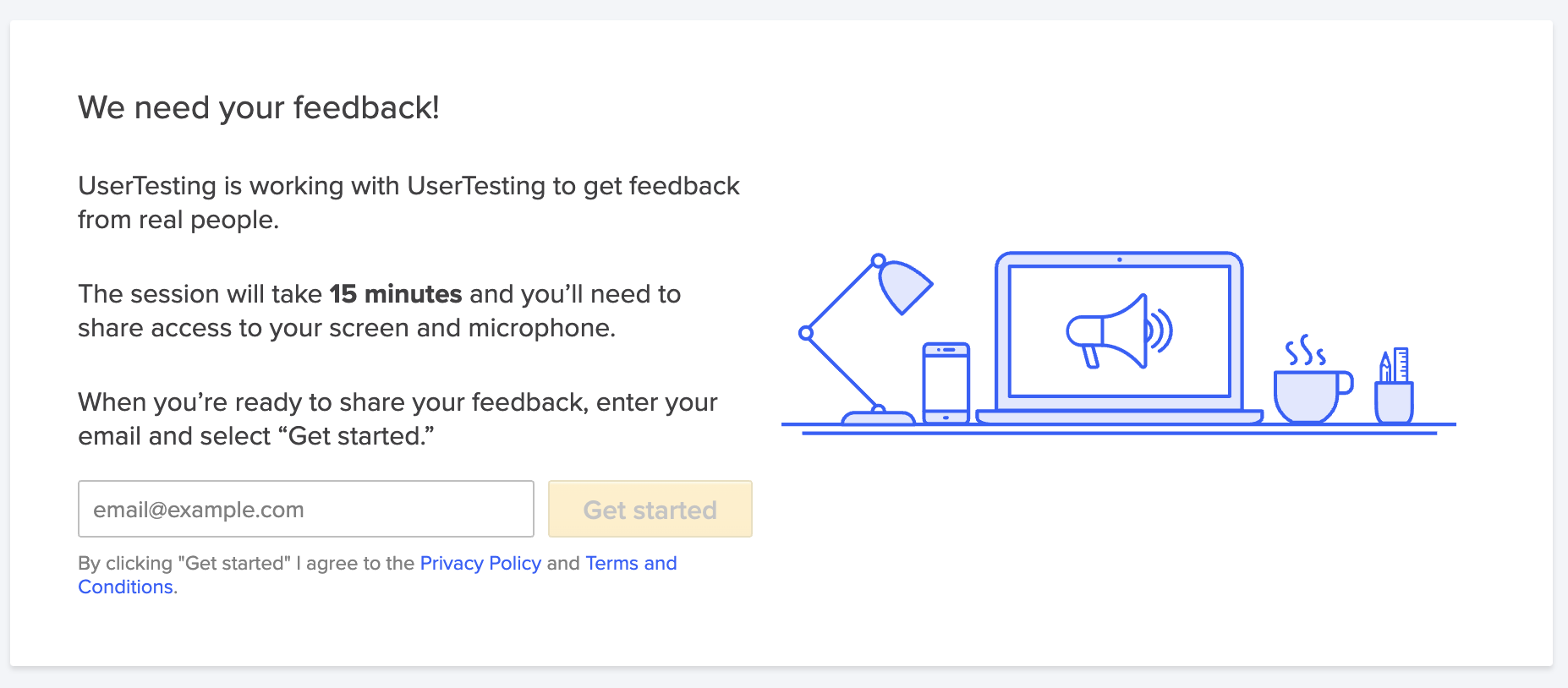 If you are not asked to input your email, you will simply check the box to agree to the Privacy Policy and Contributor Terms of Service.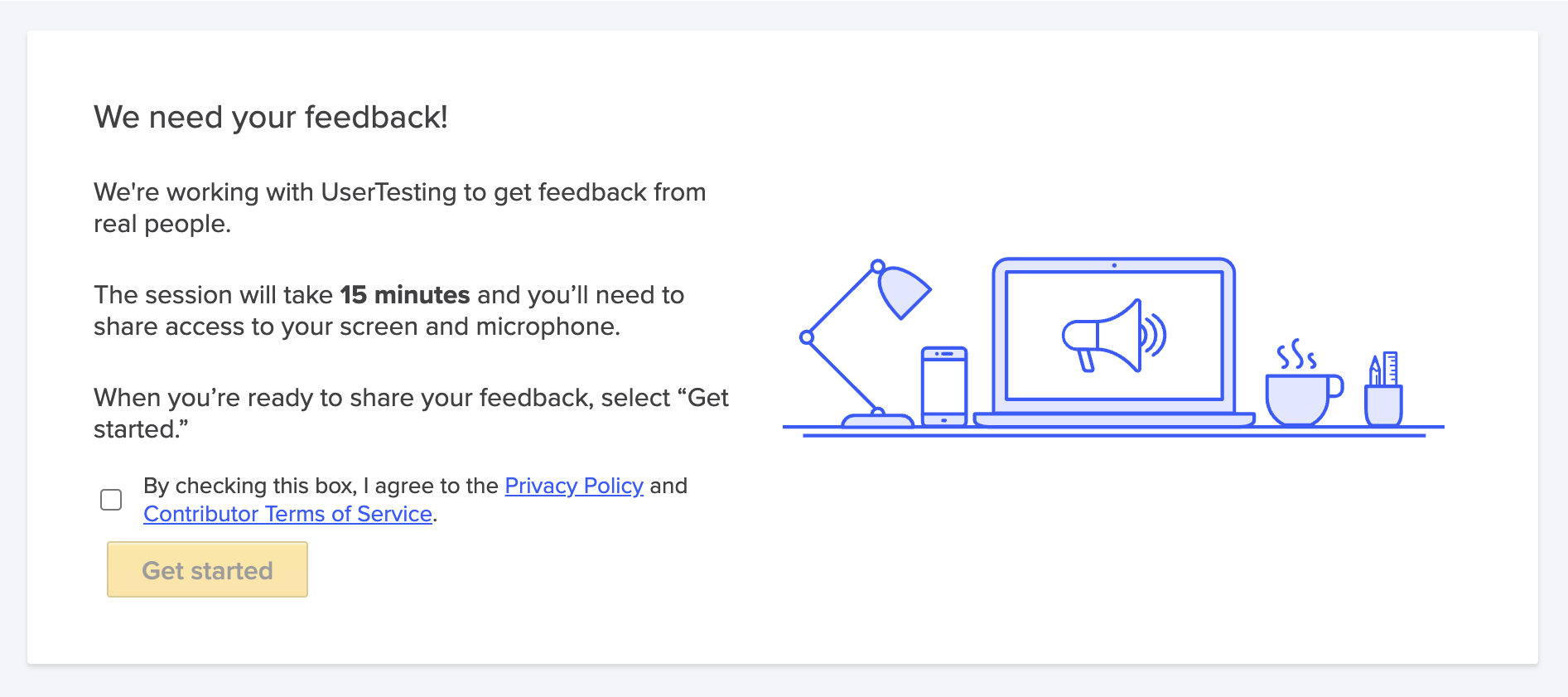 Next, you'll have 60 minutes to start the session. If you're unable to complete these steps within 30 minutes, your session expires, and you'll have to start over, re-entering the same URL and your email address, if requested.
Step 2: Share access to your screen and microphone
Enable your browser to record the test by sharing access to your entire screen and microphone. You will stop sharing once you've finished giving feedback. If you're using multiple monitors, make sure we're recording the right one. 
Make sure you have two browser tabs open to take the test: one for instructions and one for the experience you will give feedback on.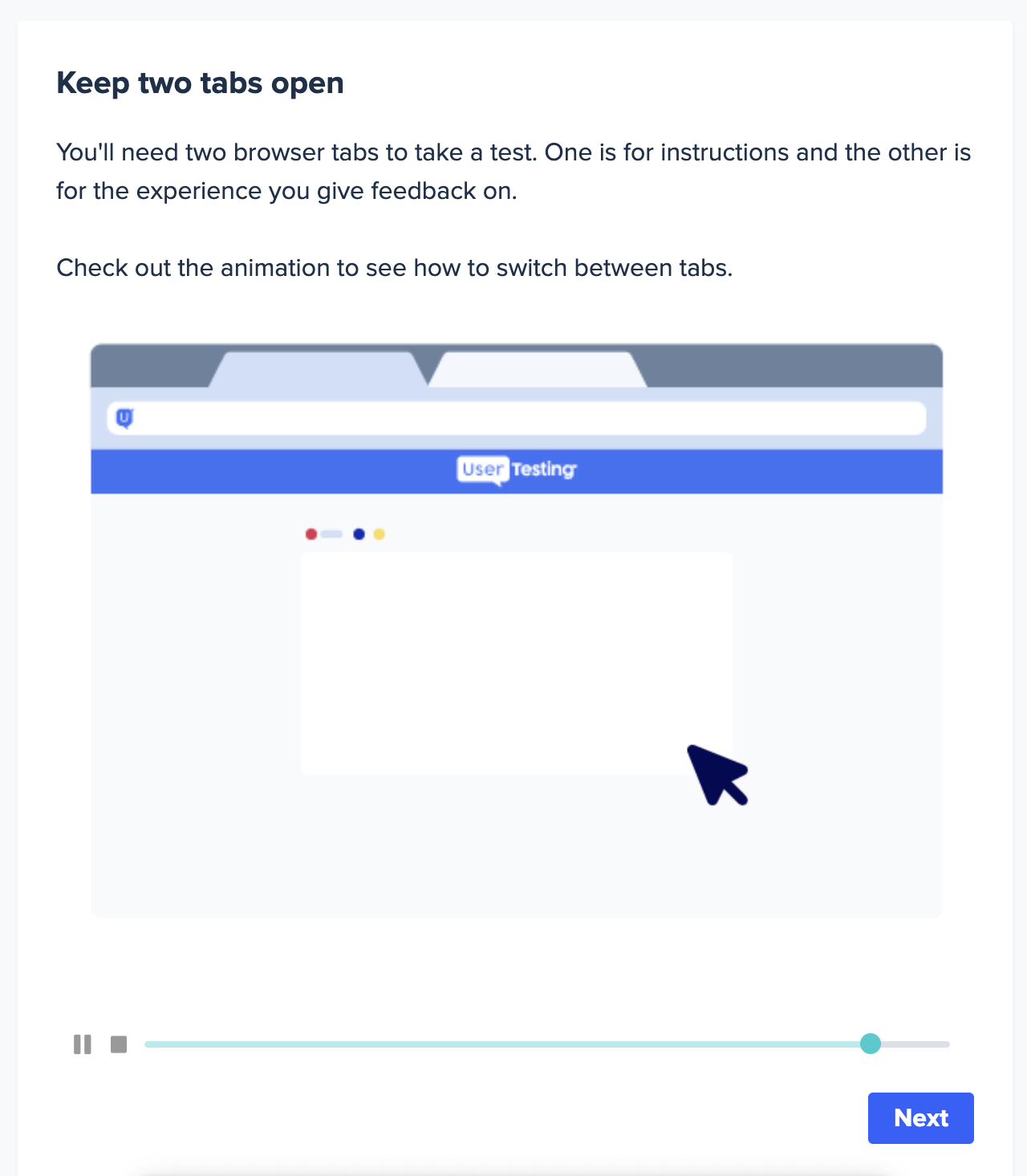 Tips to help you complete your session:
You'll see prompts, tasks, and questions throughout the duration of the test that will tell you what you should do at every step. Just follow the directions and click the Start recording bor Next button to progress through the test. 

Speak loudly, clearly, and honestly as you complete the tasks that are shown. Remember: the organization is conducting this test to improve their products and services, so don't hold back in sharing your honest reactions.
Step 3: Share your final thoughts
Once you've finished the test, click Done. You will then be redirected to where you were before taking the test. The recording will be sent to the company that requested it. 
For Contributor Support, visit the Contributor help center.
Learn More
Need more information? Read these related articles.
Please provide any feedback you have on this article. Your feedback will be used to improve the article and should take no more than 5 minutes to complete. Article evaluations will remain completely confidential unless you request a follow-up.