At a Glance
The Transcripts feature will transcribe the audio of completed tests automatically. When you have this feature, you can quickly scan, search, and locate key insights when viewing completed tests. Transcripts are available via the dropdown to the right of the viewing field. 
Transcripts are available on the following subscriptions:
Key features
With Transcripts, you can:
Jump to any point in a video by clicking in the transcript

Create a video clip by selecting the corresponding section of the transcript

Search for keywords and jump to the corresponding portion of the video

Easily copy direct quotes for reporting and presentations to stakeholders
Highlight text to create a clip instantly
If you notice some interesting feedback as you're scanning through a transcript, you can quickly create a clip by just highlighting the text and selecting Make Clip.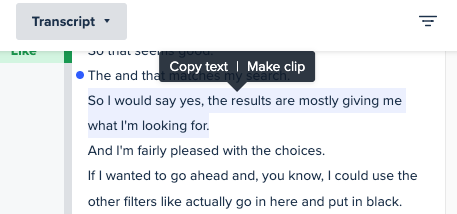 You can then jump to any point in the video by hovering over the text and selecting the dot next to the transcript.
Jump to any point in the video
Transcripts enable you to search a user's comments for keywords or phrases quickly and easily (just use command/control + F). You can then jump to any point in the video by clicking the dot on the side of the transcript.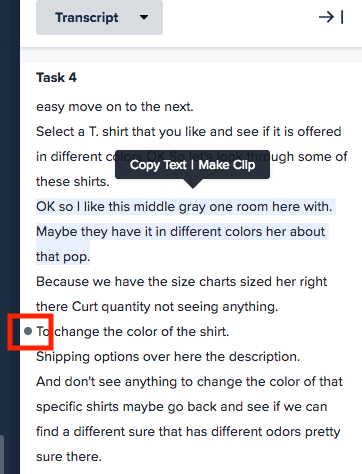 Live Conversation Transcripts by speaker
Transcripts are labeled by speaker, so you can see who said what (by name) to more quickly hone in on key moments. Transcripts are available to premium subscription customers across Insight Core, Marketing Insight, and Product Insight.

Access transcripts in other languages
At this time, transcripts are available in English, German, French, and Spanish for unmoderated tests and in English only for Live Conversation tests. To generate a transcript in a different language for unmoderated tests, you must set the language filter for your contributors to the appropriate language before launching a test to receive your transcripts in the desired language.
Note: Only English-language transcripts can be generated for the following (because there are no language filters available for these options)
Custom Network tests
Fuel Cycle tests
Specified contributor tests
Video uploads
All Live Conversation tests
English, German, French, and Spanish language transcripts are available for the following:
For more information, see our article on Testing in Non-English Languages.
Who is this for
The Transcripts feature is a great time-saving tool for customers reviewing large batches of videos—or anyone who wants to quickly scan through videos for insights. As transcripts are generated via machine-driven speech recognition, they won't be 100% accurate and should be utilized as a tool to help improve efficiency rather than a substitute for reviewing user videos altogether. 
Learn More
Need more information? Read these related articles.
Want to learn more about this topic? Check out our University courses.
Please provide any feedback you have on this article. Your feedback will be used to improve the article and should take no more than 5 minutes to complete. Article evaluations will remain completely confidential unless you request a follow-up.