At a Glance
This article provides an overview of the Flex plan and guidance on how Account Admins can manage their subscriptions and licenses. Your account is on the Flex plan if you use Session Units. 
Click on the following header titles to skip to that section of the article:
Quick Resources
The Subscription Types
There are three subscription types on the Flex plan. Each type comes with access to different features on the UserTesting Platform. For a list of features available on each subscription, visit this summary page.
Essentials

: Allows you to get started collecting customer feedback from test creation, standard reporting, and access to the UserTesting Contributor Network.

Advanced: Gives you access to all the features included in Essentials, with more test creation options, research capabilities, and enhanced reporting. Also, you can connect with contributors in real-time with live video conversations.
Ultimate

: Gives you access to all the features included in Advanced, along with the Platform's targeting, test creation, research, reporting, and sharing capabilities that enable you to scale insights across your organization.
If you have questions about your subscription, read our article "Managing Your Subscription on the Flex Plan," contact Support, or talk to your Customer Success Manager.
The Licenses/Roles
There are three types of licenses you can assign team members on the Flex plan.
Creator

: This role has full test creation capabilities, such as creating test plans and saving them as templates. Creators can launch tests, and they manage everything they make. This role is for everyone who wants feedback—from customers, product managers, and marketers to power users and full-time researchers.

Viewer

: This read-only role is for people who need to view test results and share insights but don't need to create tests. Viewers can view test plans and drafts and create clips and highlight reels, but they cannot create or edit tests or templates, nor can they launch tests or Quick Answers. To learn more about the Viewer role,

check out our course

.

Account Admin

: This role adds administrative privileges to the Creator and Viewer roles; it is not a standalone role. The Account Admin role includes access to an online dashboard where admins can add and remove users to the account, assign roles, create workspaces, and set feature and workspace permissions for users. Other permissions include monitoring Session Unit usage and test launch privileges, such as upgrading the edition. Only Account Admins can remove users.
Accounts can have unlimited Account Admins and Viewers. 
How to Edit Roles and Permissions
1. Sign in to your UserTesting Dashboard. From the account menu (your initials), select Settings.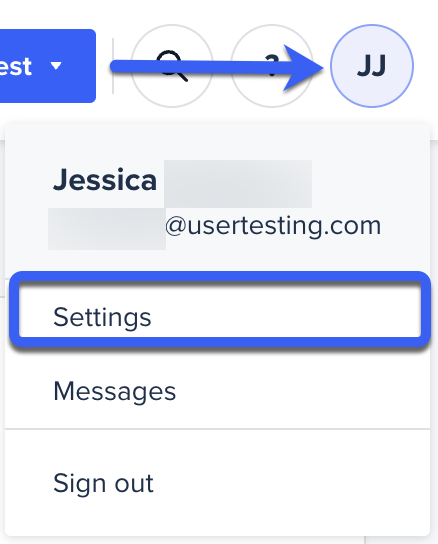 2. Go to the People tab.

3. Select the Options menu (...) icon next to a team member's name and choose View Profile.

4. Account Admins can set each user's role to Creator or Viewer for the following Platform access permissions:
To maximize your subscription, we recommend setting users' roles to Creators on all three permissions to access the complete set of features for custom test creation and Quick Answers. If you have questions, please contact your Customer Success Manager.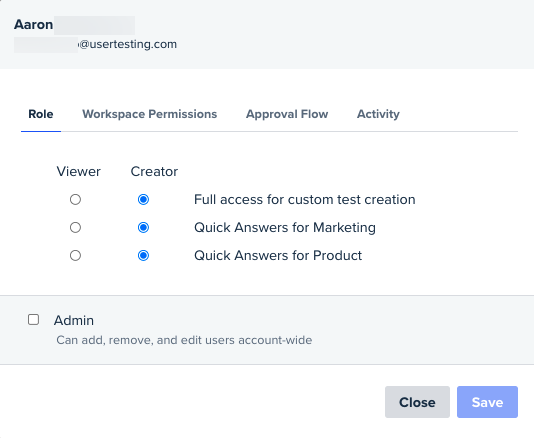 5. You can also set Workspace Permissions. To learn more about managing Workspaces, read our article.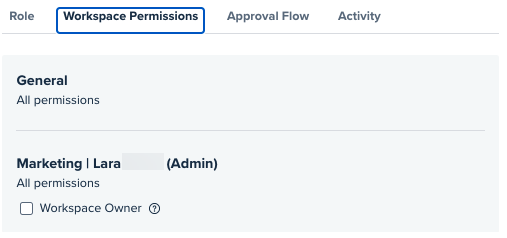 6. If you are on the Ultimate subscription plan, you will see the option to edit Approval flow settings. Please read our article on Approval Flow for more information about the different settings.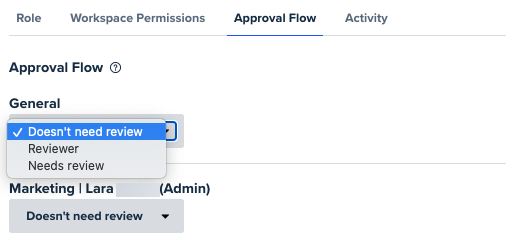 7. Lastly, you can view the user's Activity, such as Last login or Total tests created.
Adding or Removing Team Members
Read our article for a step-by-step guide if you need help adding or removing team members from your account. 
Has your account's primary point of contact changed, or do you need assistance adding or replacing an Administrator? If so, contact your Customer Success Manager and let them know what changes you'd like.
Monitoring Platform Usage
The Usage and History Dashboard shows you an overview of the Session Units consumed on your account, as well as a breakdown of Platform usage by team member and workspace. Please read our articles on the "Usage and History Dashboard" and "Managing Your Subscription on the Flex Plan" to monitor usage on your account. Additionally, check out our articles on the "Session Rate Card" and "Testing Capacity on the Flex Plan" to understand how the Platform calculates usage.
Note: If you are in the process of switching from the seat-based plan to the Flex plan, any test you launch before the subscription switches over will be a part of the original subscription; therefore, the test will not consume any Session Units. If the test doesn't fill until after the subscription switches, the test will not consume Session Units. However, if you add a new contributor or replace a session when the new subscription goes into effect, the session will be a part of the new subscription.
Learn More
Need more information? Read these related articles.
Want to learn more about this topic? Check out our University courses.
Please provide any feedback you have on this article. Your feedback will be used to improve the article and should take no more than 5 minutes to complete. Article evaluations will remain completely confidential unless you request a follow-up.