At a Glance
This article shows you how to decide whether to test with a prototype, website, or app on the UserTesting platform.
On your UserTesting Dashboard, you've chosen to create a new unmoderated test to test an app, a prototype, or a website. You're taken to the following testing menu: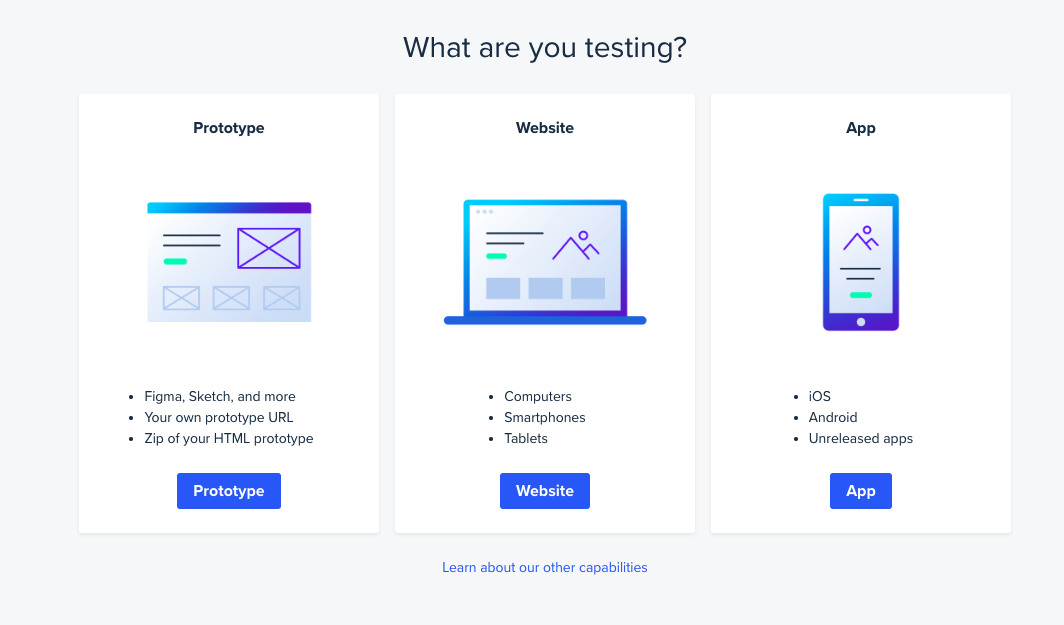 Each of the three What are you testing? options allows you to select audiences (by using demographics filters and assigning screener questions), create tasks, and build a test plan. But which of the three options best serves your testing goals?
Let's dive deeper into each selection.
Test a Prototype
When is it best to choose the Prototype option? Select this path when...
You have a sketch, wireframe, or semi-functional prototype, and you want contributors to provide feedback on the design—the labeling, organization, and navigation—by describing what they expect to see or happen. (

Note:

The

Prototype

test option notifies contributors that the design is semi-functional; that they, therefore, may run into problems; and that they are to comment on what they expect to see when navigating the site or app.)

You wish to use

secure prototype hosting

and upload a .zip file of your prototype. If using a prototype tool (e.g., InVision or Axure), you'll upload the HTML CSS and other assets when building a test plan. (

Note:

This feature is not available on all accounts.)
More resources for testing a prototype:
Test a Website
Of the three, Website is the most flexible of the options as it applies to the broadest range of testing scenarios. Use this option when, for instance, your website or app design is more fleshed out and functional (of a "higher fidelity") than a non- or semi-functional prototype. Also, the Website option is the most appropriate when you want to conduct certain types of tests:
Or when you want to test...
Banner ads and other kinds of imagery

Email subject lines
Tip: If you're still in doubt as to which of the three options to use, still go with Website.
More resources for testing a website:
Test an App
Use this option when you have...
An existing app in the Apple Store or in Google Play, or a link to TestFlight. Insert the URL that points to that app.

.IPA and .APK files can be uploaded. Drag and drop the design to be tested.

Tip: If you want contributors to review a wireframe or semi-functional design of an app, use the Prototype testing option.
Learn More
Need more information? Read these related articles.
Want to learn more about this topic? Check out our University courses.
Please provide any feedback you have on this article. Your feedback will be used to improve the article and should take no more than 5 minutes to complete. Article evaluations will remain completely confidential unless you request a follow-up.