At a Glance
Schedule your unmoderated tests to launch when it's the right time. Use the following instructions to schedule your test from the UserTesting Platform.

Sometimes you want to launch your test immediately after creating it. Once launched, your test is available to potential contributors.
But other times, you want to schedule the date and time that you launch your test. This is relevant in a number of situations:
You want to ensure your test is available at a time that is most convenient to the audience you are targeting.

You want to launch a test at a time that isn't necessarily convenient for you. For example, you don't want to wake up early to manually launch a test at a certain time.

You want to launch tests asynchronously to optimize your workflow. Instead of setting aside time to create and launch a test at a specific time, schedule them ahead of time to launch at a desired date and time.
Note: This does not apply to Live Conversations as they are made up of a set of available time slots. When you want to launch a Live Conversation, only add availability slots for the day you can conduct it.
How It Works
After creating your test, you can immediately launch it by clicking Launch test. Alternatively, you can click Schedule test to select the date and time you want your unmoderated test to launch.



If you click Schedule test, you will be taken to a new screen where you can select the date and time that you would like your test to be shared with contributors.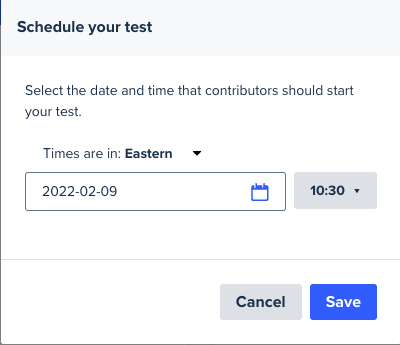 After making these selections and clicking the Save button, review your test details, including the launch date and time. Then click Launch test to launch your test at the time selected.



Note: If a test is scheduled to launch but cannot (for example, the account does not have enough session units), an error message will be displayed for that test. Chat with Support to get assistance resolving that error.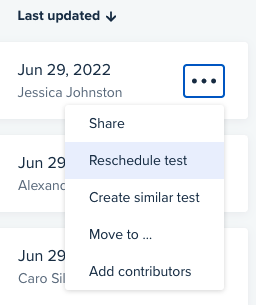 If you need to unschedule or reschedule your test, click the three dots menu next to the test on your Dashboard and select Reschedule test. If there are issues rescheduling, contact Support.
Learn More
Need more information? Read these related articles
Want to learn more about this topic? Check out our University courses.
Please provide any feedback you have on this article. Your feedback will be used to improve the article and should take no more than 5 minutes to complete. Article evaluations will remain completely confidential unless you request a follow-up.