At a Glance
Test Preview features in the UserTesting Platform allow you to view screener questions as well as the flow of tasks within your test. This article provides information on previewing a test and answers some common preview-related questions.
When to preview your test
Once you have created your test in the UserTesting Platform, preview it. Ensure the tasks flow as expected, the task wording is correct, and all links are functioning. (See this article on common mistakes to avoid when creating a test plan.)
Whether on desktop or a mobile device, preview your test by selecting the Preview test plan button from the Build Test Plan page.

You can also access the test preview from the Options (...) menu next to the Test plan summary on the Test Launcher page.

A dialog box will appear. Select the Preview test button for desktop, or scan the QR code to preview your test on a mobile device. See our article on preview for mobile tests for more information.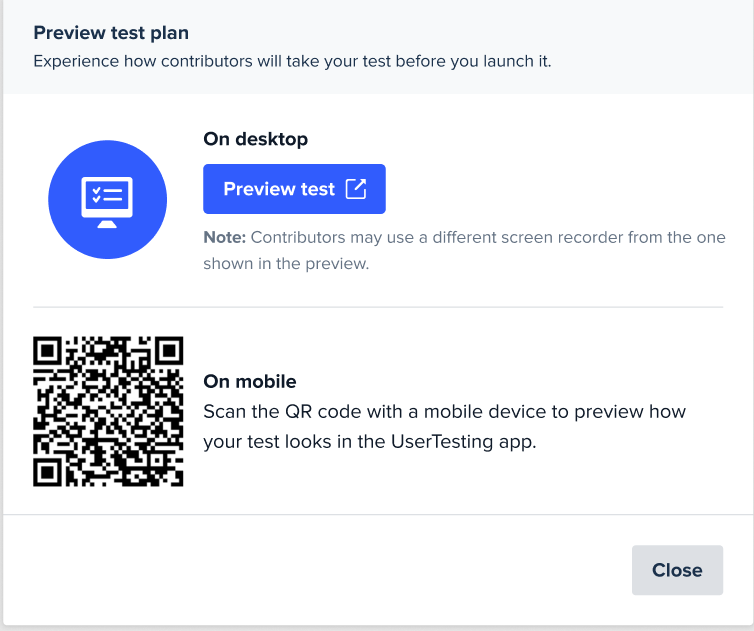 Walk through the test experience as a contributor without leaving your browser; no download is required. The preview will display your test for you to review scenarios, tasks, questions, and assets before launching it to contributors.

Note: The test preview does not record anything from your computer, and you don't need to have a microphone for it to work.
Please be aware that some contributors might be using a different screen recorder than the one shown in the preview. To learn more about our seamless recorder, please visit our Knowledgebase article. 
Learn More
Need more information? Read these related articles.
Want to learn more about this topic? Check out our University courses.
Please provide any feedback you have on this article. Your feedback will be used to improve the article and should take no more than 5 minutes to complete. Article evaluations will remain completely confidential unless you request a follow-up.