At a Glance
Screener questions identify specific contributors for your tests. If you cannot target your desired audience with our available demographic fields, you can use screener questions. This is an optional feature when you're creating a test.
Screener questions are available on the following subscriptions:
Click on the following header titles to skip to that section of the article:
Assistance with Screener Questions
Customers with a subscription may utilize their professional hours to receive assistance and consulting from the UserTesting Research Team. Writing great screeners is just one of many ways the Research Team can help you create great studies with valuable results.

Visit this article for helpful tips on writing screeners.
Recommended Number of Screener Questions
The number of screener questions you may use per test depends on your license; however, the more screener questions you use, the more likely you'll accidentally screen out your intended prospective contributors. We recommend you stick with three screener questions for any particular test. Remember, you don't need to create custom screeners for age, gender, income, country, devices, and a few other essential items, as these demographic filters are built into the test creation process.
How to Create Screener Questions
When creating your test, you'll see the option to add screener questions below the Choose Your Target Audience section.

Select the Screener Question tile to begin writing a new question or select the Saved Screener Questions link (just above the tile) to choose from previously used screeners.



Next, write out a question that will qualify or disqualify contributors for your test. For example, if you'd like to conduct your test only with individuals who frequently travel for business or pleasure and book their arrangements online, you can screen for such criteria, as shown in this example: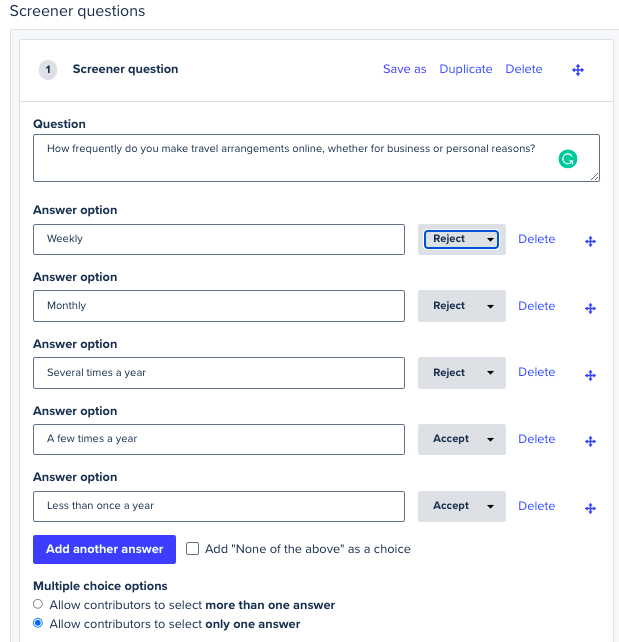 Select Accept to allow respondents who meet this criterion to be considered as potential contributors to your test. Select Reject to flag those who do not meet the criterion, which removes them from such consideration.
A note about using multiple choice options:
Suppose you've enabled contributors to select more than one answer and have assigned more than one response as Must Select. In that case, respondents will need to choose ALL responses labeled Must Select to be accepted. Use May Select if you want to include multiple acceptable responses, not all of which would be required. As in the earlier example, respondents selecting any Reject responses will be disqualified as contributors.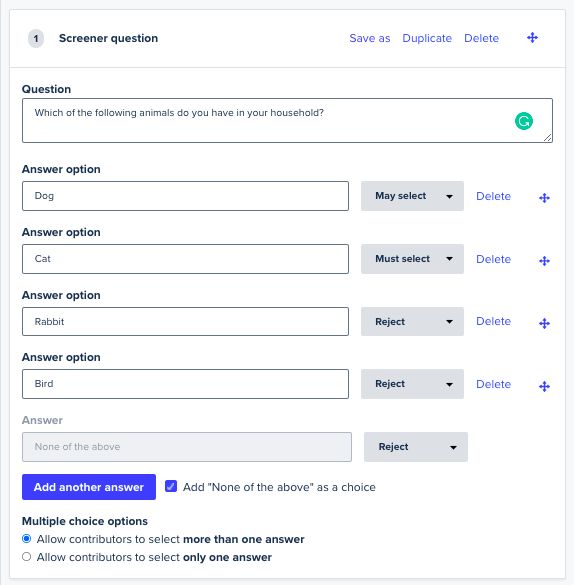 If you have multiple "Must select" options for a question, there are a few different ways to set up your answer option choices.
Instead of choosing "Must select", have any acceptable options as "May select". This way, a contributor will move forward if they choose at least one of the "May select" options. Then, under Multiple Choice Options, select "Allow contributors to select more than one answer".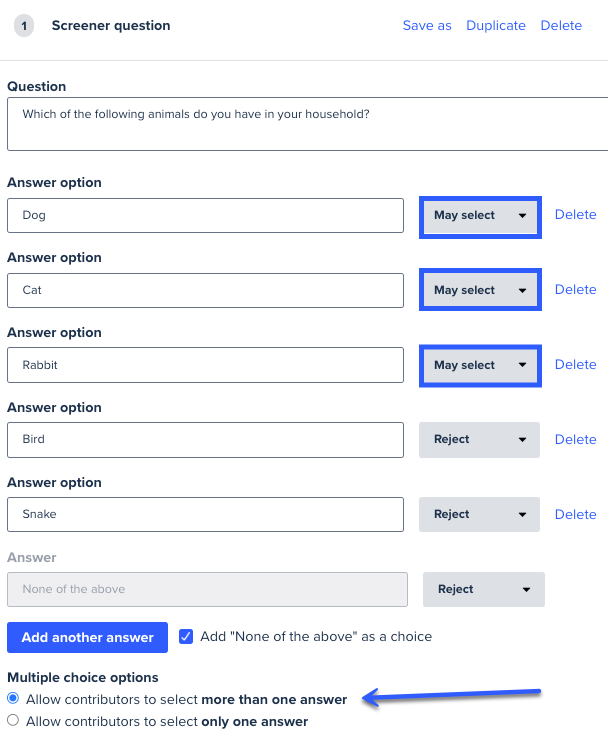 Another option is to choose the most important answer option as "Must select" and other acceptable options as "May select". Then, under Multiple Choice Options, select "Allow contributors to select more than one answer".
The other option is to have separate screener questions for each "Must select" answer you need. This can be set up as seen in the screenshot above, where selecting more than one answer is still an option. However, you can set it up, so contributors only select one answer, as seen in the screenshot below. The answer option choices would then be "Accept" or "Reject".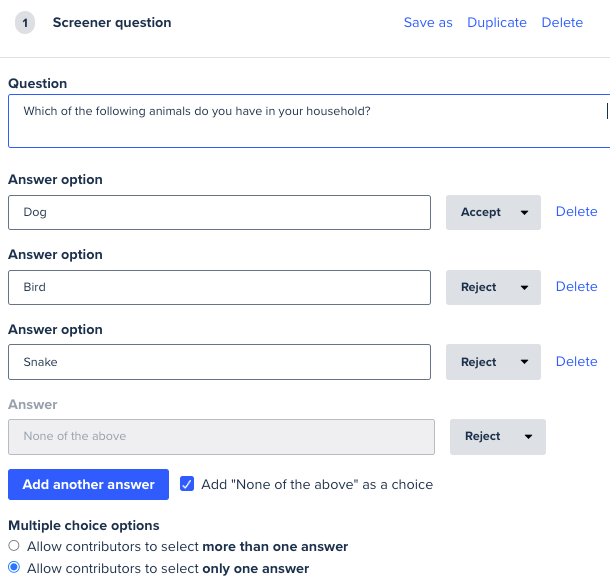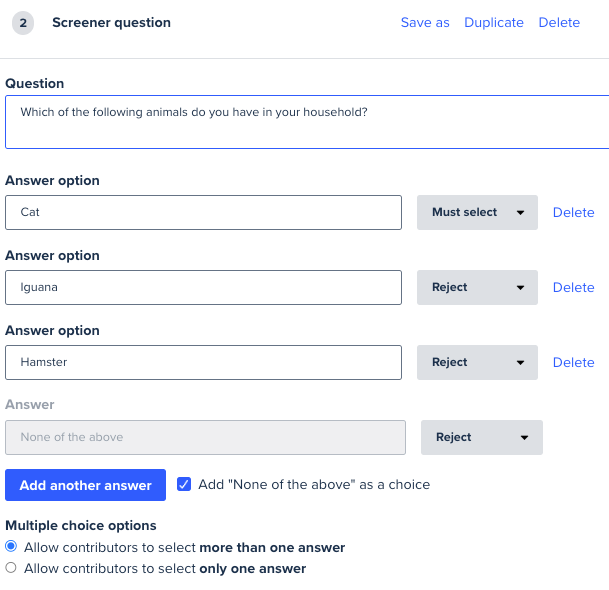 A note about hyperlinks
You can write out hyperlinks in your screener questions if you need to reference something or direct contributors to more information on a website or in a video. You would write the screener like this:
How often have you visited https://usertsting.com in the last year?
How to Edit Screener Questions
You can easily edit your screener questions before contributors see them. Just edit the question directly from your dashboard and either Save to apply your changes to a saved question or Save As to create a new saved question.

You can also select Duplicate to add an additional copy of the question, which you can then modify as needed, or click Delete to eliminate a question from your test.


If you need to edit a screener question after launching a test, follow the steps in this article.
Learn More
Need more information? Read these related articles.
Want to learn more about this topic? Check out our University courses.
Please provide any feedback you have on this article. Your feedback will be used to improve the article and should take no more than 5 minutes to complete. Article evaluations will remain completely confidential unless you request a follow-up.