At a Glance
Approval flow ensures teams are creating tests that align to best practices by requiring a review and approval before the test is launched. This article describes how the feature works and guidance for approvers.
Approval flow is available on the following subscriptions:
Click on the following header titles to skip to that section of the article:
Key features
Approval flow can be set up to require—or not require—a team member to get their test reviewed and approved before being able to launch it.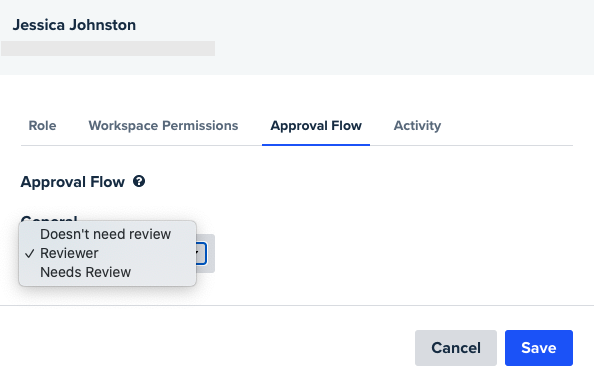 Admins and Workspace Owners can assign Approval flow settings to different team members: 
| | |
| --- | --- |
| Does not need review | Team members who are not part of the review process. This is the default setting. |
| Reviewer | Team members who are responsible for reviewing and approving drafts. |
| Needs review | Team members who can draft tests but need approval from a Reviewer before launch. |
Only Account Admins and Workspace Owners can assign or edit Approval flow settings. 

Team members may be assigned different Approval flow settings for each workspace they belong to. 

Approval flow settings can only be assigned to team members with test creation permissions: Creators or members with a light, standard, or unlimited license. 

Team members who cannot create tests, such as Viewers or Collaborators, or those with Collaboration-Only permission in the workspace, cannot participate in Approval Flow.
Note: Depending on which subscription or edition your account has, your interface may look different than the examples shown. If you don't see the Approval Flow tab as an option and you would like to enable it on your account, contact your Customer Support Manager or email Support.
How It Works 
Approval flow is a two-part process involving a team member who's created a test plan in need of review and a person (a Reviewer) who will look over and approve the test plan. 
1. First, a team member who needs review creates a test plan and audience group, and then clicks the Request review button.

2. If there is at least one Reviewer in the current workspace, the creator (who needs review) can choose to notify one or more Reviewers. The Reviewer will receive an email notifying them that a draft needs review. If the creator chooses to not use the notification system, or if there are zero Reviewers in the workspace, the creator will need to notify a Reviewer outside of the platform.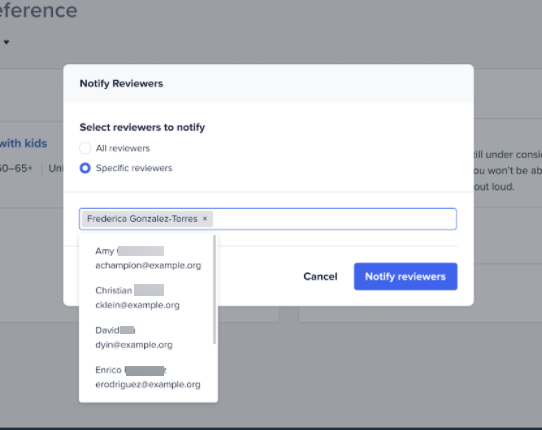 3. The test plan is saved as a draft, and the status shows "Submitted for review" on the Dashboard.


4. Once notified via email, the Reviewer will access the draft from the link in their email. The Reviewer will need to click the Review test button to begin the review.

Doing so will assign them as the Reviewer on the draft. After making any necessary changes, the Reviewer clicks Approve test.


Note: Any reviewer can assign themselves to a draft by selecting the Review Test button, even if another Reviewer is already reviewing the draft. This feature allows you to avoid the scenario where a Reviewer cannot complete a review of a draft they claimed, blocking it from moving forward in the process. Only one Reviewer can approve the draft.
5. Once approved, UserTesting automatically sends an email to the creator saying that the draft is approved and can now be launched. The draft's approval status will also appear on the Dashboard.

6. The creator can now click Launch test to launch the draft. 

Note: If the creator modifies the draft after it's approved, it will have to be submitted for review again. Some exceptions exist: the creator can change the test title or notification settings without requiring secondary approval. Once a test has been approved and launched, more test contributors can be added without requiring further approval.
Setting up approval flow
Only Account Admins and Workspace Owners can assign and edit Approval flow settings. 
Edit an existing team member's settings
1. Choose Settings from the Account menu. 
2. On the People tab, choose View Profile from the Options menu (...).



3. Click the "Approval Flow" tab, and choose the approval flow setting for each workspace the team member is in.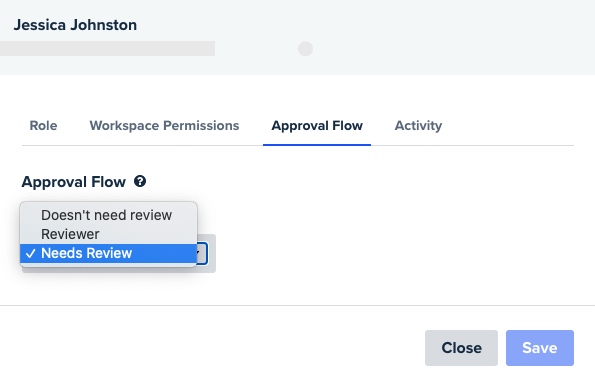 Each workspace that has team members who "Need review" also needs to have at least one person designated as a Reviewer. A warning symbol will appear if you assign someone as needing review, but there are no Reviewers in that workspace.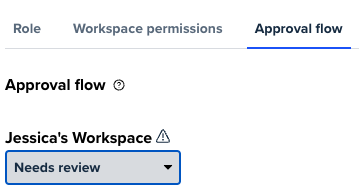 Assign settings when adding new team members
When inviting new members with a creator role, or those with light, standard, or unlimited licenses, select an initial Approval flow setting. After the member joins, you can change the team member's Approval flow setting for each of their workspaces.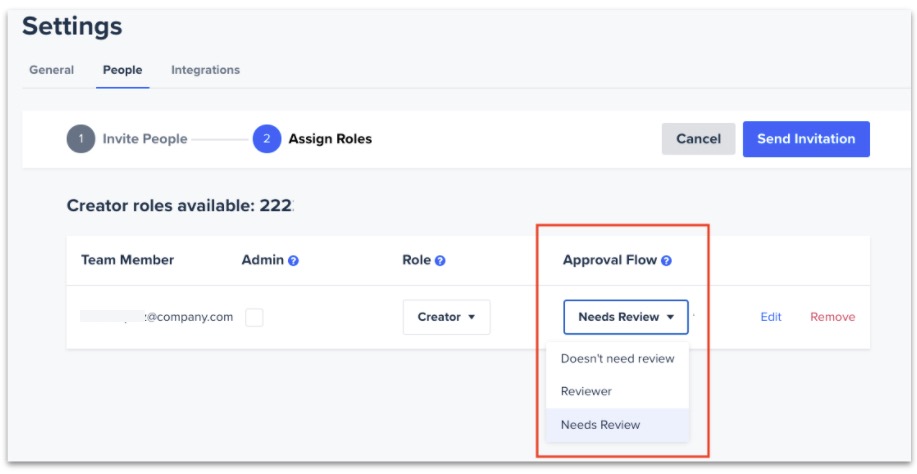 Guidance for approvers
Approvers will review tests to ensure they follow team guidelines as well as general best practices.
1. Review the test to ensure it follows the guidelines established by your team. For example:
Does it use the saved screener questions (or saved audiences) that should be used in every test your team runs?
Does it use your team's standards for rating scales (e.g., 5-point rating scale or 7-point rating scale)?
Does it use your team's other standard metrics (if any)? For example, if your team uses the SUS at the end of each test, verify it is included. If your team uses the question "How confident are you that you completed the task successfully" [7-point rating scale], then verify that question is included after each test. 
2. Review the test to ensure the tasks are clearly written and flow in an order that will be understandable to someone taking the test. Because you are not the original author, you will likely notice any problems that were missed when the test was initially written.
3. Review the test against these common mistakes.
Learn More
Need more information? Read these related articles.
Want to learn more about this topic? Check out our University courses.
Please provide any feedback you have on this article. Your feedback will be used to improve the article and should take no more than 5 minutes to complete. Article evaluations will remain completely confidential unless you request a follow-up.