At a Glance
UserTesting provides three ways to recruit contributors for your test: the UserTesting Contributor Network, Custom Network, and Invite Network. This article explains the differences between the three types of networks and when to consider using each one.
UserTesting offers several options to find the right contributors for your test. You can…
Choose Build audience if you want to recruit contributors from the UserTesting Contributor Network

or your own network of contributors via

Custom Network.

 

Choose Create link to send a one-time test link to anyone you want outside the UserTesting Platform via Invite Network.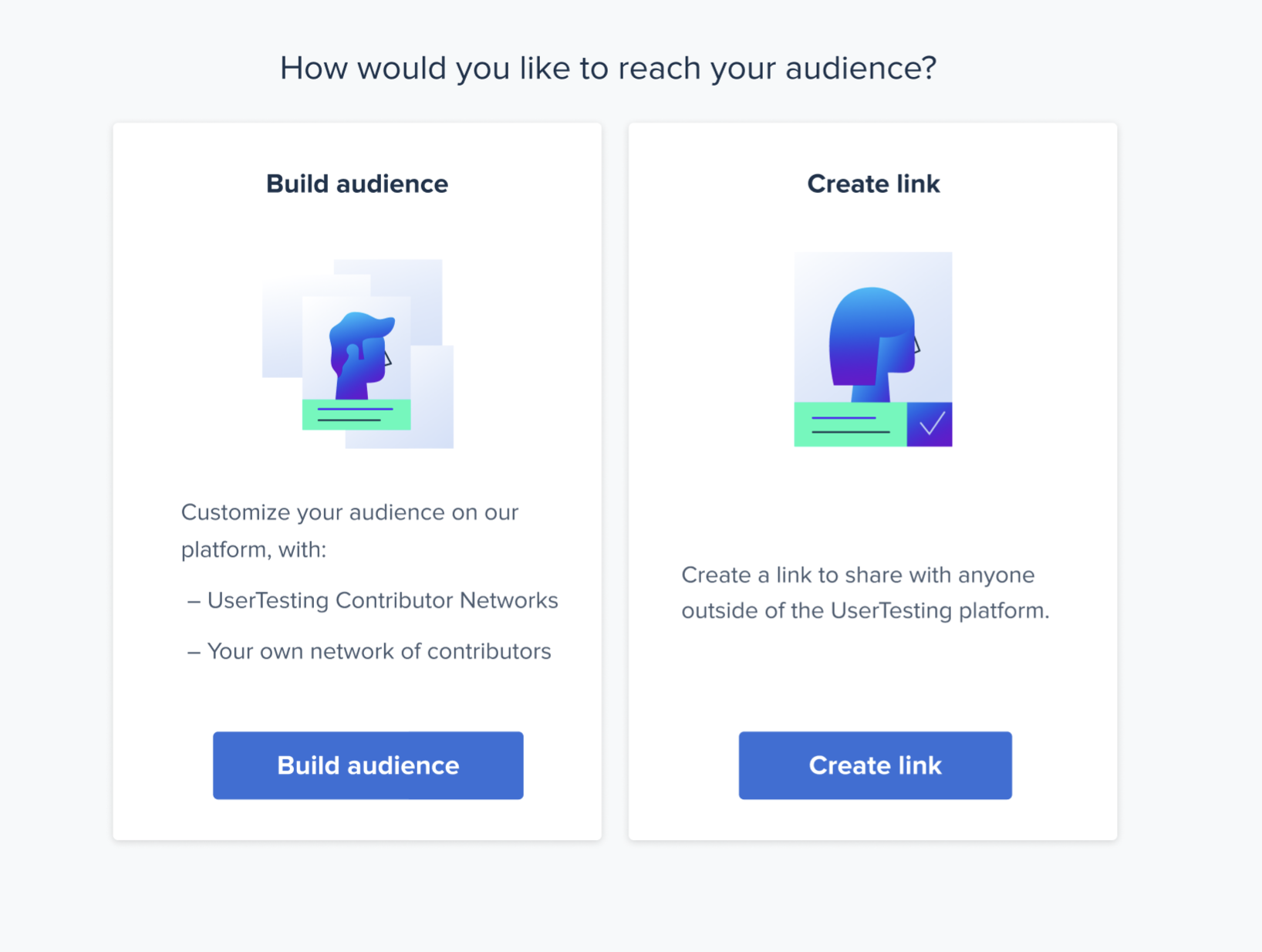 Let's learn about each one.
UserTesting Contributor Network
The UserTesting Contributor Network allows you to select people UserTesting has already recruited worldwide. Select UserTesting Contributor Network under Contributor network options as you build your audience.

There are two aspects of the UserTesting Contributor Network that help you find the right contributors: Filters and Screener questions.
Filters are settings that allow you to select and limit criteria, such as age and income, and help you control the distribution of the test. Based on the information provided by the UserTesting Contributor Network member, we offer the test only to those contributors who match the criteria you have selected.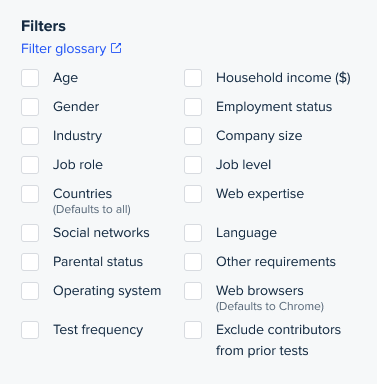 Screener questions are multiple choice questions that contributors have to answer correctly before they're able to accept your test. Only contributors whose answers match the answers you were willing to accept will be included in the test.
Use the UserTesting Contributor Network when…
You need immediate feedback from contributors

You want to recruit contributors from around the world

You want UserTesting to handle the contributor recruiting process for you
Caveats when using demographics and screeners:
Using more demographics filters may increase the amount of time required to fill a test.

Consider using screener questions to capture more contributors should demographics change frequently—contributors are asked to update their demographic information every six months—or your test is filling more slowly than hoped.

Contributors get one chance to answer the screener questions for each test. They do not get to "try again" for that test—unless you alter the screeners. Small changes to screener questions render them "new." 
Custom Network
Custom Network (available on Ultimate and Premium plans) allows you to ask your customers, fans, employees, and others to be on networks you create on the UserTesting Platform.
Create a Custom Network by choosing the Contributor networks options from the navigation menu.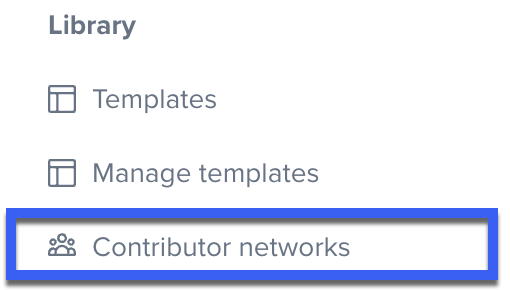 From the Contributor Networks page that opens, select the Custom networks tab and then click the Create network button.

A dialog box with fields appears. Name and create the Custom Network, and you'll then be able to invite your contributors to join. 
Apply that new Network when building an audience for a test. From the Platform's Build Audience page, select...
Custom Network (under Contributor network options)
Your new Custom Network from the drop-down menu, under Which network do you want to use?

The Custom Network filters allow you to target the contributors you need for your test. With your Custom Network, you can test with your trusted network again and again. (Note that while you are responsible for recruiting contributors to make up your Custom Network, UserTesting handles the onboarding process and collects contributor information such as age, gender, and income. Additionally, UserTesting compensates contributors, or you can choose to have an unpaid network.)
Use Custom Network when…
You want to test with audiences that are harder to find and not readily available on the UserTesting Contributor Network

You want to do continuous testing with the same group of employees, partners, or customers

You want to test niche audiences that you've already identified, like people who use a specific software tool your company offers.
Considerations when using Custom Networks
You do not have the ability to create reviews of and give ratings for contributor performance. Those options are available only when choosing the UserTesting Contributor Network.

Consider creating unique Networks for key segments. 

Be confident that you are testing with customers who have a relationship with you. Pilot your onboarding and testing strategy with a small group of those customers before committing to a full launch.

Keep in mind that, oftentimes, members of your Custom Network are not experienced at testing. You may need to remind them of testing procedures (e.g., to speak aloud).

Be sure to invite people to take tests on a regular—but not too frequent—basis. Set expectations around how frequently they may be contacted.

Make sure to reach out on a regular basis to contributors with updates and ideas, and to get confirmation from them that they wish to remain in the network.
Invite Network
Invite Network (available on the Flex plan and Professional and Premium subscriptions) allows you to recruit your contributors by generating a test link you send via email or social media to anyone you like, from internal employees to a database of existing customers. Invite Network provides greater flexibility and gives you control over and responsibility for screening, communicating with, and compensating contributors. 
To customize your test, after choosing to create a new test from your Dashboard, click the Create link button. Then, from the next screen, choose the Customize invite option.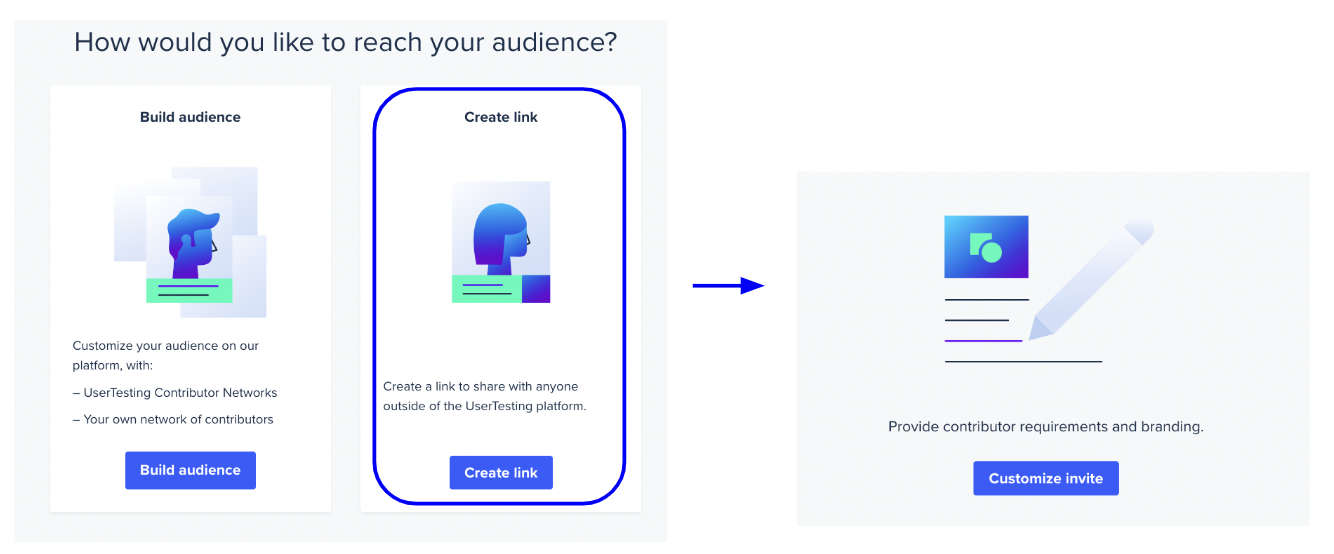 Once at the Invite Network Create Test page, customize your tests by...
Deciding on the number of contributors you need.

Determining what type of device is being tested and the length of the test.

Checking the language of the test.

Inserting logos and any other branding material.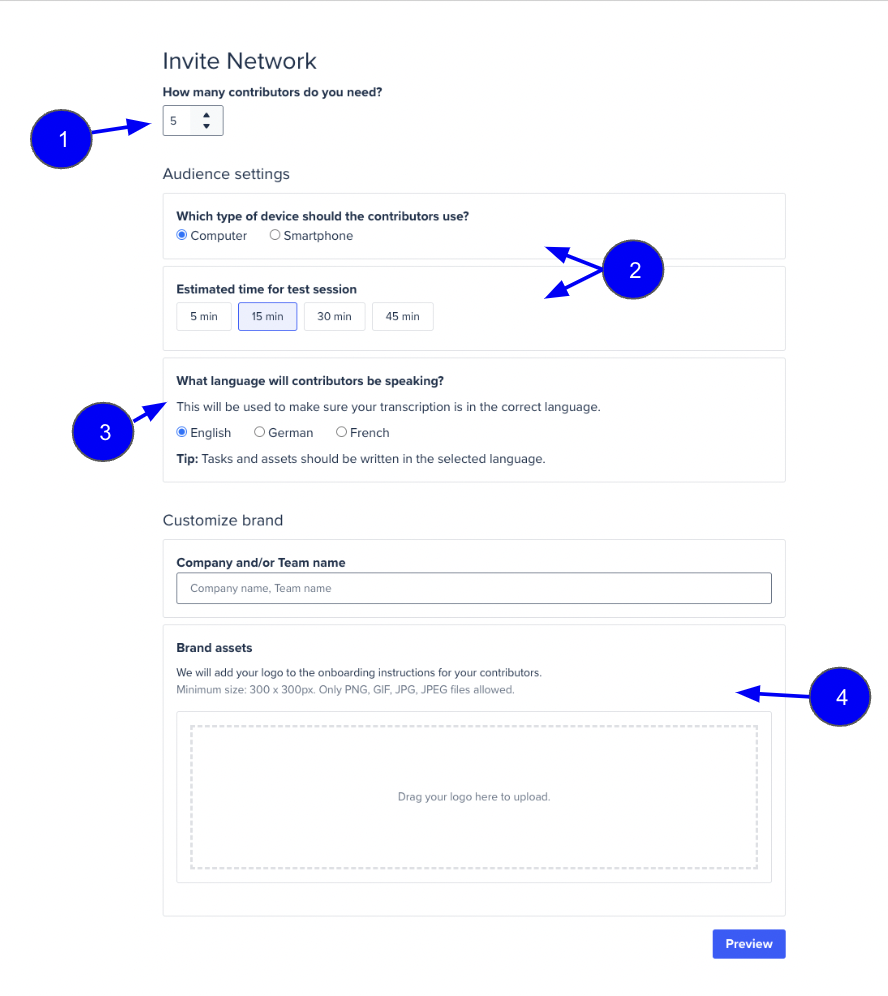 Once you're ready, you'll get the invitation link for your test, which you can send out to selected contributors. You can write your message to send with the invitation link or use one of UserTesting's many templates.
Use Invite Network when you want to...
Send a one-time test to a specific group of people.

Be in charge of how you communicate with and compensate your contributors.
Favorite Contributors and Specific Contributors
When building your audience, you'll find options under "Contributor network options" for Favorite contributors and Specified contributors.
Favorite contributors allows you to test with a network of contributors whom you added to your favorites from previous tests. To access this feature, go to the Sessions tab for one of your completed tests and click the Add to favorites link, as seen here: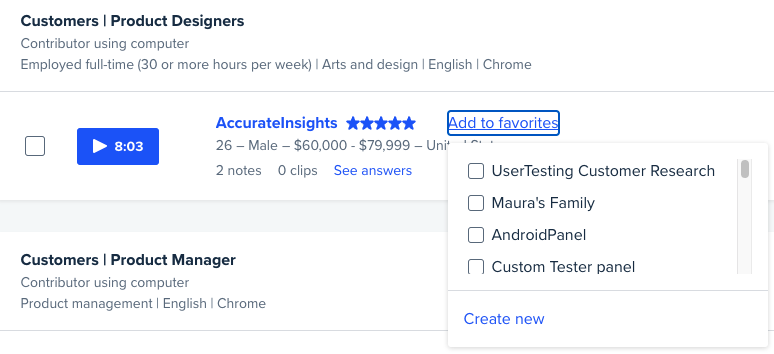 When building your audience with a favorite contributors group, use the same procedure as when applying a Custom Network. Select Favorite contributors from the Contributor network options menu, then choose the network you wish to test with.
The Favorite Contributors option is really useful for landing hard-to-find contributors, and when conducting longitudinal testing (diary studies), where you want to test the same design or product touch points with the same contributors over a period of time.

Select Specific contributors when you have a particular contributor in mind that you want to test. You'll then be prompted to add their username and any other requirements in the space provided.

As with Favorite Contributors, the Specific Contributors feature works well when searching for hard-to-find contributors and when running longitudinal studies. This option also works when conducting follow-up tests and interviews with the same contributors.
Fuel Cycle
The UserTesting integration for Fuel Cycle allows you to reach and manage networks of your own customers in your Fuel Cycle communities. Visit our Fuel Cycle article for steps on how to set up the integration with UserTesting.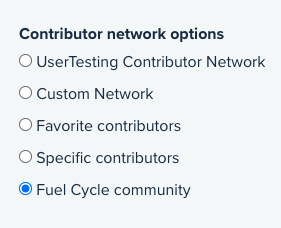 Learn More
Need more information? Read these related articles.
Want to learn more about this topic? Check out our University courses.
Please provide any feedback you have on this article. Your feedback will be used to improve the article and should take no more than 5 minutes to complete. Article evaluations will remain completely confidential unless you request a follow-up.