At a Glance
This article is meant to provide a broad overview of setting up your account in the UserTesting Platform organizationally. If you are a new account holder and wondering how best to organize your account, this article will outline the major components of organization for tests and their results.
Once you create your login credentials, you can log in to the UserTesting Platform (app.usertesting.com), where you will be taken directly to a default view of the home Dashboard. The Dashboard provides you with access to your test and test drafts, which will appear on the Dashboard as you begin building them.
However, the major organization and navigational tool on your Dashboard is your navigation menu.
Navigation Menu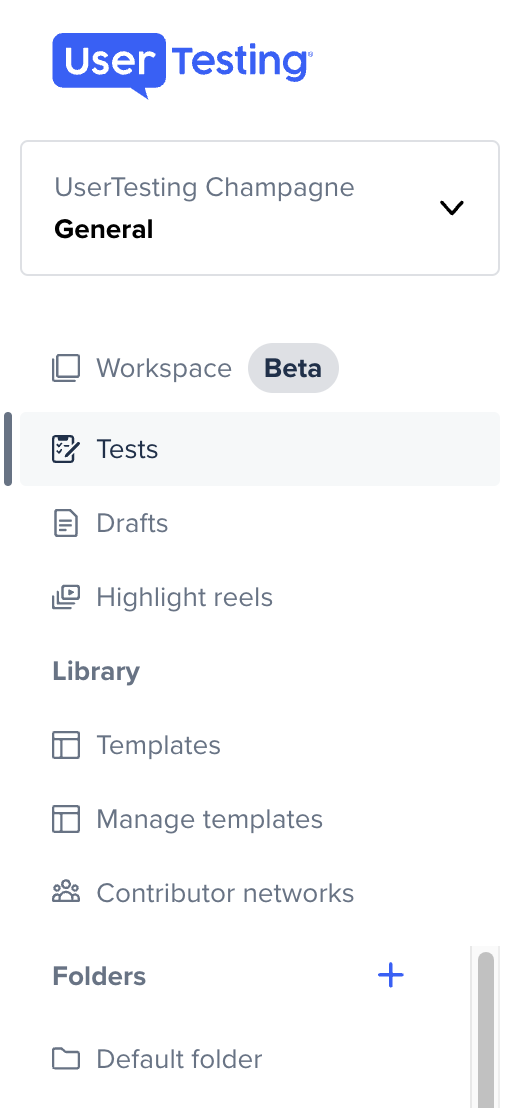 The navigation menu is where you can organize:
Tests and test drafts
Workspaces
Folders
Your account Template Library
Contributor Networks
Highlight Reels
Our best practice recommendation is to create a naming convention for all of these components of your account. Doing so will help you scale your testing in a seamless way, even as new members join your team and begin testing as well. Keeping these things organized falls to the Admin on the account. Going forward, you will want to assign the Admin role to someone who will maintain naming conventions and keep the account organized, ensuring productivity and easy usability as your testing increases.
For more information on the Dashboard, please see: "Your UserTesting Dashboard: Overview"
For more information on being an Admin on your UserTesting account, please see: "Guidance for Admins"
What is a Workspace?
Workspaces are an organizational tool—a way to manage a specific space for team members to work together on testing. You can think of them as akin to a virtual office; you can decide who gets to enter that office, who must remain outside, and whether or not to lock the door to allow others to join (a public vs. a private vs. a hidden workspace). Workspaces enable you to:
Improve the organization of your templates, tests, and team members
Assign and maintain privacy for projects or teams
Assign permission capabilities at a per-Workspace level
As you plan for Workspaces, consider:
Do certain teams need their own Workspaces on the account so that they can easily manage their own list of tests?
Do certain projects need to be in their own Workspace because they will involve multiple tests?
For more information on Workspaces, such as creating Workspaces, inviting team members to Workspaces, and assigning Workspace permissions, please see:
Potential Naming Conventions
As a best practice, creating a naming convention just means making a consistent naming practice for tests, Workspaces, Highlight Reels, etc., that will assist in easy identification and searchability. There is no particular right or wrong way to name things as long as those names help you in finding what you need quickly and efficiently. Many of our customers create names for tests, etc., by utilizing aspects of when and how the test was created, the team members involved, etc. Here are some aspects to consider when creating naming conventions:
Fiscal quarter
Project name
Shortened form of project goal (e.g. Why_Cart_Abandonment)
Team members
Team member roles
Date
Kind of test (Live Conversation, Unmoderated, etc.)
Type of feedback sought
Any term that is helpful to your team
An example of a naming convention for a Workspace is as follows:
Project Name - Research Question - Date - Lead Team Member
Managing Folders
Folders provide you with an additional layer of organization within a Workspace. You can find and manage your folders in the navigation menu.
When you select a folder, the Dashboard view will update to show all the tests, test drafts, and Highlight Reels in that folder. The same naming convention ideas you would apply to Workspaces can easily apply here as well.
You also have the option to add a folder description to provide additional context to you or other team members. Select the "..." menu on the folder page to edit the description.

Templates
Templates are pre-built test plans that UserTesting has designed with industry best practices in mind. Your team can also build your own Templates to share with people on your account. They are useful for giving yourself a head start on planning a test, with pre-written questions that you can adapt and edit to suit your team's needs. Templates are divided into:

UserTesting Templates (the full library of all Templates we have built)

Account Templates (Templates you have saved to be used by anyone on your account)

Personal Templates (Templates you have saved to be used by yourself on your personal Workspace within your account)

Our best practice recommendation is to name your Templates according to the purpose of that test and/or the targeted audience for that test. An example of this convention might look like the following:
Why they don't use the voice command app feature_25-50 year olds_New York City
For more information on Templates, please see: "Templates"
Managing Contributor Networks
Your Contributor Networks are the groupings of those Contributors who respond to your tests. 
The UserTesting Contributor Network is the 1.5 million+, around the world who respond to our tests. Whoever you are looking for, we can help you find them!

Favorite Contributor Network is a network that comprises your favorite Contributors that you have found through the UserTesting Contributor Network.

Custom Network is a network you have created through your own colleagues, customers, friends, etc., that you have invited to test through UserTesting for you.

In naming Contributor Networks, we recommend any terms that will help you remember:
Who is part of the network
The purpose of the network
For example, "Customers unfamiliar with our brand, ages 18-35."
For more information on Contributor Networks, please see: "About Contributors"
Highlight Reels
Highlight Reels are videos which comprise clips you will have made of test Contributor recordings, which include clips you have selected to demonstrate a common theme in Contributor feedback, typically. For example, a Highlight Reel might be three video clips of Contributors offering helpful feedback on why they like your new company website redesign.
To learn more about building Highlight Reels, please see: "Creating Highlight Reels"
In naming Highlight Reels, we recommend any terms that will help you easily identify what the Highlight Reel is, without needing to watch it through. These elements could include:
Who are the Contributors (e.g. "New customers")
The overall sentiment they express (e.g. "Positive feedback re: web redesign")
The name of the test or major goal/question (e.g. "Why web redesign losing customers")
To help keep video clips organized, we strongly recommend using hashtags. Using a hashtag (#) plus a name for a video clip (e.g., #voicefeatureapp) will help clips remain useful and efficient for grouping common themes. Doing so will help create Highlight Reels more quickly and will also organize clips by tag when you export this information to an Excel spreadsheet (which you can do from the Summary tab in your test results).
To see more information on Highlight Reels, please see: "Creating Highlight Reels" 
Conclusion
Ultimately, naming conventions that you utilize will help organize for efficiency and usefulness. Any information that is part of your team's common terminology will be helpful, and you can always edit and change it as needed. Please feel free to make your account a space that is most helpful to you and your team in the ways you need it to be.
Learn More
Need more information? Read these related articles.
Want to learn more about this topic? Check out our University courses.
Please provide any feedback you have on this article. Your feedback will be used to improve the article and should take no more than 5 minutes to complete. Article evaluations will remain completely confidential unless you request a follow-up.