At a Glance
Insert a template when creating a new test with just one click. Templates are based on popular and frequently used objectives and desired outcomes across your product and campaign development cycle. 
Templates are available on the following subscriptions:
How It Works
1. When creating a new test, click the Create test button, then select Customize a template from the dropdown.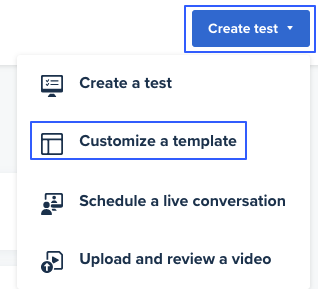 You will then navigate to the Template Gallery. On the left, you will see a list of filters. The UserTesting Templates filter contains templates created and curated by UserTesting for a variety of subjects, device types, and industries. UserTesting Templates are available for all customers.  
Additionally, you will see filters across the top, allowing you to further filter within the category selected on the left.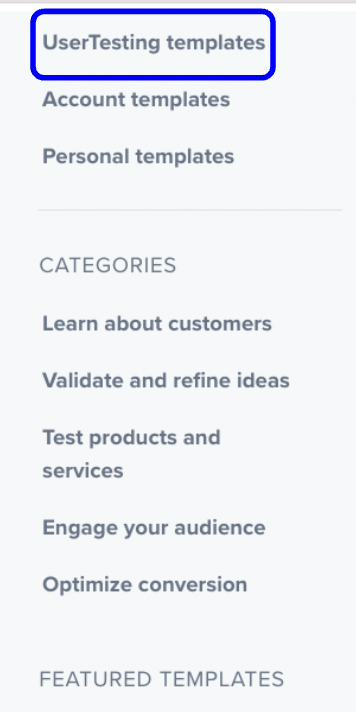 2. Select any template tile to see more information, including a test-plan preview (see image) displays all the tasks already populated into the template. Click Use this template to proceed.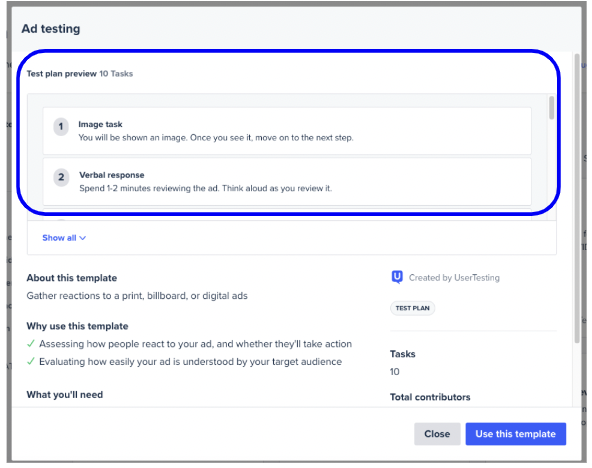 3. On the next screen, you can select your asset type and how you want to invite contributors. For more information about contributors, read about how to choose your target audience from the UserTesting Contributor Network. Once you have made your selections, click the Next button.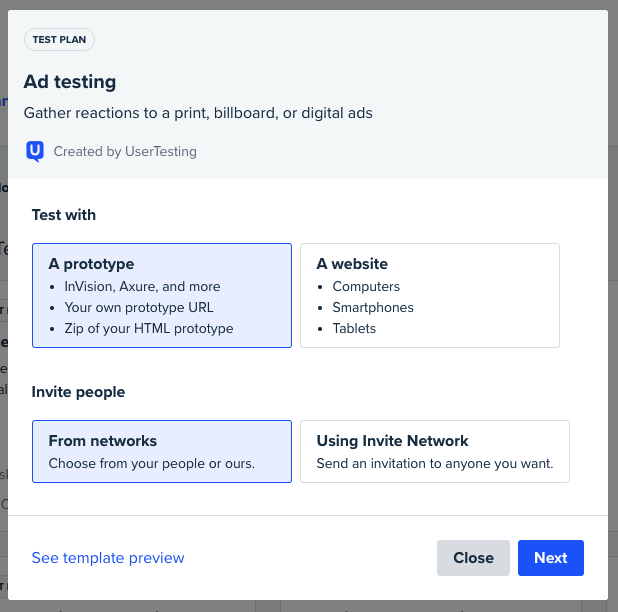 4. As you would for any test, click on Select audience to choose:
The number of contributors you are seeking for this test.
The desired demographics, or characteristics, of the test contributors.
The devices and operating system that you want the contributors to use.

Some templates come with pre-built audiences available for your use. Note that there are typically [

fill-in-the-blank

] sections annotated with brackets in the Screener questions.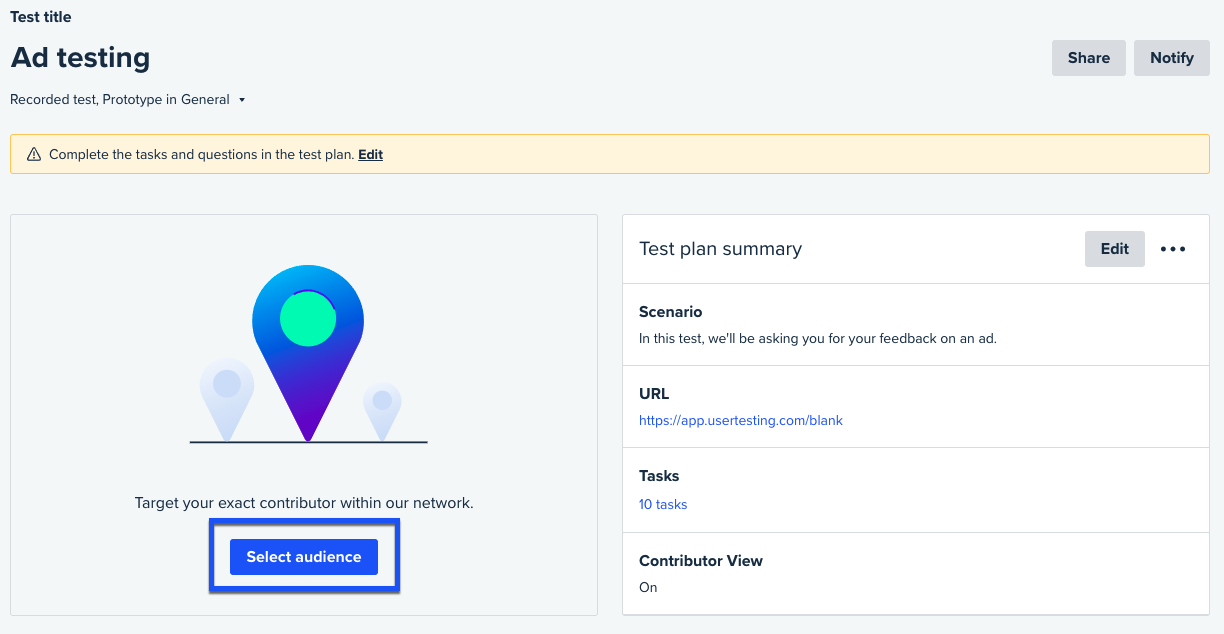 5. You can edit test contents, including questions, tasks, scenario, a starting URL, and more by clicking the Edit button.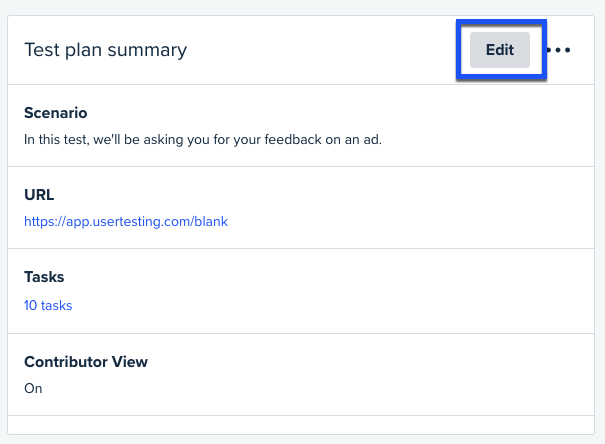 6. When in the test-plan editor, you'll notice that you'll need to define the starting URL or app you'd like contributors to use, as well as the scenario for your test.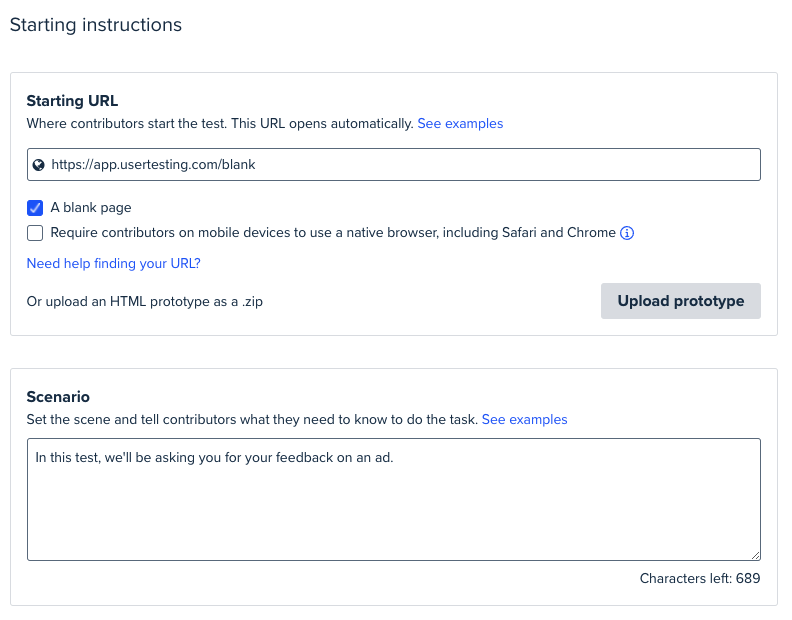 7. Below the Starting Instructions, your Test plan will already have related tasks and questions. These tasks and questions in templates are just a starting point. You can revise, remove, or add new tasks and questions.
After you have edited the tasks in your study, click Done at the bottom of the screen. You can also preview the test by clicking the Preview Test Plan button, which allows you to see what a test contributor will experience when they are engaging with your test.
Note that there are typically one or multiple [fill-in-the-blank] sections throughout the test plan that will require you to add the specific details of your test. Fill these in with the required phrases and add any additional instructions as necessary for contributors to successfully complete the test.
As a best practice, it is advisable to conduct a dry run of your study to ensure you're gathering the insights you need. This means running the test initially with just one contributor and ensuring that the insights you are receiving meet your needs. This gives you the opportunity to adjust your test before launching it to a larger number of contributors. For more information on the importance of conducting dry runs, check out our blog post on the topic.
Learn More
Need more information? Read these related articles.
Want to learn more about this topic? Check out our University courses.
Please provide any feedback you have on this article. Your feedback will be used to improve the article and should take no more than 5 minutes to complete. Article evaluations will remain completely confidential unless you request a follow-up.