At a Glance
Generate insights, answers, and visualizations you need with pre-configured sets of tasks designed to deliver results focused on specified test objectives including findability, content, and visual appeal. The pre-grouped tasks and resulting metrics will accelerate your test creation process and post-test analysis by generating specific tasks and results most relevant to your objective.
Group Tasks and Results are available on the following subscriptions:
Do you find yourself creating a repeated group of tasks when testing multiple concepts?  Grouped tasks and results help streamline the test creation process and organize contributor answers for at-a-glance discoveries. Select the grouped tasks relevant to your desired outcome (e.g. findability, content, design evaluation) and the results will be auto-generated in your Metrics tab.
With Grouped Tasks and results, you can:
Attain insights that are designed to deliver on your ultimate goals.

Speed up the test creation process.

Eliminate the need for you to sift through individual tasks.

Combine the results from multiple tasks to produce contextual insights. 
How It Works:
To use the grouped tasks and results feature, drag the desired task group to your test plan. Based on what is chosen, you will notice a varying set of tasks being added to your test as a result. Please note that some of the tasks within each group can not be edited. 
By selecting one of the task groups, you are indicating your intent (e.g., test your website for findability, content, visual appeal, custom, camera, or Balanced comparison). With this understanding, our system takes the combined results of the grouped tasks you've selected to automatically generate results that are most relevant to you.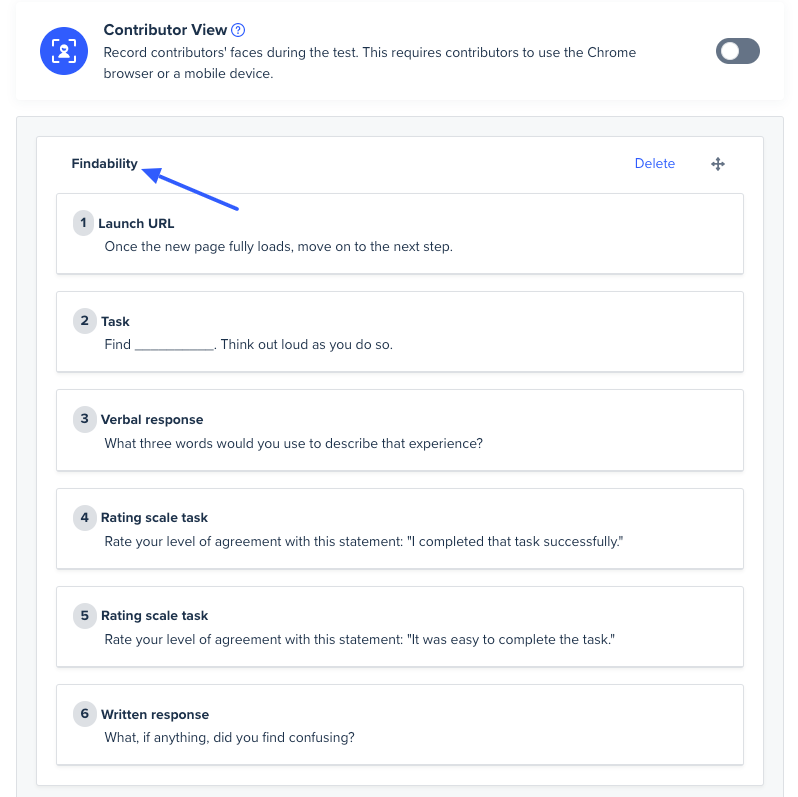 Hovering your mouse over each task group will give you more insight into the outcome:
Findability: This is a set of pre-configured tasks that helps you test if people can locate something in your design. 

Content: This set of pre-configured tasks helps you test if the content in your design is straightforward.

Visual appeal: This set of pre-configured tasks helps you test if people find your design visually appealing.

Custom: Create your own task group from the available tasks and questions and reuse it for future tests.

Camera: Choose which tasks you want contributors to have their cameras on. Read more about this feature in our article on Camera tasks.

Balanced comparison: Gather feedback on two designs from two sets of contributors. Read more about this feature in our article on Balanced comparison.
Reviewing the Results
Using grouped tasks and results also offers a more detailed Metrics tab. The results speed up time to insights by pointing you to instant insights, data visualization, and key learnings, eliminating the need to sift through each result. 
First, you will see the asset being tested is included in the task title for the result. You will also see a recommendation based on your test results, such as "Most contributors (4 out of 6) did not understand the content easily."

Next is an Executive summary that provides the rationale to support the recommendation.

The data for each contributor is presented in a table view. It shows how long they spent on a task, their initial reactions, and their understanding rating. 

Lastly, you are shown raw data for the task, and a tab menu is provided.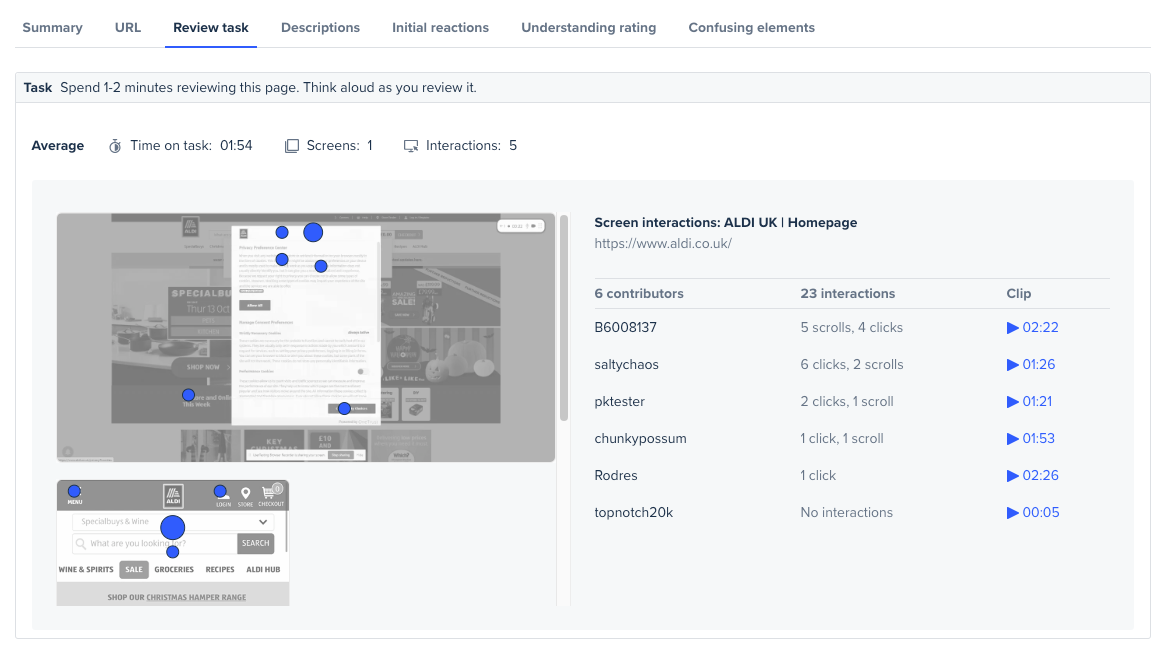 Learn More
Need more information? Read these related articles. 
Want to learn more about this topic? Check out our University courses.
Please provide any feedback you have on this article. Your feedback will be used to improve the article and should take no more than 5 minutes to complete. Article evaluations will remain completely confidential unless you request a follow-up.