At a Glance
Uploading a video enables you to store and consolidate videos from other sources of customer feedback right on your UserTesting dashboard. This allows you to have them all in one place, take notes and clips, and share them just like your UserTesting videos.
On this page:
Video upload is available on the following subscriptions:
What Is Video Upload?
Video Uploads enable you to:
Upload MP4 videos from any source outside of UserTesting

Quickly and easily drag and drop files

Create clips and Highlight Reels

Read and search through automatically-generated Transcripts (if available on your account)
How It Works
Step 1: Read and accept UserTesting's Acceptable Use Policy
Before uploading videos, you'll need to review and agree to the terms of UserTesting's Acceptable Use Policy. Then, select the Create test drop-down from your Dashboard. Choose Upload and review a video. 
Note: Maximum file size is 5 GB.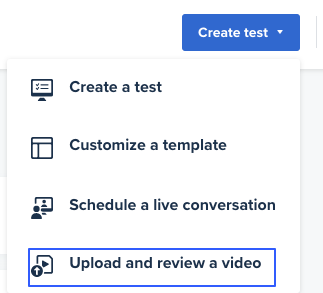 Next, you'll be asked to review and agree to UserTesting's Acceptable Use Policy (linked in the dialogue box). Once you've read and agreed to the policy, select Accept & Continue. You will only see this the first time you try to upload a video.

Step 2: Upload your videos
Next, drag and drop or select your MP4 files for uploading.

After you add your video, you'll be asked to assign a test name to your video. This will help organize your videos on your Dashboard. If you add multiple videos at once, they'll be organized under the same test. Upload videos separately to organize them individually.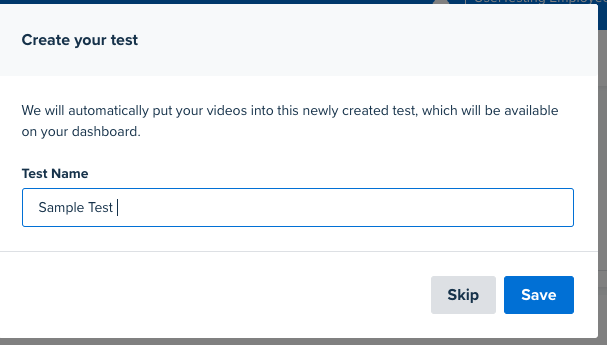 Next, you'll receive an on-screen confirmation that your test has been created, including the title. 



Once your videos have been uploaded and given a test name, you can either view your test by selecting View Test or select Close and return to your dashboard. Sentiment analysis is also added when uploading a video.
Step 3: Edit and share your videos 
Once your videos are uploaded, you'll have the ability to view, edit, and share, just like with a UserTesting video. You can read through the transcripts (if available on your account), create clips and highlight reels, and share videos with your team.
Note:  Only English-language transcripts can be generated for video uploads.
Step 4: Adding additional videos 
Once you have uploaded your video to your session, you can add additional videos that you can view, edit, and share, just like with any UserTesting video.
Note: The maximum file size allowed is 5GB. In general, we suggest uploading videos less than one hour in length.
To add additional videos, select the video upload session you'd like to add to, then select Add Videos from the drop-down.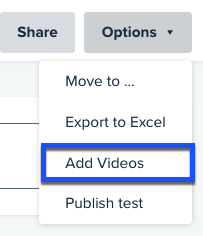 Once added, your video will appear along with any others you choose to include with the video session.
Step 5: Deleting videos
If you decide that you no longer need a video, or if you'd like to free up additional storage, you can delete videos from the single test view on your dashboard.
After selecting the test where your video is stored, select the box next to the video, then select Delete from the menu at the bottom right of the screen.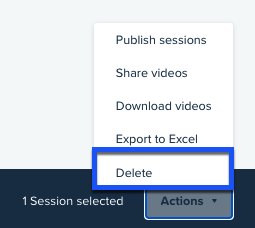 Note: The video will be deleted from your entire team's account, so please be sure no one else on your team needs it before deleting it. If you're sure you'd like to delete the video, select Delete and it will be permanently deleted from your team's account.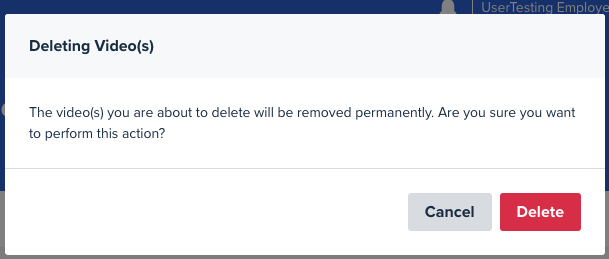 Step 6: Monitor video storage used
Depending on your account, you will have 1TB or 4TB of free storage. If you are on the seat-based plan, you can see how much video upload storage your team has used via the usage reports. 
Choose Settings from your account drop-down and select the Usage and history page. The amount of storage used to date will appear under Usage.



To purchase additional storage, contact your Customer Success Manager.
Ceilings and caveats
There are some restrictions and recommendations to be aware of when attempting to upload videos:
Only MP4 files can be uploaded.

The maximum file size is 5GB.

Videos should be less than one hour in length.

Deleting an uploaded video will permanently delete the video from your team's account.
Security
All videos are uploaded using SSL, which keeps them encrypted during transit. Once uploaded, they are encrypted and stored on Amazon S3, just like videos created by our screen recorders or Live Conversations.
Learn More
Need more information? Read these related articles.
Want to learn more about this topic? Check out our University courses.
Please provide any feedback you have on this article. Your feedback will be used to improve the article and should take no more than 5 minutes to complete. Article evaluations will remain completely confidential unless you request a follow-up.