At a Glance
A short test can help you get focused feedback from higher sample sizes. Create a targeted test plan with a recommended max of five tasks, then filter to get your desired audience. Get back five-minute video responses of all contributors completing your test.
Short test is available on the following subscriptions:
Short test supports testing PNG, JPG, GIF, TIFF, and PDF images and testing any experience via URL. Short tests are recommended for: 
Preference and A/B testing

First impressions

Testing assets such as prototypes and designs
Note: This feature is available for any account on the Flex plan. 
Create a Short Test from a Template
Find Short test templates for common scenarios in the Template gallery.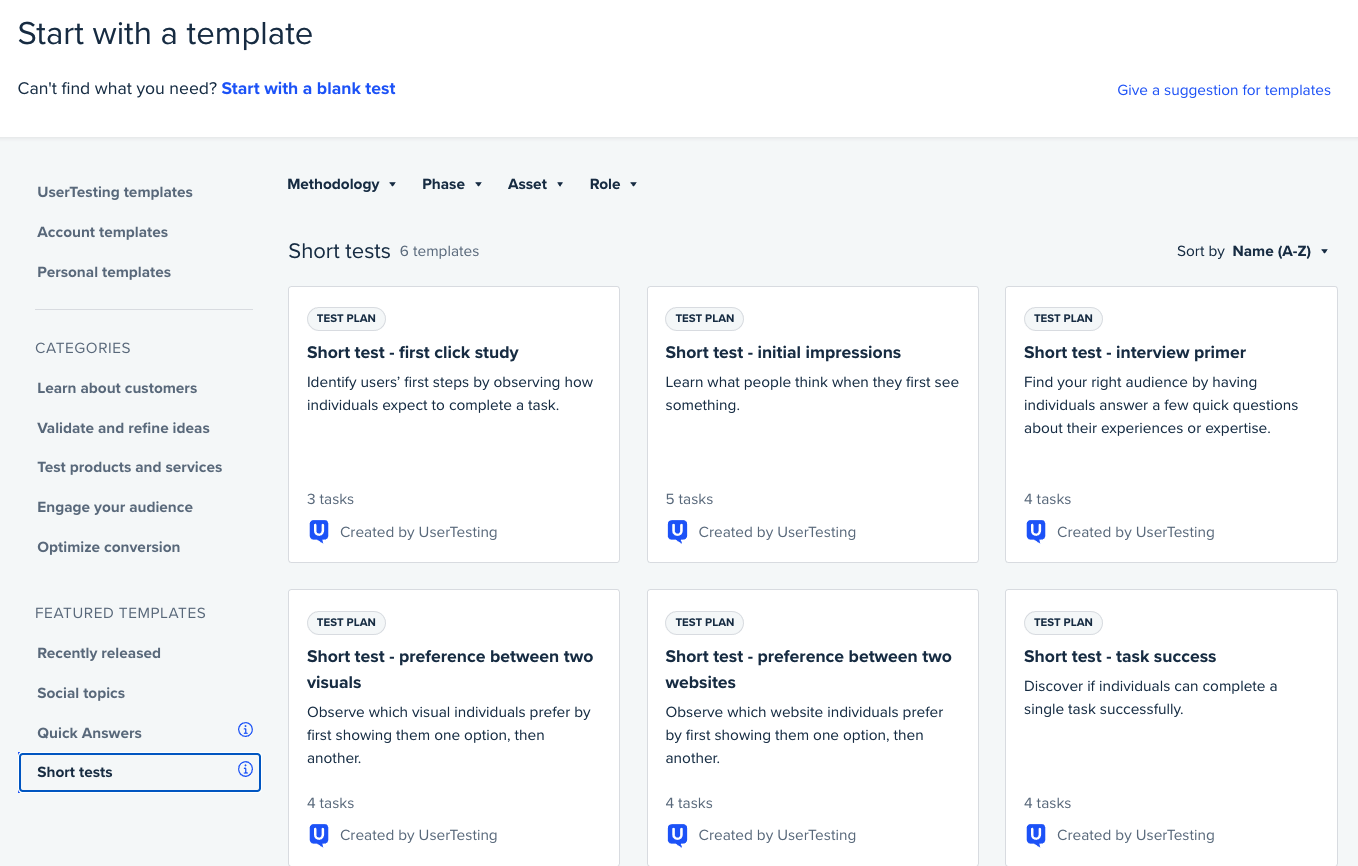 Select the template you want to use, then customize it to fit your needs. The following templates can use a short test:
Task Success

: Discover if individuals can complete a single task successfully.

Preference Between Two Websites

: Observe which website individuals prefer by first showing them one option, then another.

Preference Between Two Visuals

: Observe which visual individuals prefer by first showing them one option, then another.

Initial Impressions

: Learn what people think when they first see something.

First Click Test

: Identify users' first steps by observing how individuals expect to complete a task.

Interview Primer

: Find your right audience by having individuals answer a few quick questions about their experiences or expertise.
Create Your Own Short Test
Conduct a short test with as many individuals as you like--as few as one or up to 100. If you choose to create your own test plan, the Starting Instructions will be completed based on the type of test you are giving. Under Test plan, click the Short Test toggle.
Add up to five tasks to your test plan. You can change the order of the tasks, edit the contents of a task, duplicate a task, or delete a task.
Use tasks designed for large audience groups, like multiple choice, rating scale, and the keyword map feature on verbal response tasks, to quickly pinpoint and identify trends in your responses.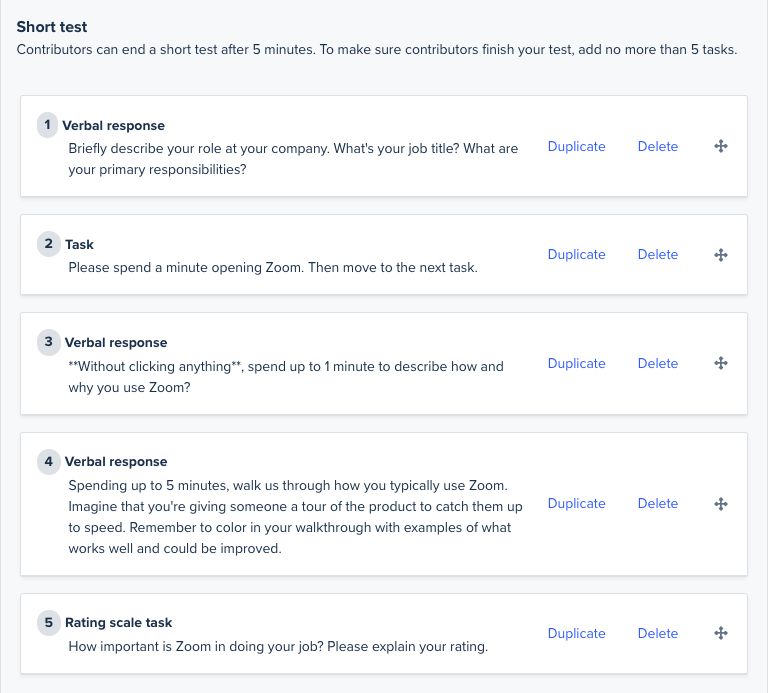 Contributors only get five(5) minutes to complete a short test. To ensure contributors finish the test in time, we do not recommend adding more than five tasks.
If you want contributors to spend more than five(5) minutes on the test, turn off Short test. 
Learn More
Need more information? Read these related articles.
Want to learn more about this topic? Check out our University courses.
Please provide any feedback you have on this article. Your feedback will be used to improve the article and should take no more than 5 minutes to complete. Article evaluations will remain completely confidential unless you request a follow-up.