At a Glance
The prioritization matrix app can be used to collect contributor feedback by including it as a link from your UserTesting test. A prioritization exercise can help you reduce organizational risk by collecting objective feedback from customers on what to prioritize and why.
Prioritization matrix app is available on the following subscriptions:
Click on the following header titles to skip to that section of the article:
When should you run a prioritization activity?
How do I set up the prioritization activity for my test?
How do I include my prioritization exercise link in my UserTesting test?
Results of Your Prioritization Matrix
Benefits of using the prioritization matrix app include:
The prioritization exercise is already structured for you—with frequency (low to high) on one axis and importance (low to high) on the other axis.

The app calculates the prioritized list of items.
We recommend most users start with the IA - Feature prioritization template that is available in the Template gallery (under the Information architecture category). Prioritization matrix app is included with our Ultimate Edition subscriptions. For customers on our Advanced, Pro, and Premium Editions, our Information Architecture Testing package can be added for an additional cost. Please contact your account team for more information.
Note: Prioritization matrix tests are not optimized for mobile.
When should you run a prioritization activity?
Running a prioritization activity is a good idea when you:
Need to reach a consensus quickly, especially when deciding on the priority of projects to complete or features to add.




Need customer input when deciding which tasks or features to remove (or remove from the current release).
How do I set up the prioritization activity for my test? 
1. Go to ia.usertesting.com
Select prioritization matrix when creating a new test.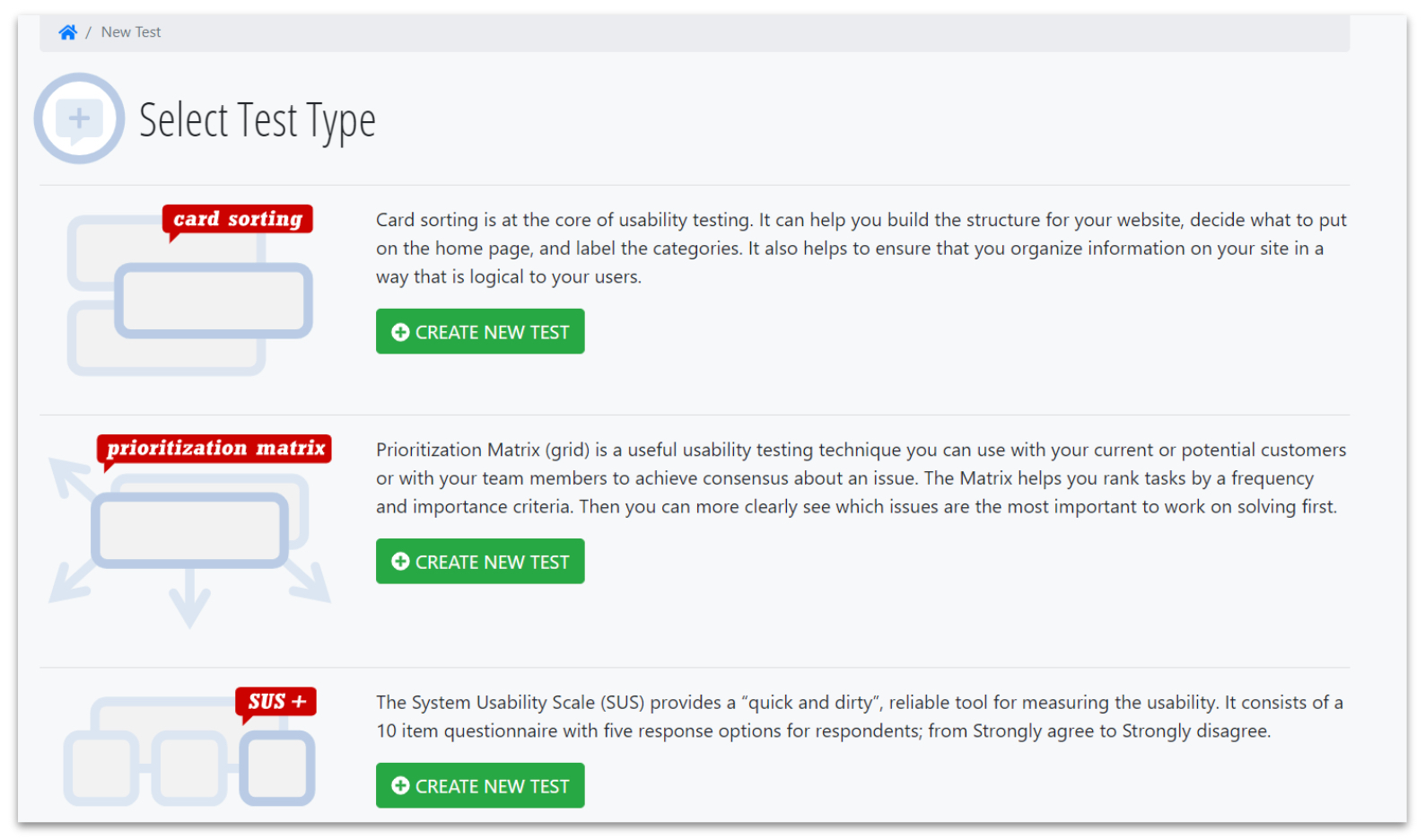 2. Enter the test details.
Click on the Advanced Options tab to customize your test.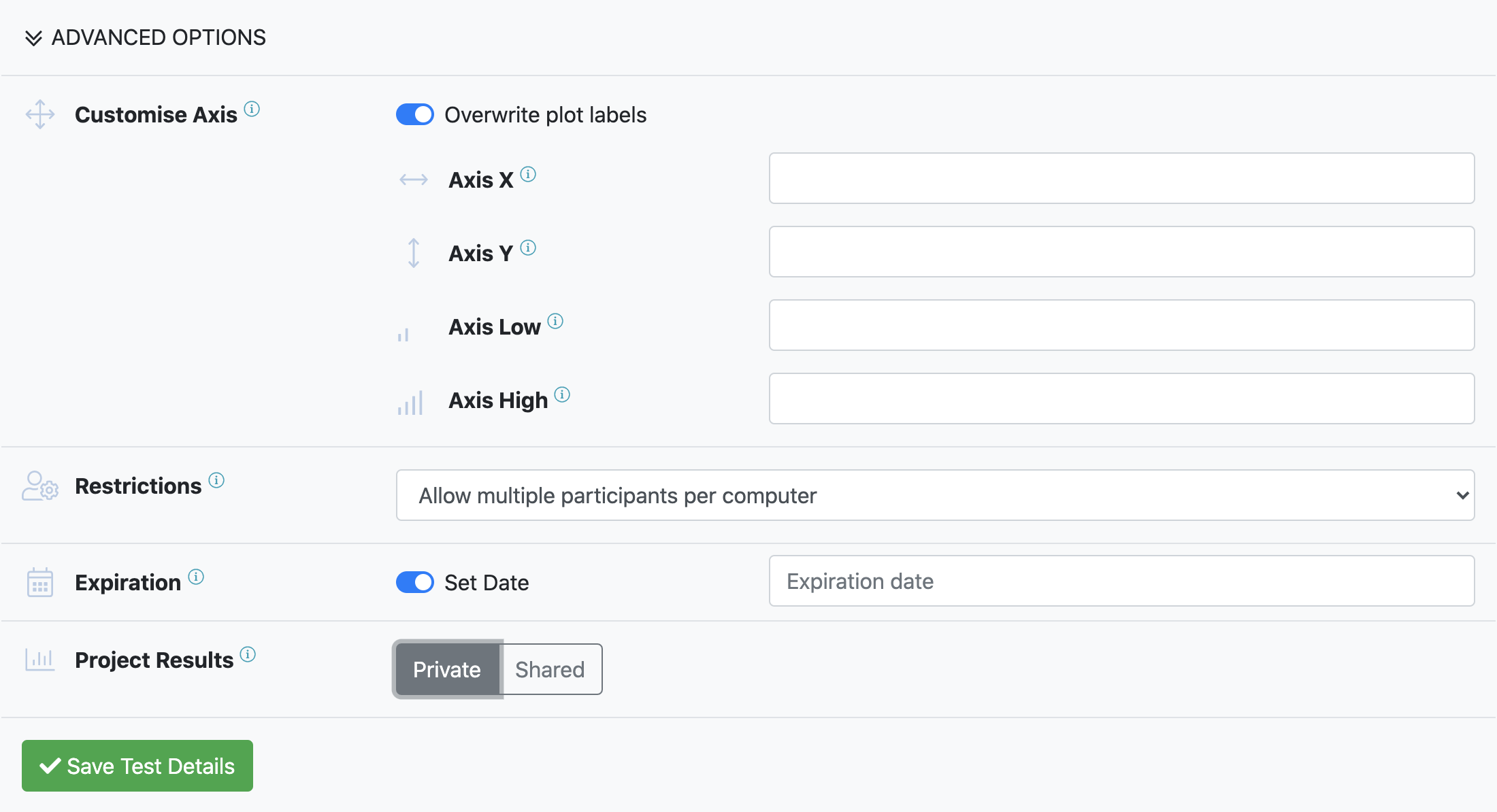 When you expand Advanced Options, you are presented with the following tasks:
Customise Axis

- Allows you to overwrite default plot labels

Restrictions

- Allows you to define single or multiple contributors allowed per computer

Expiration

- Allows you to set a date for the public test link to expire

Project Results

- Allows you to decide whether to keep test results private, or share them, which generates a shareable link for reviewing the results data
Click Save Test Details when you are finished customizing the test.
3. Set up the matrix.
Enter the Cards—these are the items that the contributors will prioritize.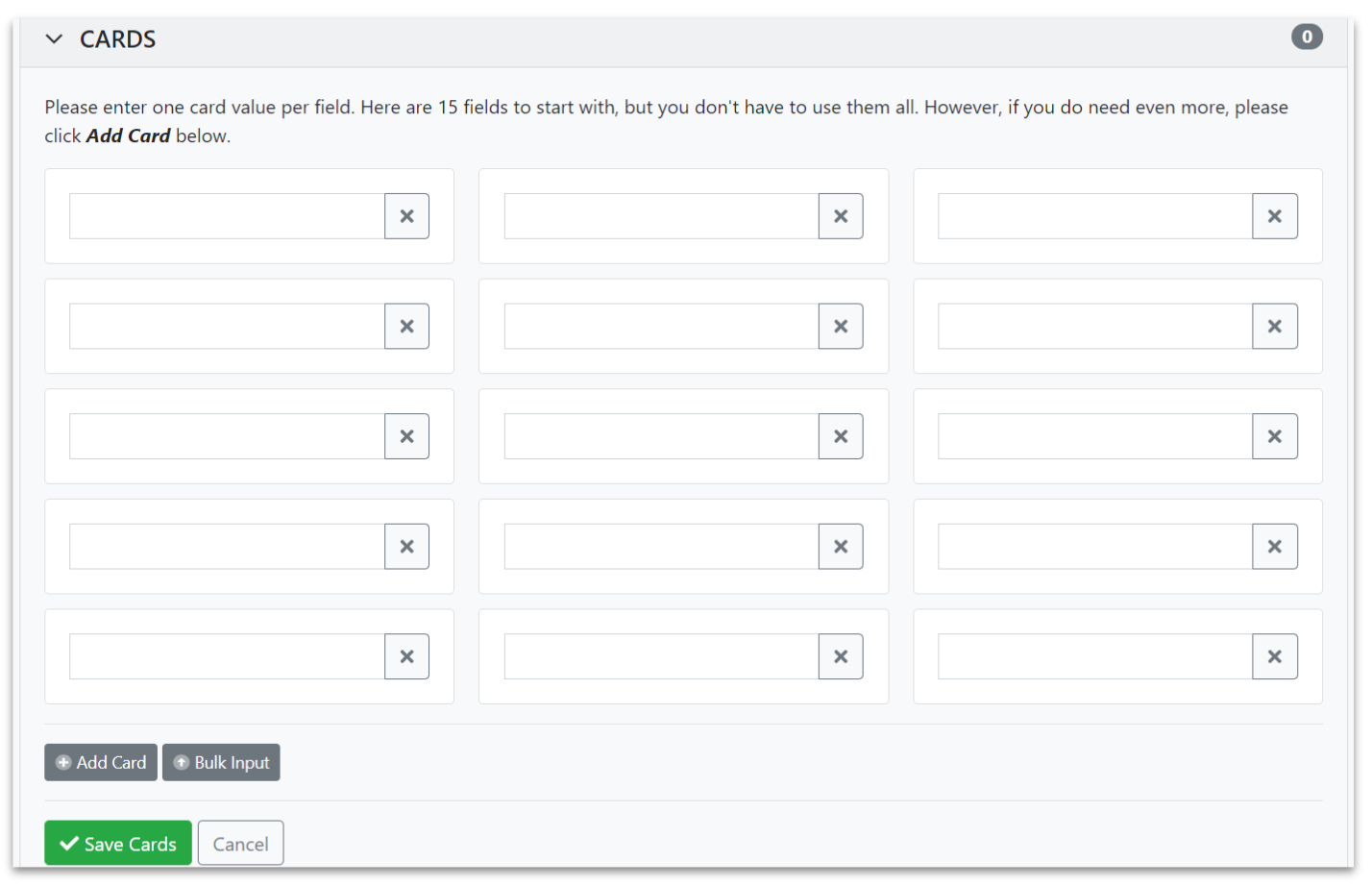 Label each card you want contributors to sort. You will need at least two cards added to enable Publishing, and you can have as many cards as you want. To add more cards, click Add Card.
You also have the option to add images to your cards. To add images, click Show/Hide Images input. The maximum number of images you can upload at one time is 20 images, 8MB total. If your image file size exceeds these limits, upload images in several smaller groups. Images must also be <2MB in size and be .jpg, .gif, or .png files. For image cards, you must label each image. Click Save Cards to upload.
Note: Your cards can be a mix of images and no images.
4. Publish the test.
Select the button to publish the test and then copy the URL to share with your contributors.

Note: Creators can access, edit, and view results for their own tests. They cannot view or access tests launched by others on the account. Admins can publish and unpublish tests created by others, just as the creator can. However, admins cannot edit tests created by others. Once a test is deployed, admins can also view and share results as necessary.
How do I include my prioritization exercise link in my UserTesting test?
For an unmoderated test, add a task that explains that—in the next task—they will be prioritizing a list of content based on the frequency they use it and its importance to them. Add any additional context that a contributor might need.
Then add a URL asset at the appropriate point in your test and put the prioritization exercise link into the URL field. Update the instruction text to reflect that they will be taken to a prioritization activity.

For Live Conversation tests, at the appropriate point in the discussion, put the link to the prioritization activity into the chat, so that the contributor can follow the link and complete the activity during the session.
Results of your Prioritization Matrix 
The prioritization matrix provides a prioritized list of the items you presented to contributors, based on their rankings.

It also provides a graphical view where you can see where each item falls on the matrix based on the rankings provided by all the contributors.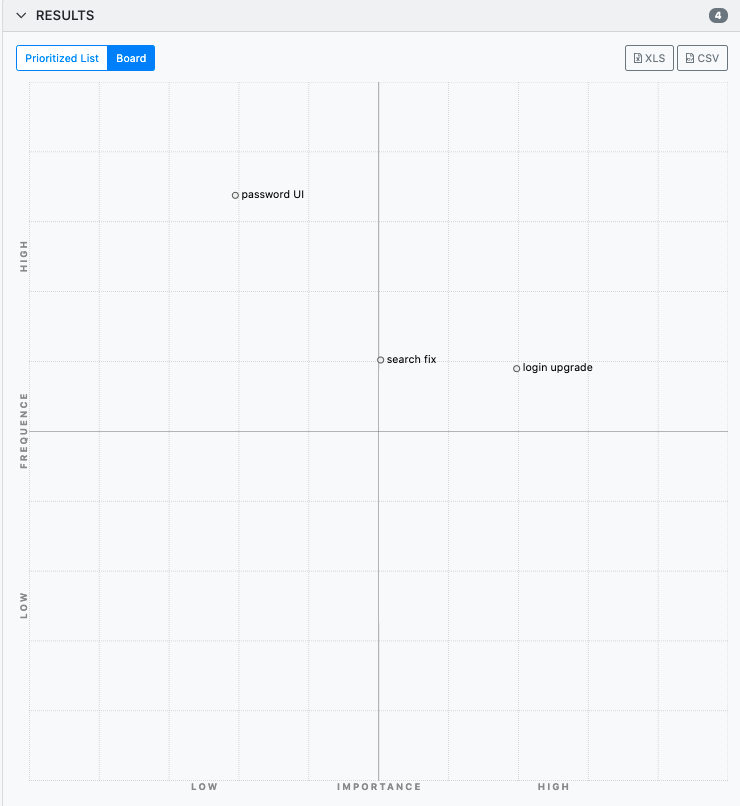 Learn More
Need more information? Read these related articles.
Want to learn more about this topic? Check out our University courses.
Please provide any feedback you have on this article. Your feedback will be used to improve the article and should take no more than 5 minutes to complete. Article evaluations will remain completely confidential unless you request a follow-up.