At a Glance
Secure prototype hosting allows customers to upload an HTML prototype that is hosted by UserTesting. The prototype is accessible by test contributors only during the time of testing, adding an extra layer of security to your top-secret designs. 
Secure prototype hosting is available on the following subscriptions:
Click on the following header titles to skip to that section of the article:
Key features
Contributors can only access prototypes after they've been approved for the study.

Study contributors can't access the prototype after their session has ended or copy or share the URL.

Customers may access their own uploaded prototypes, however, they will not be able to share the URL with anyone outside fellow team members on the account, ensuring privacy and security.
How It Works
Step 1: Upload your HTML file
After logging in to your account and creating a new prototype study, select Upload prototype.

Next, drag and drop or upload your ZIP file. Note: there is a file size limit of 200MB.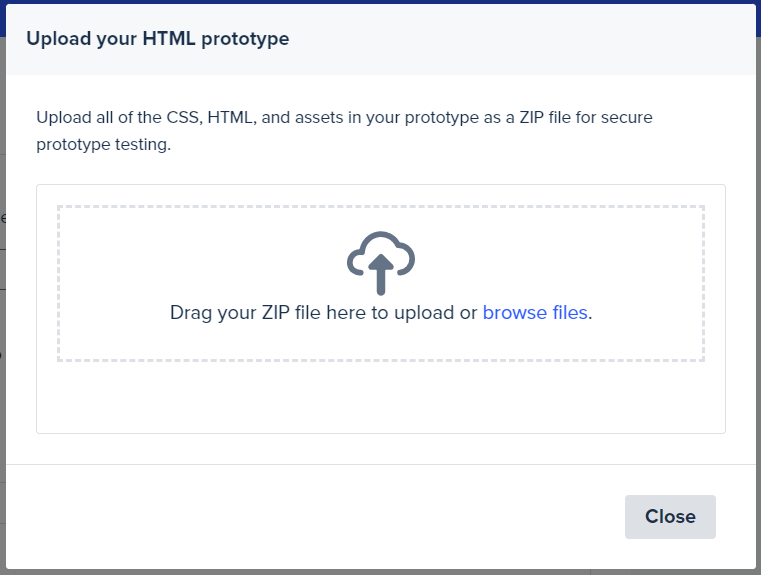 Secure prototype hosting requires the upload of the prototype (HTML file) via a ZIP file. You will not be able to use this feature if the third-party prototyping tool you are using does not allow the downloading of the prototype into this file type. The contents must include a valid index.html along with all of the required elements of your prototype.
Step 2: Customize your link
Once you've uploaded your ZIP file, you can direct contributors to a specific page of your prototype by navigating through the custom-generated, secure link. Once you're at the page of your prototype that you'd like contributors to begin their session, simply copy that URL and paste it in the Starting URL for uploaded HTML field.

You could also use the URL in a task in the body of the test:
Place the URL of the specific page from the prototype into a URL asset in the body of the test itself.
Start the test on a blank URL:
Select the

A blank page

box to start them on a blank URL.

Contributors will begin on a blank page and then be directed to your secure prototype page at appropriate point(s) in your test.
Step 3: Complete and launch your study
Once your secure prototype link has been generated, proceed with completing and launching your study as usual.
Exporting Invision prototypes
You can export your Invision prototype by selecting "Download Prototype" in the drop-down menu for your prototype.


When prompted, select to generate a ZIP file. Once you have the file, you can upload it and use it in your study.
Exporting Axure prototypes
Axure provides the ability to export HTML that can then be used with prototype hosting. From the Publish menu in Axure, select "Generate HTML Files…"


Next, create a ZIP file from your exported HTML. To create a ZIP file, right-click on the folder with your generated HTML and select "Send to > Compressed (zipped) folder" (Windows) or "Compress…" (Mac). You can then upload the ZIP file to use with your study.
Exporting Framer prototypes
Framer prototypes just need to be zipped in order to be uploaded for prototype hosting. To create a ZIP file, right-click on the "Framer" file and select "Send to > Compressed (zipped) folder" (Windows) or "Compress…" (Mac).

Security
The hosted assets are encrypted at rest and only accessed through SSL. These are kept securely in our AWS infrastructure and only accessible through secure links that are inactive unless the test is in progress and used by the assigned active tester.
Troubleshooting
If you receive an error instead of seeing the prototype during the test preview, find out if the prototype is opening in a different browser window from the dashboard.
For example, if you are logged into the dashboard in Chrome, but the prototype tries to open in Safari during the preview, this means Safari is the default browser on your computer. It doesn't have the necessary browser cookies, which means the prototype won't load. You should log into Safari to preview the draft or update the default browser in the system to Chrome.
Let us know what you think!
We'd love to know what you think of this feature, so give it a try and share your feedback with Support via this form.
Learn More
Need more information? Read these related articles.
Want to learn more about this topic? Check out our University courses.
Please provide any feedback you have on this article. Your feedback will be used to improve the article and should take no more than 5 minutes to complete. Article evaluations will remain completely confidential unless you request a follow-up.