At a Glance
When building your test plan, you have the option to include general Tasks for your contributors to complete. Tasks allow you to give contributors something to do, like "Find the employee resource page on the website" or "Book a roundtrip ticket." The results can help you measure the ease of completing an action or navigating a platform.  
How to Set Up Your Task
1. Under Tasks and questions, click and drag the Task block over to your Test plan builder.
Write your task in the space provided. For tips on composing task instructions, view our article on Writing Great Tasks. Task groups are also available click here to learn more about Group tasks and results.
2. Next, select the Blur video to hide PII checkbox if you want to blur out the video of the contributor performing this task to protect their Personally Identifiable Information.
3. Under Task metrics, select Success and/or Difficulty to further measure a contributor's experience of a task.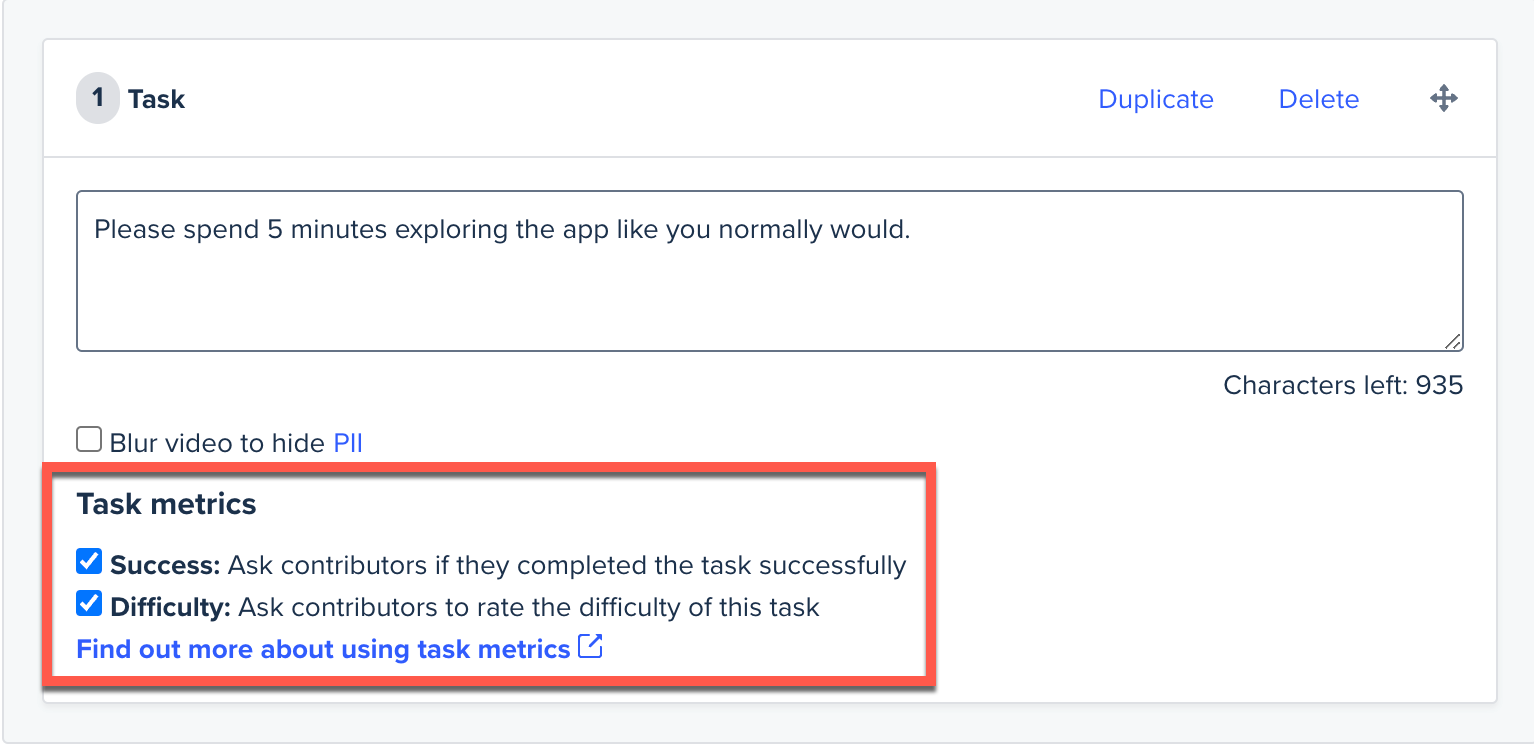 Choose Success if you want to know if contributors believe that they had success completing the task. When a contributor performs this task, they will see a follow-up question asking "Did you complete the task successfully?" The contributor then chooses from several options to describe their experience.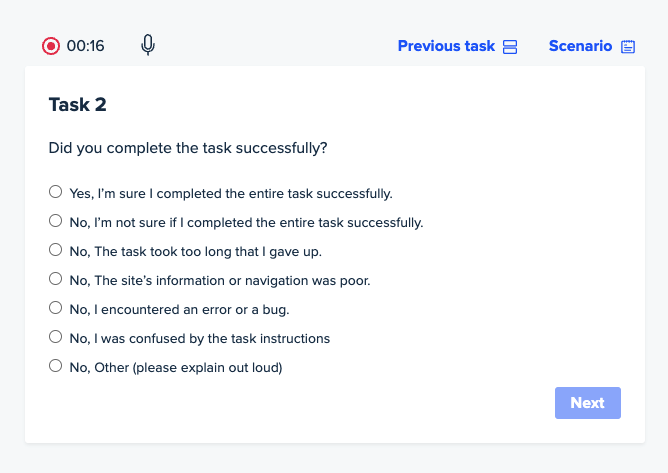 Select Difficulty to see how easy or difficult it was for your contributors to complete the task. When a contributor performs this task, they will see a rating scale question to rate their experience.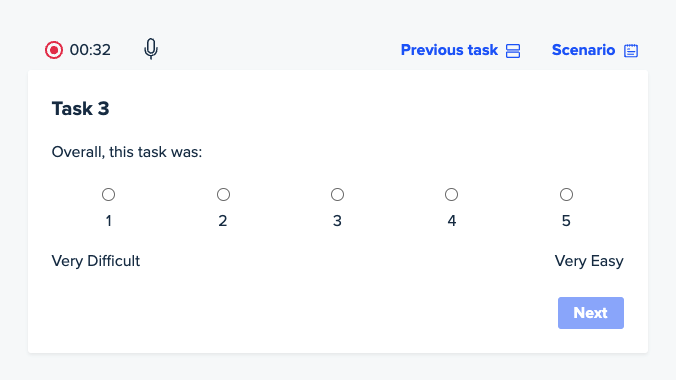 Notes:
These follow-up questions will show up in the total number of tasks that a contributor sees and must answer, but will not be reflected in the Details tab for your test. For example, if you had 10 tasks and questions and selected these two checkboxes, the Details tab would reflect 10 tasks and questions, but the contributor would go through 12 steps in their test.

If you want to use different follow-up questions, then do not select these checkboxes. Instead, add your own additional tasks and questions following the Task you present.
Task Results
After contributors complete your test, your Task results will display on the Metrics tab. If you added a Success task and Difficulty question to your Task, those questions will appear as additional tasks on the Metrics page, as well as in the Excel Export. For example, Success Task appears as Task 2 and Difficulty question appears as Task 3, as shown in the image below.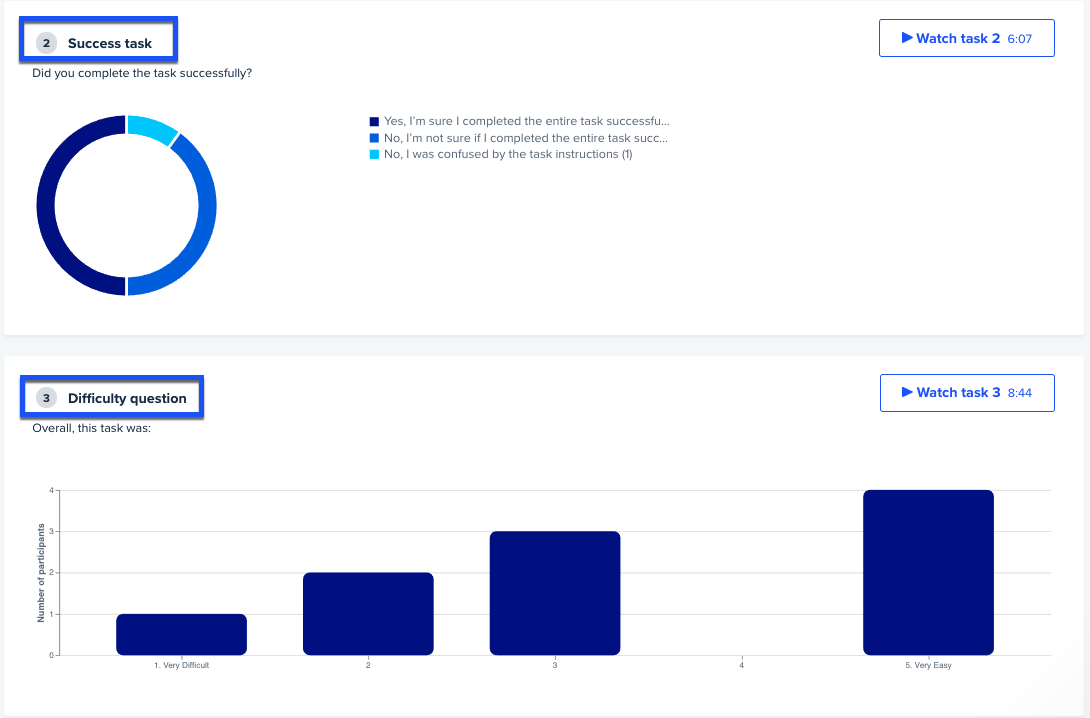 You can also export Task results to Excel, which will include details about the study you exported, contributor demographics, screener responses, and transcripts for each task.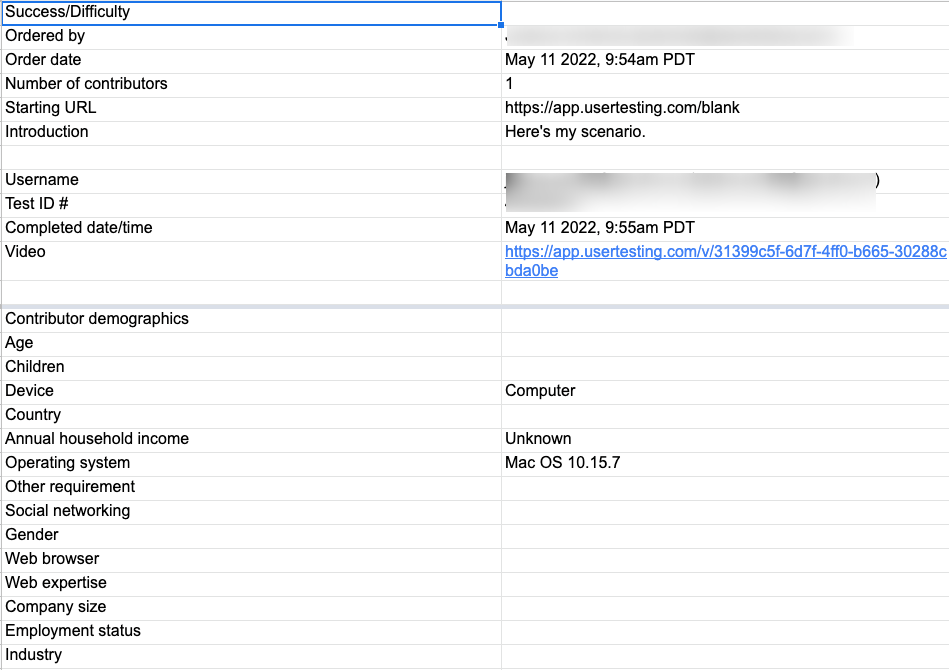 If you are on the Advanced, Ultimate, or Premium Edition plans, you can also view the Interactive Path Flows of your Task on the Metrics tab.

Learn More
Need more information? Read these related articles.
Want to learn more about this topic? Check out our University courses.
Please provide any feedback you have on this article. Your feedback will be used to improve the article and should take no more than 5 minutes to complete. Article evaluations will remain completely confidential unless you request a follow-up.