At a Glance
Get feedback from all your target personas with UserTesting. You can use demographic filters, screeners, and more features to ensure you are getting feedback from the right people. This is Part 4 of a series of articles.
Overview

Filters
Demographic information is collected when each contributor joins the UserTesting Contributor Network. By selecting these demographic filters in the test launcher, you control the distribution of your test. Only users who meet your key demographics can view and accept your test. 
Basic demographics are available to all customers. These demographic filters include Age, Income, Gender, and Location.
Advanced demographics (such as Employment status or Countries) are available with select plans.
The Other requirements field can let contributors know any special information or requirements regarding your test (e.g., "This test will require you to sign in with your Facebook account."). 
Note: Because contributors see the Other requirements field before answering your screener questions, be sure not to "give away" any of the answers in this field!
Screeners
Screeners are multiple choice questions that contributors have to answer correctly before they're able to accept your test. Use screeners to identify those contributors who will provide you the best feedback for your project.
Click here for more information on screener questions and check out this article for tips on writing screeners.
Example
Let's say you're looking for contributors in the United States, 25–35 years of age, who make online purchases using their smartphones.
Set the basic demographics:
Age: 25–35 years old
Countries: United States

Screener Question: "When, if ever, have you bought something using your smartphone?"
Never. I've never purchased anything using my phone. [Reject]
About a year ago. I rarely buy things using my phone. [Reject]
Maybe 6 months ago. I sometimes buy things using my phone. [Reject]
Within the last few weeks. I frequently buy things using my phone. [Must Select]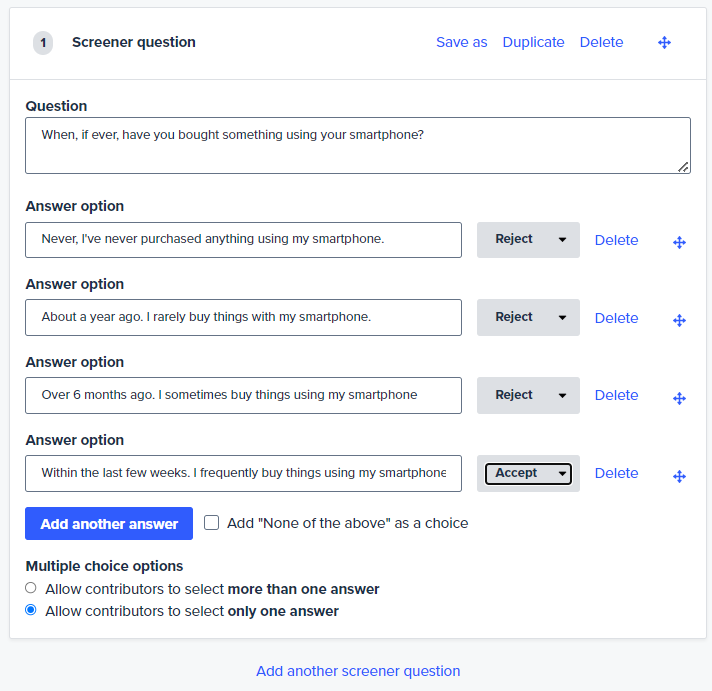 If you'd like to test with this exact screening criteria again, save that criteria by clicking the Save as Template button.

Next Quick Start section: Tasks
Learn More
Need more information? Read these related articles.
Want to learn more about this topic? Check out our University courses.
Please provide any feedback you have on this article. Your feedback will be used to improve the article and should take no more than 5 minutes to complete. Article evaluations will remain completely confidential unless you request a follow-up.